Investors with high risk appetites gravitate towards the biotechnology sub-sector of healthcare stocks where clinical trials sometimes yield significant share price movement. Depending on the treatment and the market size of the affected population, positive announcements regarding the progress of the trials can reward investors handsomely, at least in the short term.
The risk is obvious. Negative announcements can cause the share price to plunge, again at least in the short term.
Here in Australia the clinical trial process is under the auspices of the TGA (Therapeutic Drugs Administration. With the largest market in the world for medical treatments, the US FDA (Food and Drug Administration) regulates clinical trials there.
What some newcomers to share market investing may not know is that in both countries there are hurdles to jump prior to getting approval to begin formal clinical trials needed for ultimate approval of a treatment or drug for use.
The flow chart below is a simplified description of the pre-clinical trial approval process here in Australia.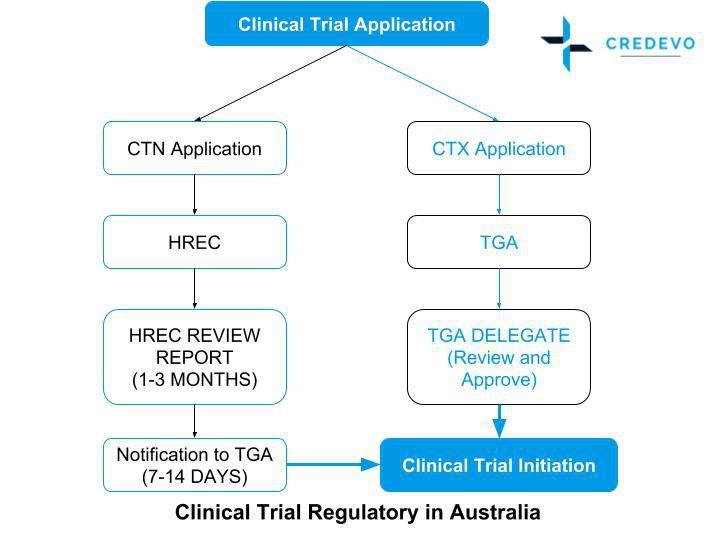 As you can see there are two paths to follow, ending at the same point – the start of clinical trials. The Clinical Trial Notification (CTN) is managed by a Human Research Ethics Committee (HREC) while the Clinical Trial Exemption (CTX) begins directly with submission of scientific data to the TGA. That process is now known as the Clinical Trial Application (CTA) process.
In the US, the FDA requires study information from animal trials for toxicity and efficacy prior to granting approval to begin trials on humans.
Announcements of the status of getting approvals to begin regulatory clinical trials rarely generate the investor enthusiasm of evidence of a pending formal trial, such as informing the market participant recruitment has begun, and/or study sites and possible partnering organisations.
Small cap "under the radar" biotechs offer the potential to climb aboard what could become a winning stock at a low price. A low thirty day average trading volume can indicate under the radar status.
Investors with lower appetites for risk can seek out big cap ASX listed biotechnology stocks to consider. On 15 March, Clinuvel Pharmaceuticals (CUV) – market cap $1 billion – announced positive results from a pilot study with six participants on the company's treatment for AIS (arterial ischaemic stroke). As a preliminary study, the primary purpose of the trial was to assess the safety of multiple doses of the Clinuvel treatment – afamelanotide. The study achieved that objective, but in addition, five of the six patients in the study displayed strong recovery of neurological functioning.
Although Clinuvel is pursuing multiple treatment technologies for a variety of disease conditions, its current focus is on melanocortins, "a group of small protein hormones that develop from the gene product proopiomelanocortin (POMC)," according to the company's website. The commercial name for afamelanotide is SCENESSE®, with skin diseases the primary target.
Clinuvel has other preliminary studies underway and is both revenue generating and profitable. SCENESSE® has been approved for the treatment of a rare skin disorder — EPP (Erythropoietic Protoporphyria) –by both the FDA and the European Medicines Agency (EMA) as well as by the TGA here in Australia. The treatment is administered via a subcutaneous injection.
The company had a solid financial year in FY 2021, reporting a 45% increase in revenue and a 60% increase in net profit after tax (NPAT). Clinuvel's US operations had their first full year of revenue generation in FY 2021. Clinuvel had average earnings growth over 10 years of 14.9% and 55% over five years. The company's thirty day average trading volume is 140,000 shares per day.
The share price reached an all-time high on 23 September of 2021 and has been in decline since. As the Omicron variant spread, the rising challenges of recruiting patients,
maintaining staff, and sites for any form of clinical trial went underreported. Biotechnology companies across the board have seen depreciating share price over the last six months. The website managedhealthcareexecutive.com reported that as of January 2021 there were more than 2,000 clinical trials that had been stopped explicitly due to COVID-19 restrictions.
There are three small-cap/mid-cap ASX listed biotechs recently reporting positive developments supporting the transition to formal clinical trials. The following table shows share price movement, historical shareholder return, and current trading volumes.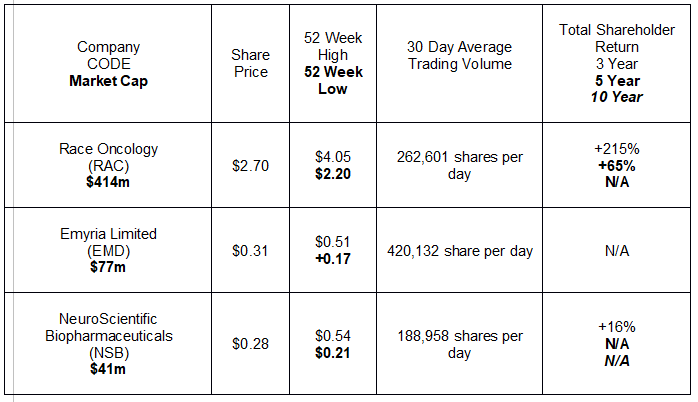 To put the trading volume in perspective, Prescient Therapeutics (PTX), a biotech company with a market cap of $111 million, recently announced positive developments on ongoing formal clinical trials of cancer treatments. The company's share price is $0.17 per share and it trades an average of 1,467,170 shares per day.
Race Oncology has resurrected a cancer drug abandoned in the mid-1990's – Zantrene®. New developments over the last decade have identified Fatso or FaT and Obesity associated protein (FTO) as a key contributor to cancer development. Researchers found a potential combatant against FTO – Bisantrene, now trademarked by Race Oncology as Zantrene®.
Zantrene® was brought back into potential treatment status by Update Pharma, with Race acquiring the intellectual property from Update and listed on the ASX in 2016 with the purpose of restoring Zantrene® to clinical use.
The company has two formal clinical trials (Phase IB and Phase II) on the use of Zantrene® on leukemia, with pre-clinical studies underway on the use of Zantrene® with cancer treatments for melanoma, breast cancer, and renal cancer. Zantrene® can protect cardiac cells from destruction caused by the cancer treatment.
To date, Race has released positive findings on the use of Zantrene® with a new class of cancer drugs – Carfilzomib. Zantrene® not only protected the heart, but also improved the primary drug's killing of cancer cells. The company has submitted a patent application for the combined use of the two drugs. This could lead to a collaborative relationship with US based pharma company, Amgen, the owner of carfilzomib.
The most recent release shows that Zantrene® can attack renal cancer cells, both on its own and in conjunction with other drugs for treating kidney cancer.
Emyria Limited is the only one of the three stocks in the table to see year over year share price appreciation – up 85%.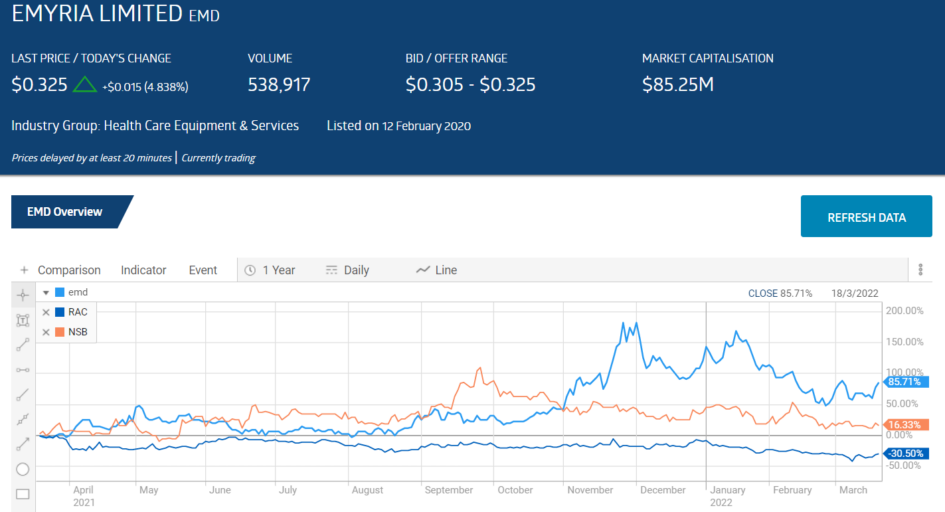 The company has four business lines – treatment; care, data; and digital health. 2021 saw Emyria release multiple positive announcements centering primarily on the company's data and digital health lines along with positive news on institutional investors buying into the company.
Lost in the shuffle was Emyria's developing cannabinoid treatments for mental health and irritable bowel syndrome (IBS). The company uses data compiled from its operating care clinics as input. Emyria operates seven clinical care sites for unmet medical needs across Australia, and one in the UK.
In August of 2020 the company rebranded itself as Emyria Limited to reflect the company's expanding focus into digital health technology, remote chronic disease management, and COVID health screening.
In early March the company announced the beginning of recruiting for a planned Phase I clinical trial comparing Emyria's ED-RX5 against Epidyolex, a cannabinoid treatment approved by both the TGA and the FDA.
In capsule form, EMD-RX5 is suitable for both mental health issues and irritable bowel syndrome and is available over the counter.
On 16 March, the company announced a proposed Phase I clinical trial for another of Emyria's cannabinoid treatments – EMD-RX7, for multiple applications. EMD-RX7 is stronger and will be available by prescription only. Emyria expects EMD-RX5 to progress to Phase 3 trials by May of 2022.
NeuroScientific Biopharmaceuticals is developing pharmaceutical products for treatment of neurological disorders with significant unmet need. The company's lead drug candidate – EmtinB™ – reduces "key drivers of both chronic inflammation and autoimmune diseases. Inflammation contributes to neuron loss associated with both MS (multiple sclerosis) and Alzheimer's disease.
On 11 March, the company announced a recent assessment of EmtinB™ conducted in "human primary cell-based systems modelling autoimmune disease that found that EmtinB™ significantly reduced inflammatory cytokines (proteins that signal the autoimmune system) contributing to disease conditions from psoriasis to rheumatoid arthritis to spondylitis and possibly MS and Alzheimer's.
The company is submitting the findings and will seek approval to begin to begin Phase I clinical trials in humans. NeuroScientific is also doing pre-clinical research on using EmtinB™ to treat glaucoma and optic nerve atrophy.