This article will look at Hartshead Resources and Ampol.
These two companies are involved in the extraction and supply of energy.
Investors may be attracted to Ampol's position as a leading fuel company in Australia and New Zealand.
Hartshead Resources NL ASX:HHR (HHR) Ampol ASX:ALD (ALD) are Australian companies listed on the ASX. They operate respectively in exploring oil and gas resources and the energy supply sectors.
Investors that believe the energy supply market is growing can benefit through vertically integrated investments, i.e., the entire supply chain. TheBull.com.au considers this week's picks as companies with a healthy chance of success in a sector critical to the Australian economy, with value-added from the first strike to the fuel pump.
Top Australian Brokers
Hartshead Resources NL ASX:HHR (HHR)
Hartshead Resources NL (ASX:HHR) could be an attractive investment opportunity for investors with a high tolerance for risk.
The recent agreement with RockRose Energy to farm out a 60% interest in its Southern Gas Basin assets provides the company with funding and a clear pathway to development and increased cash flow. This deal allows Hartshead to retain a 40% interest in any future production, giving the company the potential to benefit from any upside.
In addition, RockRose Energy is an established UK producer with a proven track record in the oil and gas sector. It could provide Hartshead with valuable expertise and resources to develop its assets.
The shares of HHR were trading at 3.7c AUD on April 13, which is an attractive entry point for investors looking to invest in the company.
It is important to note that investing in small oil and gas exploration companies can be a risky venture. There is no guarantee that Hartshead will be successful in developing its assets or that it will be able to achieve its production targets.
The volatile nature of the oil and gas sector and external factors such as fluctuations in commodity prices and geopolitical risks could impact the company's performance. Therefore, investors should conduct thorough research and analysis before making investment decisions.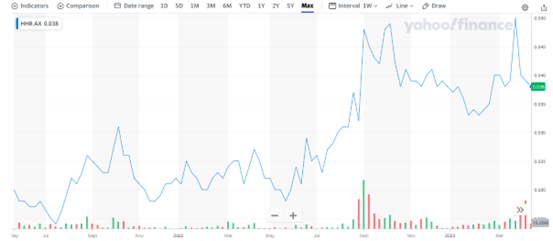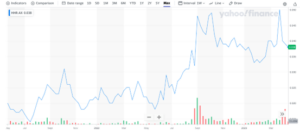 Yahoo Finance
Related Articles
 Ampol ASX:ALD (ALD)
Ampol Limited (ASX:ALD) could be a compelling investment opportunity for investors seeking exposure to the fuel industry.
The company's recent financial results have been impressive, with a 42% increase in group statutory net profit after tax in the fiscal year 2022, driven by solid refiner margins.
The company also declared a final fully franked ordinary dividend of $1.05 AUD per share and a special payment of 50c AUD per share, demonstrating its commitment to reward shareholders.
ALD's strong start to the fiscal year 2023 is encouraging, with the company continuing to benefit from favourable refining conditions. The company retains a strong balance sheet, providing a solid foundation for future growth and investment opportunities.
Investors may also be attracted to ALD's position as a leading fuel company in Australia and New Zealand, with its diversified refining, retail, and infrastructure portfolio. This diversification can help mitigate risks associated with fluctuations in commodity prices and provide a stable source of cash flows.
It is important to note that the fuel industry is subject to various risks, including fluctuations in commodity prices and changing consumer preferences. Additionally, competition in the industry can be intense, which could impact ALD's market position and profitability.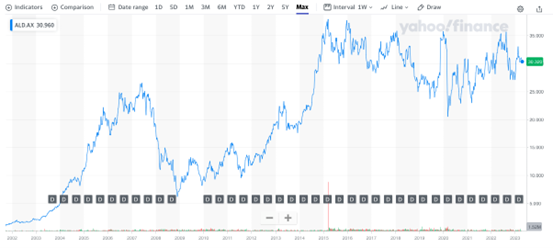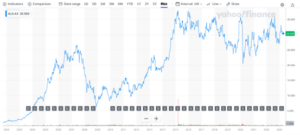 Yahoo Finance