The ASX financial sector has much to offer investors of all backgrounds. Risk-averse investors with long-term horizons only have to look at Australia's globally renowned 'Big Four' banks, a smattering of smaller regional banks, and an internationally acclaimed investment bank. The Big Four are considered the best in the world based on the difference between the bank's assets and its liabilities — capitalisation.
Although some younger investors may find banks supremely boring, the institutions hold an unparalleled advantage – the demand for traditional and investment bank services will never fade away.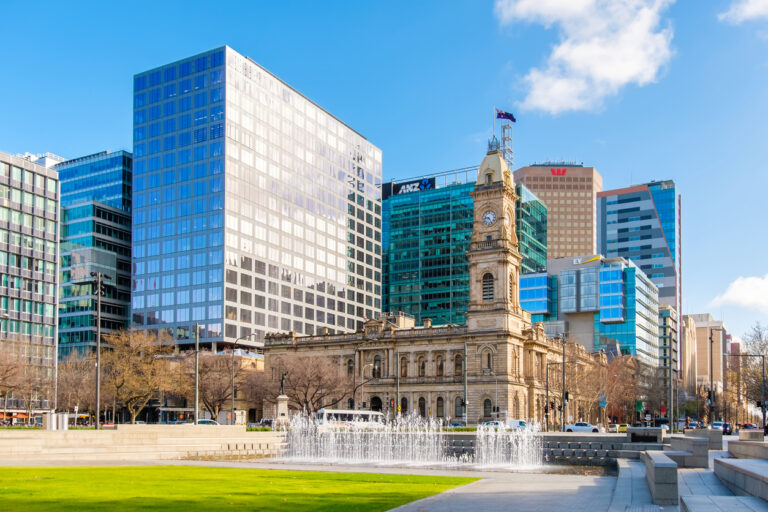 Banking crises can push the share prices of the Big Four lower, despite the fact that the banks are sufficiently capitalised to weather most storms, should more trouble come to pass. In March 2023, a regulator from the Australian Prudential Regulation Authority (APRA) said that the Big Four have safeguards that exceed international standards, making our biggest banks among the strongest in the world.
The insurance companies within the best ASX bank stocks and financial stocks share the same advantage of virtually guaranteed demand over time. The public cannot go without home, auto and health insurance. Both banks and insurance companies take in cash that the financial institutions can hold for decades before paying it out. Yet many investors find insurance stocks equally boring.
The newer financial sub-sector, the financial technology providers, have earned the admiration and loyalty of risk-tolerant investors looking for outsized returns from financial companies using technology to disrupt traditional ways of conducting financial business.
The Buy Now Pay Later (BNPL) sector achieved red-hot market-darling status with the rise of a member of the group of ASX tech stocks known as WAAAX stocks – Afterpay – in what seemed to be a never-ending upward movement until it stopped. The BNPL sector has fallen into disfavour, spurred on by the early February collapse of Openpay Group (ASX: OPY). The company went into receivership following its failure to tap into existing funding arrangements, and some loans called for breach of covenants.
Given the current economic uncertainty, the best banking and financial stocks ASX has available to buy in 2023 are financially stable and low risk.
ANZ Group Holdings (ASX: ANZ)
Over a decade or more, Commonwealth Bank has the best track record, but year over year, ANZ Group's share price is outperforming the other three of the Big Four Banks.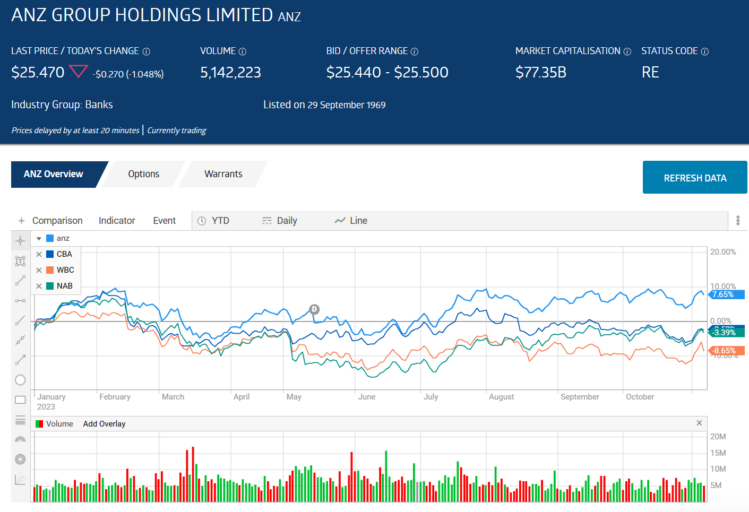 Source: ASX 8th November 2023
ANZ has a consensus forward price-to-earnings ratio (P/E) of 11.05 with a price-to-book ratio of 1.10. The five-year average dividend yield is 5.5%, fully franked.
The price-to-book ratio of 1.10 translates to a book value per share of $38.42 AUD per share, a $15.23 premium over the current share price.
ANZ has introduced a fully digital banking platform that includes a mobile app called ANZ Plus and is actively seeking to acquire another Australian bank – Suncorp Group (SUN). The Australian Competition and Consumer Commission (ACCC) asked for more information before deciding whether to approve the acquisition, finally rejecting the deal in early August 2023.
Although ANZ's financials were impacted in the early stages of the COVID-19 pandemic, by FY 2022, the bank had returned to pre-pandemic levels, a trend continuing into the FY 2023 financial results.
ANZ Bank Financial Performance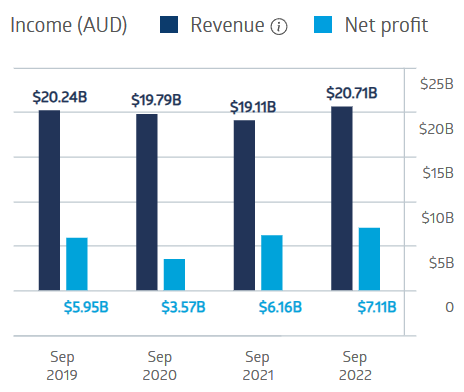 Source: ASX 8th November 2023
Westpac Banking Corporation (ASX: WBC)
Westpac had the 'crown jewel' of analyst endorsements, with arguably the most influential investment bank in the world – the US-based Goldman Sachs – pointing to Westpac as the Australian bank stocks to buy as of 11th April. Following the release of the bank's Full Year 2023 results, Goldman had a NEUTRAL rating on WBC with a price target of $22.61.
As of 8th November, the shares are trading at $21.33, down 11.6% year over year.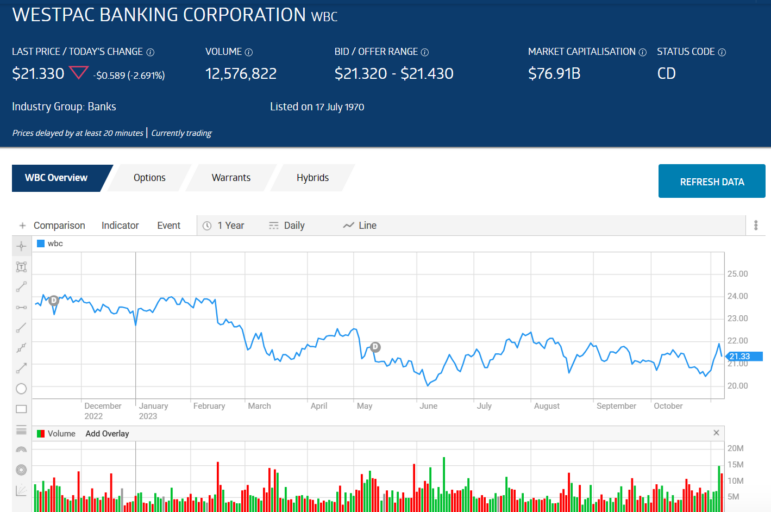 Source: ASX 8th November 2023
Westpac has a consensus forward P/E of 10.93, while the price-to-book ratio is 1.03, which comes to $20.69 per share, $0.64 below the current share price.
Morgans has a BUY rating on WBC with a price target of $24.22 and is predicting impressive dividend performance in the future. The Westpac five-year average total dividend yield is 5.52%.
Westpac's Full Year 2023 financial results saw a decline in revenues and a slight increase in net profit.
Westpac Banking Financial Performance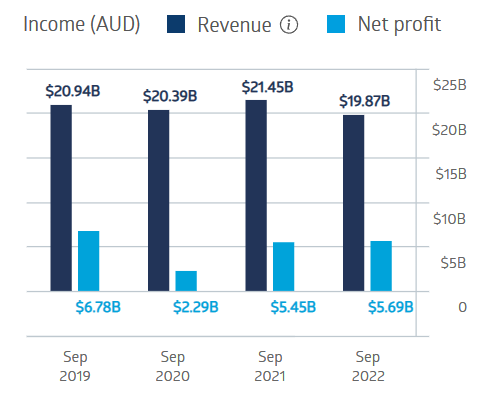 Source: ASX 8th November 2023
Macquarie Group Limited (ASX: MQG)
Macquarie Group is Australia's sole investment bank with an international presence. Macquarie operates in 34 countries with four operating business units – banking and financial services, asset management, commodities and global markets, and Macquarie Capital. Macquarie targets the infrastructure, energy, technology and commodities sectors.
Right now, one of the principal reasons for considering the company as a potential best financial and banking stock to buy in 2023 is its geographical and operational diversification. Investors apparently ignored this, punishing MQG shares in the earlier bank upheaval. Risk-tolerant investors may find the company's year-over-year share price decline of 6.09% a reason to invest in this Australian bank stock.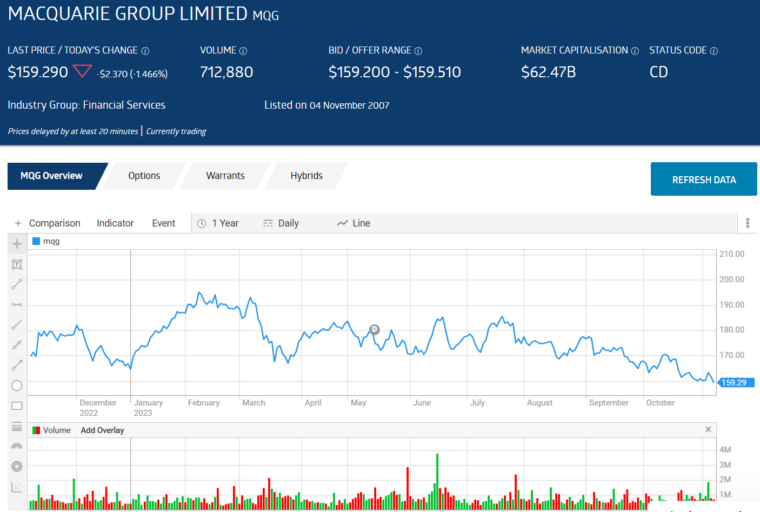 Source: ASX 8th November 2023
The company's financial performance has been steady amid the COVID-19 crisis, with FY 2022 Full Year financial results comfortably exceeding pre-pandemic levels in revenue and net profit after tax, with the trend remaining in place in the Full Year 2023 results.
Macquarie Group Financial Performance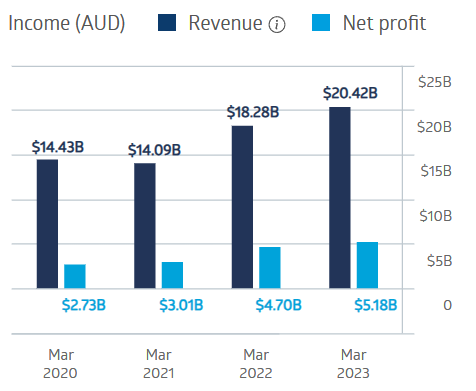 Source: ASX 8th November 2023
The company missed in its Half Year 2024 financial report released on 2nd November. Net operating income fell 8% and net profit dropped 39%.
Prior to the release, analysts were positive on the stock, with three at STRONG BUY, four at BUY and six at HOLD.
Goldman, Morgans and Citi all maintained their ratings but cut their price targets.
Medibank Private Limited (ASX: MPL)
The federal government privatised Medibank in 2015, and the share price of the now publicly traded health insurance and treatment provider is up 58.5% since listing.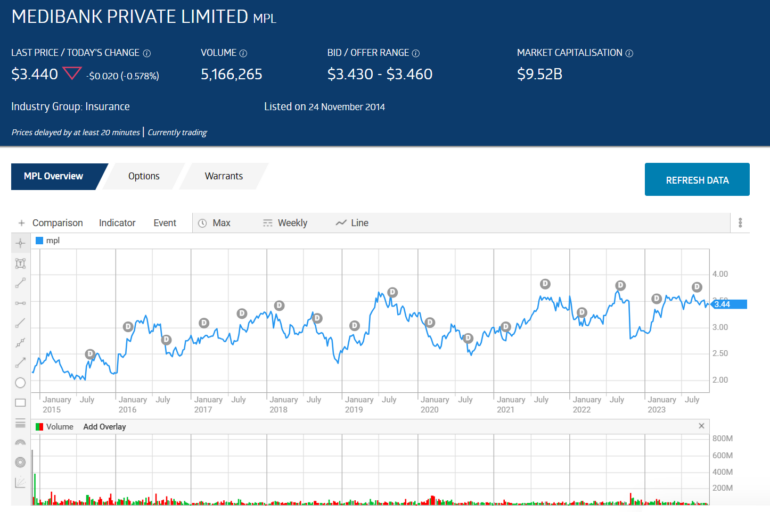 Source: ASX 8th November 2023
In addition to its insurance for hospitalisations and ancillary medical issues from dental to optical to physical therapy, the company offers a variety of healthcare treatments and healthcare management services, as well as temporary insurance for overseas students and visitors.
Medibank has two operating segments – Health Insurance and Medibank Health. The company has added pet, travel and life insurance to its range of offerings.
By the end of October 2022, a series of announcements from the company regarding a hack of its databases ended in the unwelcome news that hackers had accessed all the personal data of Medibank Private health insurance customers and significant amounts of health claims data.
The stock price plunged, but despite the company's warning of the potential negative impact on upcoming financial performance, MPL shares are now trading at pre-announcement levels.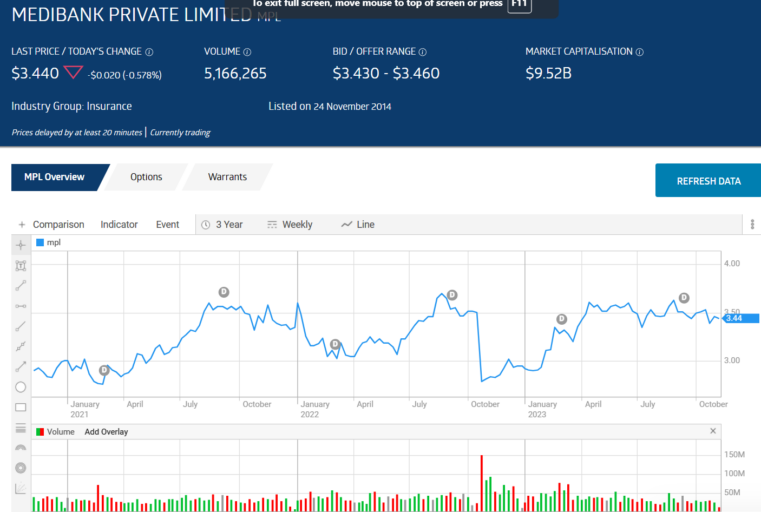 Source: ASX 8th November 2023
The Medibank Private Half Year 2023 financial results released in early February made a strong case supporting the view that investors were looking at MPL as the best financial and banking stock in 2023.
For the entire six-month period, net resident policyholders grew by 0.1%, falling by 0.9 thousand from 31st December 2022 to 18th February 2023. Despite a one-time write-off of $26.2m in cybercrime costs, net profit after tax was up 5.9%.
The encouraging Half Year results foreshadowed positive news in the Full Year 2023 financial performance.
Medibank Private Financial Performance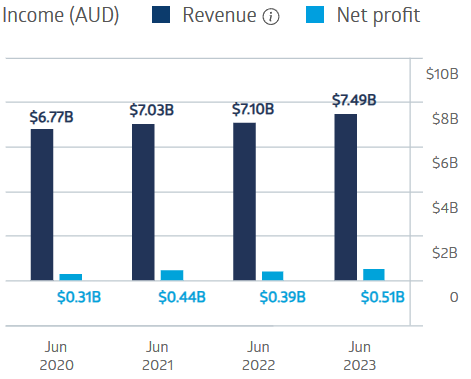 Source: ASX 8th November 2023
ASX Limited (ASX: ASX)
Given the market volatility for more than a year, how could ASX stock be seen as the best financial stock to buy in 2023?
The ASX operates and manages Australia's only major stock exchange, with an international reputation. ResMed Inc (ASX: RMD) is one of many US companies that have chosen to list on the ASX. Demand for stock trading will never evaporate during the most challenging economic times. Investors may sell more than they buy, but trading goes on.
The ASX has minimal competition, and the massive 'barriers to entry' virtually assure that it never will. Still, the ASX is at moderate risk from regulators seeking to break its virtual monopoly on the clearing and settlement functions. The ASX manages all aspects of equities, debt securities, derivatives and investment funds.
The ASX operator saw declines in revenue and net profit after tax between FY 2020 and FY 20221. By FY 2022, revenues and profit exceeded pre-pandemic levels, but both revenues and profit dropped in FY 2023.
ASX Financial Performance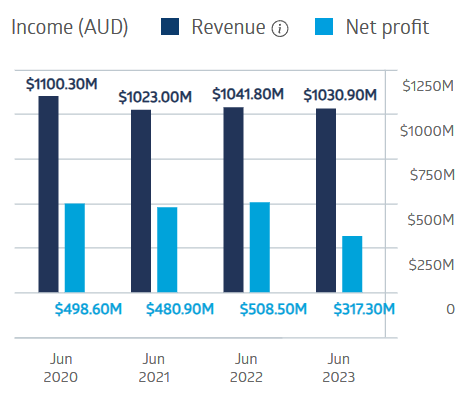 Source: ASX 8th November 2023
An analyst from Shaw and Partners commenting in the weekly 18 Share Tips column on thebull.com.au in the week of 18th March pointed to ASX shares as a best financial stock to BUY in 2023 based on its share price decline and its market-leading status, with little competition.
As of the end of October, five analysts had HOLD recommendations on the shares, with seven at UNDERPERFORM and one at SELL.
Year over year, the ASX share price has dropped 16.28%.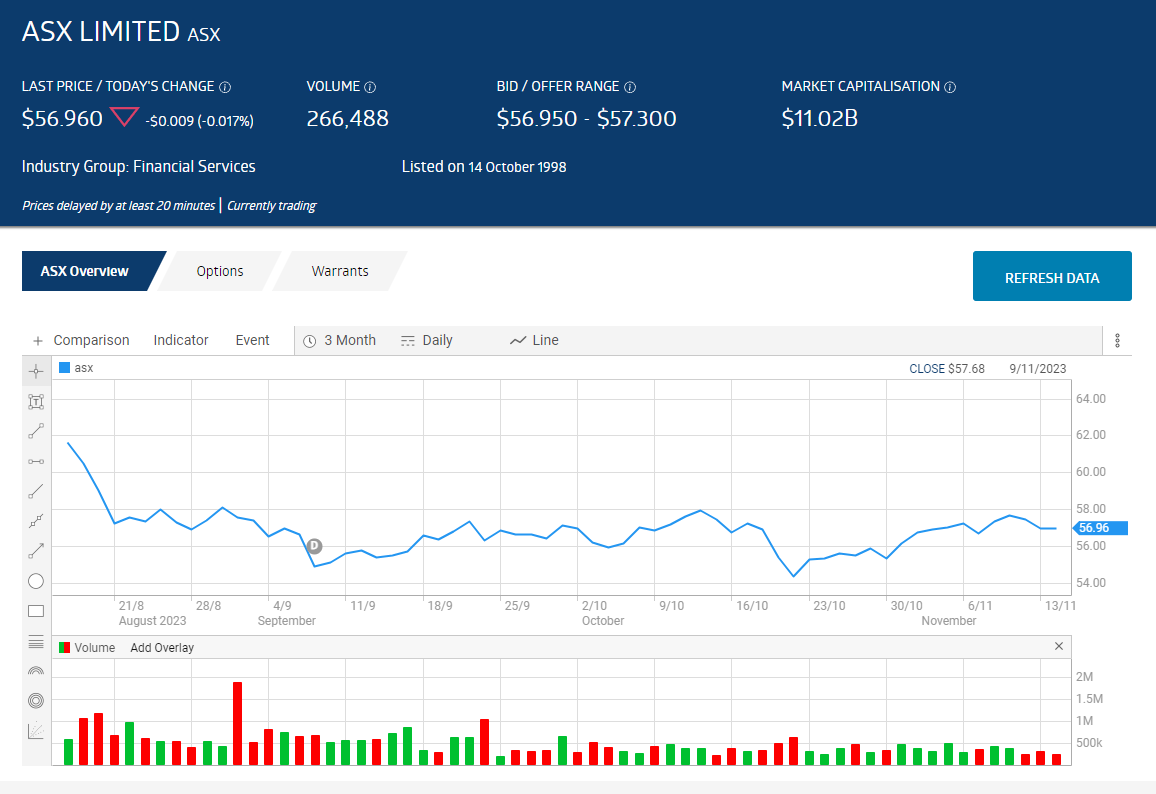 Source: ASX 13th November 2023
For traders looking to invest in Australian financial and banking stocks, ASX offers four of the largest and safest banks in the world, all trading at a discount, along with major international and domestic insurance companies and a host of financial technology companies.
Banks and insurance companies have a significant advantage over many stocks in other sectors – the demand for banking services and home, auto, health and other forms of insurance will never go away.
That is not the case with the financial technology sub-sector, making these stocks less suitable for risk-averse investors to buy in the challenging economic conditions of 2023. Stick with the financially stable, low-risk big banks and insurance companies.
FAQs
What Are Financial Stocks?
Financial stocks are shares in companies that offer financial services such as banking, insurance, loans, credit cards, payment services and more. The financial sector is a core part of the global economy so financial stocks should play a key part in any portfolio.
How Do I Buy Financial Stocks?
To buy financial stocks you will first need to open an account with a regulated australian broker . The majority will offer a wide range of financial stocks. You will then need to do your own research to determine which are the best for you to invest in.
Are Financial Stocks a Good Investment?
Any investment involves some degree of risk – prices can go down as well as up. However the financial sector is at the core of the global economy and is seen by many as a safer investment that other sectors. The financial sector is heavily regulated and has performed well over the past 30 years.