In 2017 the ASX published a report prepared in conjunction with Australia's primary life science organisation, AusBiotech, entitled Guide to Life Sciences Investing.
The ASX Healthcare Sector is broadly divided into two subsectors – Health Care Equipment and Services and Pharmaceuticals, Biotechnology, and Life Sciences.
Listcorp.com – a site devoted to allowing investors access to publicly listed companies – has the 185 listed ASX Healthcare Stocks broken down into ninety-two listed Pharmaceuticals, Biotechnology & Life Science stocks and ninety-three listed Health Care Equipment and Services stocks.
Pharma, Biotech, and Life Science companies make products with medical applications, with the primary difference being how they are made. Pharmaceuticals are derived from chemical compounds while Biotechs originate from living organisms, researched by Life Science Companies.
The distinctions are unique to each listed company, as many operate in all three branches.
The Guide to Life Sciences Investing states that as of 2017 only about one percent of medicinal sales around the world come from ASX listed companies. However, the report also points to strong performance in R&D (research and development) spending, with Australia's total R&D investments consistently ranking in the Top Ten of OECD (Organization for Economic Cooperation and Development) member nations.
The report goes on to point out to investors the high risks inherent in these stocks, including:
The rate of successful commercialisation of products developed by these companies is between 5 and 15 percent.

It can take between 10 to 15 years for these companies to successfully bring a product to market.

These companies face multiple regulatory compliance hurdles not found in other business sectors.

Development costs and product pricing can be unpredictable.
The highly likely outcome of these combined risks is the wait for achieving measurably significant revenues can seem endless.
Given the scale of the potential rewards realised from successful biotech/life sciences stocks, many investors are willing to assume risks higher than those found in virtually any other sector on the ASX.
However, in trading conditions flirting with volatility approaching bear market territory, small cap biotechs are often among the first investments to disappear from investors' portfolios.
Going into the final trading weeks of calendar year 2021, four small cap biotechs showed share price appreciation in excess of 200%:
Actinogen Medical (ACW)

– Cognitive Deficiencies up 485%

Imugene Limited (IMU)

– Cancer Treatments up 388%

Prescient Therapeutics (PTX)

– Cancer Treatments up 236%

Incannex Healthcare (IHL)

– Medicinal Cannabis up 219%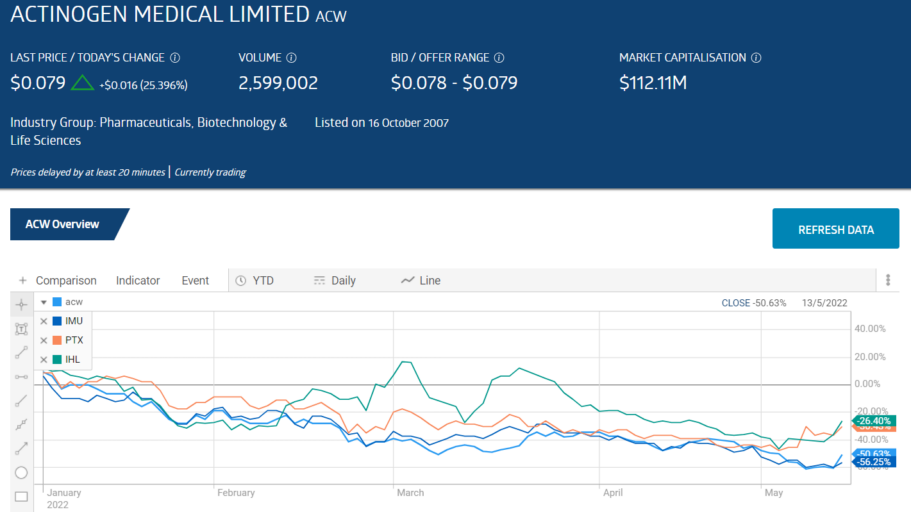 All four have been falling since the dawning of trading year 2022. The pattern is not exclusive to these former stalwart performers, as the entire ASX healthcare has been in decline year-to-date, along with the entire ASX. From google.com: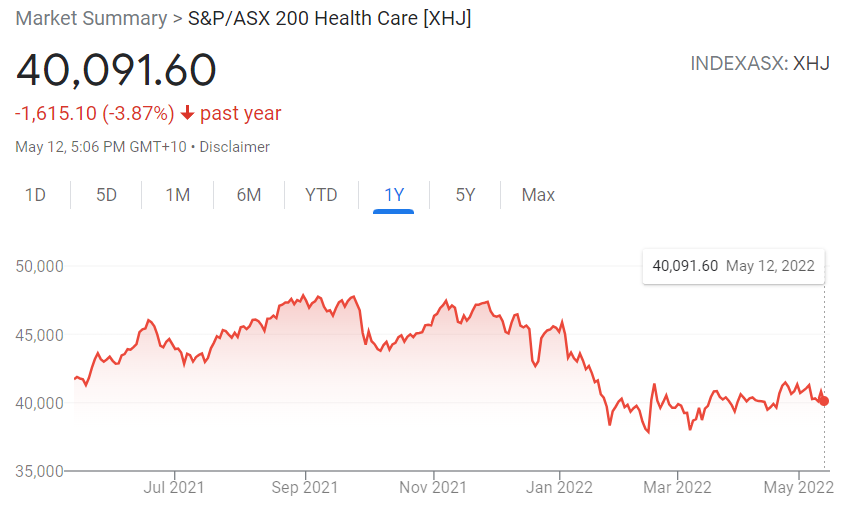 The XHJ is falling in line with the ASX as a whole, but risk tolerant investors could be looking for opportunities amongst promising companies suffering from a general market malaise.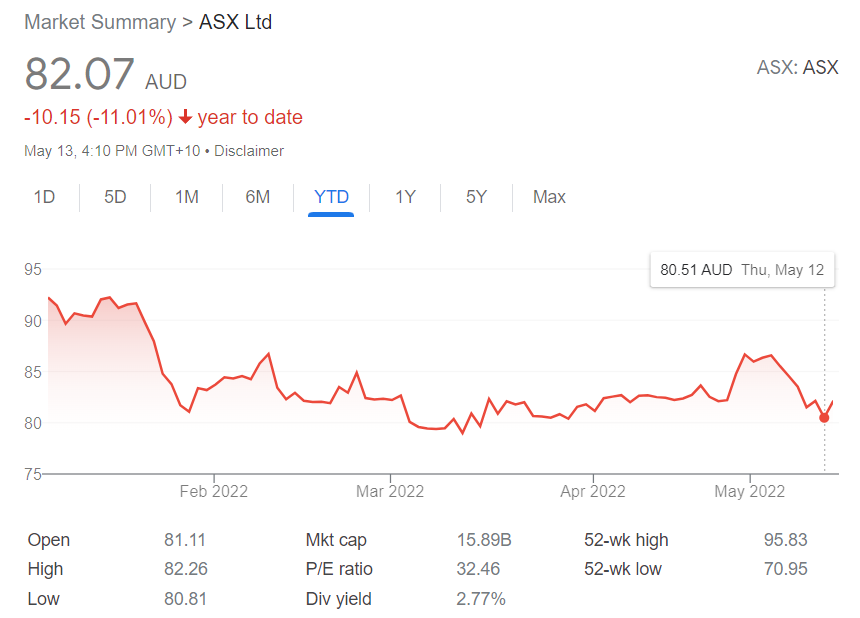 Since the beginning of the year, three small cap biotechs appear to be leading the pack in releasing announcements to the market. Small cap startup companies often release news to the market, knowing full well news on company progress can move the share price.
The following table lists the three by market cap, with relevant share price information and historical performance.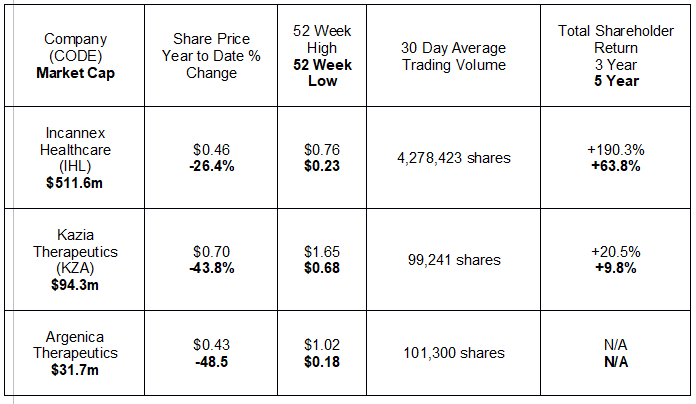 With average daily trading volume in the millions of shares, medical cannabis provider Incannex Healthcare appears to be the only stock on the radar screens of many investors. The company does show the kinds of signs investors look for in small cap biotech startups – large potential market and multiple products in varying stages of clinical testing.
Incannex has treatments in development for the following medical conditions:
Obstructive Sleep Apnea

General Anxiety Disorder

Lung Inflammation

Inflammatory Bowel Disease

Concussion and Traumatic Brain Injury
On 1 February of this year the company announced progress on its Phase 2a "proof of concept" clinical study for its Obstructive Sleep Apnea treatment. OSA affects more than thirty million adults in the world's premier healthcare market – the United States. Incannex also announced the filing of an international patent application for the treatment.
On 28 February Incannex announced the company's successful listing on the Nasdaq Global Market in the US under the ADS (American Depository Shares) program. The dual listing allows access to share purchases from a wider investor base. Incannex trades in the US under the code IXHL.
On 3 March Incannex announced a licensing arrangement with Monash University for the treatment of anxiety disorders, combining therapeutic virtual reality programs from the university's Turner Institute for Brain and Mental Health with a psychedelic drug in development at Incannex.
On 10 March the company announced preliminary results from the OSA clinical trial, showing reductions in the severity of the disease along with positive efficacy and safety characteristics – the primary purpose for "proof of concept" studies.
On 24 March Incannex announced its intent to acquire a US based medical cannabis company with a patent portfolio of nineteen granted patents and another twenty-three in the application stage — APIRx Pharmaceuticals. In addition to its patent portfolio, APIRx has treatments for a variety of conditions in twenty three pre-clinical and active clinical stages. The potential market for the treatment portfolio is estimated at USD$400 billion dollars per year.
On 10 May the company announced positive results from a pre-clinical animal study on traumatic brain injuries developed in conjunction with the National Football League (NFL) in the US. Preliminary findings showed significant restoration in spatial memory twenty four hours after a sustained injury. Incannex will meet with the US FDA (Food and Drug Administration) in Q3 of 2022 to discuss an expedited clinical trial program.
Kazia Therapeutics is developing novel treatments for brain, kidney, and liver cancers that do not respond well to existing treatments. The company's flagship product – Paxalisib – is a treatment for an aggressive form of brain or spinal cord disorder called Glioblastoma (GBM).
On 14 February of this year Kazia reported multiple positive developments with Paxalisib during the last three months of 2021. The company's own Phase II study showed improvements in survival rates of newly diagnosed glioblastoma patients. More than forty cancer hospitals in the US are participating in a study — the GBM AGILE study — sponsored by the Global Coalition for Adaptive Research. GBM AGILE (Glioblastoma adaptive, global, innovative learning environment) is an international study, with the study soon to begin in China, following the Chinese regulatory approval of Paxalisib.
On 28 February Kazia announced another US based study of Paxalisib starting at the Weill Cornell Medical Centre of New York Presbyterian Hospital studying both newly diagnosed GBM patients and recurring patients following other treatments.
On 8 April, the company announced the findings of scientists at US-based Johns Hopkins University that described Paxalisib as a "backbone therapy" for the treatment of two forms of brain cancer in children.
(In 2020 the FDA granted Paxalisib with "orphan drug" status, fast tracked for treating GBM.)
The same announcement had news that another treatment under development at Kazia for a variety of cancers – EVT801 – will be the subject of a Phase I clinical trial, with patient recruiting begun at two locations in France.
On 21 April Kazia announced the completion of its own Phase II Paxalisib trial, with results now under analysis with findings to follow. In a matter of days, the company then announced an equity funding program to be managed by the US-based Oppenheimer Investment Bank.
Argenica Therapeutics listed on the ASX in June of 2021 to bring to market a "neuroprotective" treatment developed at the University of Western Australia by Professors Bruno Meloni and Neville Knuckey. The drug — ARG-007 – can provide protection to the brain following stroke disorders and other acute injuries to the central nervous system. The drug is designed to stop further brain tissue death following strokes and related injuries, with initial treatments provided by first responders.
Following the December of 2021 announcement that Argenica had received a "notice of allowance" by the United States Patent and Trademark Office with the expectation that this preliminary patent approval would become formal within months, the company released a series of announcements regarding progress of pre-clinical studies needed prior to the commencement of a formal Phase I clinical trial.
Two early progress announcements were followed by the release of a "peer-reviewed " scientific paper authored by one of the developers of ARG-007. Then came two more announcements with details of successful animal studies necessary for a final ethics submissions before approval.
On 4 May Argenica announced that all the safety preclinical pharmacology studies required for a Phase I trial ethics submission had been completed.
However, investors were disappointed to learn an additional step was needed prior to the completion of the ethics submission. Argenica management expects the step to be completed soon with the expectation that the Phase I trial could begin in the current Quarter. The stock price took a dip, but began recovering within two days, perhaps in anticipation of the next announcement.