The long-term case for renewables was already well-established before the war in Ukraine began due to the need to decarbonise the economy. The current pressure on Europe to break its dependency on Russian gas has only strengthened the long-term need for green infrastructure.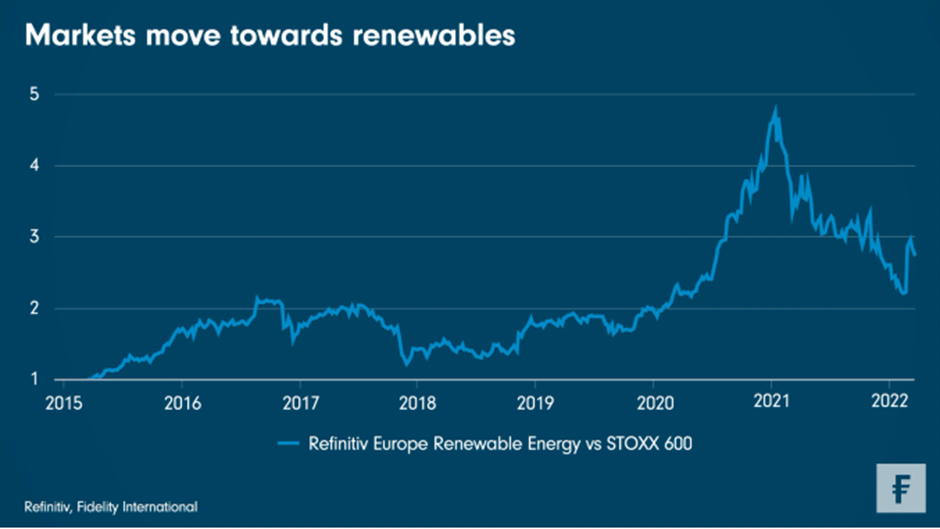 The long-term case for renewables investing has been mounting in recent years as the world seeks to mitigate climate-related risks.
Over the next decade, the energy transition outlined in the EU green deal of December 2019, which aims to reach net zero by 2050, has the potential to create major capacity addition opportunities for renewable companies in Europe. Further electric vehicle penetration and green hydrogen production are expected to increase overall demand for power, while the eventual replacement of coal power generation is expected to increase demand for renewable energy specifically.
While power can be sold on the spot market, much renewable electricity is sold directly to large customers on longer contracts. That helps to lock in margins and make funding for growth easier and cheaper to access. The building and operation cost of renewable technology has also fallen considerably in recent years.
The arrival of war in Ukraine and the pressing need for greater energy security has increased the likelihood of a swifter transition to renewables, even if simultaneously European countries are having to source short-term alternatives to Russian fossil fuels as a stopgap while more renewables are built.
Elevated energy, oil and gas prices, and the likelihood of more clean energy incentives from governments, should continue to provide significant longer-term tailwinds for the sector. Moreover, the low correlation to the business cycle and relatively high degree of predictable revenues means the sector has the potential to provide some defensive protection in times of market stress.
However, there are risks. Alongside the immediate need for dirtier fossil fuels such as coal and some of the outstanding technical issues with renewables around intermittency and storage, rising rates may provide another headwind. The flipside of defensiveness is that utilities are often seen as bond proxies, meaning they tend to perform worse in periods of rising yields. However, we believe these concerns may be overdone.
Despite its recent hawkishness, we expect the European Central Bank (ECB) will switch to a more dovish stance later this year in order to protect growth as the fallout from the war becomes apparent. At the same time, the need to replumb European energy systems for both security and net zero reasons is not going away.
Originally published by Fidelity International investment experts