For much of the trading year, investors in ASX listed companies have seen shares of their investments rise or fall because of the "lead" of US stock markets. There are those within the global financial community who feel US markets exert an undue influence as a "lead in" to their own markets. Here in Australia that may be the case in many situations, but at the end of the Trading Year 2022, the ASX S&P 200 has pleasantly surprised Aussie investors.
While the Dow Jones Industrial Average (DJIA) dominates much of the world's financial reporting on market conditions in the US, finance professionals in that country favor the S&P 500, as it seems more representative of the US economy.
The US S&P 500 fell 19%. The home for most US and many global tech companies – the NASDAQ Index – fell 33%. Here in Australia, the ASX S&P 200 fell just 5.5%, but the ASX XTX All Technology Index fell 32.8%, keeping pace with the US NASDAQ. Another former "market darling" sector – Healthcare – dropped 8.4%.
We are now coming to the end of the first month of the Trading Year 2023, and both small/mid cap healthcare and technology stocks are rising. The following chart from google finance compares the price movement performance of the ASX 200 against the ASX All Technology Index ATX and the XHJ Healthcare Index: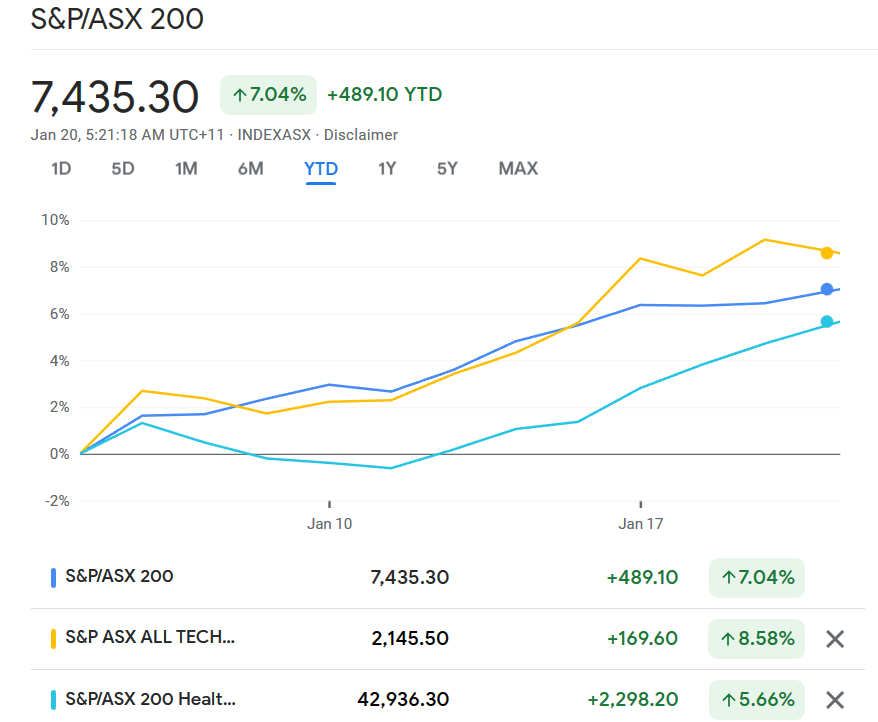 As one would expect, not all technology or healthcare stocks are rising year to date. The top performer in the XHJ in 2022– Cronos Australia Limited (CAU)) – rose 200%. Year to date in 2023 the stock price has dropped 18.3%.
Count some of the worst performing XHJ stocks in 2022 among the early price leaders in 2023, year to date.
Biotechnology developer of anti-cancer drugs Kazia Therapeutics Limited (KZA) dropped 93% in 2022 but started 2023 strong and is now up 25%. The following chart from googlefiinance.com includes three other ASX healthcare stocks that have dramatically reversed course at the start of the year.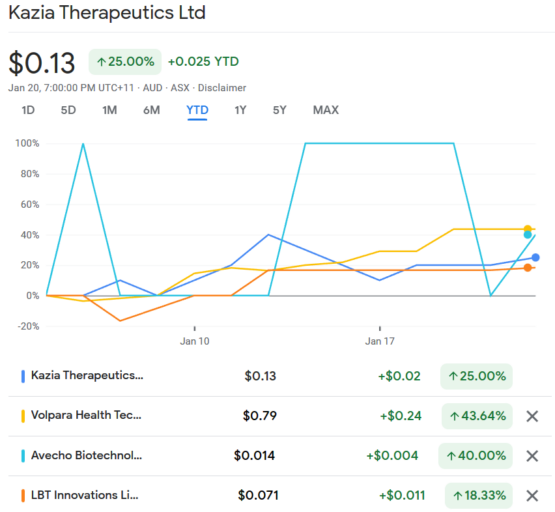 Medical Imaging company Volpara Health Technologies (VHT) dropped 11.24% year over year to 20 January of 2023.
Medical device company LBT Innovations (LBT) has dropped 35.4% to 20 January of 2023.
Developer of innovative drug delivery systems for multiple applications Avecho Biotechnology (AVE) has dropped 30% to 20 January of 2023.
The following table includes relevant metrics for the four companies.
Company

(CODE)

Market Cap

Share Price

52 Week

High

Low

Trading Volume

90 Days

Most Recent Quarter Total

Cash

Debt

Kazia Therapeutics

(KZA)

$22.65M

$0.125

$11.14

$0.07

239.8K shares per day

$7.4M

N/A

Volpara Health Technologies

(VHT)

$197.9M

$0.79

$0.965

$0.40

124.7K shares per day

$11.6M

$22.5M

LBT Innovations

(LBT)

$23.4M

$0.07

$0.12

$0.049

214.6K shares per day

$2.79M

$4.29M

Avecho Biotechnology

(AVE)

$25.7M

$0.014

$0.023

$0.007

769.8K shares per day

$3.13M

$54.09K
Two of the companies could be classified as "penny dreadful" stocks, and only New Zealand based Volpara has a market cap that suggests small cap and perhaps even mid cap status.
Volpara makes software programs to enhance the processes and procedures involved in viewing and interpreting radiologic images, primarily of the breast and lungs.
The company's primary focus currently is the use of the company's technology for breast imaging on breast cancer, screening, analysis, and treatment. Volpara's AI (artificial intelligence) powered image analysis software assists radiologists in a variety of ways, beginning with optimal quality imaging, analysis of breast tissue, assessment of cancer risk.
Volpara has software programs serving multiple audiences in the cancer screening, analysis, and treatment cycle.
Volpara Analytic is the program that optimizes the imaging performance of cancer screening operations.
Volpara Live allows patients access to feedback on their own breast imaging.
Volpara Lung is software for streamlining the lung screening process for patient use.
Volpara Patient Hub is a software platform that can be tailored for individualised mammography reporting to patients.
Artificial Intelligence expertise has enabled Volpara to develop software that gathers data from the entire screening process to assess high-risk breast cancer.
Volpara Scorecard identifies breast risks via the imaging and analysis software, allowing early detection and input fo7r clinical treatment decisions.
The company owns multiple product patents and has regulatory clearance from both the US FDA (Food and Drug Administration) and the European Union's CE Marketing label.
Volpara is relatively new to the ASX, listing in 2016, closing its first trading day at $0.45. The stock price hit an all-time high of $1.98 on November of 2019 before collapsing as the COVID 19 Pandemic enveloped the world. While the transportation and tourism sectors were acknowledged as sectors facing near extinction for many smaller enterprises, common sense suggested healthcare would be less affected since the sick must be treated.
Common sense could not have been more misguided for missing the possibility that quickly became reality – only the critically ill — as in life or death — would be treated. COVID patients bumped elective surgeries and procedures, wiped out recruiting for clinical trials, reduced drug prescriptions to lifesaving needs, and eliminated non-essential hospital stays and even face-to-face physician visits.
Volpara's FY 2022 Full Year Results showed a 32% increase in total revenue; a 19% increase in the US market; subscription revenues up 34.7% and gross profit up 32%. The company still posted a loss but reduced the amount of the loss by 6%.
Half Year 2023 continued the pattern – revenues increased across the board and the posted loss showed a 38% improvement over the prior year's financial statements.
On 9 January Volpara announced the signing of total contract value (TCV) of USD$7.8 million dollars with five of the largest hospital systems in the US.
Kazia Therapeutics also trades on the US NASDAQ market under the code KZIA, but the company has received notification of a "minimum bid deficiency" from the NASDAQ for a share price falling below $1.00 per share. The rising trend of 2022 beaten down healthcare and technology stocks has pushed the price back above USD$1.00 per share.
The company has drug treatments in development for treating brain, renal, and liver cancers, with its flagship drug – Paxalisib – having recently achieved positive interim data in a Phase I clinical trial for treating brain metastases. which recently generated positive interim data in a phase one clinical trial. Paxalisib may be an effective treatment for the most devastating form of brain cancer — glioblastoma. A Phase II trial in the US on the treatment of glioblastoma with Paxalisib began in February of 2022.
In 2021, the company entered into a worldwide exclusive licensing agreement with German biotechnology company Evotec for the drug candidate EVT801.
On 1 December in 2022 the company announced positive pre-clinical data for the use of EVT801 with multiple forms of cancer. EVT801 is the subject of a current clinical trial on the effectiveness of the treatment on solid tumors.
Paxalisib has US FDA Orphan Drug Designation and Fast Track Designation for the treatment of glioblastoma. Together, ODD and FTD from the US FDA are meant to allow companies to put into clinical trials treatments for rare diseases and those not the subject of mainstream interest from the pharmaceutical industry.
Kazia management made a strategic decision to stay away from the "a few at a time" mentality of limiting clinical trials. Kazia's lead drug candidates could be suitable for multiple applications, so the company has eight clinical trials in progress.
Results from the final Paxalisib Phase III clinical trial are expected in the second half of 2023 while the data results from the initial Phase I EVT801 clinical trial are expected in the first half of 2023.
With respective share prices of $0.01 and $0.07, LBT Innovations and Avecho Biotechnology scream "penny stock". Neither have major analyst coverage, while Volpara has two and Kazia has one, all with BUY ratings.
Penny stocks with solid business models should not be automatically excluded from the portfolio search of investors with a very high tolerance for risk.
Avecho could be an attractive target due to its highly diversified market segments and highly diversified products offered.
First, the company serves both the human and animal health markets. What the company does is provide a drug delivery technology — TPM® — with multiple functions for multiple applications. TPM® can be used to create new products or enhance and differentiate proven products spanning the spectrum of human and animal health.
TPM® is a Vitamin E based compound that increases the stability, solubility, and bioavailability, of orally delivered drugs; injectable drugs, and drugs delivered through the skin (transdermal) and on top of the skin (topical). Bioavailability is the delivery speed and the extent of the treatment reaching the target condition.
The company website lists "availably globally" injectable, transdermal, and topical products for the treatment of pain and skin conditions as well as four animal health products for diary, pigs, and poultry and cannabinoid products in development.
The Avecho cannabinoid pain treatment is in clinical trials, with positive preliminary results. The company is generating and growing revenue — up 185% in FY 2022 — as well as gross profit, but operating expenses are eating that profit up and spitting out losses.
LBT Innovations has the more impressive business model and is generating revenue from its sophisticated image analysis and software engineering products backed by artificial intelligence for medical diagnostic workflows. For the Full Year 2022 Financial Results LBT showed a 37.4% rise in revenue, and an 8.5% improvement in the company's posted loss.
In 2022 the company acquired Swiss based Clever Culture Systems, a developer of the creator of the APAS (Automated Plate Assessment System). The APAS uses artificial intelligence and machine learning to read and interpret bacterial cultures grown on plates.
The first APAS machine – the Independence – was cleared for sale in the US in 2019. LBT now has a distribution agreement with US based Thermo Fisher Scientific for distribution of APAS readers in the US and Europe.