The Qantas effort to acquire Alliance Aviation Services appears to be in limbo, at best, and dead, at worst.
Alliance's Half Year 2023 Financial Results affirmed management's confidence in the company's growth plan.
The company's year-over-year share price decline may make AQZ worthy of increased investor interest.
Alliance Aviation Services' core business is providing charter and contract flights to the mining, energy, tourism, and government sectors both here in Australia and internationally, in New Zealand, the South  Pacific Islands, and South East Asia.
Over five years, the share price is up 71.51%, with a 23.59% upward bump coming on 5 May of 2022, following the announcement Australia's iconic airline, Qantas Airways, had made a takeover offer.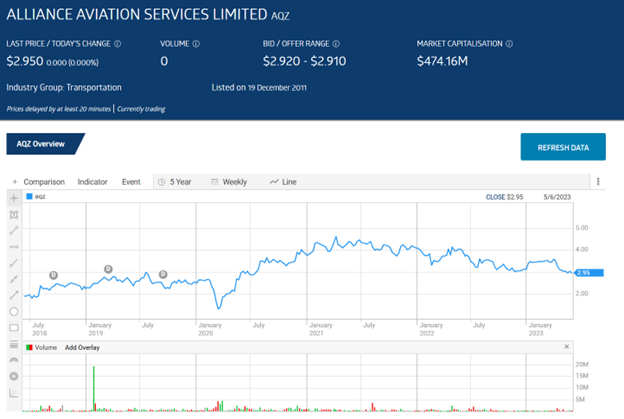 Source: ASX 
Qantas took a 19.9% stake in Alliance on 1 February 2019, anticipating a continued boom cycle in the resource sector. By August of 2022, the ACCC (Australian Consumer and Competition Commission) came out with a "statement of concern" about the deal, as Alliance is the leading Fly In, Fly Out (FIFO) and presently competes with Qantas.
Year over year, the share price is down 26.25%, not quite in bargain territory according to some analysts with a HOLD recommendation on the stock, citing the April announcement that the ACCC was opposing the takeover.
COVID-19 led to labour shortages in parts of the mining sector, but Alliance Aviation's financial performance remained solid until posting a loss in FY 2022. Revenues increased in each of the last four financial years.
Alliance Aviation Financial Performance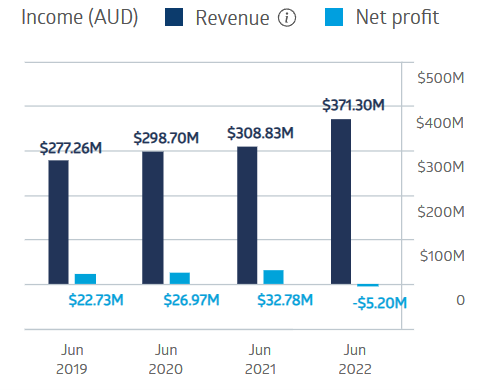 Source: ASX 
Beyond the COVID impact, the loss was also attributed to expansion costs and one-off write-downs. Management is confident the expansion expenditures in FY 2022 will push growth in FY 2023.
Half Year 2023 Financial Results backed up that claim, with revenues up 40% and the previous corresponding period loss of $3.6 million reversed, with a Half Year 2023 net profit after tax of $6.6 million dollars.