Mineral Resources has undergone rapid growth in its share valuation in recent years in no small part due to its lithium and iron ore interests.
Is MIN stock a good investment today?
 Mineral Resources Limited ASX:MIN (MIN) operates in the exciting lithium sector and tenured iron ore operations. It allows investors to gain exposure to a business producing in-demand lithium with a steady income from the more predictable iron ore sector.
The recent rapid growth of MIN's stock price, and the variety of its mining services operations, augmented by its mineral ownership rights, is a testament to the attractiveness of its value proposition.
Top Australian Brokers
Minerals Resources ASX:MIN (MIN)
 MIN, an Australian-based mining services company, represents an attractive investment opportunity due to its diverse portfolio and robust growth prospects. The company operates in various international markets, including China and Singapore, with five segments offering a broad spectrum of services.
MIN's extensive diversification, from contract crushing to logistics and export of commodities, provides a resilient framework that can adapt to market fluctuations, thereby offering a degree of investment security.
Moreover, MIN is expanding into the promising lithium sector through a joint venture with Albemarle Corporation. This strategic move is significant given the accelerating demand for lithium, a key component in electric vehicle batteries and renewable energy storage systems.
The company's iron ore assets and lithium projects, like Mount Marion and Wodgina, notably contribute to a robust reserves portfolio that ensures a steady supply for future operations.
MIN's impressive management team has consistently demonstrated its ability to drive long-term earnings growth. The company's commitment to innovation and efficiency and its sound strategic decisions bodes well for sustained profitability.
A recent dip in share prices presents a valuable entry point for investors. Considering the growing demand for the company's products and robust mineral reserves, Mineral Resources Limited is poised to offer promising returns.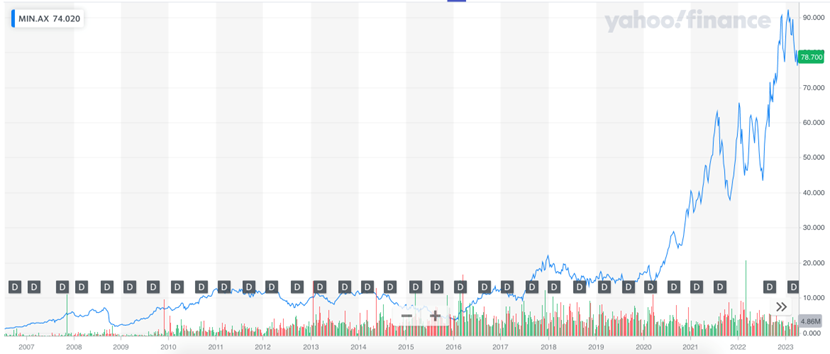 Source: Yahoo! Finance 
Related Articles