Many retail investors avoid staid old tried and true "blue chip" stocks in favor of stocks that excite them. High on the list of investments that get the blood pumping are the disruptors.
The first entry into a sector with a business model that creates new ways of doing the sector's business, challenging traditional norms and practices, can rightly claim the title of disruptor. Disruptors introduce alternative approaches, creating new markets along the way.
For centuries traditional banks have dominated the lending industry. Consumers in need of a loan had few options outside the existing banking system. Then in 2005 in the UK a company called Zopa introduced a personal finance peer-to-peer lending operation that put together borrowers with private investors seeking higher rates of return than those available through other investing opportunities.
P2P (peer to peer) lending has now spread across the globe, with industry titans Lending Club and Prosper launching in the US in 2016 while Australia's first entry arrived in 2012.
Today "fintech" (financial technology) stocks proliferate the investing landscape around the world. Some disruptors take longer than expected to match their expectations while others fall by the wayside. Like all market investments, finding the latest and greatest disruptor is no guarantee of success.
Less than a decade ago 3D Printing was hailed as having the potential to introduce a new industrial revolution. Start-up companies in the human resources sector were supposedly on track to revolutionise the way companies hired their employees and communicated with them.
Remember OnePage? The company set to revolutionise hiring practices slipped into oblivion a little more than a year ago. 3D Printing companies are making their mark in the corporate world but the anticipated explosion in demand for 3D printers for home use has yet to materialise.
The demand for quality agricultural products will soon outstrip existing means of production, according to the website ccafs.cgiar.org (Climate Change, Agriculture, and Food Security).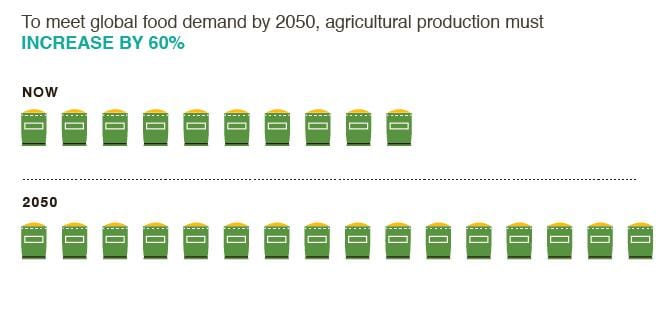 While there are micro-cap stocks on the ASX tackling food production issues, investors appear more interested in the latest "hot" stocks – food and meal deliveries and plant-based meats.
As is so often the case, sooner or later investors come to the realization "the emperor has no clothes" with some of these stocks.
One of the largest food delivery services in the US – Grubhub (NYSE: GRUB) – announced food delivery would never be profitable, serving only as a means to the end of advertising revenue. Grubhub operates here in Australia, with rival DoorDash coming to the Melbourne area.
Once a market darling, Grubhub has fallen on hard times.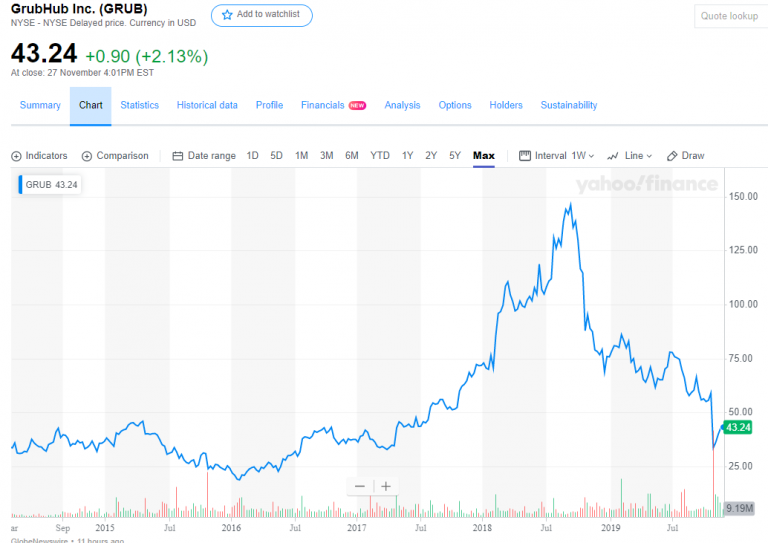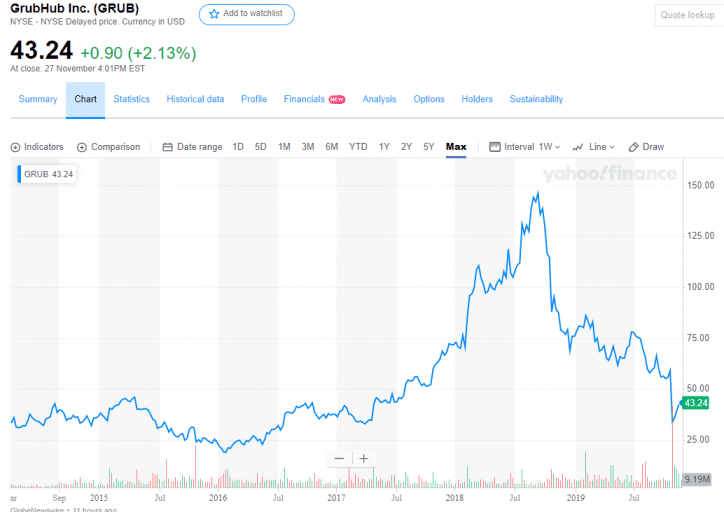 A company delivering ingredients for meal preparation to consumers – Blueapron (NYSE: APRN) – failed to excite investors, as did an Australian entry into the meal delivery business, Marley Spoon (MMM).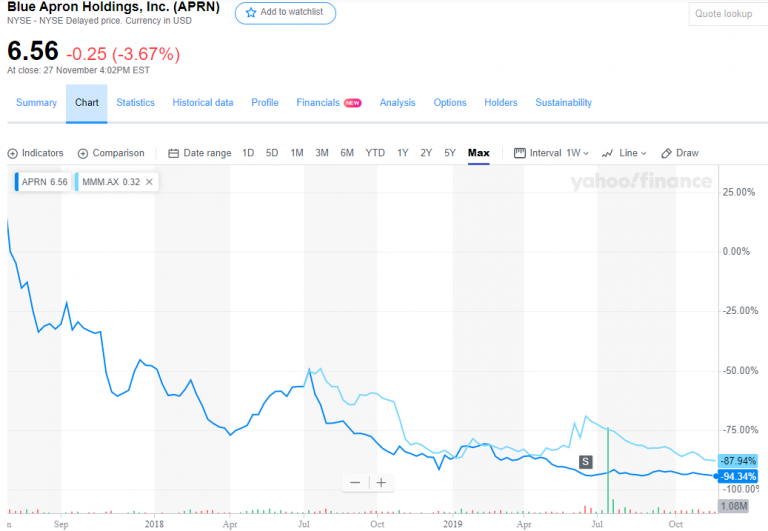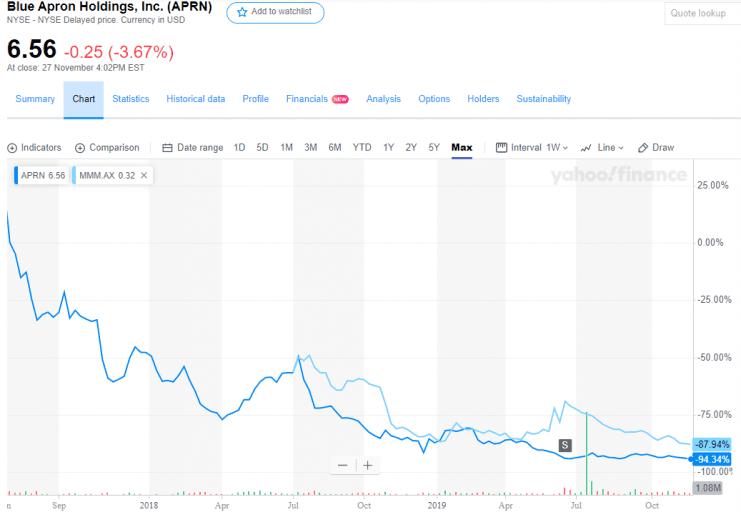 The latest exciting attraction for investors is plant-based meat. Another US company Beyond Meat (NASDAQ GS: BYND) continues the trend of failing to deliver expectations for its investors. The company exploded out of the starting gate earlier this year but quickly lost its luster.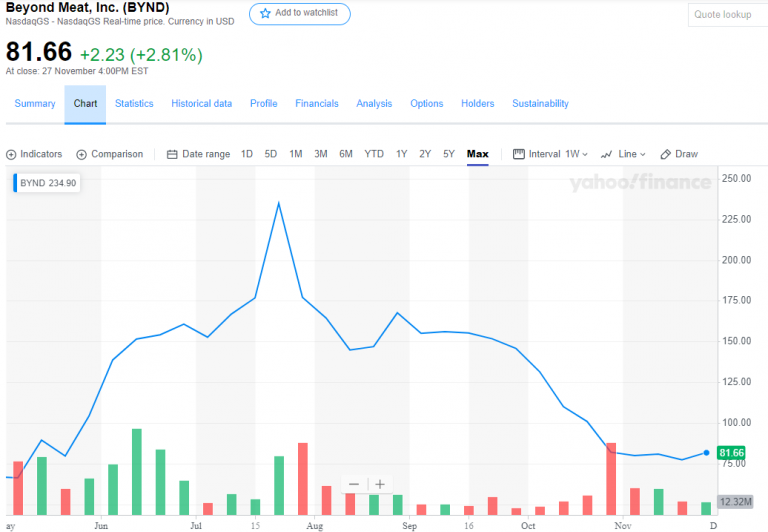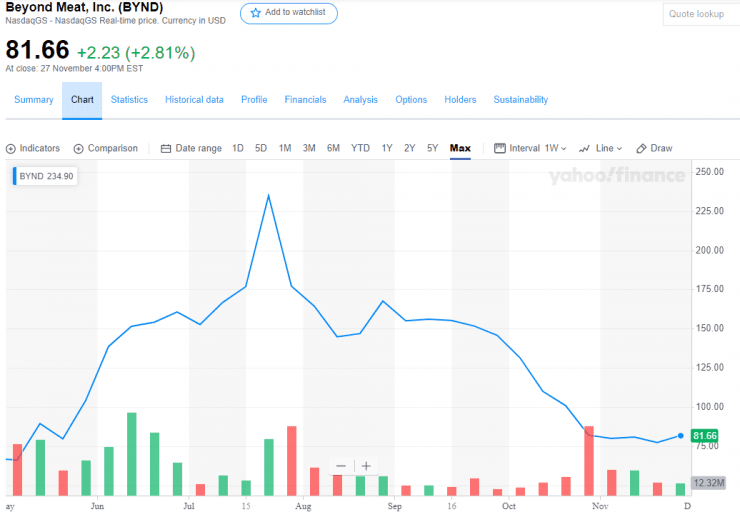 Some disruptors fail to disrupt, turning ice cold sooner or later. Then there are those not yet acknowledged by the investing world as having disruptive potential. The ASX has four micro-cap stocks that could contribute to the global problem of food supply and demand imbalances and two entries in the plant-based meat sweepstakes.

Jatenergy operates a multi-channel distribution network "cross-border" between Australia and China, moving a variety of "fast moving consumer goods" (FMGC).
The company sells its own products as well as products for clients via e-commerce platforms and traditional retail outlets. Goods range from cosmetics and dairy products to vitamins and health products.
The company posted explosive revenue growth in FY 2019, rising from $2.4 million to $66.4 million while widening its loss from $1.2 million to $9.1 million.
On 22 November the company announced an agreement with Oppenheimer, a manufacturer of foodservice brands in Australia, New Zealand, India, China, Southeast Asia and Singapore, to create and distribute a variety of plant-based meats in China and throughout Asia. The agreement is a 50/50 joint venture, setting up a new business entity for the venture — JAT Oppenheimer.
Roto Gro has developed a vertical farming system – stacked instead of in horizontal rows. It is a hydroponic system, meaning it grows in wharehouses without soil using less water.
The company's technology is proprietary and patented with some patents pending and is licensed exclusively for growing medicinal and legal marijuana in multiple countries. The Roto Gro system has non-exclusive licenses globally for perishable foods, nutraceuticals and pharmaceuticals.
The company has begun to make good on its promise to its investors to expand the use of Roto Gro technology into cultivation and production of perishable foods.
Roto Gro has a "Heads of Agreement" in place with Freshero, a grower of fresh produce with contacts in the retail and food service sectors across Australasia and in the Middle East.
Freshero will install Roto Gro systems in a new facility expected to be completed in Q2 of 2020 with the Roto Gro systems installation to follow shortly thereafter.
Roto Gro expects to penetrate the Canadian cannabis market and is now dual listed on the ASX and the TSX (Toronto Stock Exchange.)
Wide Open Agriculture listed on the ASX in July of 2018 with its first trading day close of $0.18 dropping to the current $0.15. The company is small but could impact agricultural production in a major way with its business model of regenerating "wide open" farming land. Regenerative agriculture starts with restoring soil and ends with regenerating entire farming ecosystems, allowing agricultural production on land formerly considered to be unsuitable for plant growth.
Operating in Western Australia's "Wheat Belt", the company's ambitious goal is to "build a new food and farming system to make a healthier world." Wide Open Agriculture currently has a branded product line called "Food for Reasons." A wholly owned subsidiary, Protected Cropping Holdings Pty Ltd grows and sells high quality fresh vegetables throughout metropolitan Perth, with plans for expansion into Asian markets.
Wide Open Agriculture has an agreement with regenerative beef producer Blackwood Valley Beef to develop a range of co-branded, value added sustainable organic beef products. The company is exploring cultivating hemp seed production and plant-based milks and lupin bean-based falafel mixes/burgers.
Abundant Produce began as a partner with University of Sydney's Plant Breeding Institute to attack some of agricultural production's major problems – pests, disease, poor soil, high temperatures, and water supply.
The company produces seeds from high yield plants capable of growing in less than the best growing conditions for food and for use in the company's Abundant Natural Health skincare products.
Abundant's F1 Hybrid portfolio of about 5,000 lines enables targeting of issues specific to the regions in which they are grown, including temperature and disease resistance. In addition to their higher yielding capabilities, Abundant Produce seeds are ideal for use in previously untenable growing areas such as the arid regions of the Middle East and parts of Australia.
The company's products come with customer service technical support backed by the University of Sydney. Currently Abundant seeds are sold here in Australia and the UK with trials underway Europe, Canada, the US, and the Middle East.
Roots Sustainable Agriculture Technologies is an ASX entry working on high-tech methods to control temperature and reduce water usage to increase plant yields.
The Israeli-based company's crop cooling technology and temperature control RZTO (Root Zone Temperature Optimisation) increases plant protein content through heating or cooling plant roots.
The company reports a 40% yield increase in its primary focus currently – cannabis – but also claims 40% increases in bean yields.
Roots Sustainable Agriculture is in the R&D phase of creating an innovative approach to irrigation – the Irrigation by Condensation System (IBC) that will employ wind or solar power to extract water from the air and from the soil. A successful system would substantially improve agricultural production in locations without proximate water sources for irrigation.
Of the ASX stocks involved in improving agricultural production, Wide Open Agriculture has investor sentiment on their side year over year.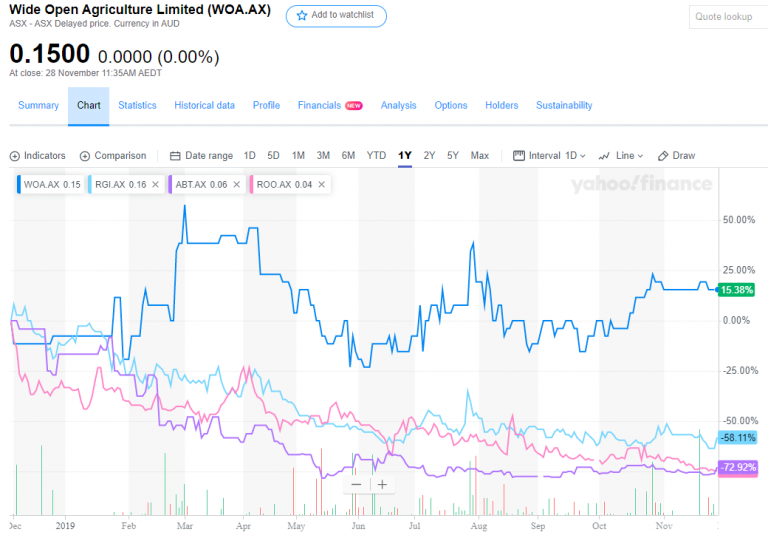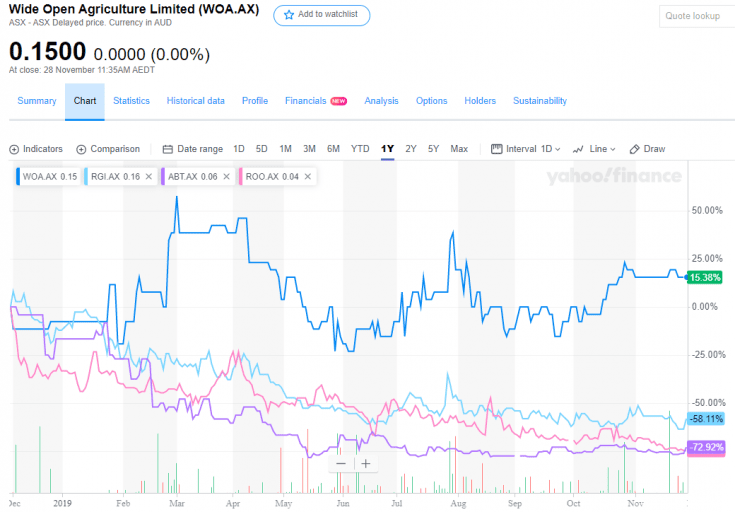 In southern Israel, yard long bean growers improved yields by 40 per cent after their winter crops were kept at a constant 20 degrees.