Growth investors willing to take the risk to shoot for the moon find prime targets in the biotechnology sector. The "holy grail" of growth investors remains the ten-bagger (or more) popularised by US investor Peter Lynch – a stock rising to more than ten times the value of an initial investment.
A recent example on the ASX is the breathtaking performance of a biotechnology company developing treatments for eye disease related to aging and diabetes, Opthea Limited (OPT). ON 7 August the company released positive results from a Phase IIb clinical trial testing its treatment for age-related macular degeneration (AMD) — OPT-302.
Despite the fact OPT 302 faces more clinical trials, the prospect of cracking a multi-billion-dollar market led US investment bank Goldman Sachs to add OPT to its conviction buy list, with a $4.90 price target.
Retail and institutional investors alike are scrambling to grab shares as the stock price has continued to climb since the announcement. They would do well to remember the story of another promising ASX biotechnology company, Factor Therapeutics (FTT) that saw a different outcome about a year ago.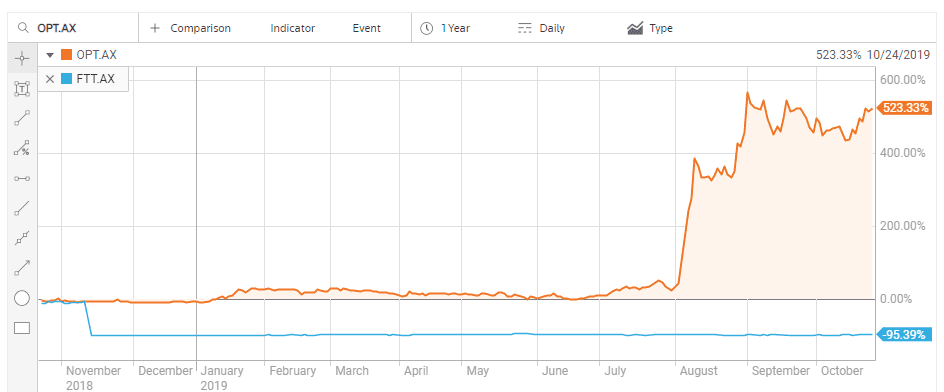 Factor Therapeutics Is a biotech developer of treatments for acute and chronic wounds and burns. ON 12 November of 2018 the company announced the results of a Phase II study for a treatment for leg ulcers. As regular biotech investors know, clinical studies often target more than one result, or endpoint. Factor's treatment failed on all three endpoints. The stock price dropped 98%; the company announced it was abandoning further study of the treatment; and the CEO resigned.
While cynics would point to the Factor story as evidence to shy away from biotechs, they appear to be in a decided minority. Although start-up biotechs have the highest risk, there is no shortage of interest from venture capital investors in these high-risk ventures. US based financial data firm PitchBook claimed, with four months remaining in 2018, investments in biotech firms eclipsed $111 billion dollars.
Biotech-focused global VC fundraising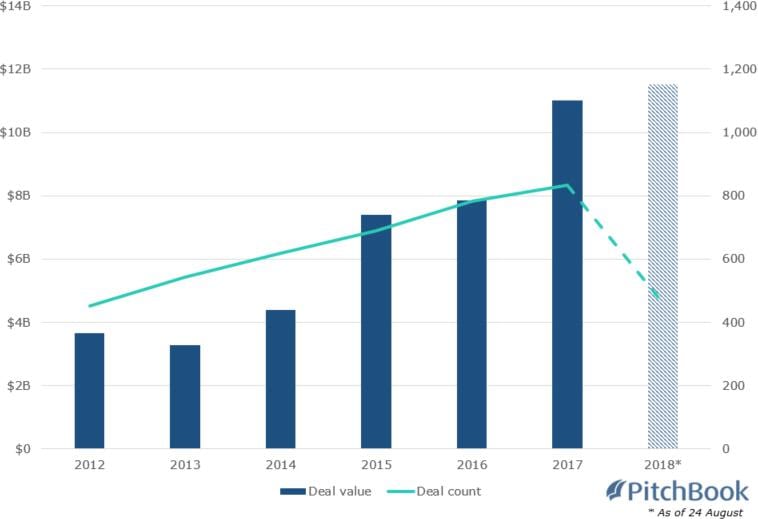 AusBiotech is a life sciences/biotechnology advocacy group promoting the global growth of Australian companies in the sector. On 31 October, the group will host its annual Australia Biotech Invest & Partnering conference in Melbourne.
Presenting companies include ASX mid-cap and micro-cap entries and privately held firms. Some are "under the radar" stocks and all are speculative high-risk, since none have yet to see significant revenue or any profits.
There are some factors to consider when investing in any biotechnology company that help mitigate the risk to varying degrees.
The first is the condition targeted. Investors gravitate to research on "hot" diseases, like cancer, sometimes forgetting that some forms of cancer are rarer than others. The more relevant issue is the potential market size of those afflicted with the condition to be treated.
Second, companies targeting a single flagship treatment are riskier than companies with multiple products in their pipeline.
Third, the timeline of moving a treatment from trials to market is key, with companies close to the end of the process more desirable. A recent study from the Massachusetts Institute of Technology (MIT) claims 14% of drug trials make it to market, with a start to finish timeline of anywhere from ten to fifteen years.
Fourth, the timeline issue raises the risk of a company starved for the capital to keep operating until the cash register begins to ring. Funding can be had from a variety of sources, including loans, grants, capital raises, and venture capital. Debt can be a killer for many a promising biotech and repeated capital raises that lower the value of existing shareholders can devastate a stock price.
Fifth, a good measure of the potential of whatever the company is developing is its partnership arrangements. Backing in the form of funding or marketing and distribution agreements with major players can shore up a start-up on a long path to market. Multiple partners are highly desirable as the loss of a sole supporter can be interpreted as highly negative.
Finally, company management should include someone with experience in corporate finance, with experts with experience managing start-ups the most prized asset. Many investors ignore this, focusing solely on the clinical expertise of the company's top personnel. You need someone to keep a watchful eye on how fast the company is burning available cash.
The following table includes six of the ASX listed presenting companies at the upcoming conference.

In November of 2017 developer of immunotherapy cancer treatments Prima BioMed changed its name to Immutep Limited (IMM) along with expanding its business model from a single cancer vaccine product to focus on multiple treatments for advanced breast cancer and skin cancer.
As the name implies, immunotherapies work by activating or suppressing the body's immune system response to combat the disease condition, in Immutep's case skin or breast cancer. The company discovered the Lymphocyte Activation Gene-3 or "LAG-3" with six LAG-3 based treatments now in clinical trials and one in the pre-clinical stage. A treatment for advanced breast cancer is in late stage Phase IIb trials.
On 15 October the company announced positive Phase I clinical trial results for a treatment for melanoma. Immutep has an impressive partner list for three of its treatments including Merck, Pfizer, and Chinese Pharma company EOC.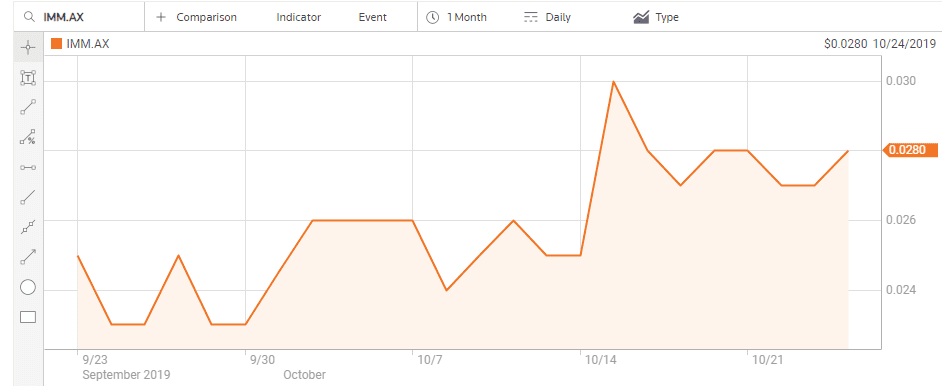 Biotron Limited (BIT) is developing drug treatments for viral diseases, including the HIV-virus and Hepatitis C virus. On 28 September of 2018 the company announced positive Phase II clinical trial results for its lead product – BIT225-009 HIV-1 — and the share price soared.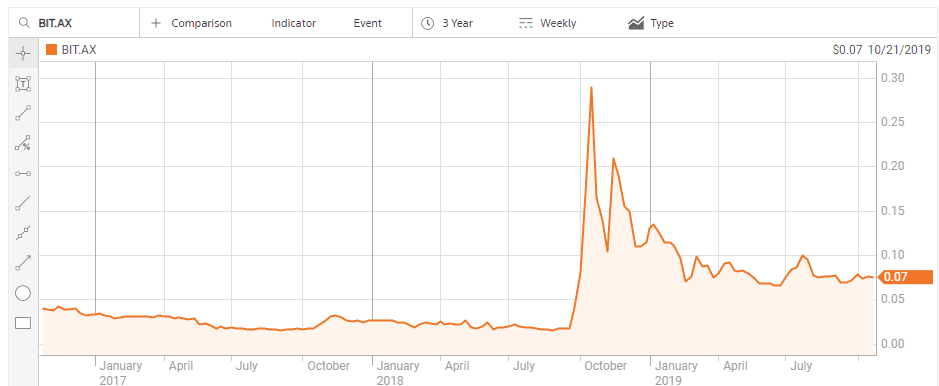 Biotron management followed the news with a shareholder update announcing the company would be presenting the results to biotech investor conferences and actively seeking pharmaceutical partners for BIT 225, including Chinese partners for Biotron's Hepatitis product to treat hepatitis C. China has one of the largest Hepatitis C infected populations in the world.
The stock price began to decline in late November of 2018 following Biotron's presentation of the results of the BIT225 HIV-1 trial at the HIV DART and Emerging Viruses 2018 conference in Miami, Florida USA. Although the presentation received an award, no commercial partners emerged from the conference, with the company and its shareholders still waiting for that commercial partner.
There can be no better "poster child" on the ASX for the power of contrarian thinking following negative clinical trial results than Actinogen Medical Limited (ACW).
Although the company is also pursuing treatments for cognitive disorders stemming from neurodegenerative diseases and metabolic diseases, like Type 2 diabetes, it is Actinogen's work on treatments for Alzheimer's disease that had investor's hearts skipping beats. In the US Goldman Sachs estimated the Alzheimer's drug under development at US-based biotech Biogen (NASDAQ: BIIB) could generate as much as USD$12 billion in annual revenue. In March of 2019 the company ended its clinical trials on the drug and the share price crashed.
Here in Australia, the 7 May announcement that the Phase II clinical trials of Actinogen's Alzheimer's treatment – Xanamem – had failed to improve cognition in mild cases of Alzheimer's sent the herd stampeding for the exit doors. Contrarians chose to heed the words of the company CEO that the "safety and pharmacodynamic effects observed show potential that higher doses and a longer treatment duration of Xanamem may be efficacious." Xanamen works by inhibiting the production of cortisol in the brain, linked to cognitive decline. The trial results showed Xanamem did that, paving the way to the possibility of higher doses producing better results.
Actinogen pressed on and on 1 October came the following announcement:
Actinogen Medical ASX: ACW ('ACW' or 'the Company') is delighted to announce results from the XanaHES (Xanamem in Healthy Elderly Subjects) trial. The results demonstrate a significant improvement in cognition in trial participants dosed with Xanamem 20mg daily for 12 weeks, compared to placebo. This is the first time Xanamem has shown such a clear, statistically significant cognitive improvement in humans.
The herd came thundering back, driving up the beaten down stock price over 450%.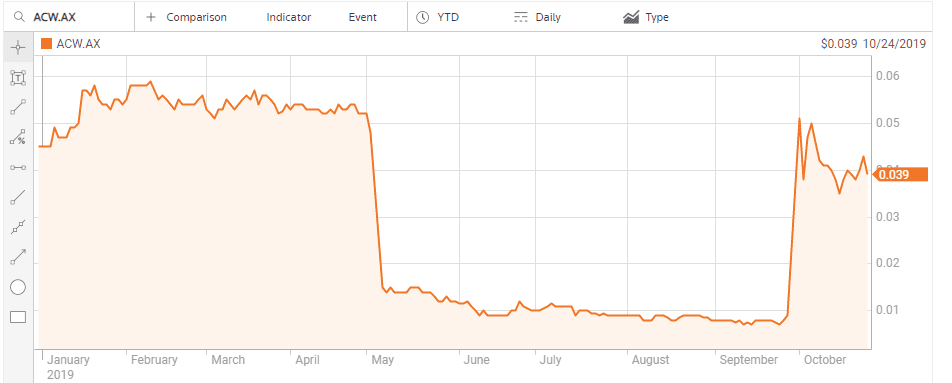 On the other side of the world Biogen management also did not give up on their treatment, with subsequent analyses of earlier results showing reduced cognitive decline in early Alzheimer's patients, with the company resubmitting the drug for FDA approval. The impact on share price mirrors that of ACW.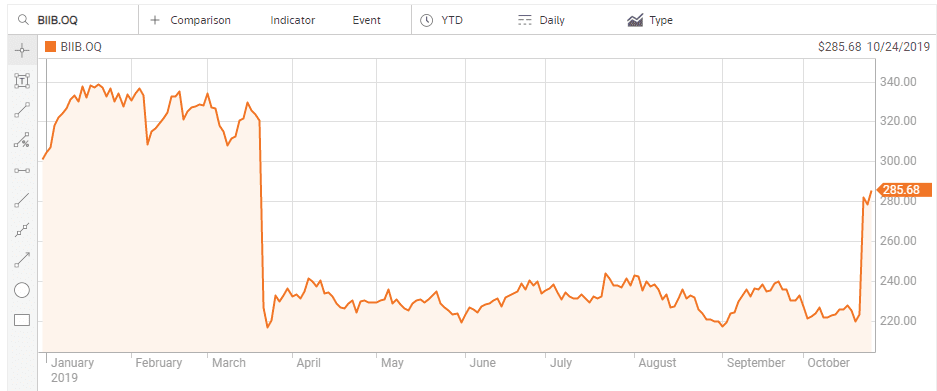 LBT Innovations (LBT) is a medical device manufacturer using Artificial Intelligence (AI) to create its Automated Plate Assessment System (APAS) for diagnostic use with microbiology cultures. The traditional approach called for plate cultures to grow with the results "read" and interpreted by skilled clinicians. According to the Journal of Clinical Microbiology, the APAS system outperforms the clinicians in the diagnosis and reporting of infectious diseases. The system can read more than 200 culture plates per hour, three times faster than manual reading.
APAS received FDA approval as a Class II medical device back in 2016 with the company later forming joint venture arrangement named Clever Culture Systems AG to market the product.
On 20 May the company announced it jumped the final hurdle, announcing APAS and an associated urine analysis module had received 510(k) Clearance from the FDA, opening the door to commercial sales of the newer fully automated system, called APAS® Independence. The earlier version approved in 2016, APAS® Compass, required cultures to be manually loaded onto the plates. According to LBT management, APAS® Independence has no competition in the US. Investors welcomed the news.

APAS® Independence modules currently available include the urine analysis module and a MRSA infection module, but the company plans to expand the APAS® Independence to other analysis applications.
Prescient Therapeutics (PTX) has two lead cancer fighting drug candidates – PTX-200 and PTX-100 – in early stage clinical trials. The company's technology is self-described as "novel" acting as an inhibitor of cancerous tumour survival and cancerous cell development.
Both treatments have successfully demonstrated proof of concept and safety. Proof of concept studies demonstrate the feasibility, practical potential, and safety of a given treatment.
Prescient operates in a developing field called "personalised medicine" that considers an individual's genetic variables as well as the unique nature of the individual patient's cancer. A US biotech operating in the personalised medicine space with treatments similar to PTX-200 and PTX-100 – Loxo Oncology – was acquired by Eli Lilly (NYSE: LLY) in January of 2019 at a cost of $USD8 billion dollars, the largest acquisition in Lilly's storied history, dating back 142 years.
Investors interested in the biotechnology sector with concerns about the burdensome clinical trial gauntlet may want to look at Anatara Life Sciences (ANR).
The company is developing plant-based, non-antibiotic treatments for gastrointestinal diseases and overall gastrointestinal health in animals and humans. Anatara once captured the attention of investors with its successful treatment for diarrhea in pigs (scour) – Detach. As resistance to antibiotic treatments in animals became a major issue, Detach's plant-based formulation was a timely addition to animal health care. Anatara licensed the drug to global animal health company Zoetis. The agreement brought accolades from the investment community, with the deal ultimately being cancelled by Zoetis. Some analysts now see this as a benefit to Anatara, given the profit potential of Detach.
On the human side Anatara is developing a plant-based treatment (bromelain from pineapple stems) — Gastrointestinal ReProgramming (GaRP) – for both IBS (irritable bowel syndrome) and IBD (inflammatory bowel disease).
Since the treatment is not classed as a drug, the FDA does not require the exhaustive series of clinical trials. However, Anatara is planning clinical trials of GaRP, not for FDA approval for distribution, but to demonstrate its effectiveness.
Global demand for IBS and IBD treatments is large and expanding, according to market research firm Credence Research.