Copy the success of the pro traders and enjoy a 50% deposit bonus.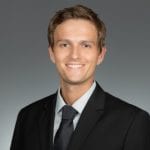 Simon Herrmann, wise-owl.com
BUY RECOMMENDATIONS
IPH Limited (IPH)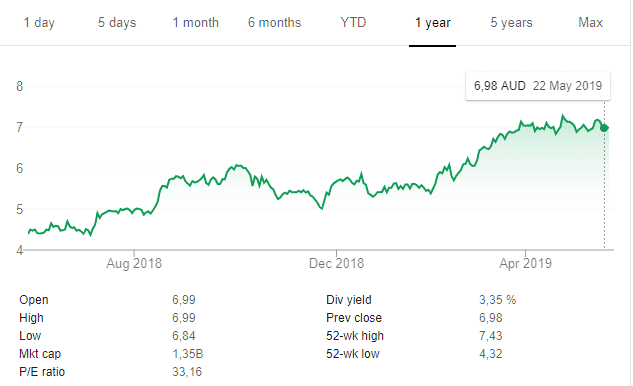 Chart: Share price over the year
This Australian professional services company focuses on intellectual property protection. Services related to patent filings deliver about 80 per cent of its revenue, with the balance from trademarks. With a market share of 24 per cent, IPH manages more patents in Australia and Singapore than any other competitor. The company's historical growth trajectory is robust and has the potential to become more salient as recent cost and capital management initiatives reinvigorate the bottom line.
Newcrest Mining (NCM)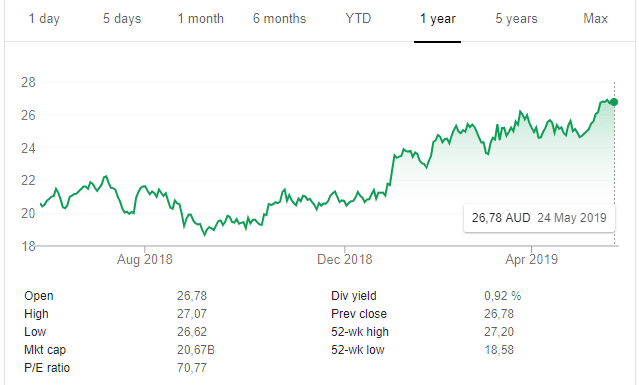 Chart: Share price over the year
The gold miner has outperformed major peers during the past five years following a successful turnaround of the business that started in 2013. The turnaround was driven by significant operational improvements at the Lihir mine, a reduction in debt and value added acquisitions that enhanced the company's asset portfolio. As one of the world's lowest cost major gold producers, Newcrest's assets have the potential to generate ongoing free cash flow and deliver further growth, organically and through acquisitions.
HOLD RECOMMENDATIONS
ReadyTech Holdings (RDY)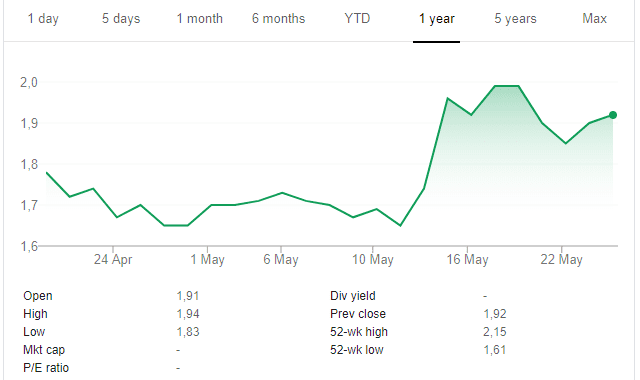 Chart: Share price over the year
Founded more than 20 years ago, ReadyTech has emerged as a leading software-as-a-service (SaaS) provider in the education and people management sector, serving more than 3600 customers. The initial public offering (IPO) was strongly supported and investor demand post listing has elevated the share price. Continuing growth is required to support a somewhat demanding valuation. Failure to deliver these growth figures is a key risk.
Codan (CDA)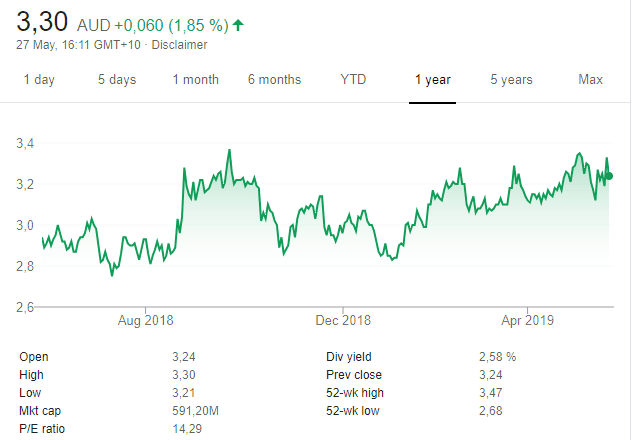 Chart: Share price over the year
An electronic equipment and technology company, we're attracted to its debt free structure and track record of double digit growth across all of its business units. Codan offers investors exposure to growth and income, but we note the stock was recently trading at a multi-year high. The shares were trading at $3.37 on May 23.
SELL RECOMMENDATIONS
Afterpay Touch Group (APT)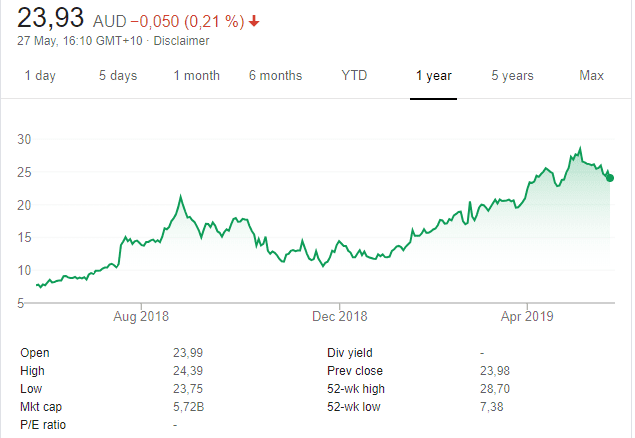 Chart: Share price over the year
Following a strong bull run, APT's valuation appears somewhat demanding. In our view, the possibility of a share price correction or consolidation has increased. While the long term outlook remains favourable, we believe it's time for investors to consider taking some profits at current levels. Shares in the buy now, pay later platform provider were trading at $24.88 on May 23.
Autosports Group (ASG)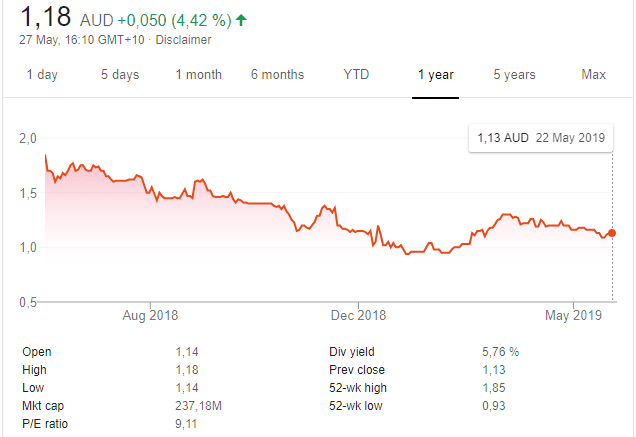 Chart: Share price over the year
Sells new and used prestige motor vehicles. It has a spare parts and services division and a finance arm. Despite an attractive dividend yield, the company operates in a competitive sector of a subdued economy. Households continue to struggle with higher charges and costs. The share price has declined during the past 12 months to trade at $1.13 on May 23.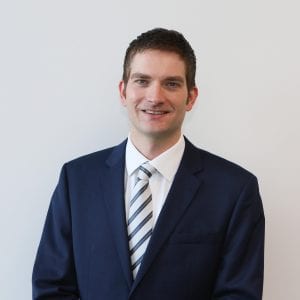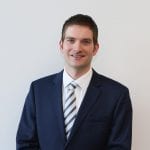 Justin Klimas, Wilsons
BUY RECOMMENDATIONS
National Australia Bank (NAB)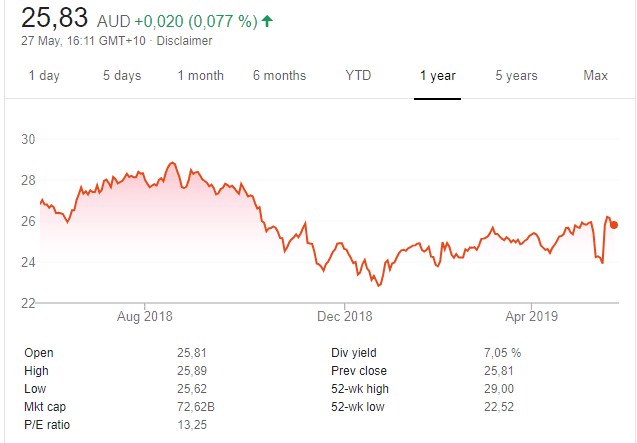 Chart: Share price over the year
The banks have faced a challenging environment in recent times caused by a difficult mortgage market and ongoing structural change in retail banking. NAB is one of the better placed banks to weather these conditions, with a relatively large percentage of profit generated from its corporate and institutional divisions. A coalition victory has alleviated concerns about any changes to franking credits.
Seven Group Holdings (SVW)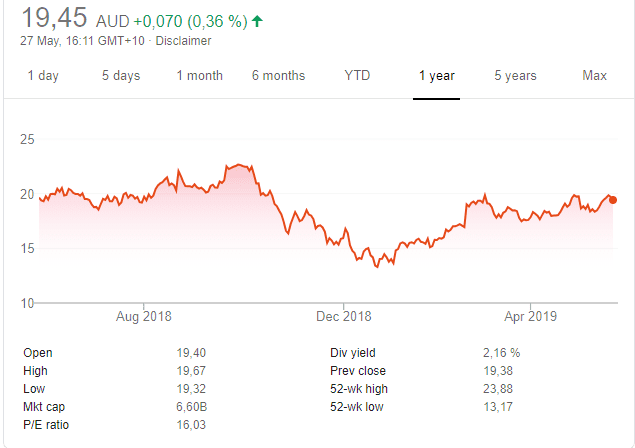 Chart: Share price over the year
This diversified operating company has an investment in WesTrac Group, an authorised Caterpillar dealer in Western Australia, New South Wales, the Australian Capital Territory and north eastern China. WesTrac has benefited from a strong cyclical recovery in mining, which we believe is likely to continue. The company's energy division has been performing strongly and should provide further upside.
HOLD RECOMMENDATIONS
Spark Infrastructure Group (SKI)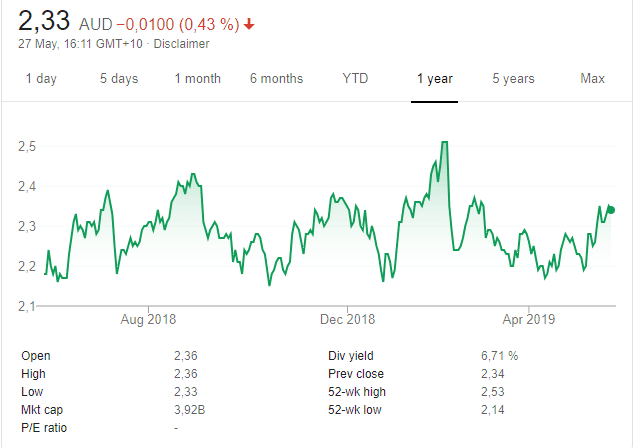 Chart: Share price over the year
Invests in Australian electricity networks across South Australia, Victoria and New South Wales. The company's defensive earnings have become more appealing in a falling bond yield environment. The recent acquisition of the Bomen Solar Farm project helps to diversify the company's asset portfolio and earnings. It also marks the start of creating a renewable energy platform.
DuluxGroup (DLX)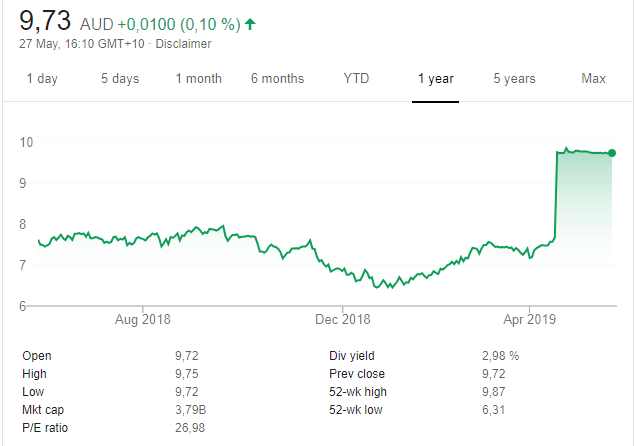 Chart: Share price over the year
In our view, the company's first half 2019 result revealed a challenging first quarter, but full year guidance for underlying earnings growth was retained. The company remains subject to a takeover proposal from Nippon Paint at $9.80 a share. This will support the share price despite the risks of changing building industry demand and higher raw material costs.
SELL RECOMMENDATIONS
Beacon Lighting Group (BLX)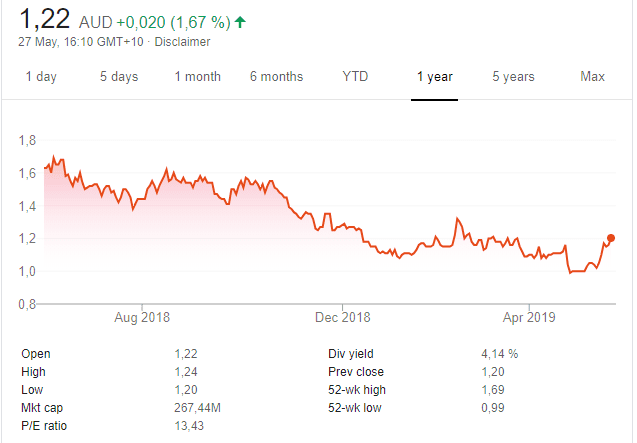 Chart: Share price over the year
This lighting retailer has struggled recently as weaker consumer confidence and a softer housing market have negatively impacted comparative sales and margins. Beacon historically relies on new stores for growth, but new store margins have been weaker. The economic environment is likely to remain challenging. Also competition, particularly from online providers, is likely to grow.
Ainsworth Game Technology (AGI)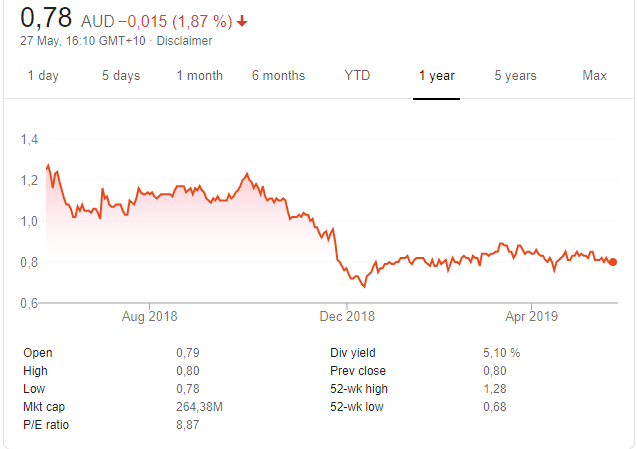 Chart: Share price over the year
This gaming machine manufacturer has been in downgrade mode for several years. Political and economic conditions for slot machine manufacturers have been difficult. AGI's performance has been lagging competitors, such as Aristocrat Leisure. In our view, it faces a difficult sales environment going forward.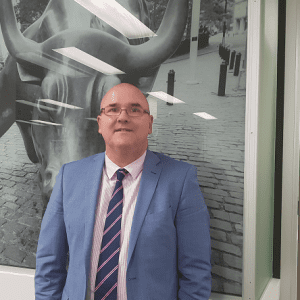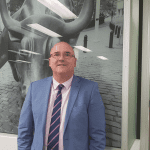 Tony Locantro, Alto Capital
BUY RECOMMENDATIONS
Stavely Minerals (SVY)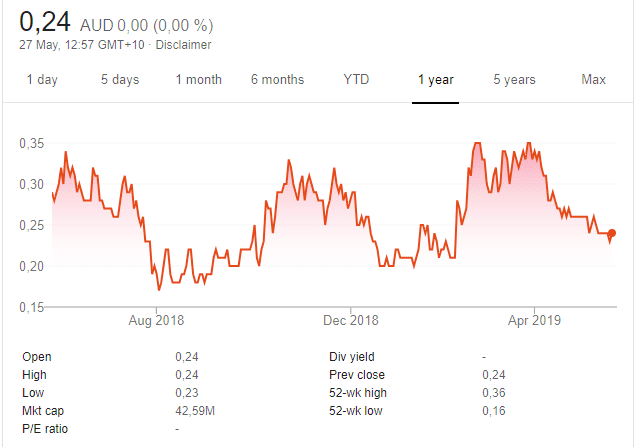 Chart: Share price over the year
SVY has fallen below the placement price of 26 cents, yet is still actively drilling in Victoria for a large mineral deposit that has so far proven elusive. SVY also acquired the Beaconsfield mill in Tasmania and gold tenements, and this provides another aspect to the company and somewhat de-risks the major exploration hunt. A speculative buy. The shares were trading at 23 cents on May 23.
Minotaur Exploration (MEP)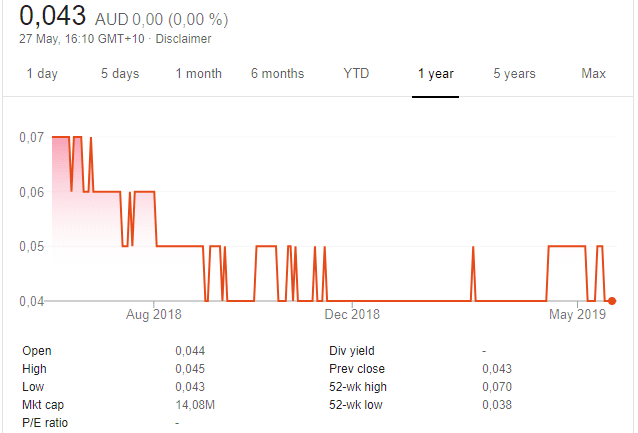 Chart: Share price over the year
MEP's relationship with Oz Minerals (OZL) has seen the Jericho copper project in Queensland de-risked, with OZL committing a further $3 million to exploration, leaving MEP to retain a 30 per cent interest. MEP has also announced a 50/50 joint venture with Andromeda Metals to examine commercial applications for halloysite-kaolin nanotube technology. Research will examine battery technology, water purification and carbon capture and storage. Based on the potential at Jericho and the joint venture, MEP appears to be undervalued. The shares were trading at 4.2 cents on May 23.
HOLD RECOMMENDATIONS
AdAlta (1AD)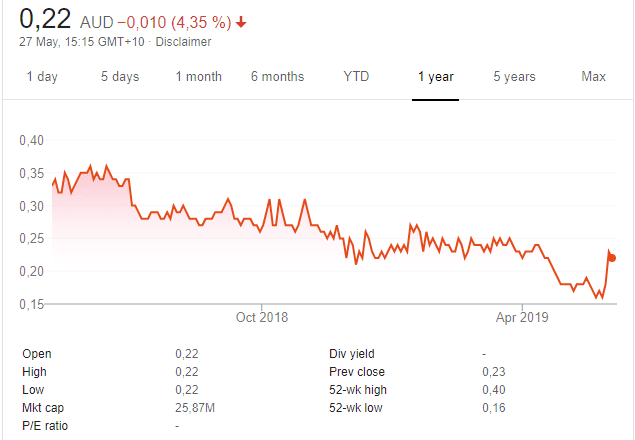 Chart: Share price over the year
This drug discovery and development company recently raised $5 million from institutional and sophisticated investors. It plans to raise another $2 million via an entitlement offer to existing shareholders. The funds will be used to progress AdAlta's potential new treatment (AD-214) for idiopathic pulmonary fibrosis into a phase I study. Funds from the capital raising will also be used to advance the i-body platform for multiple products and collaborations. Offers speculative upside.
PharmAust (PAA)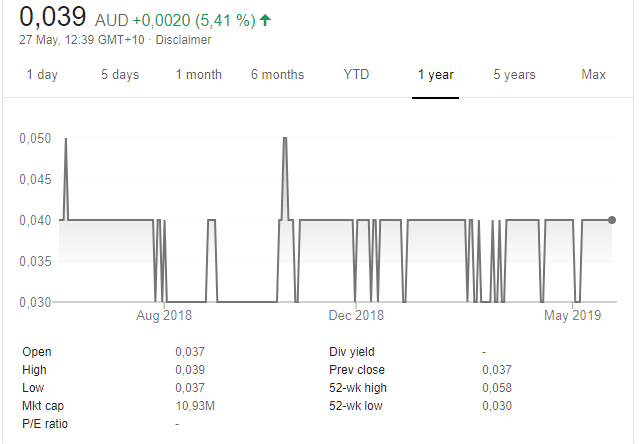 Chart: Share price over the year
PAA has recently completed a rights issue at 2.5 cents a share to raise $2 million. The funds will be used to complete clinical trials, examining anti cancer activity of its drug Monepantel in dogs with cancer. The funds will also be used to initiate similar anti cancer clinical trials in humans with cancer. PAA has an option agreement with the global pet company Elanco. Successful trials could lead to this option being exercised, providing a potential payment to PAA.
SELL RECOMMENDATIONS
Woolworths (WOW)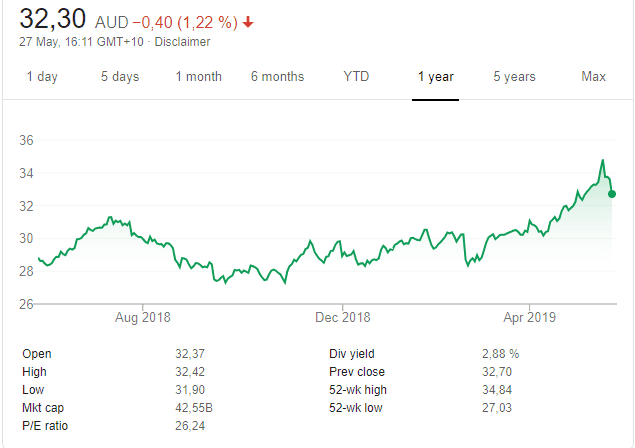 Chart: Share price over the year
WOW was recently trading on 25 times earnings, which prices the supermarket giant as a growth stock in a period of limited growth and further weakness in retail spending. The share price has rallied strongly and represents an opportunity to lock in some profits.
Medibank Private (MPL)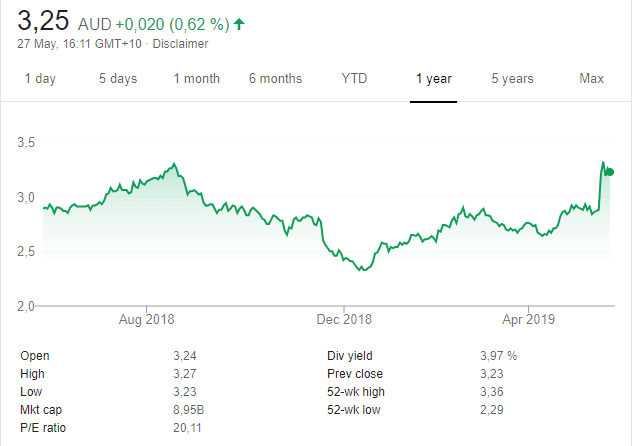 Chart: Share price over the year
The private health insurer has enjoyed a share price spike following the coalition's election victory. The Labor party was planning to cap policy premium increases at 2 per cent a year. It may be time to consider taking some profits on recent share price strength. The shares may correct if the latest price action turns out to be no more than a relief rally.
Please note that TheBull.com.au simply publishes broker recommendations on this page. The publication of these recommendations does not in any way constitute a recommendation on the part of TheBull.com.au. You should seek professional advice before making any investment decisions.