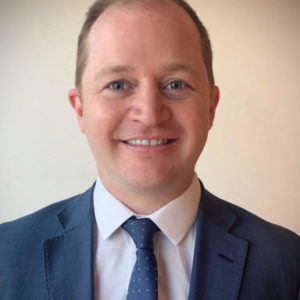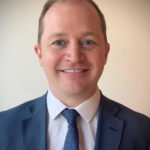 John Anderson, Bell Potter Securities
BUY RECOMMENDATIONS
Goodman Group (GMG)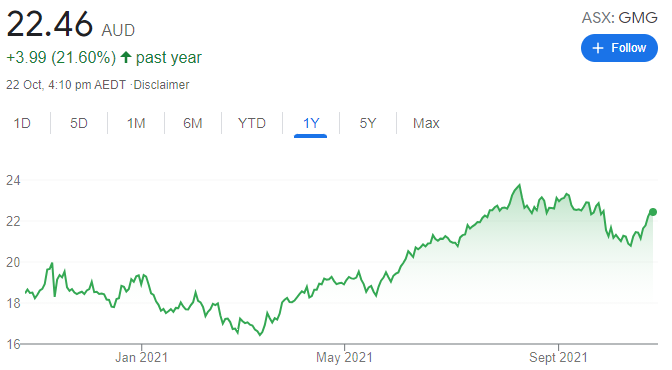 GMG is a global industrial property group. The long term outlook for industrial and logistics properties is favourable given the continuing growth in e-commerce and a growing middle class in developing countries. With more than $5 billion of pre-committed work in progress and exposure to a rapidly growing warehouse industry, we view GMG as a core portfolio holding.
Cobram Estate Olives (CBO)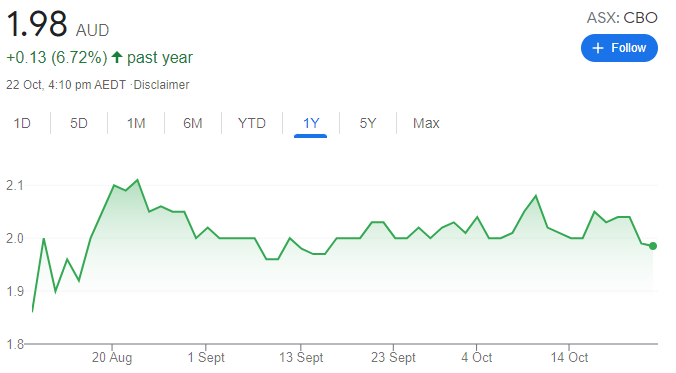 CBO is Australia's largest vertically integrated olive grower, processor and marketer. It owns one of Australia's most powerful and recognisable brands, and accounts for 46 per cent of Australia's extra virgin olive oil sales. We believe the company is well placed to fulfil its significant growth potential over the long term. CBO pioneered commercial olive oil production in Australia. We're optimistic it can replicate this success in the US.
HOLD RECOMMENDATIONS
Wesfarmers (WES)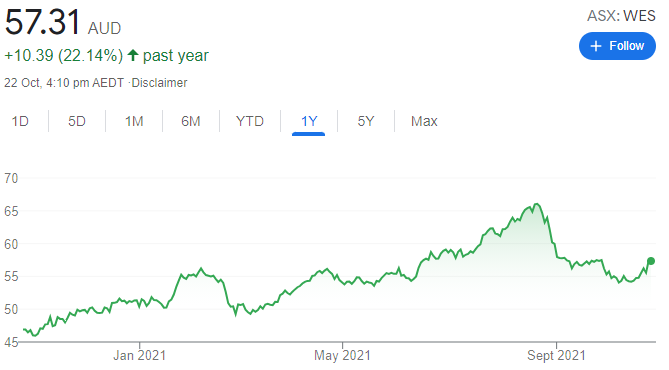 This industrial conglomerate offers diversified revenue and earnings streams. We believe the Bunnings hardware chain will continue to benefit from a strong housing cycle, particularly as hardware stores in New South Wales and Victoria open up amid easing restrictions. Restricted trading during COVID-19 outbreaks impacted earnings, but we're expecting a recovery. We retain a hold recommendation.
Pexa Group (PXA)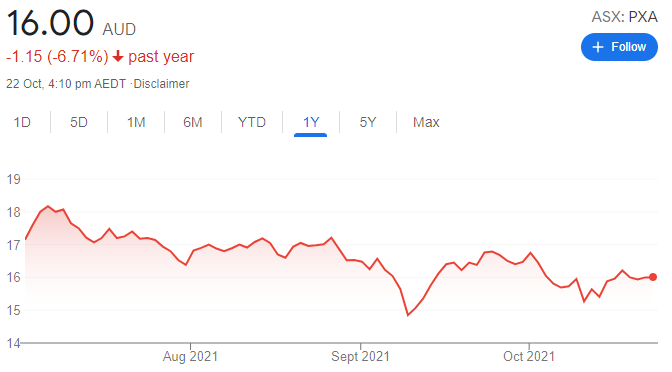 PXA operates a leading online property settlements platform. It has about an 80 per cent market share of all property transfers in Australia. We're confident the company can retain its dominant market share. PXA is successfully expanding into the UK. Given a lofty price earnings multiple, we retain a hold rating.
SELL RECOMMENDATIONS
NIB Holdings (NHF)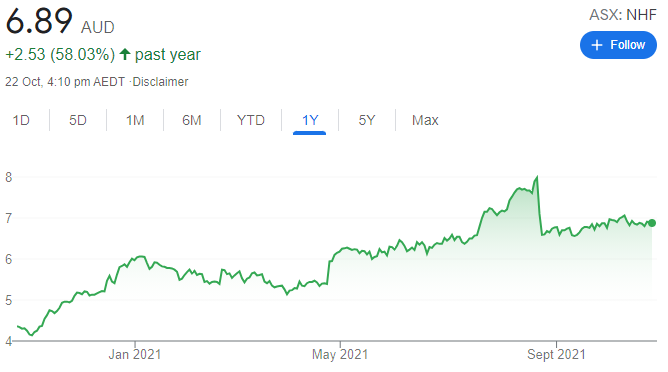 NHF is Australia's fourth largest provider of private health insurance. The firm also provides health insurance for overseas students and temporary overseas workers in Australia. It also distributes travel insurance internationally. NHF has grown its market share in the past five years. But we're concerned that Federal Government regulations could impact the profitability of private health insurers. NHF shares closed at $7.98 on August 20. NHF was trading at $6.88 on October 21.
Blackmores (BKL)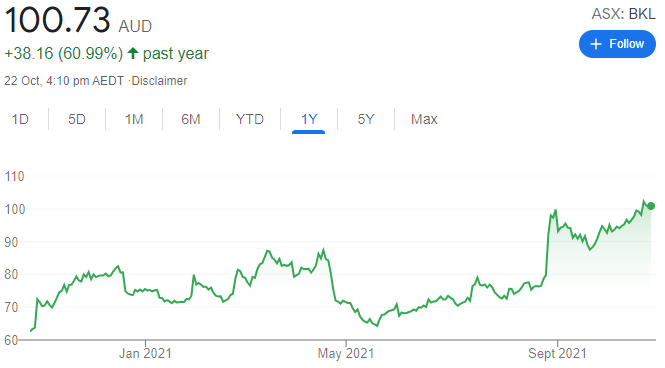 BKL is a vitamins and supplements supplier. We need to see a successful and sustained turnaround in the Chinese market, new product development and improving top line momentum before we turn bullish on the stock. Apart from Australia, BKL has operations in New Zealand and South East Asia. Overseas sales contribute a significant amount to earnings.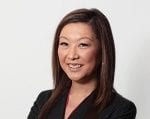 Julia Lee, Burman Invest
BUY RECOMMENDATIONS
Harvey Norman Holdings (HVN)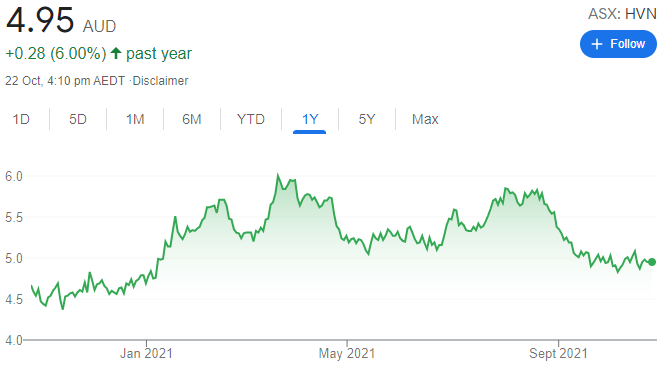 A strong residential market and savings should drive home goods and furniture sales as New South Wales and Victoria emerge from lockdowns. Re-opening retail stores should underpin a brighter outlook and an improving share price. Success in offshore expansion is another potential growth lever for the share price.
South32 (S32)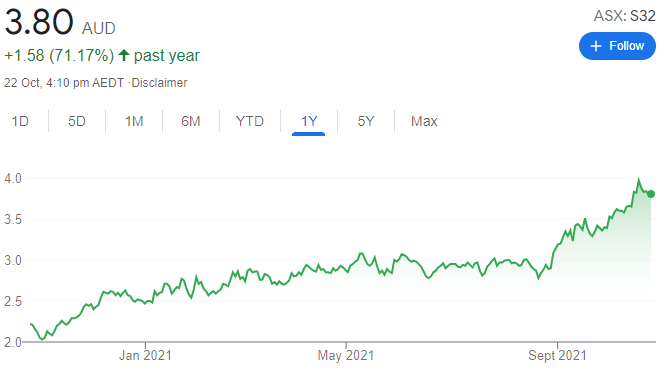 S32 produces aluminium, bauxite, coal and manganese. S32 recently acquired a 45 per cent interest in the Sierra Gorda copper mine in Chile. The acquisition is a good addition to S32's diversified asset mix. China's power problems have curtailed output and driven up aluminium and thermal coal prices. S32 should continue to benefit from China's energy issues for some time.
HOLD RECOMMENDATIONS
AGL Energy (AGL)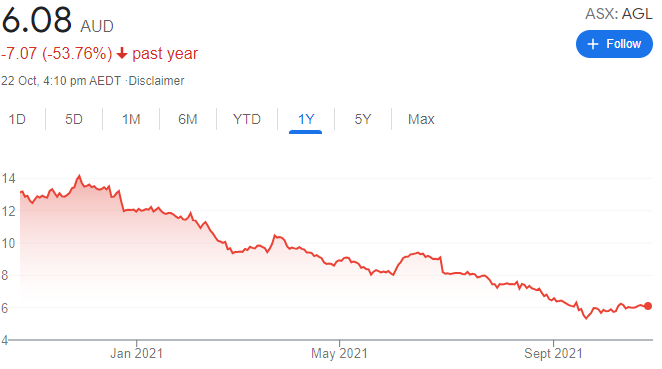 The share price of this power company has fallen about 80 per cent since its peak due to renewable energy changing the price dynamics in the electricity space. Recently, wholesale electricity prices have risen, which should flow to an improving share price. In our view, it's possible a bid may emerge for the retail business given the low share price.
Sydney Airport (SYD)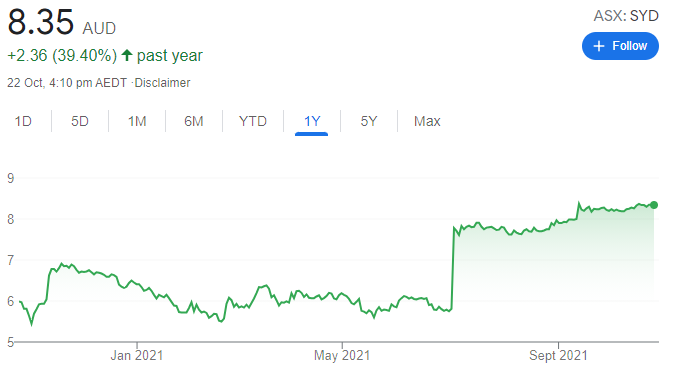 The Sydney Aviation Alliance has lodged a bid for Sydney Airport. Due diligence has been completed and the parties are now waiting on internal approvals. The indicative bid price is $8.75 per stapled security. The stock closed at $8.35 on October 21. In our view, the bid is likely to succeed.
SELL RECOMMENDATIONS
Treasury Wine Estates (TWE)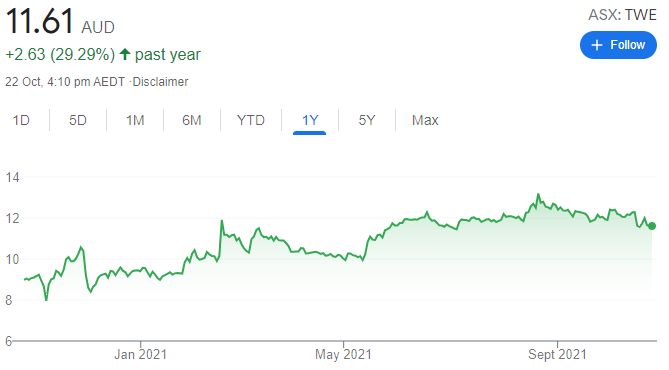 TWE is a global wine company. In a recent trading update, TWE flagged shipping delays and global logistics issues are likely to continue at this point. Key luxury wine sales suffered from lockdowns in Sydney and Melbourne and have also been slower than expected in the US. Near term earnings may be pressured due to a slower recovery than initially anticipated.
Sonic Healthcare (SHL)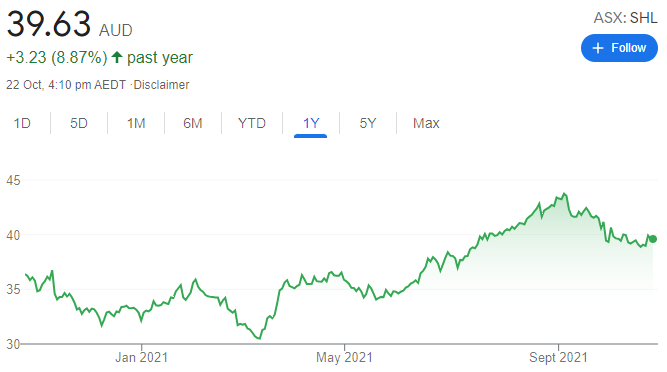 SHL offers pathology, radiology and medical services. It operates in Australia, New Zealand, the UK, the US, Switzerland and Belgium. High volumes of COVID-19 testing recently boosted earnings. But the number of COVID-19 cases should fall in line with increasing vaccination rates. We expect the premium in SHL's share price to wane moving forward.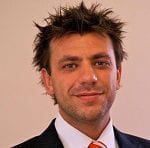 Tony Paterno, Ord Minnett
BUY RECOMMENDATIONS
Insurance Australia Group (IAG)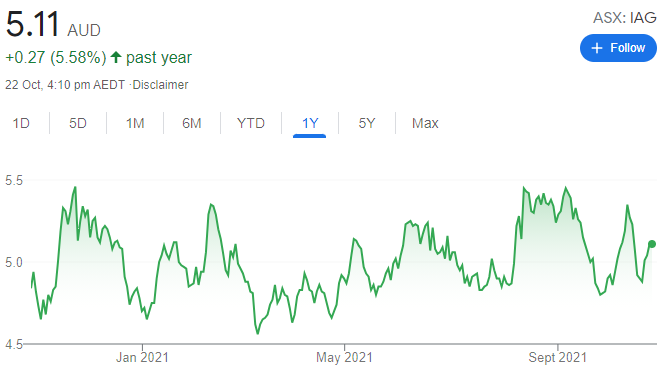 The Australian Securities and Investments Commission (ASIC) announced on October 15, 2021 that it had launched civil penalty proceedings in the Federal Court against Insurance Australia Limited (IAL), a subsidiary of IAG. ASIC alleges that IAL failed to honour discount promises made to its customers. We don't expect a material impact from this action, but it may well explain recent share price weakness and exacerbate near term concerns amid providing a buying opportunity for the longer term.
Pinnacle Investment Management Group (PNI)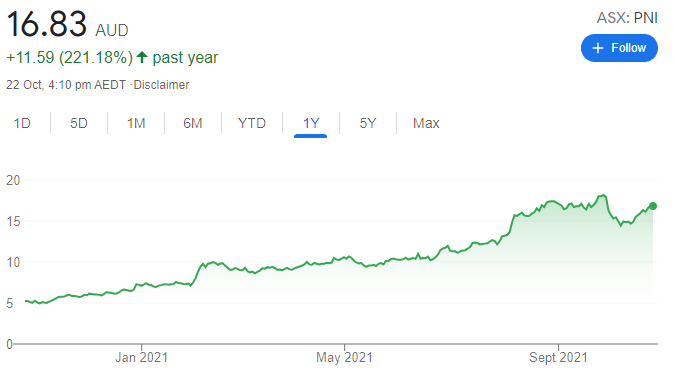 PNI reported $91.2 billion in funds under management as at August 31, 2021, up 2 per cent from June. We estimate net flows of $2 billion over two months, excluding the Omega affiliate. Strong business momentum continues in the second half of calendar 2021 amid a likely skew to higher margin retail and international markets based on the channel splits.
HOLD RECOMMENDATIONS
Vicinity Centres (VCX)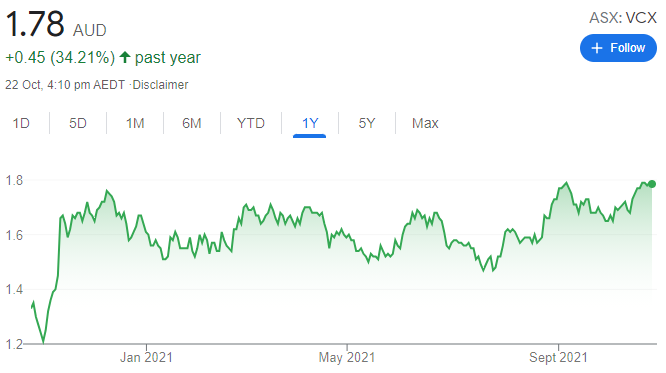 This retail property group has reached an agreement to acquire a 50 per cent stake in Harbour Town Premium Outlets, Gold Coast for $358 million. Vicinity has a strong track record in operating outlets through its highly successful DFO brand and is backing itself to extract more value via tenant re-mixing and leasing. The acquisition is debt funded and earnings accretive of between 2 per cent and 2.5 per cent. Vicinity is continuing to explore a range of capital management initiatives, including acquisitions, divestments and developments.
Challenger (CGF)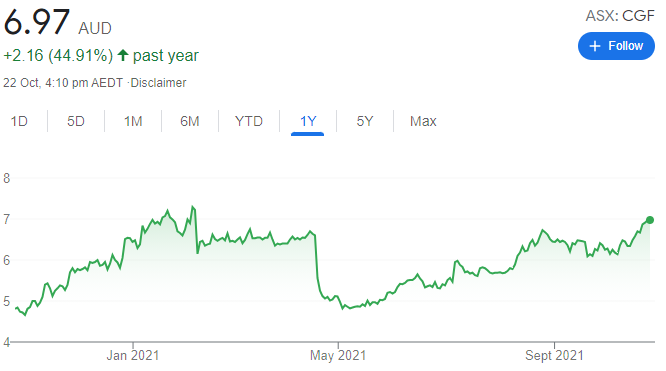 First quarter 2022 volumes showed strong growth in the Life business. Funds management was strong and in line with our estimates. The company retained guidance, but early indications are that near term profit before tax may surprise on the upside. Sustaining growth is the challenge given low returns on equity from low interest rates.
SELL RECOMMENDATIONS
Reece (REH)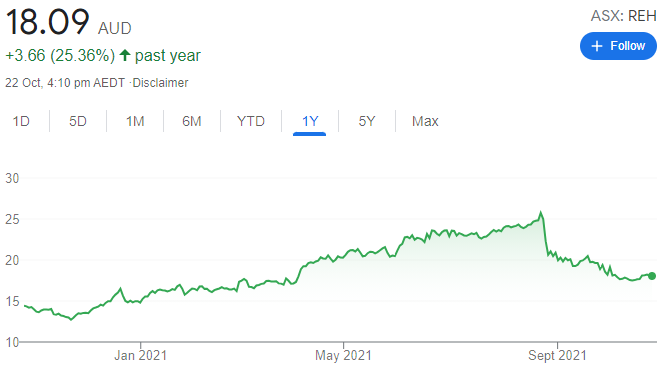 In our view, management of this plumbing products supplier has indicated more investment in the US, which may constrain near term profitability, but only add to its medium term growth prospects. The company reported normalised EBITDA of $720 million in fiscal year 2021, up 11 per cent on the corresponding period. The company has performed strongly in the past 12 months. However, in our opinion, the company appears over-valued at this point.
Megaport (MP1)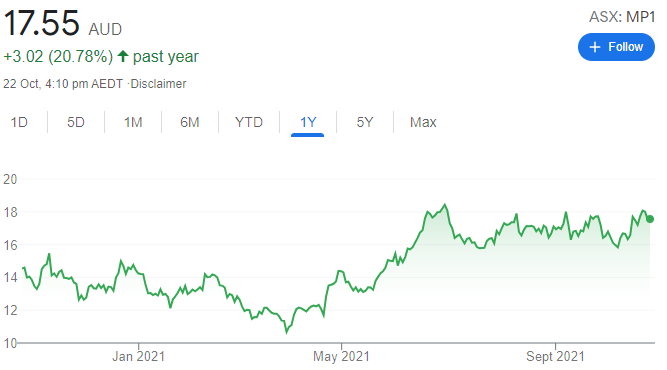 MP1 provides network as a service solutions. We have lowered our revenue forecasts by 5 per cent in fiscal year 2022 and by 5 per cent in fiscal year 2023. We believe company investments may take time to deliver the expected returns. We believe the company's valuation reflects expected growth and margin expansion over the medium term.
The above recommendations are general advice and don't take into account any individual's objectives, financial situation or needs. Investors are advised to seek their own professional advice before investing. Please note that TheBull.com.au simply publishes broker recommendations on this page. The publication of these recommendations does not in any way constitute a recommendation on the part of TheBull.com.au. You should seek professional advice before making any investment decisions.