This article will examine two weekly stock picks from TheBull.com.
This week the stock picks are two mining companies, gold and lithium.
Recent elevated lithium carbonate prices have attracted a lot of attention. Gold's value is returning, as the price narrows in on the $2,000 USD per ounce marker.
 Silver Lake Resources ASX:SLR (SLR) and Pilbara Minerals ASX:PLS (PLS) are two Australian mining companies operating predominately in Western Australia.
For PLS, the sky-high demand for lithium chemicals facilitates growth in lithium ore extraction. Meanwhile, the massive expansion in the US money supply is diluting the Australian dollar, as well as raising gold prices in the international markets.
Silver Lake Resources ASX:SLR (SLR)
The strong half year result reported by Silver Lake Resources is a positive sign for investors. The company's ability to sell 115,790 ounces of gold at a high price of $2,516 AUD per ounce is a testament to its operational efficiency and excellent market position.
Additionally, the company's healthy cash and bullion position of $253m AUD provides a strong financial foundation for future growth and investment.
Gold has historically been viewed as a safe-haven asset during times of economic uncertainty, and with ongoing geopolitical tensions and concerns of inflation, there is potential for an increase in its demand.
With higher demand comes higher price, which would benefit Silver Lake Resources and its investors.
Silver Lake Resources has demonstrated strong operational performance and has a solid financial position. This positions the company well for future growth. Furthermore, the potential for a higher value of gold in the near term makes Silver Lake Resources a good investment opportunity for anyone looking to gain exposure to the gold mining industry.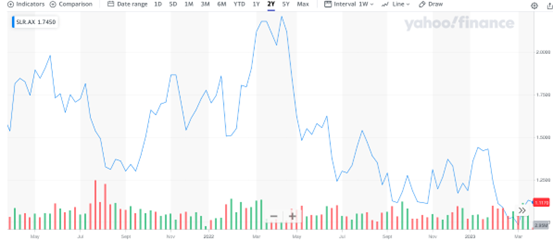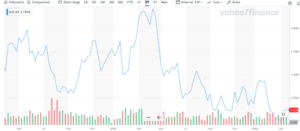 Source: yahoo!finance
Pilbara Minerals ASX:PLS (PLS)
Pilbara Minerals (PLS) is an Australian lithium mining company that has grown vastly in recent years.
The company's sales revenue of $2.18bn AUD in the first half of the fiscal year 2023 represents a 647% increase from the prior period in 2022, indicating a strong and sustained upward growth in revenue.
Moreover, PLS's decision to declare a dividend of 11 cents a share demonstrates the company's commitment to returning value to its shareholders.
PLS's production of over 300,000 dry metric tonnes of spodumene concentrate, at an average realized sales price of $4993 USD per dry metric tonne, further reinforces the company's strong market position.
The continued demand for lithium, driven by the growth of the electric vehicle market, presents a favourable outlook for PLS.
In conclusion, Pilbara Minerals' robust revenue growth, high dividend payout, and strong market position – especially in response to the increasing demand for lithium – make it a promising investment opportunity for those seeking exposure to the lithium mining industry.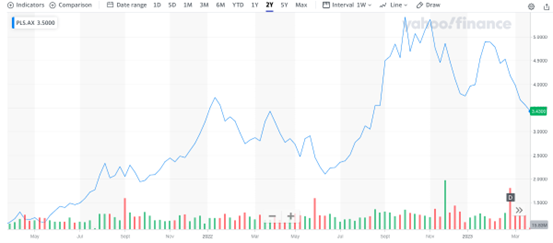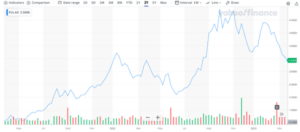 Source: yahoo!finance