This article will look at two of the weekly TheBull.com.au stock picks.
Mineral Resources & Silk Logistics Holdings
One is an up-and-coming mineral extractor, and the other is an experienced logistics conglomerate.
Mineral Resources ASX:MIN (MIN)
MIN operates as a mining services company in Australia, China, Singapore, and internationally, but the lithium sector draws the most column inches.
MIN synergies in hard rock extraction have been extended to the operation of two of the world's largest lithium ore (spodumene) assets.
Through ownership joint ventures, MIN can leverage its expertise in spodumene extraction when investors are losing patience with the long lead time and spiking development costs of lithium extraction from brine salts.
With demand for lithium in battery production skyrocketing, lithium chemicals continue to attract extremely high prices across the globe, particularly affecting major battery producers like China.
China's reopening has further strengthened MIN's financial position as iron ore prices have rallied 17% this year.
Growing pains have hurt the net operating margin as there has been a decline from 47% in 2020 to 10% in the financial year ended 2022. MIN seems to have gotten a handle on rising costs, and the trailing twelve-month (TTM) net operating margin has bounced back to 16% as of year-end 2022.
The retracement in iron ore in the financial year (FY) 2022 hurt the top and bottom lines as the revenue declined from FY2021. The bounce back of iron ore on China's reopening, stickiness in lithium prices and a 10% growth in production has revenue growth TTM v FY2022 back above 29%.
With an improved net operating margin of 16%, the price-to-earnings multiple of  22.37 starts to look a little more attractive, with revenue growth averaging nearly  30% on an annualised basis for 2020 through to December 2022.
For investors looking to get into lithium and stay long after the Chinese economic miracle, MIN is a stock worthy of consideration.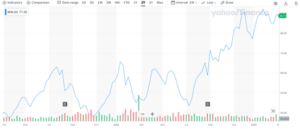 Source: Yahoo! Finance
Silk Logistics Holdings Limited ASX:SLH (SLH)
SLH provides logistics and supply chain services in Australia, offering port, distribution, and warehousing services.
With a forward dividend yield of 5.5% and currently trading at a multiple of 10 times earnings, SLH offers attractive stock price multiples and dividend yield for a sector that is the lifeblood of any economy.
With revenue currently growing at an annualised 18% and a modest sub $10m AUD debt pile with annual earnings on a TTM basis of $18.7m AUD, SLH financials are representative of a soundly structured and operating business. These are precisely the attributes required of an organisation operating with demanding deadlines, thin margins and stiff competition.
SLH's acquisition of Fremantle Freight & Storage (FFS) in 2022 for a consideration of $23.6m AUD plus $7.8m earnout by July 2023, boosting its national coverage, displays the confidence the board has in the wider Australian market and the critical growth sector of Western Australia.
In a buoyant market often bereft of value opportunities in stocks at the upper echelon of market capitalisation, investors need to seek out value and growth opportunities at the smaller end of the scale.
SLH provides a solid set of financials in a market currently experiencing rapid growth, and with the continued tight labour market, likely to see strong demand for its services.
When looking at logistics providers, experience, accuracy, and dependability are critical in their value proposition. Operating with stiff competition and very thin margins requires a steady and nuanced hand.
SLH has over a century of experience and, through the listed conglomerate, has shown it can extract value in the Australian market. Freight and logistics continue to play a crucial function in the new digital economy, and SLH is well poised to benefit.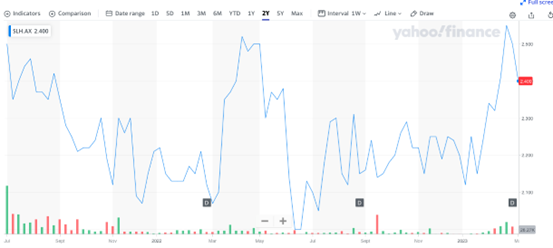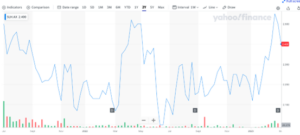 Source: Yahoo! Finance