This article will look at two of the weekly TheBull.com.au stock picks.
This week's article will cover two relatively smaller-listed companies.
Two listed ASX companies that offer specialist materials and services primed for
XRF Scientific Limited ASX:XRF (XRF) and Life360 Inc ASX:360 (360)
are two Australian companies that are offering specialist goods and services, both on the local and the international markets.
XFR specialisation has opened a market with impressive growth opportunities. 360's investment in software and wearable hardware, with a focus on family protection, has garnered impressive top-line growth.
XRF Scientific Limited ASX:XRF (XRF)
XRF is an Australian-based company that produces chemicals and scientific equipment.
The company's half-year results demonstrate their strong performance. They have experienced a 46% increase in sales revenue to $27.1m AUD compared to the prior corresponding period. XRF also reported a net profit after tax of $3.7m AUD, up 34% from the previous year.
The company's capital equipment division appears to have a positive outlook for the upcoming fiscal year, with promising future growth opportunities.
Despite the recent surge in share price, XRF is currently trading at a reasonable price-to-earnings (PE) multiple of 18, which presents a potentially attractive investment opportunity.
For traders and investors who are seeking exposure to the scientific equipment industry, XRF may be a viable option. The company's financial results demonstrate its ability to capitalize on the growing demand.
However, it is important to keep in mind the potential risks associated with any investment, such as market volatility and unexpected external factors.
Conducting thorough research and analysis is recommended before making any investment decisions. Top of Form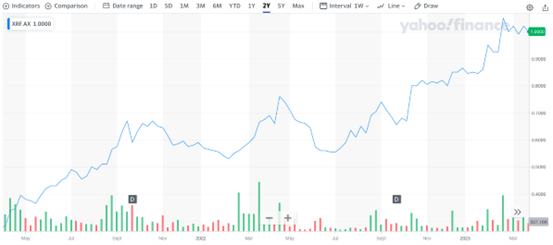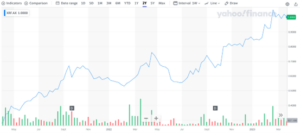 Source: yahoo!finance
Life360 Inc ASX:360 (360)
 360 is an American-based company that provides a mobile app that is focused on family safety and communication.
The app includes features such as location sharing and driving safety tools. These tools have contributed to the company's position as a market leader, with over 30 million monthly active users.
Despite the disruption caused by COVID-19 in 2021 and 2022, 360 has continued to grow its subscriber base, and the company appears well-positioned for future growth. In Q3 of 2022, 360 reported a 9% increase in subscribers compared to the previous year, with a total of 4.4 million paid subscribers as of September 30, 2022.
360's strong market position, and continued growth potential, have led to a recent surge in its share prices, with the company trading at a PE ratio of 151. While this ratio may appear high, it is important to consider the company's growth potential, and its dominance in the app market of family safety.
For traders and investors interested in the mobile app industry, Life360 presents a compelling opportunity to invest in a market-leading company, and one which has a strong track record of growth.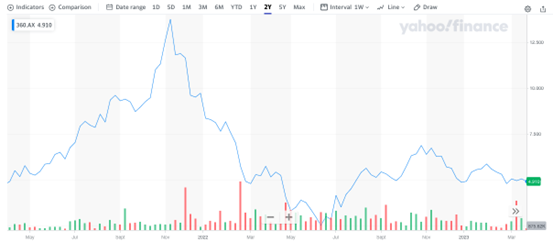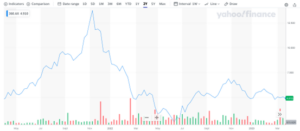 Source: yahoo!finance