Like clockwork the first week of July provides those retail investors bold enough to hold the title of "stock picker" with list after list of prospects – the top and bottom performers for the prior Fiscal Year.
The lists vary with some focusing exclusively on the ASX 200 or 300 and others on small cap stocks. Bargain hunters scour the lists of the worst performers for stocks that might have suffered "through no fault of their own" and may be due for a comeback.
Rabid growth investors look to gauge whether or not the past year's hot stocks can retain their heat.
In both cases the question for investors is on what do they base their "gauge" of future movement? Market sentiment generally favors trend maintenance, with stocks on the rise continuing their upward trend and falling stocks stagnating or falling further.
In both cases some company specific happening or a change in economic outlook for the sector or the economy as a whole can break the trend. Technical investors rely on a host of price movement patterns to spot trend reversals.
Investors who prefer betting on a bargain are warned again and again by experts to be prepared for continued bad news. Generally speaking, it seems a bigger challenge for one of the worst performers of the year to recover as investors wait for hard evidence of improving finances.
One recent list of ASX large caps saw six of the ten top performers having double digit earnings growth forecasts with only one of the bottom ten with a double digit forecast.
There are indicators beyond market sentiment that have merit, earnings forecast being only one among them. A company with a three to ten year track record of double digit or higher average annual rates of total shareholder return has a positive trending pattern.
A company with low debt is better able to invest in growth initiatives and is better protected against economic downturns when revenues decline but debt repayments do not.
The following table includes four of the top FY 2021 performing ASX stocks that track well on debt, earnings growth, and historical performance.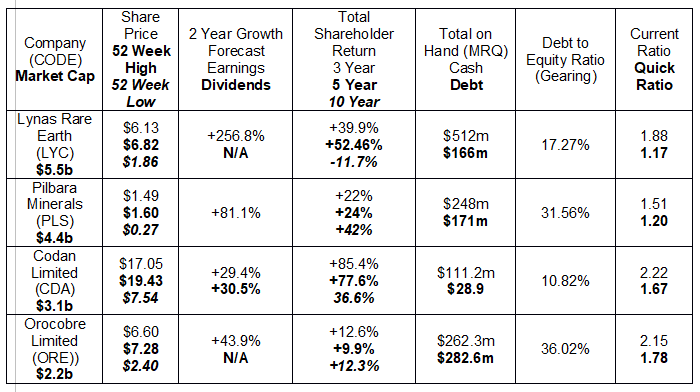 Although developer of high-tech communications and tracking equipment Codan Limited (CDA) may be the only stock from the technology sector in our table, the listed miners are getting investor attention due to the growing demand for the high-tech applications requiring the minerals they produce.
The financial press covers lithium and lithium miners like Pilbara Minerals and Orocobre non-stop as the price of lithium has regained its lost momentum with the promise of increasing demand. The following chart from Bloomberg New Energy Finance arguably explains why.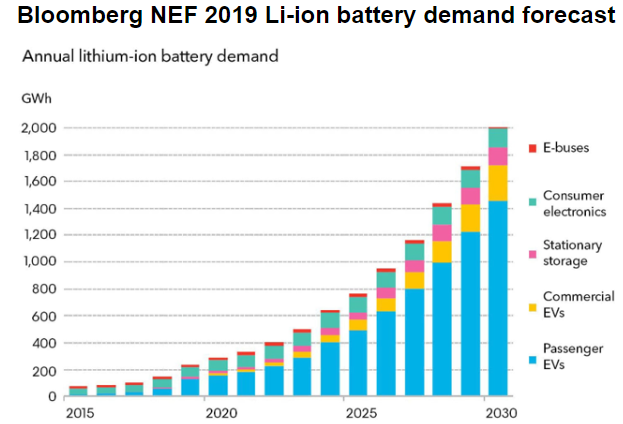 The graph highlights the electronic vehicle (EV) applications that has excited investors worldwide, note the addition of a less covered category – stationary storage.
One of the downsides of renewable energy from wind and solar has historically been days with little wind or sun. Large scale "mega batteries" are now in production to store energy from high production days for use when needed. Lithium is playing a role in this developing story.
The story that remains largely untold is the rising demand for a class of minerals categorised as "rare earth elements" (REE).
The following pictogram from the us edition of businessinsider.com barely scratches the surface of the myriad uses of these minerals but highlights perhaps the most important in terms of future demand.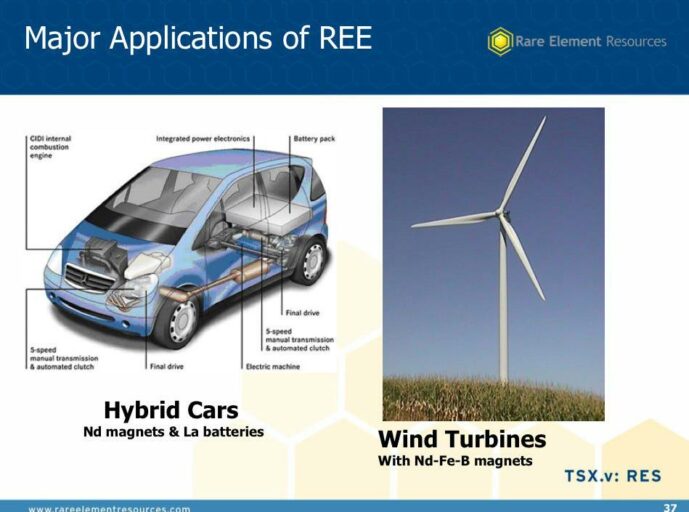 Additional uses in fields where future demand is more than significant include air pollution control, illuminated screens on electronic devices, the polishing of optical-quality glass, and defense requirements. All of these products are expected to experience rising demand.
Rare earth minerals are critical to the defense industry with applications in precision guided weapons, communications and GPS equipment, batteries, and night vision equipment, among others.
Some investors may remember the threat of China, the major producer of rare earth minerals, limiting export of REEs. Lynas Rare Earths is now the second largest producer in the world and growing.
The company's mining operations at Mt Weld in Western Australia reportedly produces some of the highest grade rare earths on the planet. Lynas also boasts of the largest rare earth processing plant at its site in Malaysia, with another processing plant in development in Kalgoorlie, Western Australia.
Despite the company's massive earnings growth forecast, year over year investor sentiment for the stock, although robust, has trailed the other three top FY 2021 performers.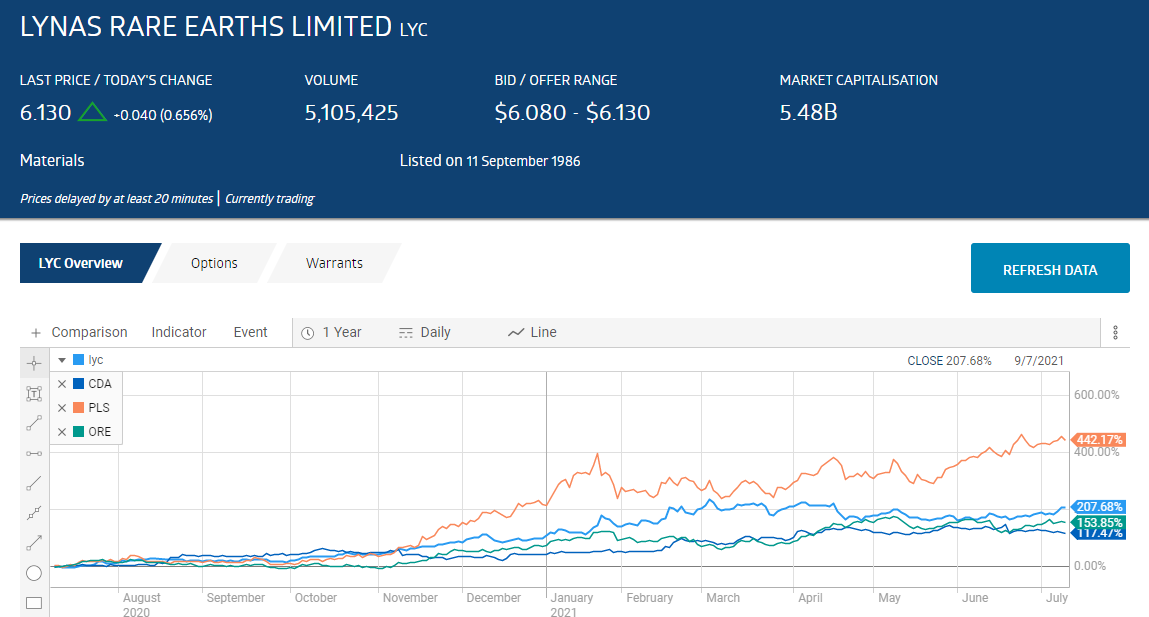 Lynas faltered a bit between FY 2019 and FY 2020, but Half Year 2021 Results showed a marked recovery. Revenues rose from $180.1m to $202.5m while net profit went up from $3.9m to $40.6m.
Lithium miners Pilbara Minerals and Orocobre represent both ends of the lithium production spectrum. Lithium can be extracted from hard rock, as Pilbara does, or from evaporation from brine salts, as does Orocobre.
Orocobre is strictly a brine producer, with operations in Argentina. That is about to change as the company has announced a merger with former rival, Galaxy Resources (GXY) with hard rock mining here in Australia along with brine operations in Argentina.
Although billed as a merger, it might be better described as a buyout, with Orocobre shareholders holding a 54.2% majority of the company following the closing of the deal.
The emerging company reportedly will rank as the fifth largest lithium producer in the world, but enthused investors need to closely follow how the company consolidates its formerly competing assets in Argentina – the Olaroz and Sal de Vida projects.
Brokers appear uniformly positive on the potential "synergies" emerging from the combined entity. However, a 2004 study from global research and consulting firm McKinsey & Company claimed that a quarter of all managers overestimate post-deal synergies by over 25%.
Both companies saw revenue and profit declines in FY 2020.
Pilbara Minerals wholly owns the Pilgangoora lithium-tantalum operation in Western Australia, already in production with two processing plants in place. The company is expanding, with plans to restart the Ngungaju Plant, acquired from Altura Lithium out of receivership.
Ngungaju has been in care and maintenance since October of 2019. Expected to go into production in December of 2021, Ngungaju's forecasted peak annual production capacity calls for up to 200,000 dry metric tonnes (dmt) by mid-calendar year 2022. When added to production at Pilbara's existing operation, the company expects to produce between 560,000 and 580,000 dry metric tonnes per annum (dmtpa).
Pilbara's latest move is to proceed with a proposed joint venture project with ASX listed technology company Calix Limited (CXL). Initial test work on a new refining process using Calix's calcination technology was successful and the potential partners are now embarking on a scoping study.
Mined lithium typically undergoes further refining in preparation for application. The planned demonstration plant to be built at the Pilgangoora Project will use low grade lithium to produce a refined lithium salt, suitable for downstream demand for raw materials. In effect, the project could add an additional revenue stream to the company.
Codan specialises in communications, tracking, and detection equipment for use in challenging environments. The company's products reach 150 countries around the world with international offices in Brazil, Canada, Denmark, Ireland, Mexico, Singapore, the UAE, UK, and the USA.
Codan Limited includes among its customer governments, security and military organisations, and miners. Products include tactical and land mobile radios designed for the roughest use imaginable along with metal detection equipment, tracking hardware and software, and security surveillance equipment.
Codan was a rare exception during the pandemic, with its revenues and profit increasing. The company has posted both profit and revenue increases in each of the last three fiscal years. For the Full Year 2020 profit of $71 million dollars easily topped FY 2019's $45 million. Revenues for FY 2020 were $348 million, up from $270 million. Half Year 2021 Financial Results continued the trend, with profit up 36% over the Half Year 2020 and sales up 14%.
The positive results came despite the company's tactical communications segment losing sales due to COVID 19. Codan has five new products under development; is
expanding its international footprint; and has made key acquisitions in the first half of the calendar year 2021—US based communication companies Domo Tactical Communications and Zetron Inc.
The share price has stuttered over the past month as investors were disappointed with the company's decision to sell an underperforming subsidiary company. However, of all the stocks in our tale, Codan can best lay claim of a stock favored by investors. Market sentiment can be seen in long term upward trends that, despite occasional volatility, indicate investor belief in the company. Codan is the only company in the table with rising shareholder return over three, five, and ten year periods.