Property stocks were hit hard at the onset of the COVID 19 Pandemic but recovered quickly with most still rising. Stocks in the sector that offer lifestyle residential communities and holiday parks have outperformed all but one of the top five ASX listed property groups that specialise in commercial and retail properties with one also in the residential space.
The big names are:
Goodman Group (GMG)

Market Cap of $billion

Scentre Group (SCG)

Market Cap of $billion

Dexus Group (DXS)

Market Cap of $billion

Mirvac Group (MGR)

Market Cap of $billion

Stockland Group (SGP)

Market Cap of $billion
From the ASX website, here is the three year share price performance chart for the five.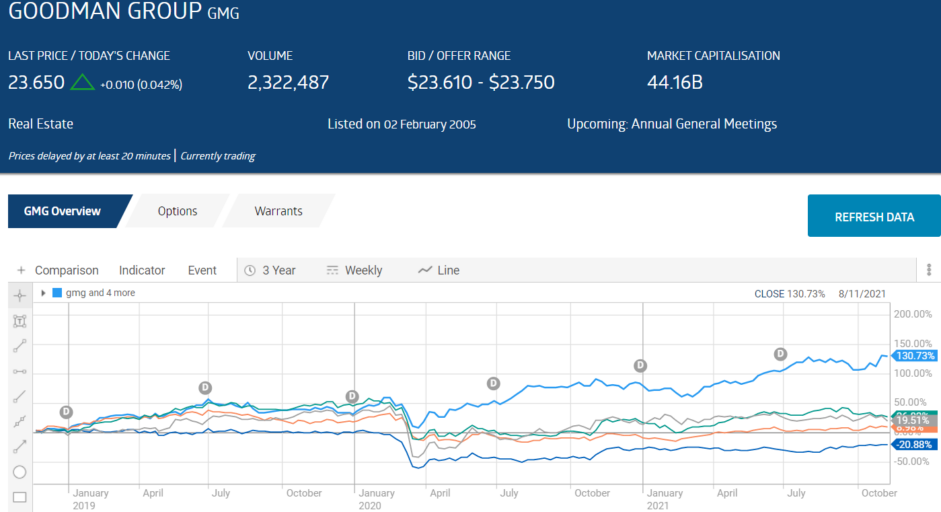 Newcomers to share market investing are likely to have read the horror stories of practices within the aged care sector, including being subject to a Royal Commission Inquiry. Companies that provide residential living in community villages for those over 50 have been painted with the same broad brush.
Few dispute that finding places to live for the exploding senior population qualifies as a "megatrend."
While some investors may have ignored opportunities in the sector due to negative coverage and the disappearance of some former market darling providers like Japara Healthcare and Aveo Group, others know there are multiple retirement living options for seniors.
The troubled companies provide residential facilities that offer skilled nursing care. The majority of seniors in these facilities cannot live independently.
Then there are companies that offer residential accommodations for seniors capable of independent living as well as those who can manage with some assistance.
Here are some of the best performers in this sub-sector on the ASX:
Ingenia Group (INA)

Market Cap $2.0 Billion

Eureka Group (EGH)

Market Cap $169 Million

Lifestyle Communities (LIC)

Market Cap $2.1 Billion
From the ASX website here is the three year share price performance for the three.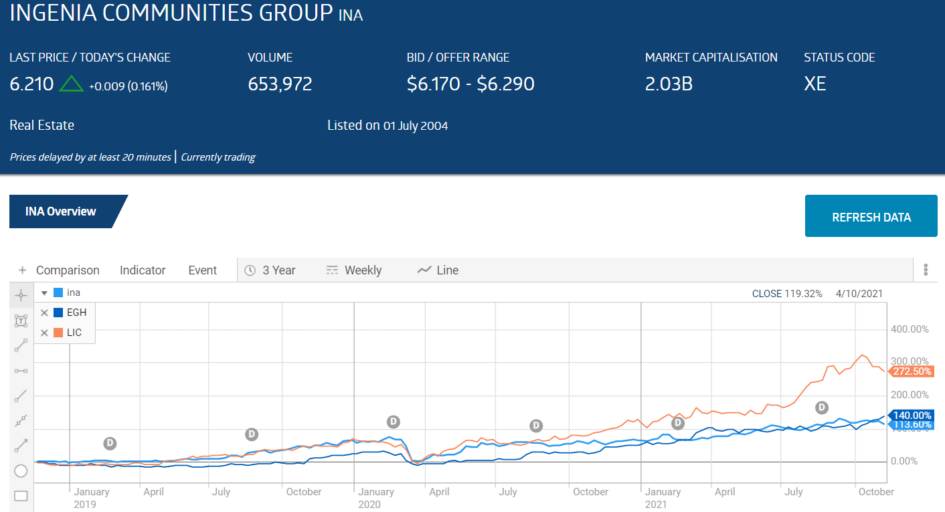 The share price performance of these three companies has outperformed all of the top five real estate companies on the ASX.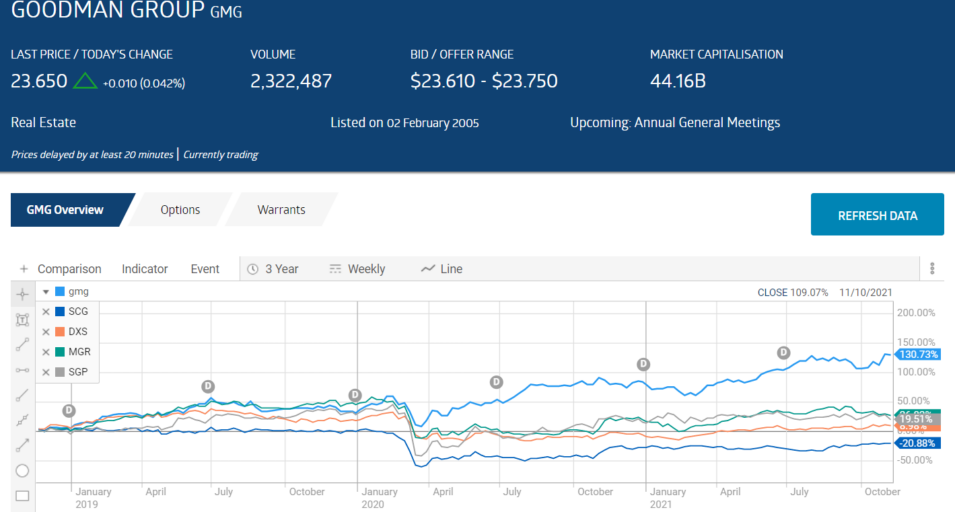 The Stockland Group is the only company in the ASX top five real estate companies operating in the retirement village sector along with its assets in retail centres, business parks, logistics centres, office buildings, and residential communities.
Given the vast disparity in the thirty day average trading volumes for the four companies, it would seem investors are leaving retirement living for seniors under the radar.
Stockland Group (SGP)

30 Day Average Volume – 5.3 million shares

Ingenia Group (INA)

30 Day Average Volume – 675k shares

Eureka Group (EGH)

30 Day Average Volume – 135k shares

Lifestyle Communities (LIC)

30 Day Average Volume – 278k shares
Investors looking for stocks with solid future growth prospects know there are only two avenues a company can take – from within or without. Launching new products or advancements of existing products are examples of organic growth from within the company. Acquisitions of competitive or complementary companies are examples of growth from without.
The following table includes historical and future growth metrics for the three "pure play" retirement living stocks.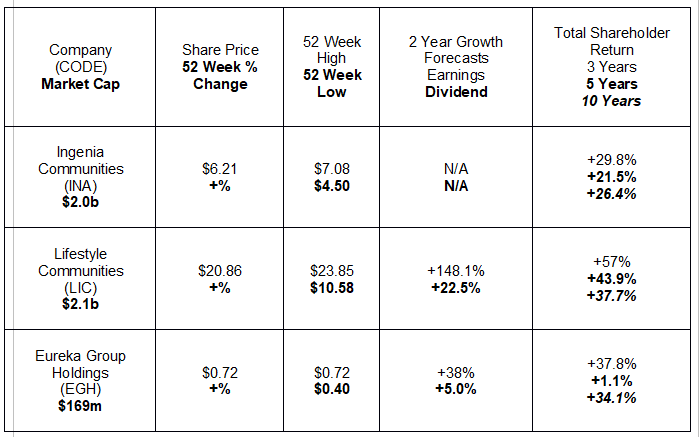 On 31 October shares of Ingenia Group went into a trading halt while the company announced a major acquisition strategic push along with a capital raise.
Ingenia's acquisition targets, readily available to all investors, included twenty properties at a cost of $552 million dollars. These include multiple lifestyle living development sites along with three existing lifestyle communities and three holiday parks.
The company operates four property groupings and one service:
Lifestyle

Holiday

Gardens

Rental

Care
There are currently nineteen Lifestyle Communities along the eastern seaboard with units available for purchase by seniors aged fifty-five and over. Each community offers a full range of resort-style amenities along with social events. Ingenia operates on a land lease model where seniors buy a home with a land lease site agreement for the land. A monthly fee is standard, but at Ingenia the fee can be subsidized. In contrast to other retirement village business models, homeowners pay no exit fees on the sale of the home and retain 100% of any capital gains.
The twenty six Ingenia Garden communities offer rental units secured by a Residential Tenancy Agreement,' with optional meal plans. The company operates an "Activate" program for residents offering a wide variety of activities, both on and off-site.
Four rental communities in Brisbane are available for affordable short and long term rentals. Sites include fitness centres, swimming pools, and BBQ and picnic areas.
All Ingenia properties offer a free Care service, with the company first identifying resident needs and checking for available government subsidies. Services range from personal and domestic services to nutritional assistance and clinical and post hospital care.
Despite the pandemic, Ingenia's rental income rose from $94.5 million dollars in FY 2020 to $122.6 in FY 2021 while net profit more than doubled, from $31.5 million to $72.8 million.
Eureka Group wholly owns thirty-three retirement villages and acts as manager for an additional eight villages. The company's villages are located close to public transportation, shopping, health care facilities, and other amenities for seniors. Regular social activities and entertainment are provided on site, organised by village managers working at the site. Meal services are offered, and Eureka provides property maintenance and garden care.
In FY 2021 the company acquired three new village complexes; added six additional village sites under their management; neared completion on the expansion of one of its existing village sites; and acquired a site for development of a new village complex.
The company grew revenue from $16.9 million dollars in FY 2020 to $18.8 million in FY 2021 while profit fell from $8.1 million dollars to $6.3 million. Eureka management is forecasting EBITDA (earnings before interest, taxes, depreciation, and amortisation) between 9% and 11% for FY 2022 but cautioned investors the company is currently negotiating for additional property acquisitions.
Lifestyle Communities operates on a land-lease model, where residents over fifty purchase the home while leasing the land, saving considerably on a traditional "house and lot" purchase. Village communities are located in Victoria, most within the Greater Melbourne area.
The company owns, operates, and develops its properties, offering potential residents a choice between construction of a new home or purchasing an existing home. The company likes to highlight the differences between the land-lease model and traditional retirement villages business model, with a key difference being Lifestyle taking on the responsibility of maintaining and refurbishing the homes within each village.
The company's Full Year 2021 Financial Results Presentation lists twenty-four communities in operation, with an additional twenty four in the planning and development phase, or under management. For FY 2021 Lifestyle's rental income – from weekly fees for the land-lease – was $25 million dollars while net profit rose from $42.8 million dollars in FY 2020 to $91.1 million dollars in FY 2021.
Lifestyle recently announced the acquisition of another village community but was denied an expansion permit on an existing site.
Skeptics wary of the aged care sector may not realise these three companies are classified as in the real estate sector, not health care as are the aged care stocks.
Perhaps the most compelling reason to consider the retirement living sub-sector is the increasing interest shown by one of the most diversified investment stocks on the ASX — Washington H. Soul Pattinson and Co. (SOL).
Soul Pattinson made news in June of 2021 with its announcement of the company's proposed $11 billion dollar merger with ASX listed investment company, Milton Corp. The merger is complete, and Soul Pattinson intends to expand its existing presence in the retirement village sub-sector and expand into the aged care sector, having already had its bids to acquire diversified aged care and residential living operator Regis Healthcare (REG) rejected by Regis twice.
The company already has a small presence in the residential living space, partnering with Shane Moran's Provectus Aged Care to develop a high end boutique residential living village in Sydney. Provectus management states the partnership is looking for additional projects.
Soul Pattinson has a storied history in Australia, dating back to 1903 when it first listed on the old Sydney Stock Exchange.