Chinese large market capitalisation ETF, the iShares China Large-Cap ETF ASX:IZZ (IZZ), is up nearly 10% this year.
Alibaba Group Holdings Ltd NYSE:BABA (BABA) has risen over 35% in 2023.
Chinese stocks have quickly recovered the ground they lost during the zero-COVID policy and are reattracting foreign investment by taking advantage of a strong but subsiding US Dollar.
Happy New Year
Emerging markets, particularly the Chinese stock market, have welcomed the Chinese New Year with a bang.
The strong but weakening US dollar and the near removal of all restrictions on movement into and out of China have sent the China stock market higher into and beyond the new year celebrations.
IZZ is up almost 10% on the year, and BABA has shot up by over 35%. Investors predict that pent-up demand and large personal savings will be splurged on eCommerce, gifts, travel, meals, and catching up with friends.
A broad basket of Chinese stocks is benefiting, and it is not just the pent-up demand and record domestic savings that have piqued investor interest.
The strong but weakening dollar offers deeper discounts to the international investor, particularly in those emerging markets that have been beaten up by a weaker dollar and holdings of US Dollar denominated debt.
Further afield
The Sri Lanka Colombo Stock Exchange All Share Index is up just over 9% in 2023.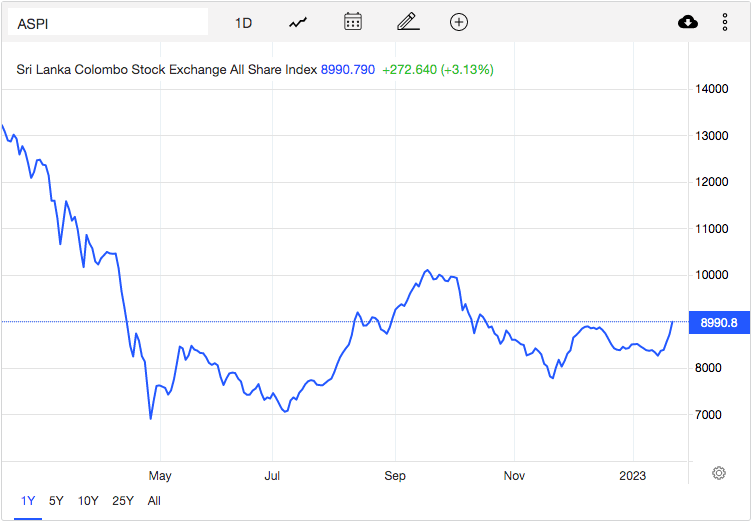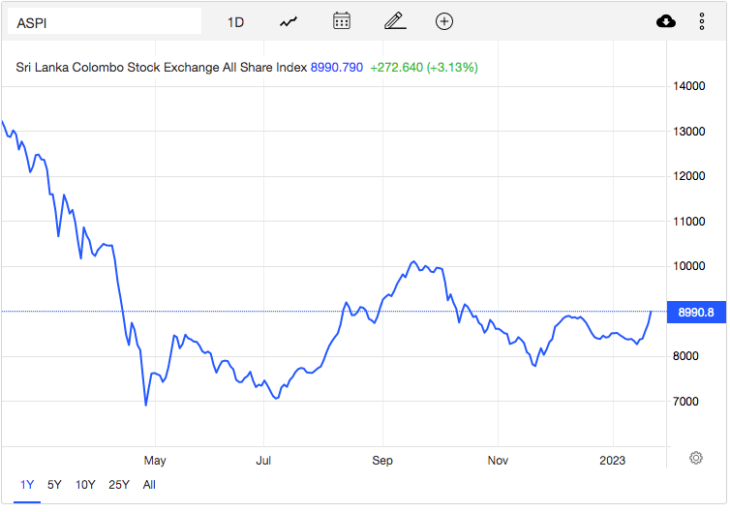 Source: tradingeconomics.com
Markets that have been beaten down by a strong US dollar and reduced foreign direct investment (FDI) have welcomed the developments of early 2023. China can now catch up for lost time on its Belt and Road Initiative, and stocks languishing in the shade of zero-COVID are pre-empting a new dawn.
Closer to home
Highlighting the perception that the Chinese market is today more attractive than three weeks ago, prominent Chinese vendors Fortescue Metals Group Ltd ASX:FMG (FMG) has climbed 9.5% in 2023, with BlueScope Steel Ltd ASX:BSL (BSL) being up 12.7% on the year.
Despite the risk that commodities are starting to heat up again, international crude benchmark spot Brent is up 2.5% on the year, and local and international stock markets have largely welcomed the return to normality.
Summary
Chinese and, by extension, Australian stocks have welcomed the new year with zeal. The reopening of Chinese markets has done wonders for the mood across all emerging markets and even our own.
The general undercurrent of a strong Chinese consumer may even be enough to overcome a hot CPI reading on Wednesday but possibly not a dour GDP reading out of the US later in the day.
The broad uplift in emerging markets is yet to crystallise into earnings, and a few stocks will fall by the wayside in the coming months. For now, many are basking in the light cast by a resurgent China.