Raw materials prices continue to remain stubbornly high
More vulnerable nations are starting to wilt under the pressure
How are Australian companies holding up under the strain?
Commodity as a headline
Commodity prices continue to capture the headlines internationally as European utilities struggle with high coal and gas prices.
The remarkable resurgence of coal continues. European demand swelled Australia's May monthly export value beyond that of Iron Ore for the first time in 13 years.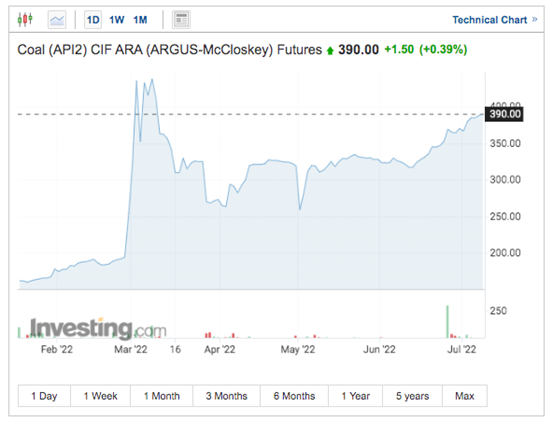 Whitehaven Coal Ltd ASX:WHC (WHC) is higher by 4% at $5.28 per share in the morning trade to narrow in on the 5-year high of $5.42.
Yancoal Australia Ltd ASX:YAL (YAL) follows the other coal producers to be up 3% at the open at $5.25 per share.
China outlook
With the Federal Reserve tightening belts to rein in inflation, the strong US dollar heaps more pressure on developing nations. There is a dual-pronged attack of accelerated inflation on devalued currencies relative to the US dollar, plus the raised US Dollar debt repayments under higher lending rates.
The credit strains on developing nations sour the Belt and Road Initiative's near-term outlook for China. Iron Ore is lower by 3% at the time of writing, rapidly closing in on the $100 AUD per tonne handle.
BHP Billiton ASX:BHP (BHP) is down by half a per cent from last night's close.
European struggles
European consumers hoping for relief from high utility bills will have to wait longer. Gas and coal supplies continue to be bottlenecked and are passed on through high power prices.
The throttling for maintenance of critical Russia to European gas supply line, Nord Stream, is propping gas and power prices to March highs.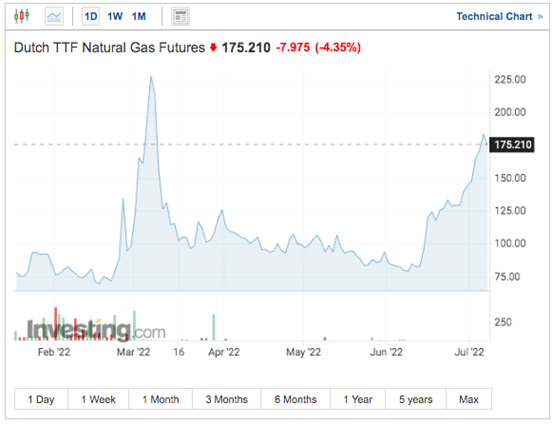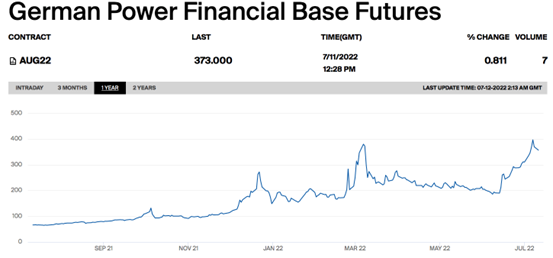 The week ahead in data
The juggernaut in coal and energy prices has done little to assuage the fears of global policymakers over runaway inflation.
The Reserve Bank of Australia is expected to raise the benchmark lending rate another half per cent on Wednesday.
A high US Consumer Price Index print on Wednesday with the consensus outlook to be well above the 2-3% target is expected to provide additional ammunition for the Federal Reserve to continue the path of monetary policy tightening.
The risk of recession and a global macro fallout rises with each passing day that the European industry and consumer is burdened with high power prices. With no end in sight, the outlook continues to cloud.
Stock market headlines
The big winner by the value of market capitalisation this morning is diversified energy company New Hope Corporation ASX:NHC (NHC), up over 5% from Monday's close.
The dampening global economic outlook and high costs are sending Qantas Airways Ltd ASX:QAN (QAN) valuation down 3.4%.
Consumer pressures at home and abroad making large payments service provider, Block Inc ASX:SQ2 (SQ2), the biggest loser by market capitalisation, shedding 3.5% and $2b AUD in value overnight.
Bumpy road ahead
European and developing nations' inflation and debt woes threaten to spill over into our markets and abroad. A bumpy road lies ahead.