Divestment is a term known to stock-pickers everywhere. When a holding or a prospect in an investor's portfolio "divests," or sells off one of its assets, the divestment can be a market mover, for good or bad. Be it a subsidiary company or interests in another company or an operating asset or one with profit potential, the share price is not likely to remain stable in the immediate aftermath.
Miners are notorious for selling off non-producing assets to shift focus to the "hot" commodity of the day.
Divestment has taken on a new slant, with the current global focus on divestment of or in a specific category of commodities – fossil fuels.
While governments may lag in major efforts to combat climate change, the private sector is moving. Banks, hedge funds, mutual and exchange traded funds, and some of the producing companies themselves are abandoning coal, oil, and to a lesser extent, natural gas.
Even global oil and gas powerhouses Royal Dutch Shell and BP are scaling back oil production and investing heavily in renewable energy sources.
Here in Australia BHP has joined the parade, spinning off its oil and gas assets to Woodside Petroleum in an all share transaction.
The move made the rumor mill, with both Woodside and BHP acknowledging on 15 August they were "in discussions."
17 August was quite a day for BHP shareholders with three major announcements – the Woodside Deal: the ramp up plan of BHP's Canadian Jansen Potash Project at an initial cost of $5.7 billion dollars, and a solid FY 2021 Full Year Financial Report.
The financials showed 43% increase in both revenue and profit along with a massive dividend for the year up 129% over FY 2020.
Apparently, investors ignored the results, reacting instead to the twin news items of the Woodside deal and the initiation of the first stage of the Jansen project. The share price tumbled.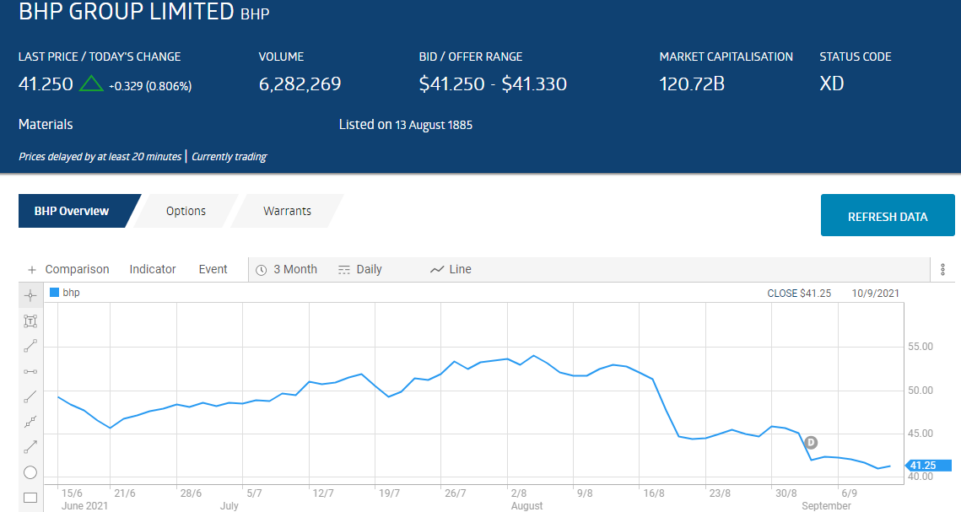 BHP management acknowledged that demand for fossil fuels should remain robust for the next decade, but the company feels now is the best time to divest assets that may be more difficult to shed in the not too distant future.
It has been more than a decade since BHP announced a feasibility study for the Jansen Potash Project in the Canadian province of Saskatchewan. At the time the company projected production to commence in 2015 with the total cost of the three stages of development approximating $12 to $17 billion dollars.
BHP has already invested around $4.5 billion dollars for two shafts in the underground mining project. The $5.7 billion dollars now approved will complete the first stage of the project, with production expected to commence in 2027.
The following graph from Indian firm Data Bridge Market Research makes the case for BHP's decision to move into potash production.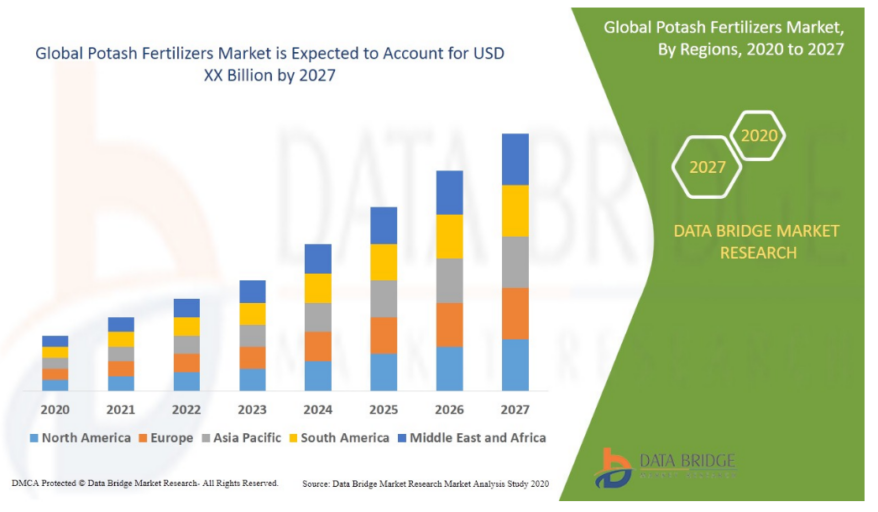 Underground potash deposits come from evaporated sea beds to produce potassium chloride (MOP). MOP is the most common form of potassium, with potassium sulfate or sulfate of potash (SOP), processed from MOP or extracted from brine deposits, a superior alternative for some applications, and a far more expensive product – up to 40% more. BHP wholly owns Jansen and upon completion BHP claims it will be the largest potash producing mine in the world.
There are multiple small miners on the ASX looking to capitalise on the global trend for healthier food, fueled by growing middle class populations in much of the world.
None are yet producing, but there are a few with major projects underway with potential to begin production within the next five years, and two who could start in the very near future. A number of these companies are looking to produce SOP from salt brines, not from potassium extracted from underground mining.
The following table includes share price information and shareholder return for a few of the more promising contenders.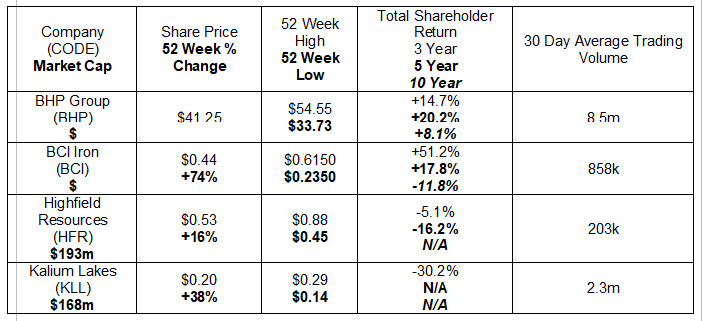 Once an iron ore miner, BCI Minerals now relies on revenue from its remaining iron ore asset, operated under a royalty arrangement with Mineral Resources (MIN). BCI is now focused on developing its Mardie Salt and Potash Project on the coast of Western Australia. The project is 100% owned by BCI's subsidiary company, Mardie Minerals Ltd
Seawater will be concentrated through evaporation (solar and wind) to produce both salt (sodium chloride) and sulfate of potash (SOP). When operational, the project can produce 140 ktpa ( kilo tonnes per annum) of SOP and 5.35 million tonnes per annum of salt. The Mardie Salt and Potash Project is expected to have an operating life in excess of 60 years.
BCI has completed a DFS (definitive feasibility study) on the project, with a follow-up study indicating the project could cost in excess of $900 million dollars, excluding "working capital, funding costs, and shared expenses with contractors."
The company will make a final decision pending funding in the second half of 2021. Should BCI go ahead, construction will begin in 2022. The company anticipates the first salt sales in 2024 and SOP sales in 2026. final investment decision and completion of the funding task is targeted in the second half of 2021 allowing construction to commence in 2022 and for first salt sales in 2024 and first SOP sales in 2026.
The average daily trading volume over 30 days figures listed in the table suggest Highfield Resources is "under the radar" of most ASX investors interested in the potash space.
The reason may be Highfield is a Spanish company trading on the ASX with its flagship Muga-Vipasca Potash Mine being developed by a wholly owned subsidiary company, Geoalcali. Highfield/Geoalcali have two other assets in the region.
The Sierra del Perdon Project was in operation from the 1960s until the turn of the century, producing about 500,000 tonnes of potash per year.:
The Pintanos Potash Project is located in an area with "substantial historical potash exploration drilling information."
All three projects are 100% owned by Highfield. All three will be underground MOP mining operations at shallow depth, with the 350 metres depth at Muga-Vipasca suggesting a low cost operation. The company has memorandum of understanding (MOU) non-binding agreements with two Spanish ports for shipping MOP from Muga-Vipasca. Highfield and Geoacali received an MC (mining concession) for the project from the local Spanish government on 1 July.
Highfield/Geoacali are now focusing on purchasing long term equipment and negotiating a construction agreement. The company is simultaneously pursuing offtake agreements (commitments to purchase when production commences) and finalising project financing.
Kalium Lakes is readying to start production at the company's flagship operation, the Beyondie SOP Project in Western Australia. Evaporation ponds, quickly refillable, will contribute to the low cost and long life of the project.
The company announced to the market on 1 September final construction is nearing completion, with an expected start date sometime in October of 2021. Kalium management also pointed to the project's coming in within its budget.
Kalium's production process begins with pumping subsurface "salted" groundwater into evaporation ponds to produce potassium salts which are the processed into sulphate of potash.
Kalium has 90,000 tonnes of potassium salts produced which will yield about 9,000 tonnes of SOP. The Beyondie SOP Project's immediate expansion forecasts an additional production of 30 ktpa (kilo tonnes per annum) with 120 kpta achievable by Q4 of 2022. The operation has a 50 year life with more expansions possible.
The company also is a joint venture (70%) partner with BCI Minerals (30%) in the Carnegie Project. BCI can increase its interest to 50% by assuming the exploration and funding development of the one granted license in the project and the five in application status.
As yet another example of how quickly fortunes can change in the world of share markets, in early June of 2021 Salt Lake Potash (SO4) was ready to grab the title of Australia's first producer of sulphate or potash. A series of trading halts and voluntary suspensions ended that dream, beginning with the 29 July announcement of a suspension of its prior production schedule, with additional funding needed before the end of 2021 to keep is flagship Lakeway Project in the goldfields of Western Australia in development.