Unemployment among the participating workforce nears its lowest in recorded history

Businesses find themselves in stiff competition for the best talent

What are the reasons for this current labour shortage, and how can governments and businesses respond?
A thinly stretched labour force
During the pandemic, many businesses around the world froze or reduced operations. Their overseas resident employees, without the safety net of a wider family, returned home to wait out the crisis.
As an immigrant nation, Australia suddenly saw many of its residents depart. Overseas migration returned a net loss of 88,800 in 2020-21, the first since 1946.
Fast forward two years, and The Great Reopening for businesses that were put on life-support through government initiatives and lending is well underway.
With few assets disposed of and now requiring maintenance from a similar level of staffing to pre-pandemic levels, plus a customer base eagerly returning to old haunts en masse, many businesses are looking to rehire.
The problem is that a lot of their old employees have moved on. The acceleration of remote learning and working models during the pandemic, borne out of necessity, has now become a requirement for those that previously juggled children, work, and commuting or were dealing with restricted movement.
Retraining into other skills and careers through the long duration of lockdown to reopening has skipped an entire generation over customer service roles.
Net emigration during the pandemic has stretched the labour force even further.
Drinks retailer Dan Murphy's is now offering walk-in job interviews to address the upcoming holiday period staffing crisis.
European and UK airports have suffered from severe staff shortages, from airline crew to baggage handlers on the ground. The situation has forced airlines to cut back on flights and is causing long delays in baggage claims.
The labour market in numbers
Data from the Australia Bureau of Statistics (ABS) through June 2021 illustrates the staggering retreat in migration.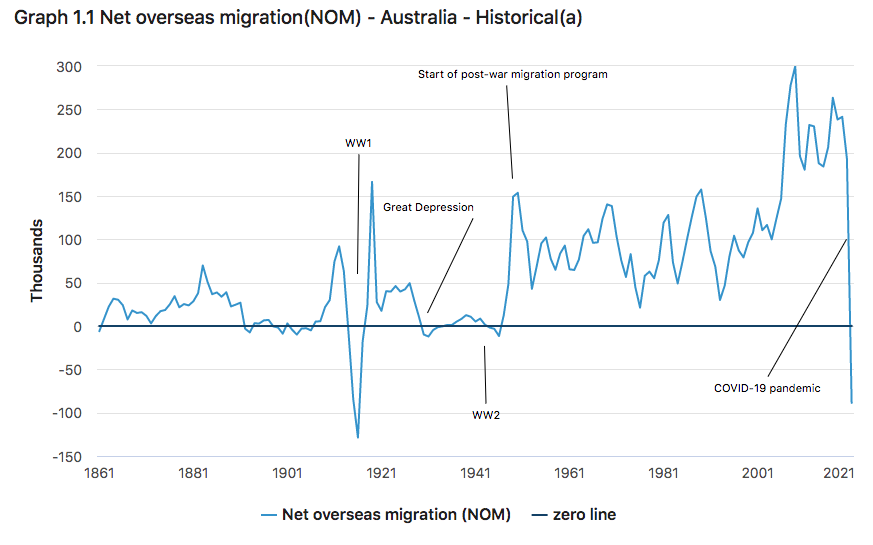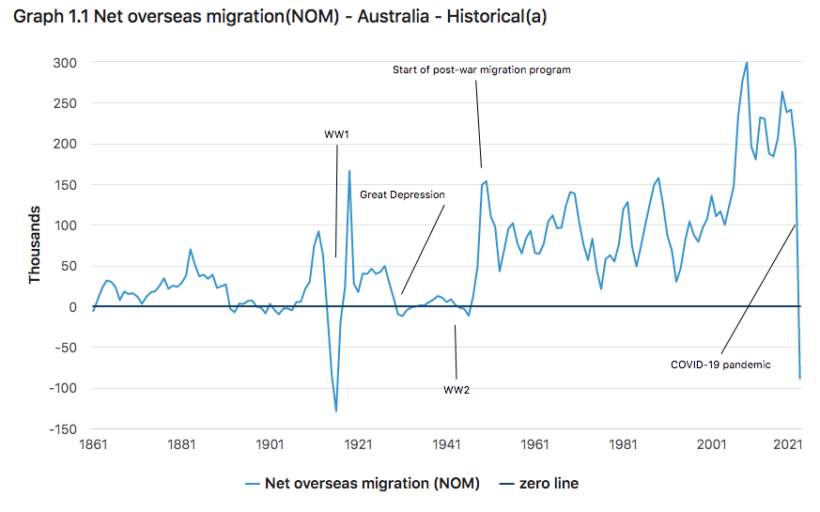 Unemployment has followed the same trajectory downward to historic lows.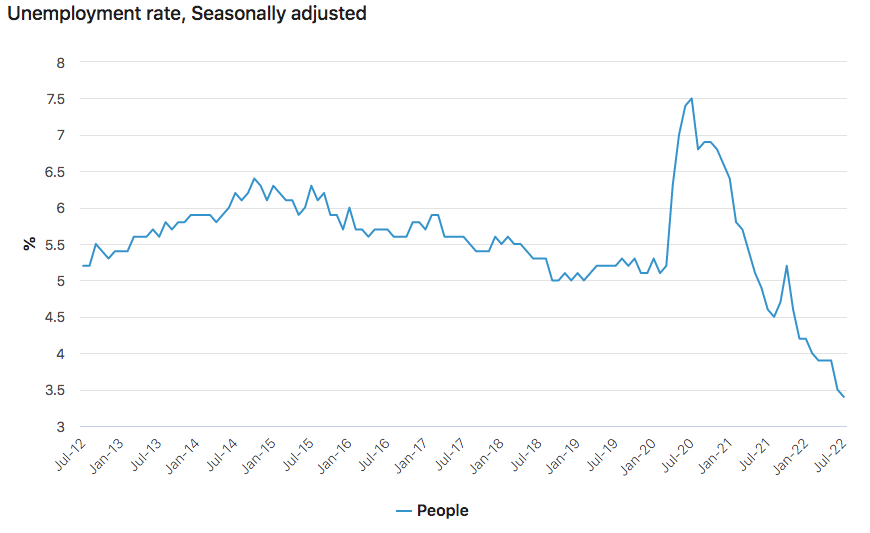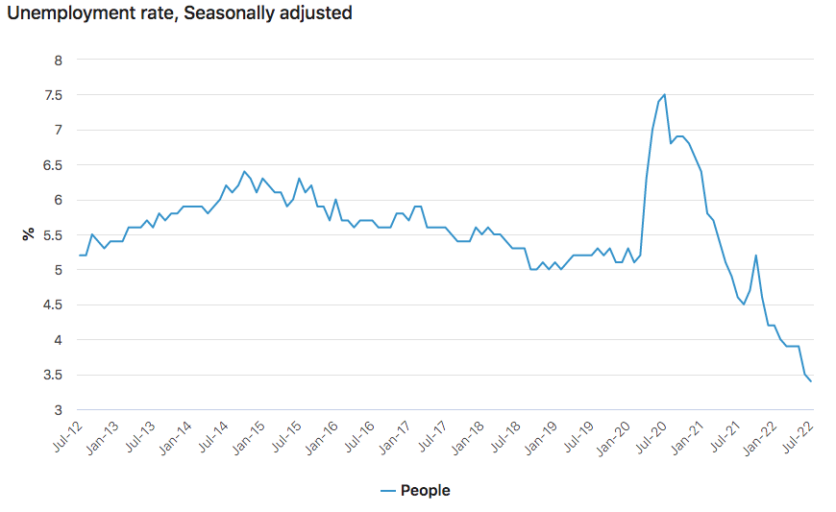 Low unemployment is a positive indicator for those currently looking for work, yet the overhaul in the working environment and subsequent reskilling requirements left many in the lurch. Many of those have opted for either early retirement or have just given up looking for a job altogether.
The number of employed people dipped in July 2022 from 13,599k to 13,558k as the participation rate fell from 66.8% to 66.4%.
The impact on business
The wage inflation ascent from the lows of the pandemic reopening is well and truly underway. With tightness in all sectors currently being reported, we can expect this trend to continue for some time, considering seasonal staffing requirements are just around the corner.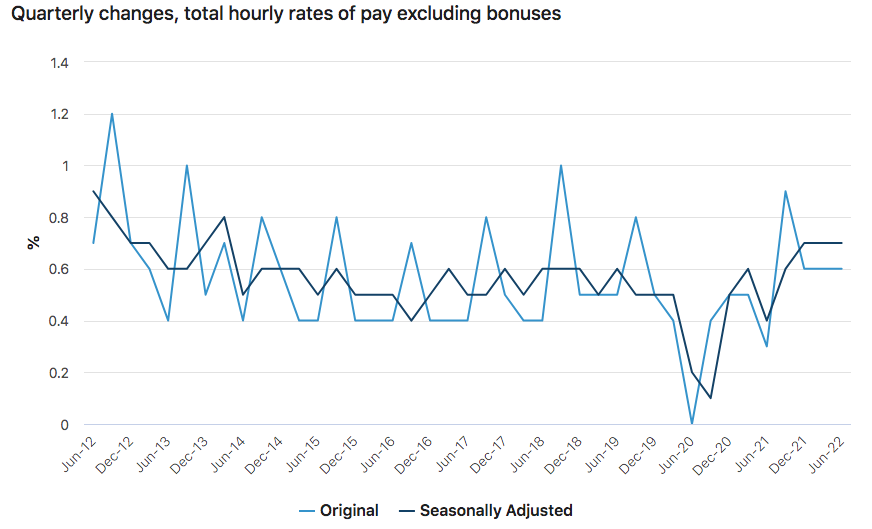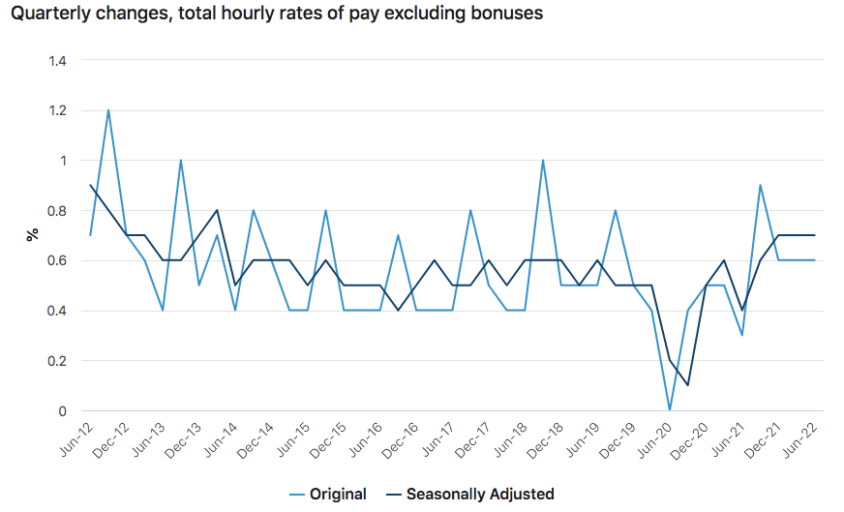 Staffing costs typically form anywhere from 20% to 35% of overall expenditure, sometimes as high as 50% for the service industry.
Any tightness in the labour market will dramatically reduce profits for businesses.
The projected impact on company earnings is reflected in hotel and entertainment stocks after a rebound through 2021.
The Star Entertainment Group Limited ASX:SGR (SGR) is down 29% year to date. Already suffering under the weight of corruption probes, the extended lockdown swung this gambling operator to a loss, and it now has a spike in wages to deal with.
SkyCity Entertainment Group Ltd ASX:SKC (SKC) is following a similar trend. It is expected to rebound after reopening; however, rising costs threaten to derail the anticipated recovery. SKC is down 12% year to date.
Government response
Government responses on migration are in the works, but they are controversial. The expected net migration is only likely to return to positivity in this current financial year ending June 2023 and returning to 2018-2019 net migration figures only in the financial year 2024-2025.
That said, the Anthony Albanese government is working toward lifting the current caps on low-skilled migrants and speeding up visa processing times.
Business response
Businesses are having to turn to foreign shores through other methods. There has been a sharp rise in the uptake of remote gig economy platforms, such as Fiverr and Upwork, amongst others.
Unable to get staff at home, businesses are fulfilling their operational requirements from abroad without needing a cumbersome visa application.
Outlook
Technology is answering the call on productivity and shortages for those that don't require a face-to-face customer service experience. For businesses that do, it will be a very challenging Christmas period.