Microsoft Corp NASDAQ:MSFT (MSFT) reported earnings Tuesday
MSFT reported the slowest quarterly sales growth in more than six years
The slowdown in sales growth and the slimmer margins for MSFT relative to prior quarters are causing concern for international technology investors.
The calendar year 2022 US earnings season is upon us, and the rationale behind the recent spate of layoffs in the technology sector is becoming apparent.
The bumper year of 2021 was not easy to replicate. The heavily reported payroll rationalisation of global technology workforces results from slimmer margins and slowing growth.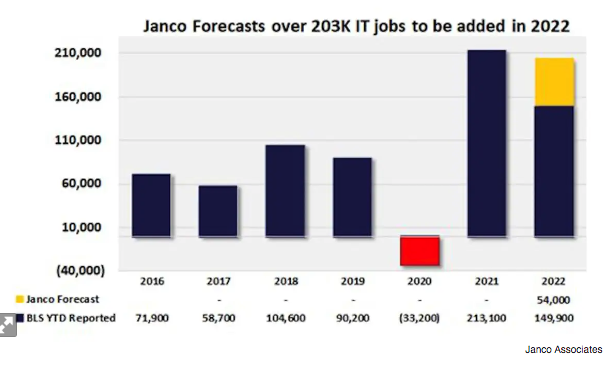 Source: computerworld.com
The Tech payroll grew in 2022 despite more than 97,000 layoffs announced across the sector. Layoffs came at the largest companies, e.g., Alphabet Inc NASDAQ:GOOG (GOOG), Meta Platforms Inc NASDAQ:META (META), and MSFT.
The explosion in cloud computing take-up and sales growth in 2020 and 2021 is well and truly in the rear-view mirror.
Larger tech companies are taking stock of current business conditions following their earnings compilations, and the new tech job creation will retreat in early 2023.
Bellwether MSFT
Revenue growth at MSFT fell to a more than 6-year low on cooling demand for their cloud computing offerings. As a result, MSFT was lower by 1% in after-hours trading on Tuesday.
The slowdown in growth across all revenue streams reflects customer caution in the face of elevated inflation. Increased competition in the cloud computing sector is also taking some of the heat out of Azure's revenue growth.
Technology sector at home
MSFT results are having an impact on the broader sector. After rallying over 8% this year, ETFS Morningstar Global Technology ETF ASX:TECH (TECH) retreated 1.9% at the opening of trade on Wednesday.
Australian tech leaders Xero Ltd ASX:XRO (XRO) and Atlassian Corp NASDAQ:TEAM (TEAM) were down 2.2% and 1.8%, respectively, following the MSFT release.
Fair value
Technology stocks were likely overbought to start the year. The annualised growth of the 8% rally in TECH to start 2023 is 140%. The market was getting ahead of itself and repricing on firm earnings and sales growth from the benchmarker, MSFT.
The tech sector layoffs were inevitable in the context of the massive employment growth in 2020 and 2021 and the decline in sales growth with a return to a more "normalised" pre-COVID marketplace.
Future
There is still a lot to be excited about for technology investors. MSFT, GOOG, META, Apple Inc NASDAQ:AAPL (AAPL), and others are still profitable, have vast swathes of cash, and are investing heavily in the future.
Innovations in Artificial Intelligence promise to be the most exciting development in the sector in 2023 and perhaps the most significant in the history of humanity.
MSFT, GOOG, and others have invested heavily in this space and will likely start bearing the fruits of their labours this year.