From different angles, these two companies benefit from the heavy interest in gaming in Australia.
The boom in gaming post-COVID suggests that Ainsworth Game Technology can offer some value for those willing to gamble on gaming.
SGR currently owns and operates some of the better gaming assets in the country.
When it comes to gambling, no other country spends more per capita than Australia. Here we will consider two companies well-versed and well-positioned in the gaming industry and likely to benefit from the strong underlying economic fundamentals and industry growth.
Ainsworth Game Technology ASX:AGI (AGI)
Ainsworth Game Technology (AGI) is a global provider of gaming solutions that has been in operation since 1995. AGI has a strong track record of developing and supplying innovative and engaging gaming content to casinos and other gaming venues worldwide.
With a focus on research and development, AGI has consistently delivered innovative and high-quality gaming products that meet the evolving needs of its customers.
AGI has a global reach, with operations in Australia, North America, Asia, and Europe. This diversification of operations reduces the company's exposure to any particular market, reducing risk for investors. Additionally, AGI has a solid financial position, with a healthy balance sheet and positive cash flow.
Another factor that makes AGI a good investment is its commitment to responsible gaming. AGI takes measures to ensure that its gaming products are fair and promote responsible gaming practices.
AGI's revenue is charting a course back to the pre-COVID 2019 highs, climbing 47% financial year end of 2022. An improved net operating margin of 7% from 2019's 5.7% points to a leaner company post-COVID.
AGR currently trades at a market capitalisation vs. sales ratio of over 2 with a net operating margin of 7% and a price-to-earnings (PE) ratio of close to 52. These two ratios are on the relatively expensive side of the market. In saying that, provided the boom in gaming post-COVID holds, this company can offer some value for those willing to gamble on gaming.
AGI's strong financial position, commitment to innovation, and responsible gaming practices make it a good investment opportunity for investors seeking exposure to the gaming industry.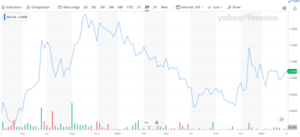 Source: Yahoo! Finance
The Star Entertainment Group ASX:SGR (SGR)
The Star Entertainment Group (SGR) is an Australian-based integrated resort and entertainment company operating in Sydney, Brisbane, and the Gold Coast.
SGR's diverse portfolio includes casino operations, hotels, and restaurants, making it a hospitality and entertainment industry leader.
Amendments to the Casino Control Act and oversight related to money laundering have hurt the stock this year, down over 50% from early November 2022.
Before the recent stock price action, the company has consistently delivered solid financial results, driven by its well-established and highly profitable casino operations. Additionally, SGR has a solid balance sheet and has been actively managing its debt levels, reducing its overall financial risk.
COVID-19 restrictions hurt all gaming companies, but SGR could exit without too great an increase in its debt pile and modest equity raises.
If we were to consider the trailing twelve-month earnings ex the recent fines and restructuring, SGR would have turned a profit of $70m AUD, 28% revenue growth versus FY 2022, representing a net operating margin of 3.8%, with the goal of returning to the pre-COVID net operating margin of 9% on $2.2bn AUD of revenue in sight.
Despite the cloud hanging over this stock, there is a path to an exit and settlement of the current troubles. A return to $200m AUD net income would leave the stock trading at a PE ratio of a shade over 10 – excellent value in this current stock market climate.
Overall, SGR has endured a troubled few years and months. There is light at the end of the tunnel. SGR currently owns and operates some of the better gaming assets in the country. By capturing some of their pre-COVID mojo, this stock can offer excellent value to the investor, provided they are willing and able to ride out this current storm.
Source: Yahoo! Finance