Free Knigthsbridge Trading Academy worth $2750 with Axitrader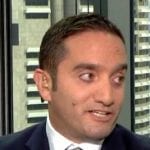 John Athanasiou, Red Leaf Securities
BUY RECOMMENDATIONS
AMP (AMP)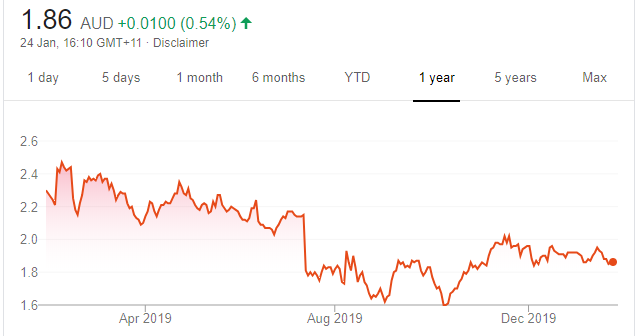 Chart: Share price over the year
The share price of this financial services provider has fallen to a reasonably low price range following its fees for no service scandal. The market has all but absorbed the fallout from the banking Royal Commission. AMP has a chance to rebuild its brand in light of the major banks abandoning their wealth divisions. The shares finished at $1.85 on January 23.
Infigen Energy (IFN)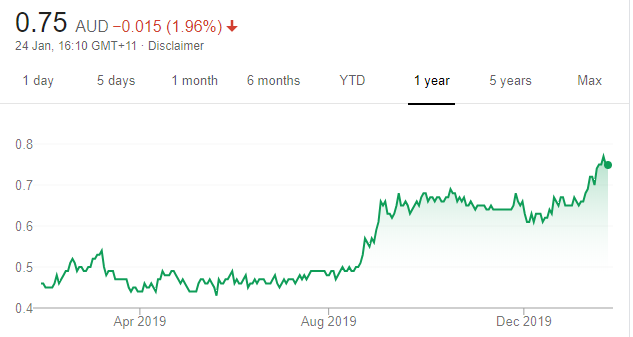 Chart: Share price over the year
Invests in renewable generation and is developing firming capabilities to deliver reliable energy to Australian businesses. It generates renewable energy from its own wind farms in New South Wales, South Australia and Western Australia. It's a licenced energy retailer in the national electricity market regions of Queensland, New South Wales, the ACT, Victoria and South Australia. As a utility, IFN is defensive and offers attractive long term potential in the renewable energy market.
HOLD RECOMMENDATIONS
Orocobre (ORE)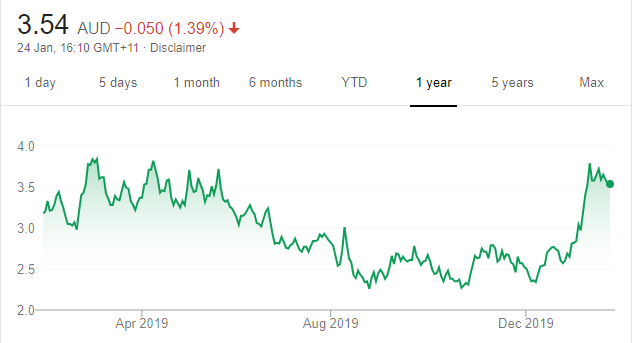 Chart: Share price over the year
This global lithium carbonate supplier offers a strong balance sheet and is a low cost producer. First quarter 2020 production of 3093 tonnes at the Olaroz lithium facility in Argentina represented a 35 per cent increase on the prior corresponding period. It recently signed two contracts to supply battery grade lithium carbonate to Chinese cathode manufacturers.
Syrah Resources (SYR)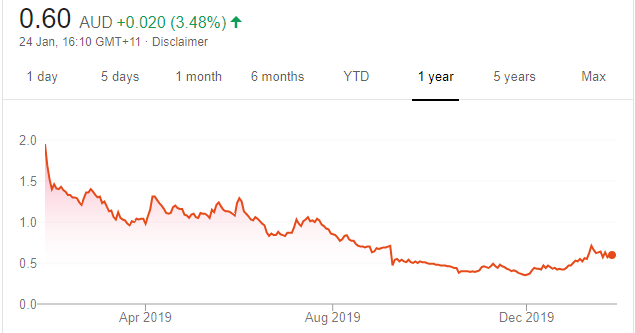 Chart: Share price over the year
Owns the Balama graphite project in Mozambique. SYR recently announced it had started producing purified spherical graphite from its Battery Anode Material plant in the US. We regard it as a strategic asset with sustainable cash flow over the longer term. The shares have risen from 47 cents on December 31 to close at 57.5 cents on January 23.
SELL RECOMMENDATIONS
Whitehaven Coal (WHC)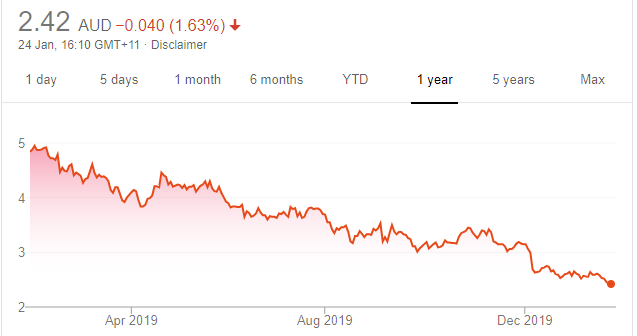 Chart: Share price over the year
December quarter production at its Maules Creek coal mine was negatively impacted by a shortage of skilled operators and by dust and smoke events associated with drought conditions and regional bushfires. These events may not be fully priced in. Calls for more renewable energy to reduce carbon emissions may become louder in 2020.
Kirkland Lake Gold (KLA)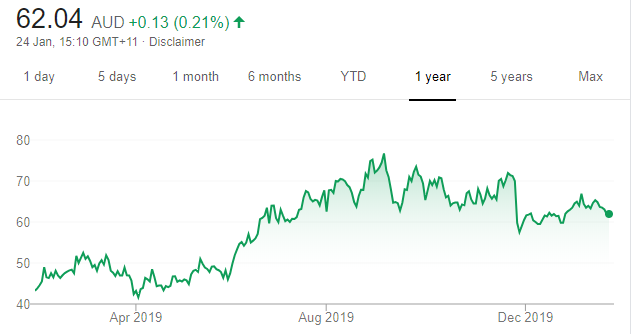 Chart: Share price over the year
KLA is growing by expanding production and via acquisition. However, the 29 per cent price premium to acquire Detour Gold may be too high, in our view. The gold price may soften if global political tensions ease. If tensions ease, KLA may need to update the market on revised production expansion.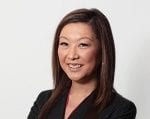 Julia Lee, Burman Invest
BUY RECOMMENDATIONS
NRW Holdings (NWH)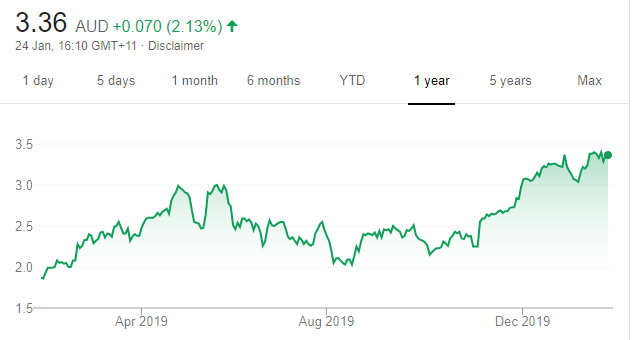 Chart: Share price over the year
NRW Holdings is a mining services contractor with much exposure to iron ore in Western Australia. It acquired a similar business BGC Contracting in November 2019. Synergies from the merger should generate $15 million in savings going forward. Stronger iron ore prices should underpin pipeline growth. NRW should also benefit from an expected strong performance in key commodities in 2020.
Sandfire Resources (SFR)
Chart: Share price over the year
Sandfire is a primarily a copper producer. Copper prices have risen about 13 per cent from the lows in September 2019. Sandfire owns and operates the DeGrussa copper-gold project in Western Australia. Expected higher grades from its Monty copper-gold deposit in 2020 and rising copper prices should flow to an improving share price in 2020. We expect SFR to generate strong earnings growth during the next two years.
HOLD RECOMMENDATIONS
BWX (BWX)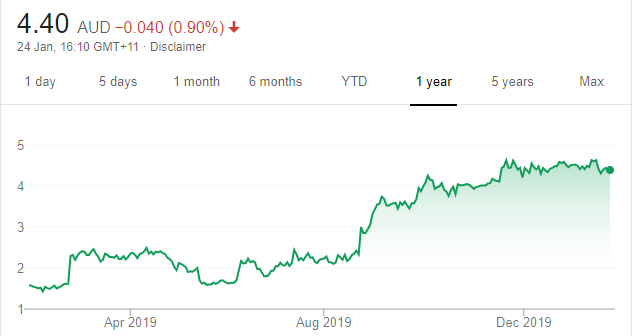 Chart: Share price over the year
This skin care product maker operates in a growing but increasingly competitive industry. So new product development and growing market share remains key to a bright outlook. BWX has significant exposure to the North American market. But given a cautious consumer outlook in Australia, we retain on hold on BWX at current levels.
Nufarm (NUF)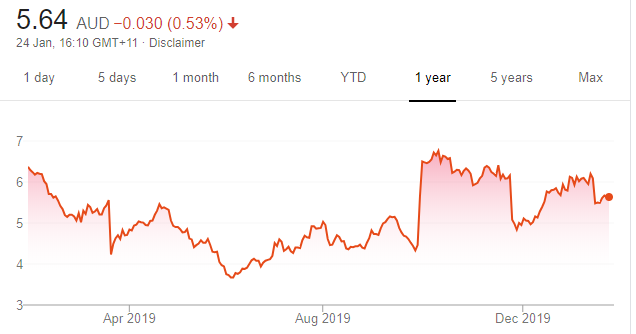 Chart: Share price over the year
Supplies agricultural chemicals, seeds and seed treatments. It's highly exposed to the agricultural cycle and weather conditions. NUF has downgraded first half 2020 EBITDA to between $55 million and $65 million. The downgrade compares to $121 million in the 2019 first half. Despite increasing sales in Europe, margins were negatively impacted by stiffer competition. While recent rain in Australia is a positive sign, challenges remain in Europe. A positive change in Europe would make this company a buy rather than a hold.
SELL RECOMMENDATIONS
Whitehaven Coal (WHC)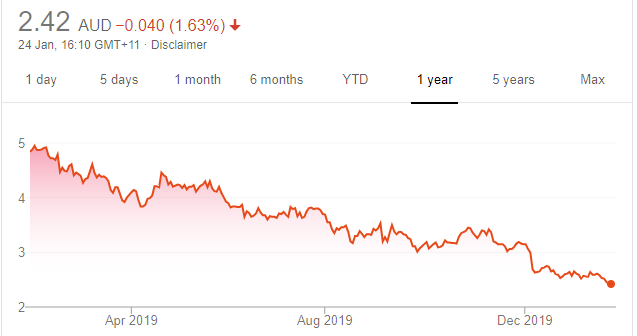 Chart: Share price over the year
This coal company posted a disappointing production report for the December quarter. Drought and labour issues at its Maules Creek coal mine leave WHC needing strong production for the rest of the year to meet forecasts. We're concerned about the outlook going forward. An increase in environmental, social and governance investing may reduce coal mining's appeal to this growing group.
Bank of Queensland (BOQ)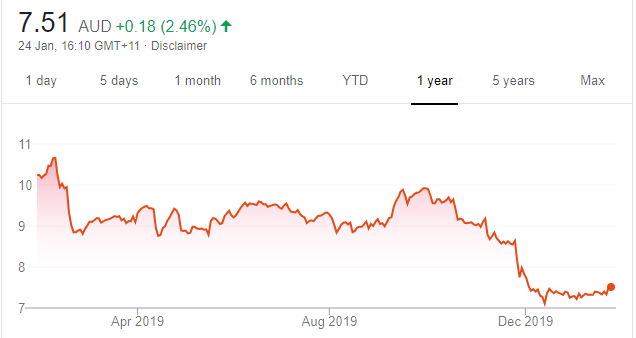 Chart: Share price over the year
More competition from smaller financial technology companies and increasing regulator and compliance costs are but a few challenges facing regional banks, such as BOQ. Also, much of Queensland has been in drought for about 10 years. Managing expectations in a difficult farming environment is an ongoing challenge given businesses can be capital intensive, asset rich, but cash poor. I believe BOQ is facing another tough year. I would look at buying banks when interest rates have bottomed. However, another rate cut is possible in February.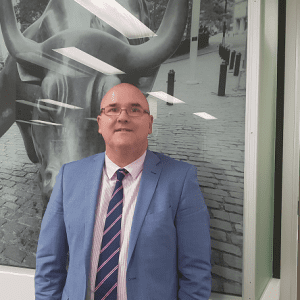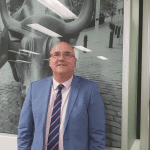 Tony Locantro, Alto Capital
BUY RECOMMENDATIONS
Nyrada Inc (NYR)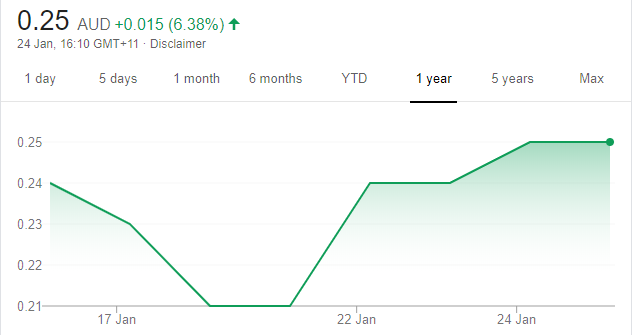 Chart: Share price over the year
Alto Capital was lead manager to the NYR initial public offering prior to the company listing on January 16, 2020. NYR is a US based biotechnology firm, and is developing the PCSK9 inhibitor. Its objective is to reduce cholesterol and lower the risk of cardiovascular disease. NYR is planning to move towards human clinical trials in 2022. Also, the company is aiming to develop a drug that blocks secondary brain damage following a stroke or traumatic brain injury. A speculative buy.
Hammer Metals (HMX)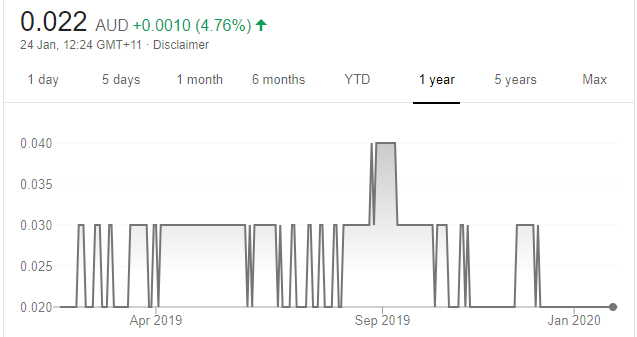 Chart: Share price over the year
HMX is a diversified explorer. It has gold exploration projects in Western Australia, and big iron oxide, copper and gold targets in Queensland. A Japanese oil and gas company has committed to a $6 million joint venture on HMX projects in Queensland, enabling the geological team to focus on gold opportunities. With strong management and technical expertise, we believe HMX presents a solid growth opportunity, but with higher risk.
HOLD RECOMMENDATIONS
AdAlta (1AD)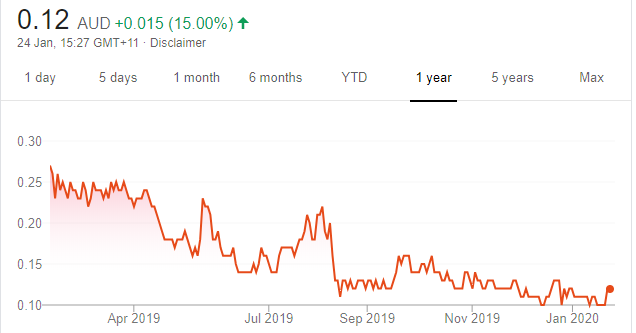 Chart: Share price over the year
To strengthen clinical data from the human study of the key AD-214 drug for treating idiopathic pulmonary fibrosis, 1AD has announced further delays to clinical trials. The stock was sold off. The company believes extra time may enable it to attract more partners. US based GE Healthcare has already formed an alliance with 1AD, although the terms and financial information remain confidential. IAD is a high risk/high reward play.
Godolphin Resources (GRL)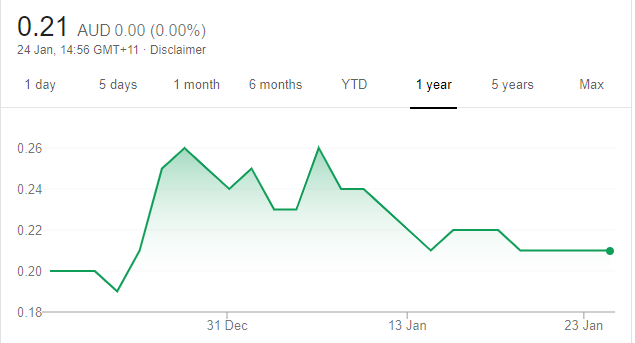 Chart: Share price over the year
GRL is a new listing. It has gold resources of more than 400,000 ounces in New South Wales, with a mixture of base metals. The near term catalyst for GRL is a major drilling program undertaken by Alkane Resources (ASX: ALK) at its Boda prospect. Any success could see GRL re-rated on proximity to what could be a major mineral discovery.
SELL RECOMMENDATIONS
CSL (CSL)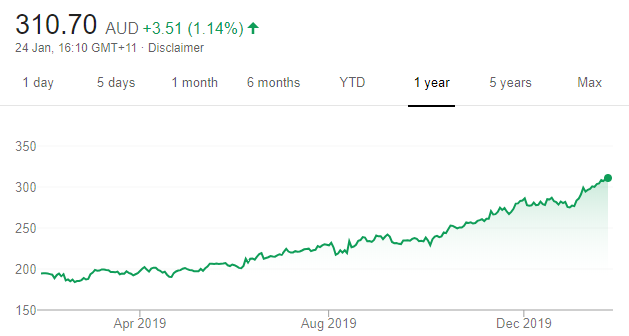 Chart: Share price over the year
This blood products company has been a stunning performer. The Australian and US markets are trading at or near record highs. However, CSL is as good as priced to perfection and vulnerable to any market correction regardless of its dominance. Investors should consider locking in some profits. The shares were trading at $305.67 on January 23.
Woolworths (WOW)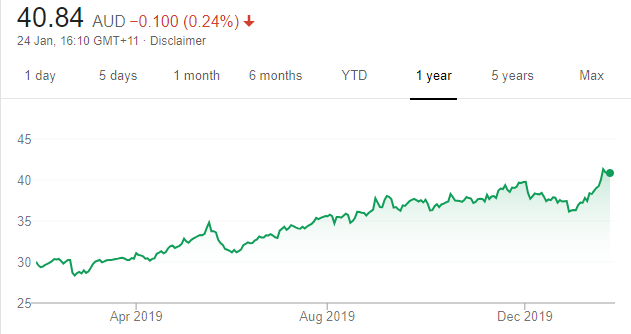 Chart: Share price over the year
The supermarket giant is priced as a growth stock, trading on a price/earnings multiple of about 20 times on January 23. We believe the Australian economy is likely to slow, leading to a potential sales decline as the retail sector comes under increasing pressure. The constant battle with rival Coles will see new initiatives, but on investment metrics, we believe WOW is overpriced. The shares were trading $41.06 on January 23.
The above recommendations are general advice and don't take into account any individual's objectives, financial situation or needs. Investors are advised to seek their own professional advice before investing.
Please note that TheBull.com.au simply publishes broker recommendations on this page. The publication of these recommendations does not in any way constitute a recommendation on the part of TheBull.com.au. You should seek professional advice before making any investment decisions.