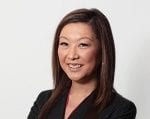 Julia Lee, Burman Invest
BUY RECOMMENDATIONS
NextDC (NXT)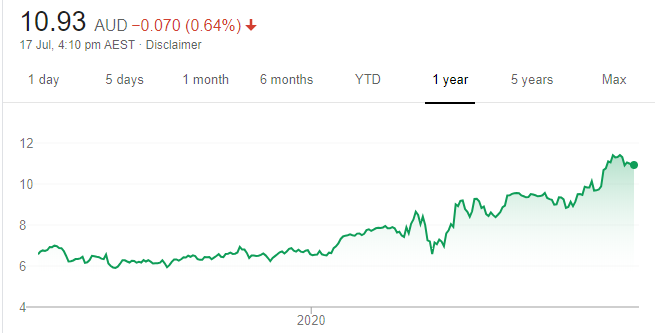 Chart: Share price over the year
This data centre builder and provider is leveraged to an accelerating structural shift to the cloud. Recent contract wins demonstrate this digital trend. An increasing number of people are expected to continue working from home even after lockdown restrictions are fully lifted. This is likely to generate stronger demand for cloud services provided by NXT.
Breville Group (BRG)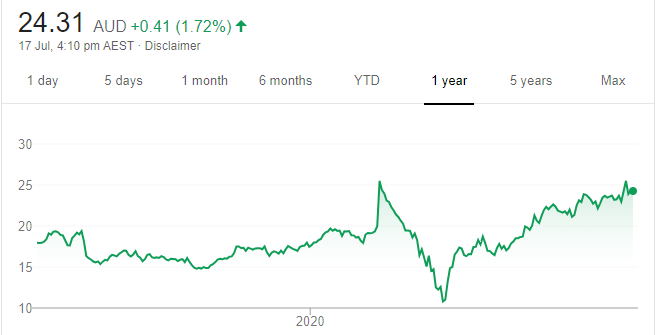 Chart: Share price over the year
This kitchenware company should benefit as more people cook at home in response to lockdowns, particularly in Victoria. Breville is expanding in Europe and North America. It's also looking to expand into new international markets in fiscal year 2021. This growth company, with a net cash position, has a strong track record in research and development.
HOLD RECOMMENDATIONS
Fortescue Metals Group (FMG)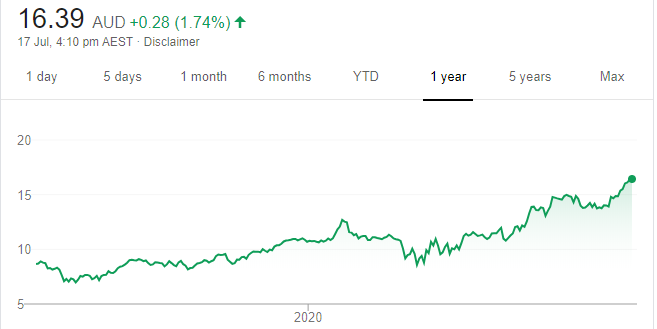 Chart: Share price over the year
The balance sheet of this low cost iron ore producer is in a net cash position, painting a bright outlook for dividend distributions. However, Fortescue's share price is sensitive to movements in iron ore prices. Key risks include another COVID-19 wave in China and political tensions. I wouldn't chase the share price here given the potential risks, but I'm happy to hold for strong income distributions.
Charter Hall Long WALE REIT (CLW)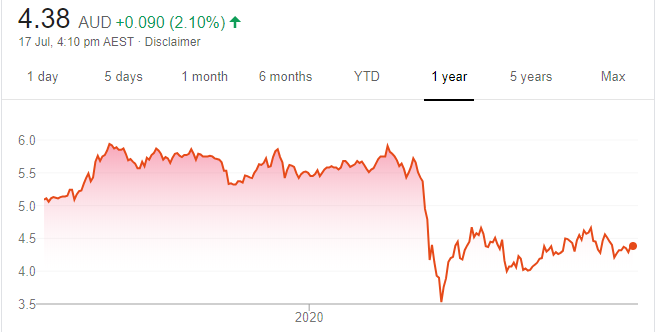 Chart: Share price over the year
This real estate investment trust has high quality assets and tenants. Seventy-five per cent of its tenants are investment grade. The average lease term is 14 and-a-half years. Growth is subdued in this COVID-19 world. But income, quality assets and a strong distribution make CLW an attractive hold for the long term.
SELL RECOMMENDATIONS
oOh!media (OML)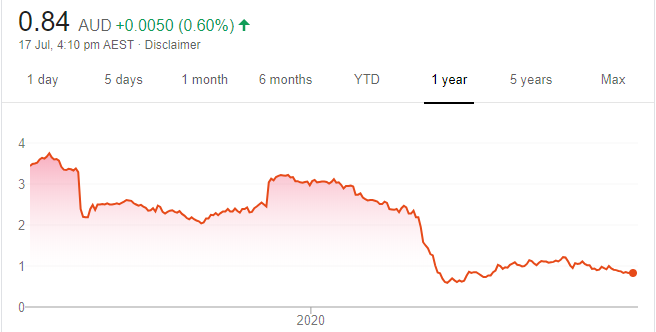 Chart: Share price over the year
A capital raising in March strengthened this outdoor advertising company's balance sheet. But further lockdowns may mean a weaker outdoor advertising market. In our view, it appears increasingly likely that 2021 consensus expectations are too optimistic and will need to be revised down.
Estia Health (EHE)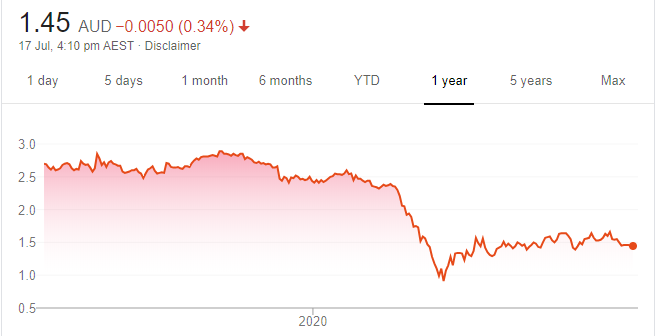 Chart: Share price over the year
This aged care provider recently advised of a COVID-19 outbreak at its Ardeer home in Melbourne. In my view, the alarming pandemic in Victoria amid the State Government re-introducing lockdowns across Melbourne means families are likely to avoid aged care centres across the board if possible. Any falling occupancy rates are likely to lead to a declining outlook for this company.
Please note: Breville Group (BRG) is recommended as a buy and a sell this week as our sharemarket experts take different views on the company's outlook.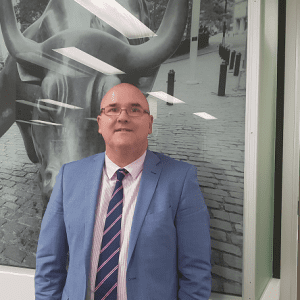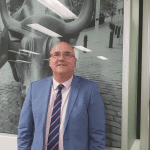 Tony Locantro, Alto Capital
BUY RECOMMENDATIONS
Stavely Minerals (SVY)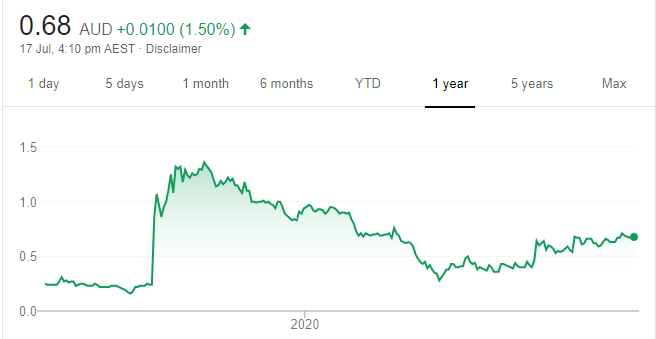 Chart: Share price over the year
SVY is having drilling success at the Cayley Lode copper-gold discovery in Victoria. It's working towards an initial JORC resource in late 2020. A deep seismic survey at Thursday's Gossan prospect has identified two strong porphyry targets, and drilling is expected to start in the New Year. SVY remains highly speculative, but is underpinned by an emerging resource base. The shares closed at 66.5 cents on July 16.
Alta Zinc (AZI)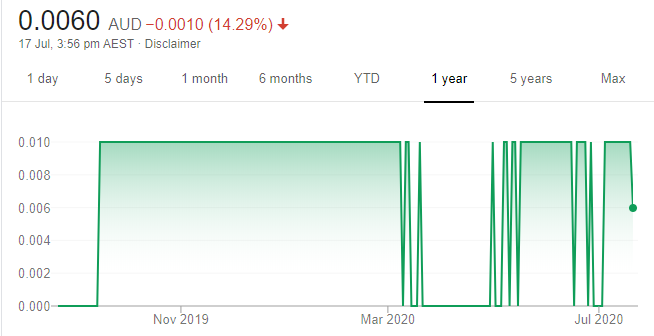 Chart: Share price over the year
AZI is embarking on another drilling campaign for high grade zinc near the old Gorno zinc mine in northern Italy. The share price endured a significant correction based on the COVID-19 pandemic in Italy, but has now stabilised. Based on the potential for higher grade resources and concentrates near major zinc smelters, AZI represents a speculative growth opportunity. The shares closed at less than a cent on July 16.
HOLD RECOMMENDATIONS
Red Metal (RDM)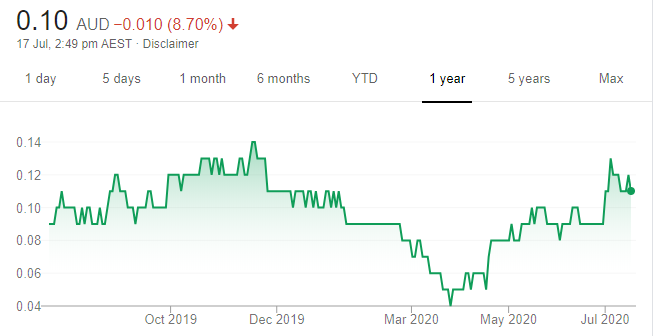 Chart: Share price over the year
The mineral explorer has raised $3 million in capital at 9 cents a share. The proceeds will be primarily used to advance its own projects towards drilling, including the recently acquired Pardoo nickel-copper project. In the short term, we expect drilling at the Mount Skipper silver project, as part of the OZ Minerals alliance, to represent a high risk/high reward opportunity.
PharmAust (PAA)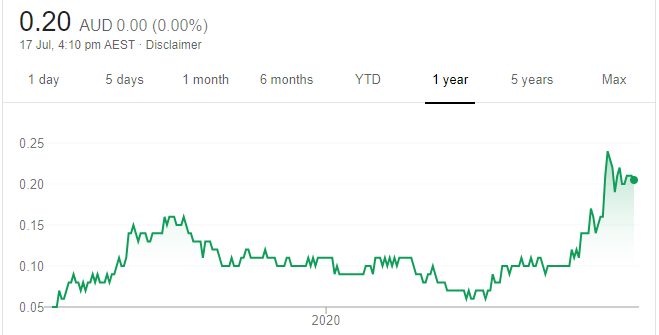 Chart: Share price over the year
This clinical stage oncology company's lead anti-cancer drug candidate is monepantel. A phase II clinical trial on monepantel, a treatment for B cell lymphoma in canines, was successful. The compound owner and option partner has six months to exercise an option to licence monepantel for veterinary uses, which may result in an initial payment or royalty stream.
SELL RECOMMENDATIONS
Qantas Airways (QAN)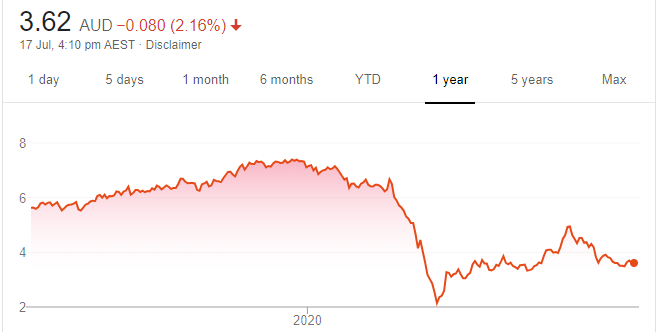 Chart: Share price over the year
Too much uncertainty surrounds the global outlook for international travel. Qantas has strengthened its balance sheet via a capital raising. But it's also uncertain as to when a marked improvement in domestic travel levels will emerge. Victoria is under lockdown again.
Westpac Bank (WBC)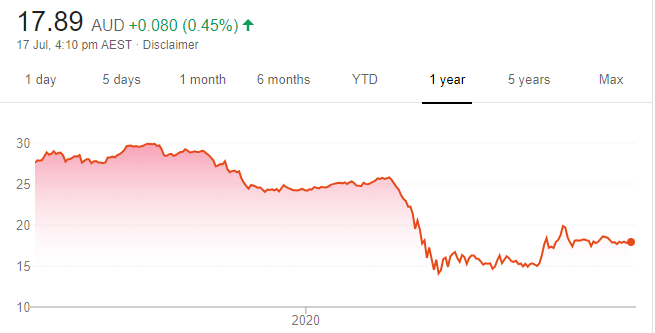 Chart: Share price over the year
The banking sector continues to face headwinds as unemployment rises amid falling property prices. In my view, Westpac is under-performing its major peers as it also deals with regulatory issues in a recession. The share price continues to struggle and closed at $17.81 on July 16.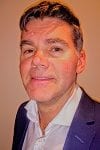 Peter Moran, Wilsons,
BUY RECOMMENDATIONS
Costa Group Holdings (CGC)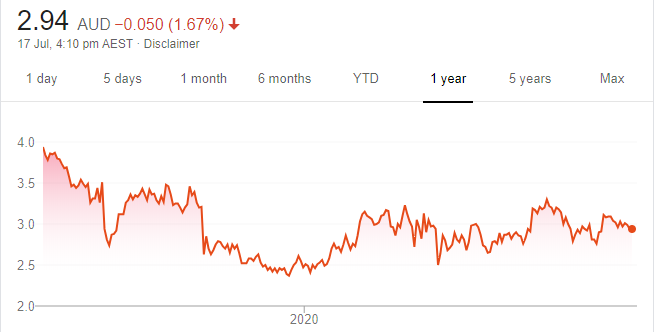 Chart: Share price over the year
After a few challenging years, the performance of this grower and marketer of fresh fruit and vegetables is improving. In Australia, demand for avocados and mushrooms is solid and prices are stronger. The citrus category also appears to be improving, while the company's international berry business continues to provide growth. We retain an overweight rating.
Integral Diagnostics (IDX)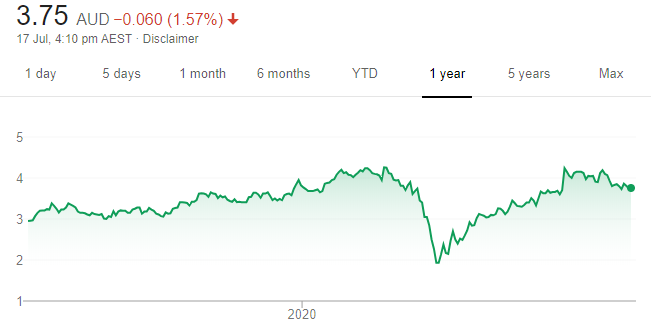 Chart: Share price over the year
Owns and operates radiology practices in Victoria, Queensland, Western Australia and New Zealand. The company has a solid track record of growth in existing practices and in bolt on acquisitions. IDX appears to be growing market share at the expense of private hospitals. We retain an overweight rating.
HOLD RECOMMENDATIONS
AMA Group (AMA)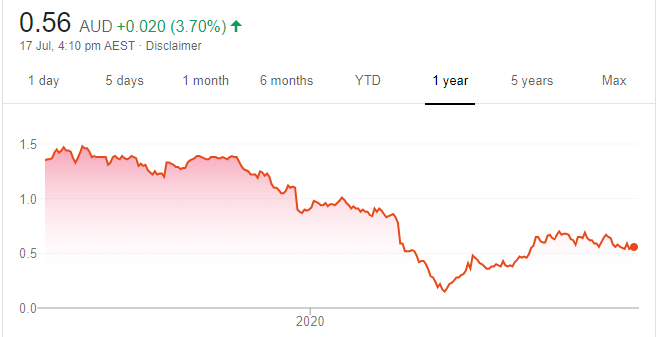 Chart: Share price over the year
This smash repair company recently finalised service agreements with its insurance partners. This has resulted in price increases that should be enough to retain overall margins. However, in our view, debt levels are still too high and should be monitored. We hold a market weight rating.
Select Harvests (SHV)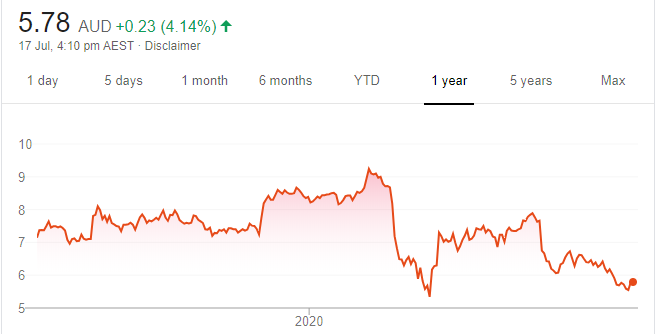 Chart: Share price over the year
This almond grower recently provided a mixed trading update. Crop guidance was positive, with expected volumes increasing by 2 per cent. However, almond price guidance was reduced by about 10 per cent. In our view, almond prices are likely to be softer for some time, so we retain a market weight rating.
SELL RECOMMENDATIONS
Breville Group (BRG)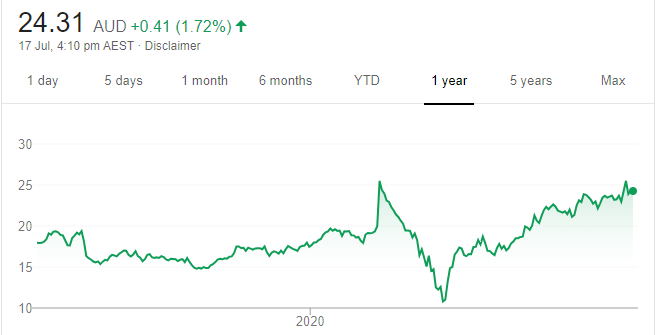 Chart: Share price over the year
A recent update suggests this kitchenware company is trading well relative to peers. However, following a rapid share price rise, the company was recently trading on a price/earnings multiple above 30 times. Given difficult economic conditions are likely to persist, Breville looks overpriced, in our view. We retain an underweight rating.
Ramsay Health Care (RHC)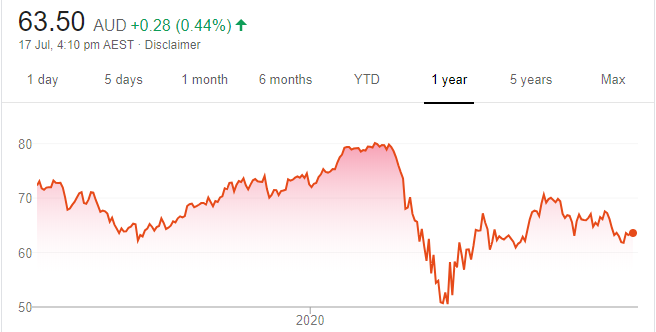 Chart: Share price over the year
The Australian private hospital sector is moving towards a lower cost model, driven by health insurers and a structural shift towards home care. This move is likely to be accentuated by a difficult economic environment and a higher unemployment rate. We believe margins in this private hospital operator will be negatively impacted. We retain an underweight rating.
The above recommendations are general advice and don't take into account any individual's objectives, financial situation or needs. Investors are advised to seek their own professional advice before investing.
Please note that TheBull.com.au simply publishes broker recommendations on this page. The publication of these recommendations does not in any way constitute a recommendation on the part of TheBull.com.au. You should seek professional advice before making any investment decisions.