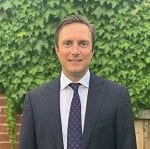 Tom Bleakley, BW Equities
BUY RECOMMENDATIONS
SelfWealth (SWF)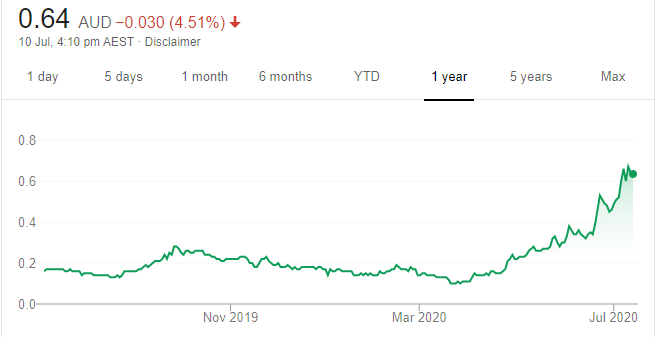 Chart: Share price over the year
SWF offers a relatively low cost online share trading platform. It's also an exchange traded fund manager. A recent quarterly update revealed the number of customers grew by 44 per cent between March and June. The rise in customers, particularly among the young, can be attributed to the COVID-19 pandemic. Operating revenue rose significantly in the fourth quarter. The share price has enjoyed a strong run to close at 66.5 cents on July 9. A speculative buy given the rising share price.
Damstra Holdings (DTC)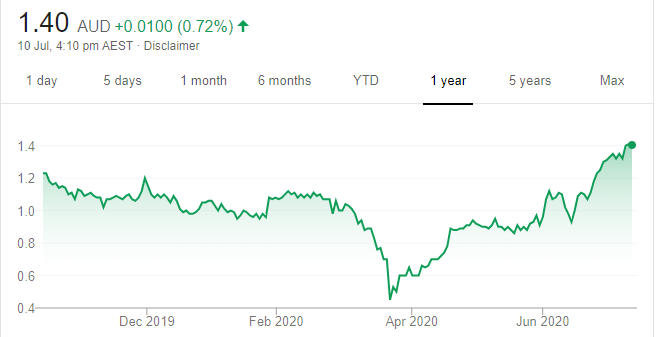 Chart: Share price over the year
Damstra sells software that administers compliance to occupational health and safety across various industries around the globe. Damstra continues to grow its business in Australia, and recently secured new major customers in North America. The company retained a significantly high percentage of its customers in fiscal year 2019. The shares have risen from a 52-week low of 40 cents on March 23 to finish at $1.395 on July 9. The company offers a bright outlook.
HOLD RECOMMENDATIONS
PointsBet Holdings (PBH)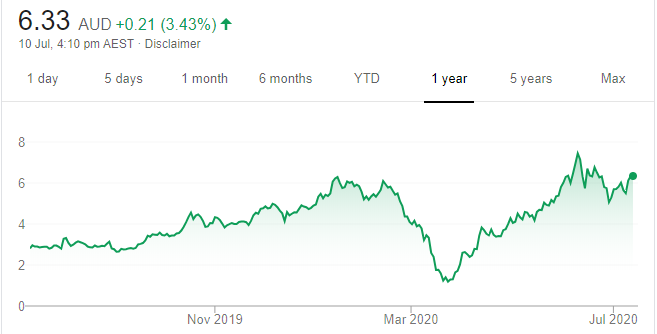 Chart: Share price over the year
This corporate bookmaker has secured licences to operate in several American states. It recently announced a fixed odds betting agreement on horse racing in New Jersey had been reached, subject to receiving regulatory approvals. The company continues to expand into the huge US sports betting market. This enables PBH to successfully build on its Australian operation.
Oventus Medical (OVN)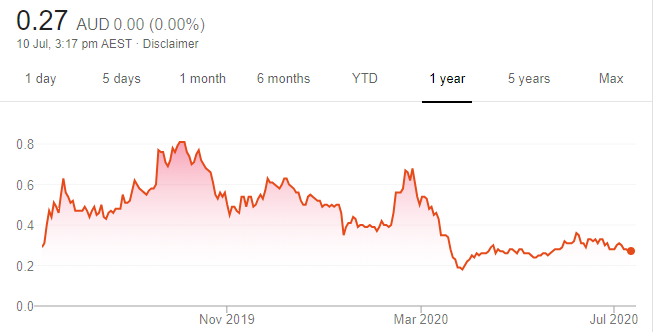 Chart: Share price over the year
OVN is a medical device company commercialising a treatment platform for sleep apnoea and snoring. It has secured sales agreements with 45 clinics in North America. We expect stronger demand for OVN products and services when US sleep clinics increasingly come out of lockdown.
SELL RECOMMENDATIONS
Qantas Airways (QAN)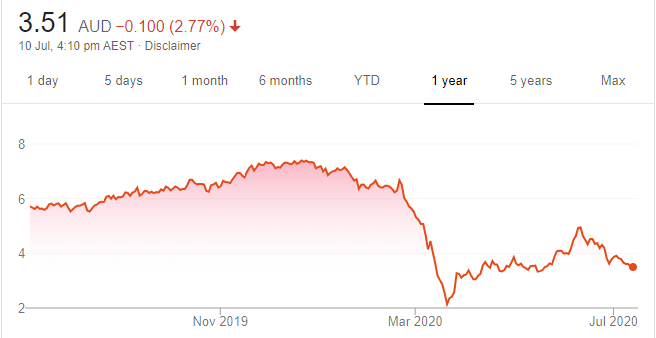 Chart: Share price over the year
A capital raising of $1.9 billion strengthens the company's balance sheet. But there's no visibility on a return to international holidays, or when interstate business travel will significantly improve. The airline operating environment is too uncertain.
Fisher & Paykel Healthcare Corporation (FPH)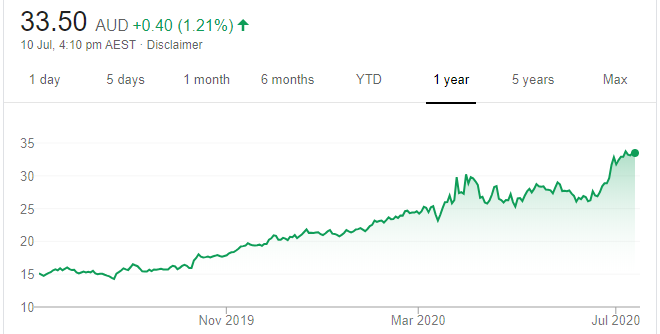 Chart: Share price over the year
This medical device company recently delivered a strong operating result in response to selling more respiratory care products to hospitals. FPH is a strong company with great products. The shares have risen from $26.11 on June 15 to close at $33.10 on July 9. We believe the market may be too optimistic about COVID-19 related sales during the next 12 months. Investors can consider taking some profits.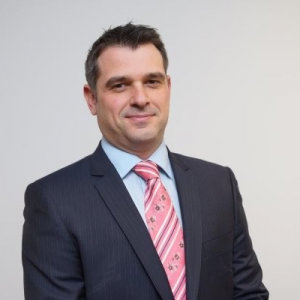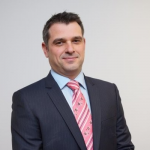 Luke Pavone, Broadbent Financial
BUY RECOMMENDATIONS
360 Capital Digital Infrastructure Fund (TDI)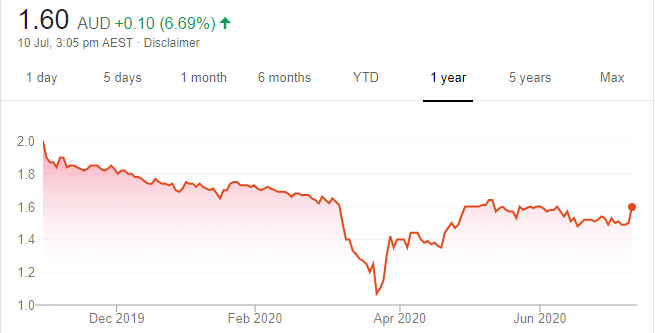 Chart: Share price over the year
Invests in technology infrastructure asset projects. This well managed company provides an opportunity as it continues to trade at an attractive discount to net tangible assets. The sector can look forward to longer term tailwinds as the rollout of 5G will support next generation mobile phones, 3D graphics, artificial intelligence and autonomous vehicles.
Bapcor (BAP)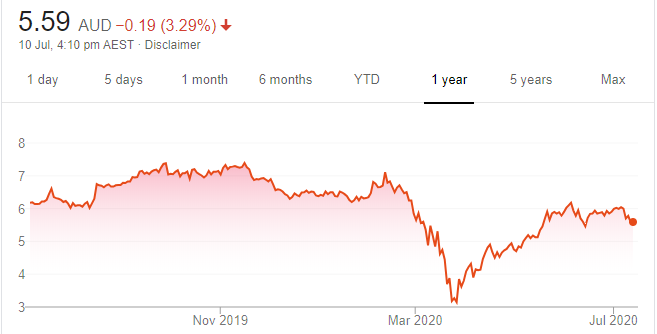 Chart: Share price over the year
This automotive aftermarket parts provider experienced strong demand in May and June. Autobarn same store sales were up 45 per cent on the prior corresponding period. Same store sales at Burson Trade are expected to grow by about 10 per cent in May and June compared to the same period last year. More people are driving their cars as they avoid public transport during the pandemic.
HOLD RECOMMENDATIONS
Amcor (AMC)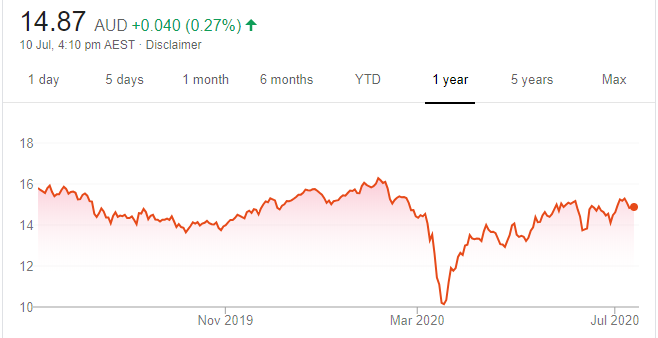 Chart: Share price over the year
This global packaging business generates reliable and defensive earnings. It's ahead of targets in extracting synergies from its $9 billion acquisition of US firm Bemis last year. However, in our view, the company appears to be almost fully valued. Much of its revenue is generated outside Australia, so it's vulnerable to potential rises in the Australian dollar. We would prefer to buy at lower levels to mitigate this risk.
Transurban (TCL)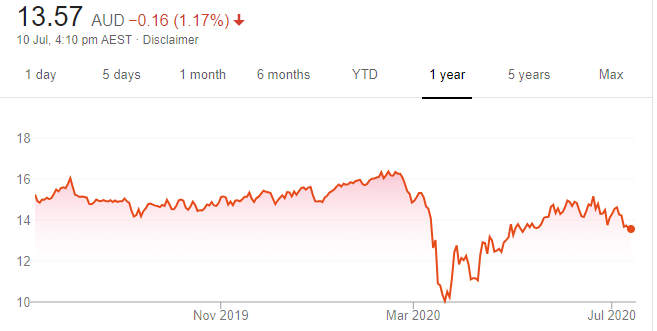 Chart: Share price over the year
The toll road operator recently reported a progressive recovery in traffic in line with an easing of government restrictions. The company generates reliable revenue and its defensive earnings appeal to investors in a weaker economy. The total fiscal year 2020 distribution is 47 cents per stapled security. We would prefer to see lower gearing levels.
SELL RECOMMENDATIONS
Afterpay (APT)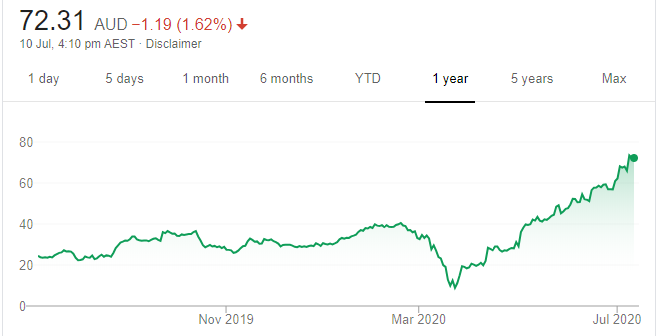 Chart: Share price over the year
This buy now, pay later company recently raised $650 million via an institutional placement at $66 a share. The share price has risen from $8.90 on March 23 to close at $73.50 on July 9. Afterpay founders Anthony Eisen and Nicholas Molnar each sold 2.05 million shares at $66 a share. The company's market capitalisation was more than $17.5 billion on July 9. The company was yet to make a profit at July 9, 2020. In our view, the company's valuation is too optimistic and doesn't fully take into account potential regulatory risks, or possibly more competition.
Challenger (CGF)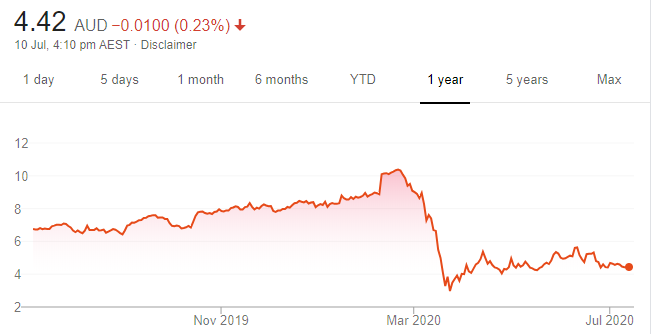 Chart: Share price over the year
This annuities business recently completed a $270 million institutional placement at $4.89 a share. The stock closed at $4.43 on July 9. Challenger is committed to retaining a strong capital position, but we believe generating better returns will require taking on more risk.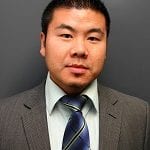 David Thang, Sequoia Wealth Management
BUY RECOMMENDATIONS
Bravura Solutions (BVS)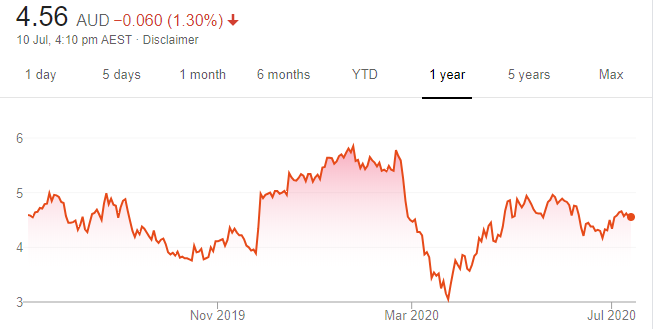 Chart: Share price over the year
Bravura is a global software products and services provider to the wealth management and funds administration industries. Its revenue stream is largely recurring, with typical contract terms of up to 10 years. BVS is in a strong position, with net cash of $100 million. It's likely to retain its customer base in the medium term.
Woolworths (WOW)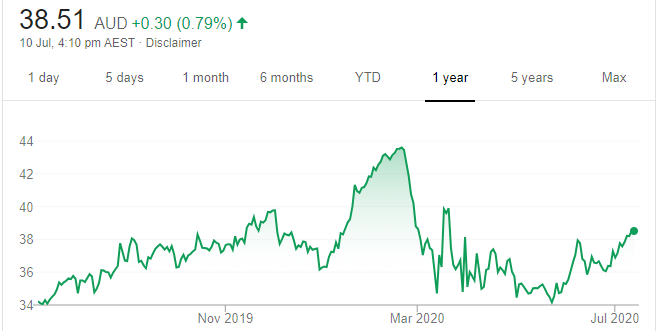 Chart: Share price over the year
Refurbishing existing supermarkets amid rolling out revised store formats could lead to higher sales growth and margins. Imposing lockdown restrictions in Victoria again translates to eating more often at home. We expect this well managed company to retain its dominant position in the supermarket sector.
HOLD RECOMMENDATIONS
Telstra (TLS)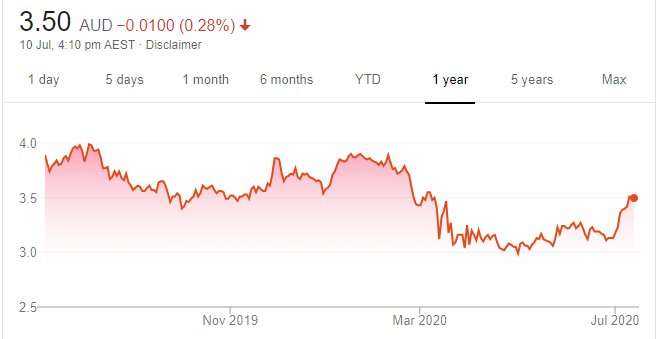 Chart: Share price over the year
The company's infrastructure covers more of Australia than its competitors. Consistent capital spending enables this telecommunications giant to retain a competitive edge over its peers. The balance sheet is solid and the company is attractive on valuation grounds.
Macquarie Group (MQG)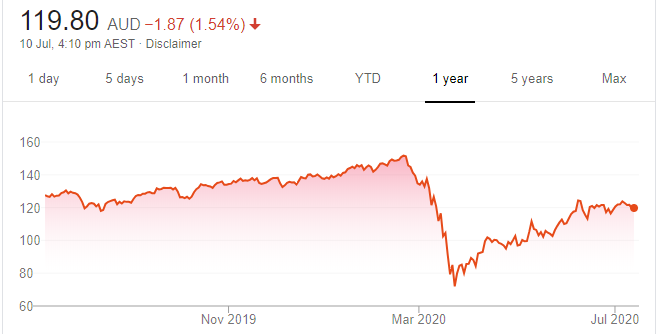 Chart: Share price over the year
This financial services giant continues to deliver consistent annual earnings growth. An added bonus is the company's recent dividend yield of about 4 per cent, which is franked at 45 per cent. MQG is a diverse business run by a strong management team.
SELL RECOMMENDATIONS
Reliance Worldwide Corporation (RWC)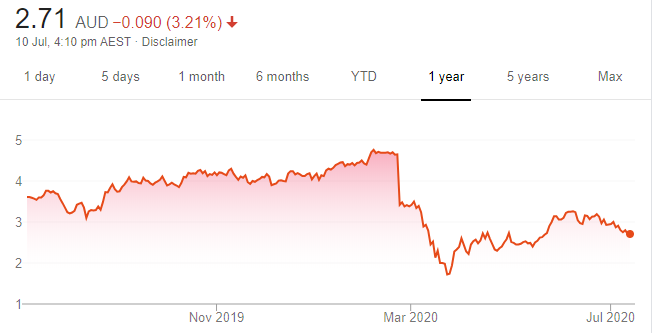 Chart: Share price over the year
This international plumbing products company reached a recent high of $3.40 in June. Resistance is evident between $3.20 and $3.44. In our view, the longer term downtrend remains and increases the risk of further weakness over the medium term. Recently, the share price has been under pressure. The shares closed at $2.80 on July 9.
Costa Group Holdings (CGC)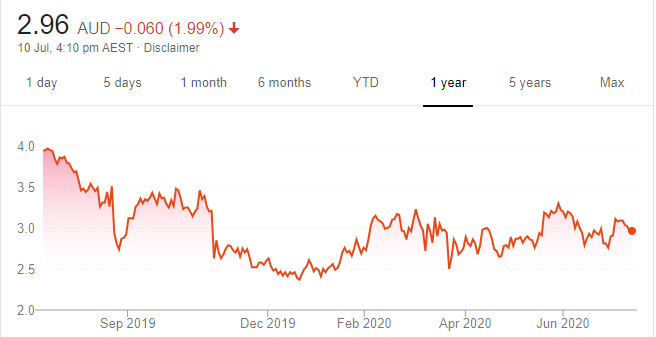 Chart: Share price over the year
This horticultural company's earnings are exposed to the pricing power of major Australian supermarkets, which also constitute most of its revenue. An added risk is unpredictable weather, which can adversely affect crop growth. In the absence of positive catalysts, we believe the risk remains to the downside.
The above recommendations are general advice and don't take into account any individual's objectives, financial situation or needs. Investors are advised to seek their own professional advice before investing.
Please note that TheBull.com.au simply publishes broker recommendations on this page. The publication of these recommendations does not in any way constitute a recommendation on the part of TheBull.com.au. You should seek professional advice before making any investment decisions.