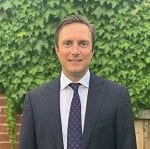 Tom Bleakley, BW Equities
BUY RECOMMENDATIONS
Phoslock Environmental Technologies (PET)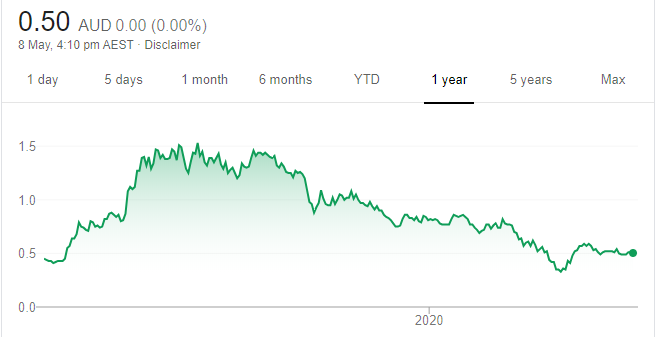 Chart: Share price over the year
Phoslock uses CSIRO technology to clean waterways. The technology treats drinking water reservoirs and other catchments by removing phosphate and reducing harmful algae. PET has a global sales pipeline of $380 million between fiscal years 2021 and 2023. Phoslock has extensive contracts in China, securing projects in Beijing and the Yunnan province. Most regions in China are emerging from lockdown, which is positive for PET. The company recently reaffirmed guidance that revenue would grow more than 100 per cent on fiscal year 2019 to between $50 million and $70 million this financial year. BW Equities was the lead manager in a recent $15 million placement.
CommsChoice Group (CCG)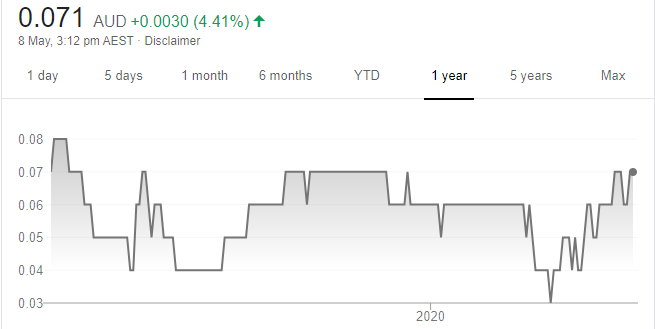 Chart: Share price over the year
Provides cloud based communications for businesses. The company is receiving growing inquiries as more businesses work from home. The company generated an increase in revenue from several key customers in March. CommsChoice has recently re-affirmed EBITDA guidance of between $1.8 million to $2.2 million for fiscal year 2020, a significant increase on the prior year.
HOLD RECOMMENDATIONS
Oventus Medical (OVN)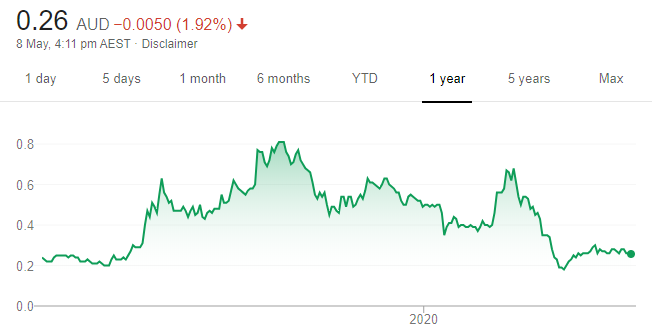 Chart: Share price over the year
OVN makes medical devices to treat sleep apnoea and snoring. OVN has contracts to sell its products in US sleep clinics. OVN products are capable of generating $10.8 million in annualised revenue when US clinics re-open. The company is raising $4.65 million via an institutional placement and share purchase plan at 24 cents a share. We like the company's outlook. The shares closed at 26 cents on May 7. However, eligible shareholders need to weigh up their personal circumstances before participating in the share purchase plan. OVN is a speculative stock.
Telix Pharmaceuticals (TLX)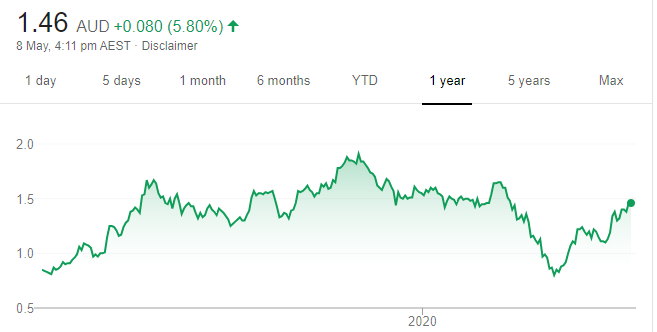 Chart: Share price over the year
Telix is developing a portfolio of clinical stage oncology products that address renal, prostate and brain cancers. In relation to prostate cancer imaging, the company says it received positive feedback from the US Food and Drug Administration regarding a new application. Keep an eye on the company's progress. Any positive updates from the FDA should benefit shareholders.
SELL RECOMMENDATIONS
Qantas Airways (QAN)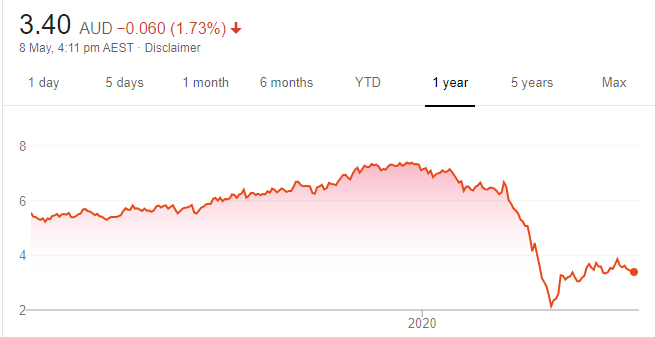 Chart: Share price over the year
In a recent update, the company says it expects to reach a net cash burn rate of $40 million a week by the end of June based on current conditions. The company has extended flight cancellations from the end of May until the end of July. It's still too early to tell what the Qantas business may look like in a post pandemic world.
SeaLink Travel Group (SLK)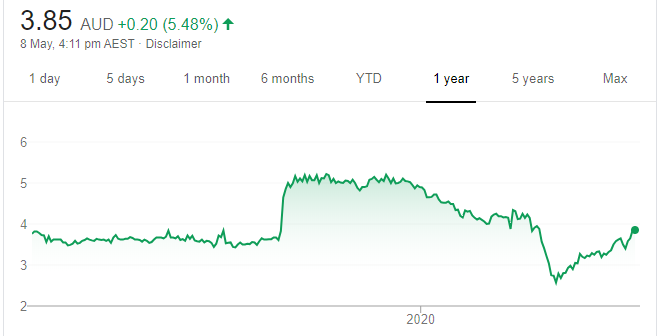 Chart: Share price over the year
SeaLink is a bus and ferry operator. Tourism is a casualty of the Coronavirus. The company suspended fiscal year 2020 guidance on March 20. In late February, the company estimated second half EBITDA would fall by $5 million due to the impact of Coronavirus and bushfires on its tourism and marine businesses. The longer term outlook is unclear.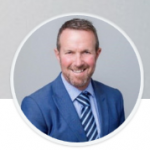 Peter Day, Sequoia Wealth Management
BUY RECOMMENDATIONS
Origin Energy (ORG)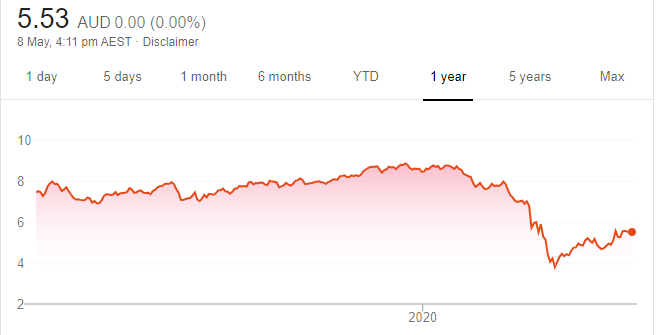 Chart: Share price over the year
ORG will acquire a 20 per cent interest in UK retailer Octopus Energy. As part of the transaction, ORG will adopt the UK retailer's operating model and customer platform known as Kraken. Origin will transfer its 3.8 million electricity and gas customer accounts to the Kraken platform during the next 24 to 30 months. As a result, Origin is targeting substantial savings. We believe the transition risk can be effectively managed, offering significant upside for investors.
Lendlease Group (LLC)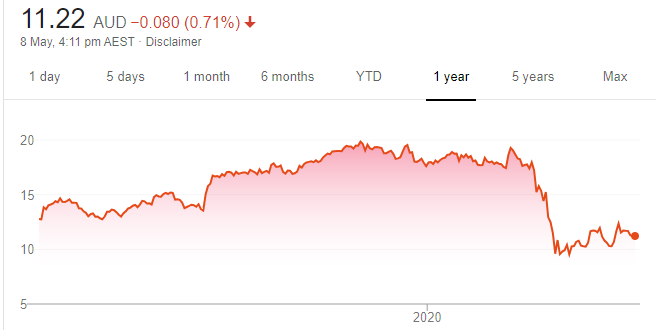 Chart: Share price over the year
This international property and infrastructure group recently raised $950 million at $9.80 a security from an institutional placement. Eligible individuals can apply for up to $30,000 of securities before the offer closes on May 26. Consider investing in the share purchase plan as we retain an attractive long term view. The capital raising will strengthen LLC's balance sheet in uncertain times and support delivery of the group's $112 billion global development pipeline. The stock closed at $11.30 on May 7.
HOLD RECOMMENDATIONS
JB Hi-Fi (JBH)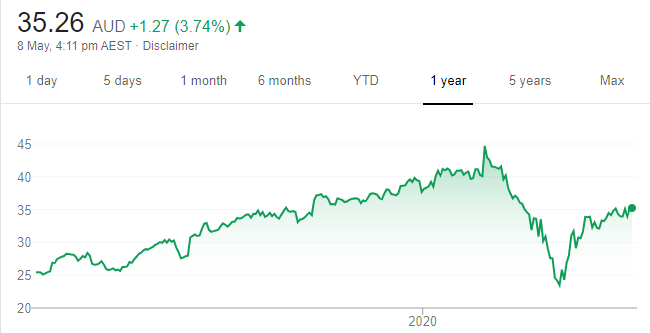 Chart: Share price over the year
The consumer electronics giant has benefited from the recent rush to upgrade home office equipment as an increasing number of people are working from home. However, we're cautious about the weaker outlook for discretionary spending as the economy slows. Given recent share price strength, we believe the stock is fairly valued at current levels.
Monadelphous Group (MND)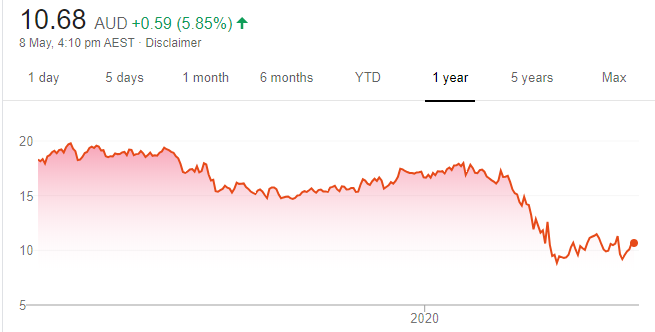 Chart: Share price over the year
In a recent Coronavirus update, this engineering company informs that supply chain issues are causing delays on existing projects and temporary deferrals to the timing of potential new contracts. Financial performance in the short to medium term depends on the impact to the company's operations and productivity levels. Investors who are uncomfortable about the outlook can consider selling, while others may want to hold pending further updates.
SELL RECOMMENDATIONS
Tyro Payments (TYR)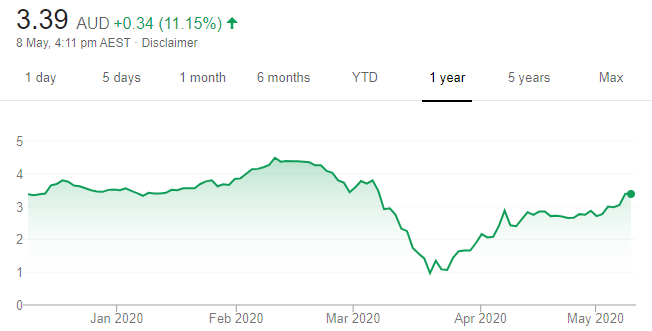 Chart: Share price over the year
This payment solutions and business banking products provider reported record revenue of $117.3 million in the 2020 first half. It reported a statutory net loss after tax of $19.2 million after taking into account the costs of listing on the ASX in December 2019. We're concerned about the impact on spending and borrowing in a slowing economy. TYR operates in a fiercely competitive industry. The company's shares were priced at $4.26 on February 20. The shares closed at $3.05 on May 7.
ResMed Inc. (RMD)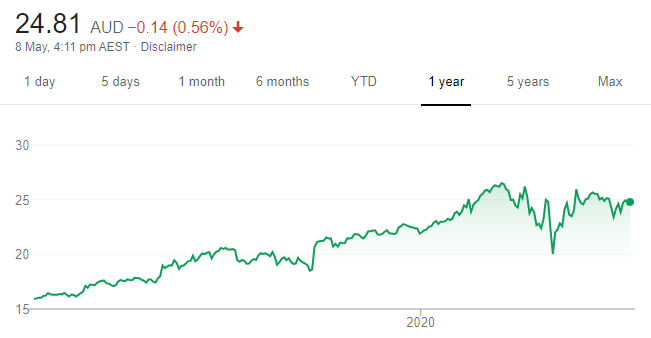 Chart: Share price over the year
The medical device maker reported a 16 per cent increase in third quarter revenue on the corresponding period to $769.5 million. Demand for masks and ventilators contributed to the revenue increase. But, in our view, the company appears expensive as it was recently trading on what we consider a lofty price/earnings multiple.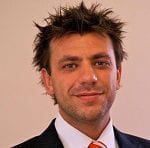 Tony Paterno, Ord Minnett
BUY RECOMMENDATIONS
GPT Group (GPT)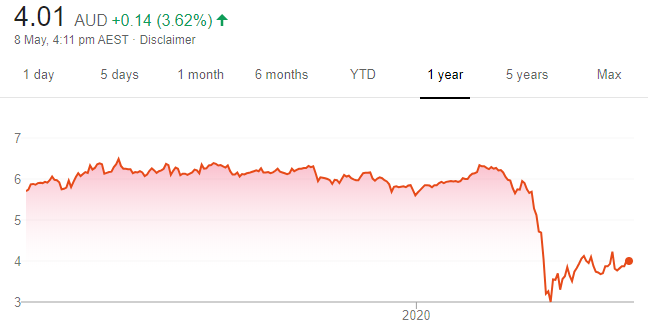 Chart: Share price over the year
We like GPT for its high quality, diversified property portfolio, strong balance sheet and high proportion of passive earnings supplemented by a pipeline of industrial developments. GPT is trading on attractive multiples, even after rebasing our forecasts. We believe the stock has been oversold. GPT trades at a discount to our valuation, which accounts for potential COVID-19 related downside in asset values.
Senex Energy (SXY)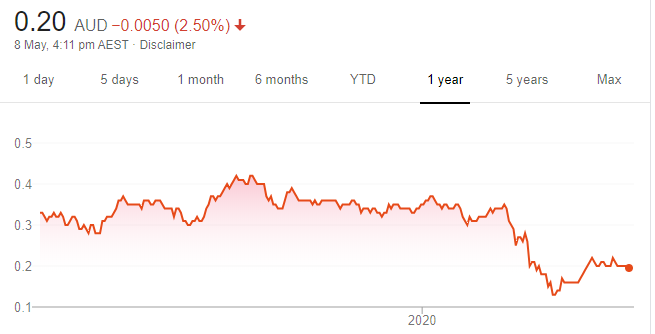 Chart: Share price over the year
This oil and gas producer posted a strong report for the March quarter. Company operations at Roma North and Atlas increased production. Despite provisional pricing adjustments, realised gas prices were strong. Full year guidance appears conservative. We remain positive on the stock, noting it offers a strong free cash flow yield, a stable balance sheet, fixed price contracts and an attractive value.
HOLD RECOMMENDATIONS
Woodside Petroleum (WPL)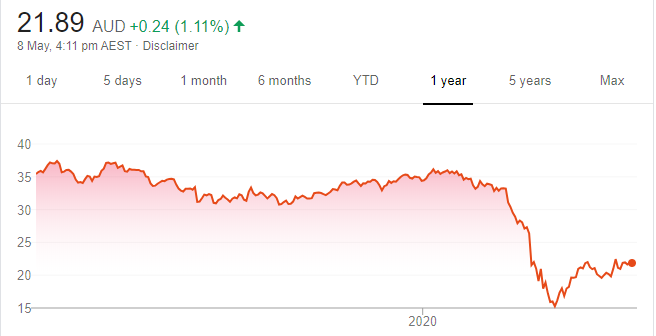 Chart: Share price over the year
March quarter production, sales volumes and realised prices were below our expectations. Full year 2020 production guidance was re-affirmed between 97 million and 103 million barrels of oil equivalent. The full impact of lower prices awaits given a three-month lag in liquefied natural gas contracts. But the stock is trading below our net present value estimate.
Coca-Cola Amatil (CCL)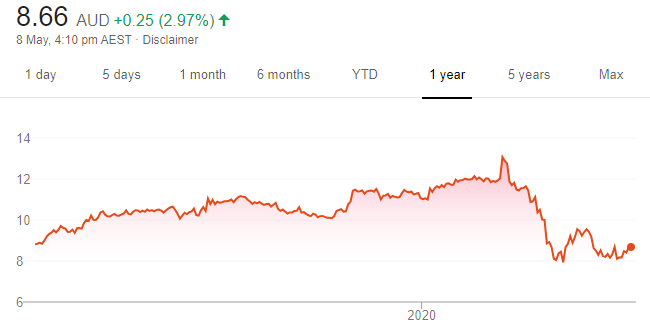 Chart: Share price over the year
In April, the beverage maker reported a decline in volumes of almost 50 per cent in Indonesia. Australian volumes were down about 15 per cent. Venue lockdowns and other enforced social distancing measures contributed to volume falls. While the share price has been punished, valuation support remains. Volumes should recover post the Coronavirus.
SELL RECOMMENDATIONS
Flight Centre Travel Group (FLT)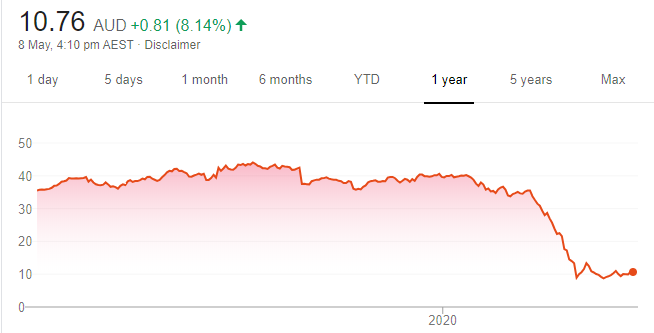 Chart: Share price over the year
The severe impact of the Coronavirus led FLT to raise $700 million in capital. Revenue has plunged. The prospect of domestic travel resuming sooner than expected would be positive. But the global travel outlook raises more questions than answers. We're not expecting FLT to recover until the second half of 2021.
Tabcorp (TAH)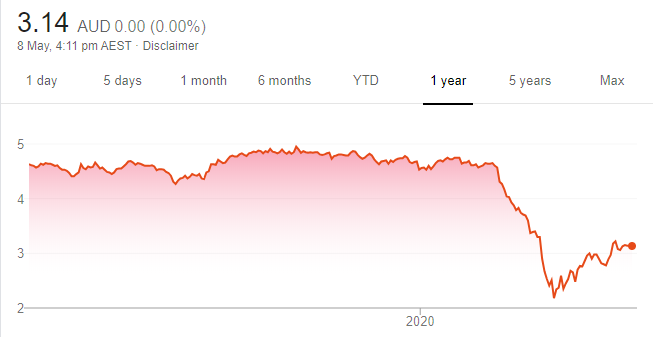 Chart: Share price over the year
We're concerned about a weaker wagering industry in the absence of major sporting events. Fierce competition in the gambling industry also presents challenges. Digital lottery sales and synergies from the Tatts merger provide some margin relief. The shares have fallen from $4.27 on February 20 to close at $3.14 on May 7.
The above recommendations are general advice and don't take into account any individual's objectives, financial situation or needs. Investors are advised to seek their own professional advice before investing.
Please note that TheBull.com.au simply publishes broker recommendations on this page. The publication of these recommendations does not in any way constitute a recommendation on the part of TheBull.com.au. You should seek professional advice before making any investment decisions.