Winners & losers as consumers spend cautiously
Economic perspectives
Household spending: Data out yesterday showed real (inflation-adjusted) consumer spending rising by 1.9 per cent in the 2018/19 financial year – the slowest annual growth in 5½ years. This report examines what Aussie consumers have been buying – and not buying – over the past year.
Trends in consumer spending are important for retailers, property owners and operators in the services sector.
What does it all mean?
• Aussie consumers have lost their mojo. Spending growth has softened to the slowest annual pace in over five years. That is not to say that all Aussie retailers are experiencing tough times. In the profit reporting season – as well as more recently – there have been positive comments on consumer spending from Aldi, Coles, Woolworths, Wesfarmers, Super Retail Group and Vicinity Centres.
• Incomes are still rising – and outpacing prices – but consumers are still adjusting to slower nominal wage and income growth. Aussie consumers are also purchasing more goods online from overseas. Record low interest rates are drying up interest income for some Australians, and thus crimping spending. Consumers are also forking out more in tax – the Tax Office has been more successful in lifting the tax take. Cautious Aussies are also spooked by the super-low interest rates and prefer to pay down debt rather than spend.
• In an aggregate sense though there are more people working and drawing down a wage. Affordability for many goods and services continues to improve. Consumer confidence is OK and consumers feel that their finances are in good shape. Home prices in major cities like Sydney and Melbourne are rising again. The lift in home prices may give consumers confidence to spend, rather than pay down debt.
• Tax cuts, low interest rates, higher home prices, slowly improving wage growth and the lift in the minimum wage may all serve to boost consumer spending in coming months. Unemployment is low over a raft of Australian regions and capital cities. But there are no guarantees on spending. The Reserve Bank and federal and state governments may need to do more to kick-start spending and sustain the momentum.
What do the headline figures show
• In the June quarter, real (inflation-adjusted) consumer spending rose by 0.4 per cent to stand 1.4 per cent higher over the year – the slowest annual growth in six years.
• Over 2018/19 as a whole, spending grew by 1.9 per cent while prices rose by around 1.7 per cent. Total outlays by consumers rose by 3.7 per cent – not far off the 5-year average of 4.0 per cent. Price growth of 1.7 per cent is just above the 5-year average of 1.5 per cent.
• Importantly over 2018/19, household spending grew by 3.7 per cent, outpacing the 3.3 per cent lift in income. As a result, consumers drew down some of their savings in order to maintain their standard of living (household saving ratio fell from 2.3 per cent to 2.0 per cent).
• But the dollar value of income still outpaced consumption in 2018/19, with the gap lifting from $520 million to $534 million.
• Taxation continues to rise at a fast clip, lifting 7.7 per cent in 2018/19 – the fastest pace for a financial year in seven years.
• In fact taxation has risen at a 5.7 per cent annual rate over the past three years. Tax now takes 14.9 per cent of household income – a near 13-year high – reflecting 'bracket creep' and tougher enforcement by tax authorities.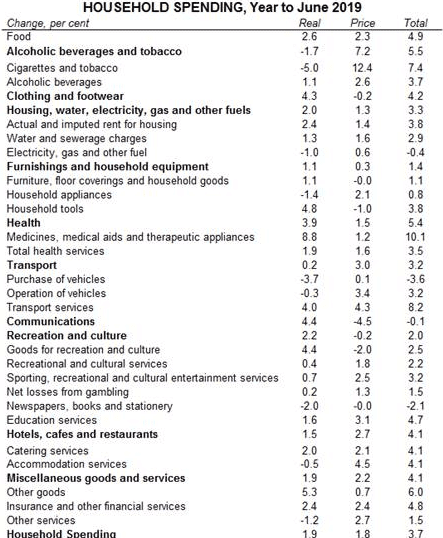 What did Aussies buy in 2018/19?
• Aussie consumers spent more on their health in the past year. Spending on chemist-type goods (medicines, medical aids and therapeutic appliances) rose by 8.8 per cent in real terms. Add in inflation, and outlays lifted by 10.1 per cent.
• Aussies spent 5.3 per cent more on "other goods" over the year. This item includes spending on personal care and effects.
• Real spending also rose for household tools like cutlery (up 4.8 per cent), communications & recreation goods (both up 4.4 per cent) and clothing & footwear (up 4.3 per cent).
• Consumers also spent 4 per cent more on transport services likes buses and trains. And courtesy of higher prices, spending on transport services was up 8.2 per cent over the year.
• Interestingly, Aussies spent only 0.2 per cent more on gambling products (with a 1.3 per cent lift in prices/costs, outlays rose 1.5 per cent).
What did Aussies cut back on in 2018/19?
• More Aussies cut the habit – real spending on cigarettes and tobacco fell by 5 per cent. But with prices up 12.4 per cent, total outlays rose 7.4 per cent.
• Aussies bought fewer cars (spending down 3.7 per cent). And, as noted above, Aussies instead travelled more on buses, trains and ferries.
• Consumers cut spending on newspapers, books and stationery by 2 per cent.
• Interestingly, with the slowdown on home purchases, spending on household appliances like refrigerators fell by 1.4 per cent. And consumers trimmed demand for electricity & gas, and, as a result, outlaid 0.7 per cent less on utilities than a year earlier.
Prices versus income
• Over the past five years, the price or cost of consumer goods and services has risen by 1.5 per cent a year (1.7 per cent in 2018/19). Gross household income has averaged growth of 3.3 per cent over the past five years with disposable income (gross income less taxes) rising on average by 3.2 per cent a year.
• So affordability continues to improve. It is not the cost of goods and services that is holding back consumer spending. But differences in prices or costs across purchases have an impact. There have been rising costs of the goods and services that most people don't enjoying spending more on. For instance the cost of transport services like buses and trains rose by 4.3 per cent in 2018/19 with education up 3.1 per cent and insurance up 2.4 per cent.
• The good news for consumers is that prices of communication goods like mobile phones fell over 2018/19 with clothing a touch cheaper together with the cost of recreation goods.
What are the implications for investors?
• Aussie consumers continue to spend cautiously. Wages are growing at a slower pace than in the past and consumers are adjusting to the new realities.
• But there are a lot of positives. The job market is strong, incomes are still outpacing prices and competition is serving to keep down prices. Courtesy of travel and the internet, consumers can buy goods whenever they want and wherever they are.
• Retailers need to adjust to the new realities. Those that do adjust and meet consumer needs and preferences will continue to do well. It is important that retailers don't over-react by cutting expenses too far (particularly wages and employment) rather than seeking to grow revenues – that is, seeking to maintain or increase market share.
• Consumer spending is truly global in 2019, meaning that sellers of consumer goods and services need to stand out from the local and overseas rivals.
Craig James, Chief Economist, CommSec