Australian investors already enthused over the continuing evidence of economic recovery here got an added boost of investing adrenaline upon the news of progress on a vaccine for COVID 19 from global pharmaceutical powerhouse Pfizer Inc. (NYSE: PFE.)
In a classic example of shooting first and asking questions later global market participants en masse focused on the word "successful" adorning the headlines from many news outlets.
Stocks crushed by the pandemic surged while others benefiting plunged. Key among them were notable entries in the travel sector and in online retailing. Here are eight, with share price movement from the time of the announcement to 12 November.
ASX WINNERS
Webjet (WEB) +21%
Flight Centre Travel Group (FLT) +16%
Sydney Airport (SYD) +14%
Qantas (QAN)

+11%
ASX LOSERS
Adair (ADH -13%
Temple Webster (TPW) -11%
Kogan (KGN) -10%
Redbubble (RBL)

-4%
A picture is more often than not worth a thousand words, which definitely applies here. Here is the five day share price movement of all eight, from the Reuters financial website.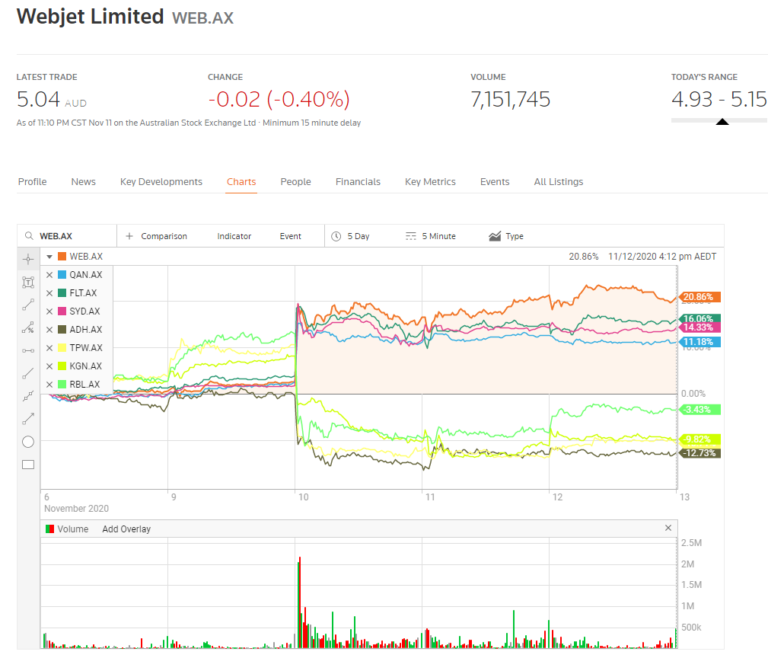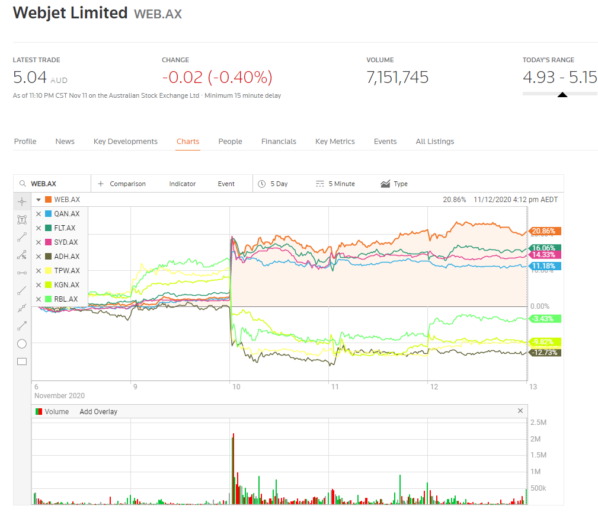 The initial euphoria appeared to wane somewhat as markets both here and in the US declined somewhat, as investors digested the vaccine news in more detail. Issues ignored in the initial announcement include:
the size of the sample

the duration of the efficacy of the vaccine

long-term side effects

does the vaccine protect against asymptomatic cases?

the upcoming FDA review, and

the timing and the required infrastructure necessary for widespread distribution of the vaccine.
In the US, the Secretary of the Department of Health and Human Services said at-risk nursing home residents, health care workers and first responders could receive the vaccine by the end of January with "enough for all Americans by the end of March to early April to have general vaccination programs."
Combining that timeline with COVID 19 cases, hospitalisations, and deaths exploding across the entire US explains the 400 point drop in the US Dow Jones Industrial Average (DJIA) at midday on 12 November. The Index closed down 337 points, while the US coronavirus death toll eclipsed 2,000 souls for the first time since May. However, the ASX resisted the pattern of following the US lead, closing the week flat, but up overall 3.47%. Us markets finished on an upbeat note, with the DJIA closing the last day of the trading week up 399 points.
Despite another better than expected US jobs report, the economic situation there pales in comparison to what is happening here in Australia. Lockdowns are back in parts of the US with more likely to come and additional fiscal stimulus remains elusive.
Australia is not yet totally out of the woods as hardly a day goes by without some news outlet citing instances of new COVID cases popping up.
Despite increasing consumer confidence the AMP 2020 Financial Wellness Report found "severe and moderate levels of financial stress are impacting 1.8 million Australian workers, with nearly half feeling financially stressed for an average of six and a half years or more. In total, 50 per cent of all Australian workers reported some level of stress about their finances. 50 per cent of all Australians reported some level of stress about their finances.
The core assumption underlying both the winners and losers appears to be that the economic recovery here in Australia will continue without further impact from a pandemic remaining under control.
Two corollary assumptions come to mind.
The travel stocks will continue to prosper as Australians return to the skies and international travelers return to Sydney Airport.
The online retailers will see an interruption in their growth spurts as Australian consumers open their wallets and return to brick and mortar shopping outlets as lockdowns disappear and fears of going out in public dissipate.
Work at home will give way to returns to the workplace, opening further potential for shopping at stores convenient to office buildings and other workplaces.
For those choosing to follow the herd into sectors left in ruins by the pandemic like the travel sector, there remains substantial risk – time. A vaccine whose only success to date is the results of a Phase III trial do not guarantee final approval by the FDA nor the public. There are others in development, but the travel sector is unlikely to recover until we see a global rollout of vaccines proven to work and accepted by the public. Even the estimates out of the US that assume final data analysis and approvals will proceed without interruption claim a rollout in March or April – five months in the future.
In addition to the distant promise of safe travel, there is the issue of prior performance of these companies on fire. All have seen stunning financial losses which impact historical performance, but a view of earnings and dividend growth rates and shareholder return over five and ten years should be instructive.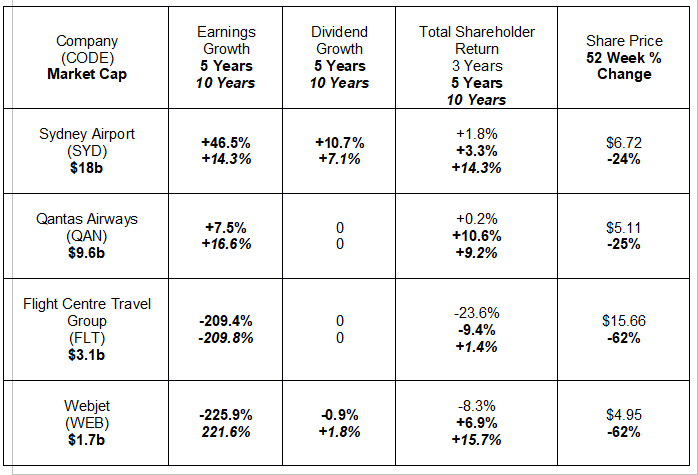 With the exception of Sydney Airport's solid record of both dividend and earnings growth in a pre-pandemic world, investors considering taking a leap into the remainder of these travel stocks might want to consider that a return to "normal" performance in their past appears unimpressive at best.
It would appear many investors anticipate a "stampede" to the shopping centres, with the NRA (National Retail Association) forecasting a 5% rise in holiday sales over the 2019 season.
Common sense suggests many Australians eager to emerge from their homes may frequent physical retail outlets. The question is will they abandon the pre-pandemic trend of increasing consumer preference for online sales. Should a shift come for this season? Will it last, erasing what so many forecasters have predicted will be a rising trend?
Only one of the four losing stocks operate with an omni-channel distribution model – Adairs Limited (ADH). The company sells home furnishings and home decoration products via two distribution outlets – 167 Adairs stores, and an addition to its existing ng Adairs online platform with the December of 2019 acquisition of online only retailer Mocka.
In a 12 November Investor Presentation, Adairs management made a strong case for omni-channel distribution.
Although forecasts may change, the following graph from the presentation clearly shows the explosive growth – past and future — in online sales.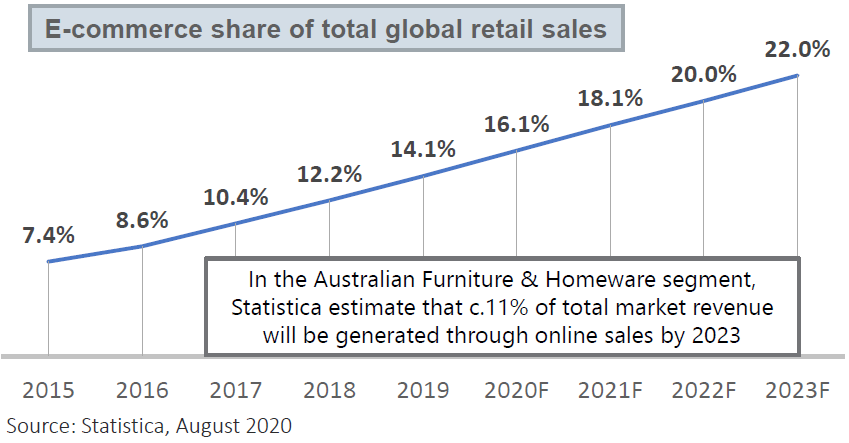 Perhaps the stronger argument for the long-term viability of well-run, increasingly digitally serviced brick and mortar locations is this. If physical stores are the dinosaurs of retail, why are eCommerce giants like Amazon, Alibaba, Wayfair, and JD.com all opening brick and mortar stores?
Adair's Profit for FY 2020 was up more than 30% while revenues increased about 13%. The company has cautioned investors regarding extending FY 2020 gains into FY 2021, citing "persistent and inherent uncertainties associated with COVID 19. Adairs has a market cap of $556 million and an average earnings growth rate over five years of 64%.
Redbubble (RBL) was the first of the beaten down eCommerce stocks to begin rebounding slowly, perhaps due to the nature of its offerings. Like its massive US counterpart, Etsy (ETSY: NASDAQ), Redbubble offers artisan crafted items to consumers, with a significant difference in its business model.
While ETSY sells a variety of artist produced craft items, Redbubble acts as a marketplace connecting interested consumers with independent artists who craft a custom design onto a product chosen by the consumer. There is no inventory as each item is created post sale.
Redbubble listed on the ASX in 2016, turning in outstanding revenue growth in the last three fiscal years, growing from $182 million in 2018 to $307 million in 2019 and $416 million in FY 2020. The company has yet to post a profit but has reduced its loss from a negative $10 million in FY 2018 to a loss of $6 million this year.
Redbubble reported revenues for Q1 of FY 2021 up 114% while gross profit rose 149%. The company has a market cap of $1.2 billion dollars and a three year average annual rate of total shareholder return of 62%.
Although Kogan Limited (KGN) achieved market darling status due to its outstanding performance with its eCommerce performance, the company is highly diversified.
Its artificial intelligence driven, award winning, top ten eCommerce site has a dizzying array of product offerings, including computers and tablets; phones; cameras; audio; home and garden; office supplies; baby products; kids and family; gadgets; toys and video games; health and beauty; sports and outdoors; luggage; tools and automotive; and pantry.
Kogan also operates the following businesses:
Kogan Mobile

Kogan Broadband Internet

Kogan Travel

Kogan Insurance

Kogan Health

Kogan Money

Kogan Cars

Kogan Energy

Kogan Marketplace
Like Amazon, the Kogan Marketplace gives third party sellers access to the Kogan eCommerce platform. Although the company derives virtually all of its revenues from its eCommerce operations, the other businesses are experiencing healthy growth, with Kogan Internet revenues up 149&% and newly added Kogan Money up 1,000%.
The company has a market cap of $2 billion and a two year earnings growth forecast of 30%, with the forecast coming prior to the COVID vaccine announcement.
Temple & Webster (TPW) has a narrower product line offering than Kogan, but its share price has dramatically outperformed the market darling over the last five years.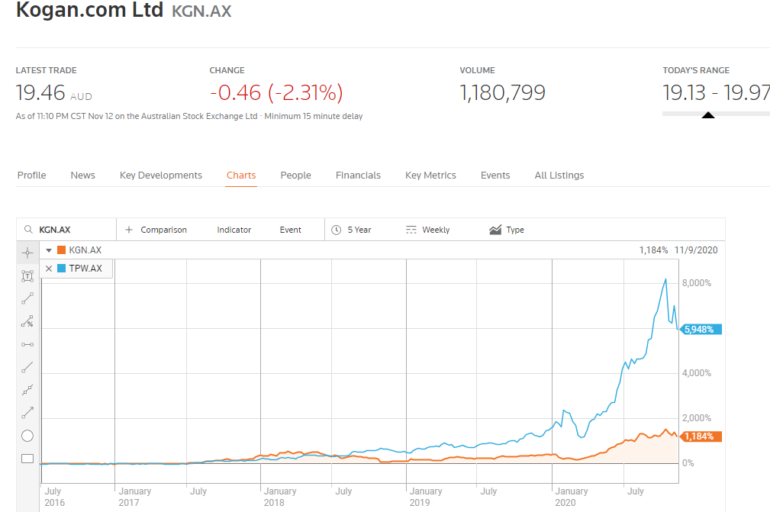 Temple & Webster has a market cap of $1.2 billion with a two year earnings growth forecast of 58% prior to the COVID vaccine announcement.
The company's product line is focused on furniture and home accessories, but its business model affords it a substantial cost advantage. Temple & Webster orders go directly from its website to the product manufacturer, where it is "direct shipped" to the customer. With this modus operandi, the company has no need to maintain inventory and facilitates the shipment of the large items it sells. Factories ship direct to the consumer instead of to the retailer.
Temple & Webster estimates the market for its core furniture and homewares products is in excess of $15 billion dollars, expressing the belief the trend of increasing online sales will accelerate, with the key millennial buying group extending online shopping habits to include more furniture and housewares.
The company will be introducing a mobile app and an artificial intelligence based home design platform.