The trading week beginning on 13 July saw bewildered investors treated to another round of a confusing mix of good news and not so good news. With our heavy dependence on exports to China, the headline "China economy: Coronavirus comeback kid" ignored the not so good news buried within. On the positive side, GDP growth, unemployment, industrial production, new home prices, and state-owned-enterprise's (SOE) infrastructure investment all rebounding.
The gloom in the report includes declines in investment from the private sector and continued declines in domestic demand and consumption, as evidenced by disappointing retail spending numbers.
The same could be said for much of what we learned about the Australian economy. CommSec reported a Record lift in jobs as economy re-opens. While overall employment rose, full-time employment declined with part-time employment rising six times higher than full-time employment. The rise in the unemployment rate from 7.1% to 7.3% was attributed to a rise in the participation rate, with more Aussies returning to the job market to look for work. Online employment site SEEK.com reported a 41.5% increase in job ads in June.
The latest government stimulus effort was unveiled with the announcement of a $2 billion-dollar JobTrainer effort.
Positive news on COVID-19 treatment Remdesivir from Gilead Sciences and preliminary trial results on a COVID-19 vaccine from US-based developer Moderna sent US markets on a four day buying binge which screamed to a halt with US investors reminded yet again that the number of people filing for unemployment weekly continues unabated, with the seventh week in a row of claims well in excess of one million people.
Here in Australia concerns over the rising number of COVID-19 cases in Victoria, with a smattering around Melbourne, are taking their toll. Supermarkets are restricting purchases and lockdown measures are under consideration, sending consumer confidence down 6.1% since June.
Even the positive developments on a COVID-19 vaccine come with caveats. The CEO of global pharma company Merck had this to say:
Covid-19 vaccines under development are not guaranteed to work, and people who say to expect a vaccine before year-end are doing a "grave disservice to the public."
Investors bold enough to invest in the ASX as the Bear market receded into a Bull market have, in most cases, been handsomely rewarded.
Investors "late to the party" are now faced with challenging decisions, should they elect to return to active investing. Will red hot stocks stay hot? Will the three sectors finishing FY 2020 in positive territory – Healthcare, Tech, and Consumer Staples – continue to outperform? Will beaten down stocks rebound? Are "recession resistant" stocks the safest move?
In the aftermath of the GFC investors worldwide learned that there is no such thing as a "recession proof" stock. However, some businesses operate in sectors more resistant to economic downturns than others. In the mad rush that began in late March, some stocks that qualify have been ignored. Waste management and recycling companies are examples. Waste removal is an essential service that will not disappear for a time as have elective surgeries and airline travel.
The ASX has two large cap companies operating in traditional waste management – waste — or the less elegant term garbage — disposal, and increasingly recycling. Then there are "niche" recycling stocks that have technology to recycle a category of waste material, like used batteries and steel, mining waste, and plastics.
The big players on the ASX are Cleanaway Waste Management (CWY) and Bingo Industries (BIN). Both have share price declines in double digits year over year and only Cleanaway has seen share price appreciation from the buying frenzy that began a little more than three months ago.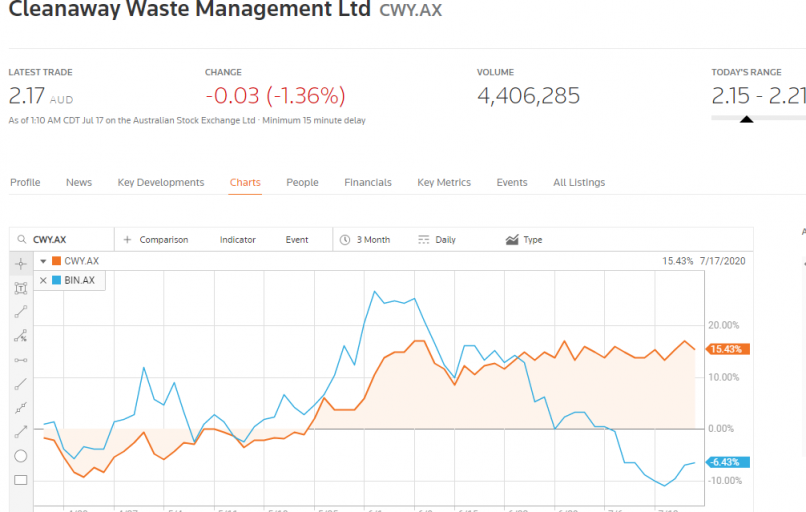 Bingo is a newcomer to the ASX, listing on 31 May of 2017, with the share price up about 20% since listing. The company is smaller in size and scope in comparison to Australia's largest waste management company, Cleanaway. While Bingo operates out of 17 locations in New South Wales and Victoria, Cleanaway, in business for 50 years, has more than 260 locations across Australia. Both offer solid and liquid waste collection, processing, separation, and recycling. Cleanaway also collects and disposes regulated hazardous waste.
Bingo's recycling centres in and around Sydney and Melbourne accept gardening, renovation, and concrete and brick waste while Cleanaway's recycling centres also accept electronic waste and plastic bottles which pellitised for use in making new bottles.
The Bingo share price dropped in early May following an investor presentation that included the following statement regarding the impact of COVID-19 on the company's Commercial and Industrial Waste (C&I):
BINGO has observed approximately a 20%-30% decline in C&I revenue from the imposed restrictions in response to COVID-19, this is expected to continue into Q4 FY20.
Cleanaway presented at the same Macquarie Conference and despite more optimism, the share price also fell.
Although both companies have recurring revenues stemming from long-term contracts, both withdrew Full Year 2020 guidance as not all revenue is contracted. Industry leader Cleanaway has 75% of its customer base under contract. Should the expected boost in infrastructure spending come to pass, both companies will benefit from construction waste.
While protected by long-term contracts, risk averse investors should take note of the at-risk part of each company's non-contract customer base as the need for waste disposal and recycling can decline with some business operations.
Cleanaway has a solid historical track record and attractive growth forecasts. Sims Limited — formerly Sims Metal Management — (SGM) is the only large cap niche recycler, with historical earnings and dividends comparable to Cleanaway.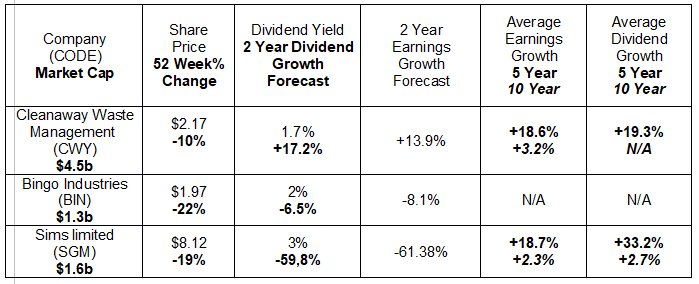 Sims has long been recycling scrap metals – both ferrous metals iron and steel and non-ferrous metals aluminum copper and nickel – here in Australia and in the US and the UK. The company has now branched out into recycling consumer electronic products and commercial IT assets, serving European customers as well.
Sims withdrew its FY 2020 Full Year Guidance back in March as the demand for steel fell with declines in expansion plans globally. In early June, the stock was upgraded to a BUY at UBS, citing the company's expansion into electronics recycling and expected improving conditions in the US. Less than one month later, the stock price was downgraded from OPUTPERFORM to NEUTRAL at Jarden.
Once a pure play Lithium miner, Neometals (NMT) has shifted its focus to recycling scrap from battery cell production and end-of-life lithium-ion batteries. In addition, Neometals is exploring partners for a proposed refinery for processing lithium hydroxide from feedstock from the Mount Marion lithium mine, to be used in battery cathodes. The company also holds a 100% interest in the Mt Edwards nickel mine and recently released a Scoping Study on the recovery of vanadium from slag (steel by-product containing vanadium.)
With a market cap of $82 million, Neometals is four times the size of a competitor – Lithium Australia (LIT) — also looking to recycle spent electronics and batteries, adding mine waste to its proposed feedstock for the creation of viable lithium for the battery industry.
CleanTeq Holdings (CLQ) is a third company involved in recycling to produce feedstock for lithium batteries. CleanTeq has developed a proprietary process — Clean-IX – to produce nickel and cobalt needed for lithium batteries from mining tailings.
Once a producer of plastic packaging from hydrocarbons, SECOS Group (SES) has developed multiple proprietary processes to transition the company to a producer of bio-degradable resins, plastic packaging, and cast films. In a world where more than 130 countries have banned completely or partially single use plastic, the future of manufacturing bioplastics appears bright.
The company still sells traditional plastic packaging, with a biohybrid product line during the transition. SECOS uses corn starch in its production processes, and while the company is not strictly speaking a recycler, it does manufacture products that do not need to be recycled through one of the two companies coming together to form SECOS Group – Cardia Bioplastics. One of its most promising product lines is compostable plastic bag liners for bin waste disposal.
The global market is forecasted for $30 billion dollars in 2020, exploding to $324 billion in a decade.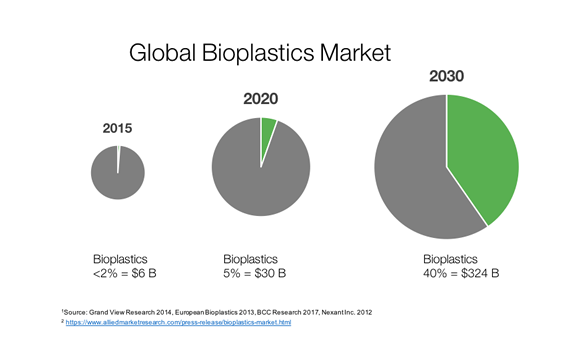 Despite its promise, SECOS was lingering along with the niche recyclers, benefiting little from the market upturn commencing in late March, until 9 July when the market learned Australia's most iconic retailer – Woolworths – would begin stocking two certified SECOS compostable bin liners into their stores. The stock price shot up, and year over year SECOS investors have seen their shares go up 133%.