In mid-March of the year 2020 anxious investors worldwide began to return to stock markets. The fastest descent into Bear Market land dramatically reversed course to produce the fastest return to a Bull Market in history.
The carnage lasted about a month, with some stocks spared the worst of the panic selling. Others did not fare so well, among them were the WAAAX stocks (Wisetech, Afterpay, Appen, Altium, Xero), the ASX version of the fabled FAANG stocks (Facebook, Apple, Amazon, Netflix, Google) on US markets. All five of the WAAAX stocks have thrived over the past month.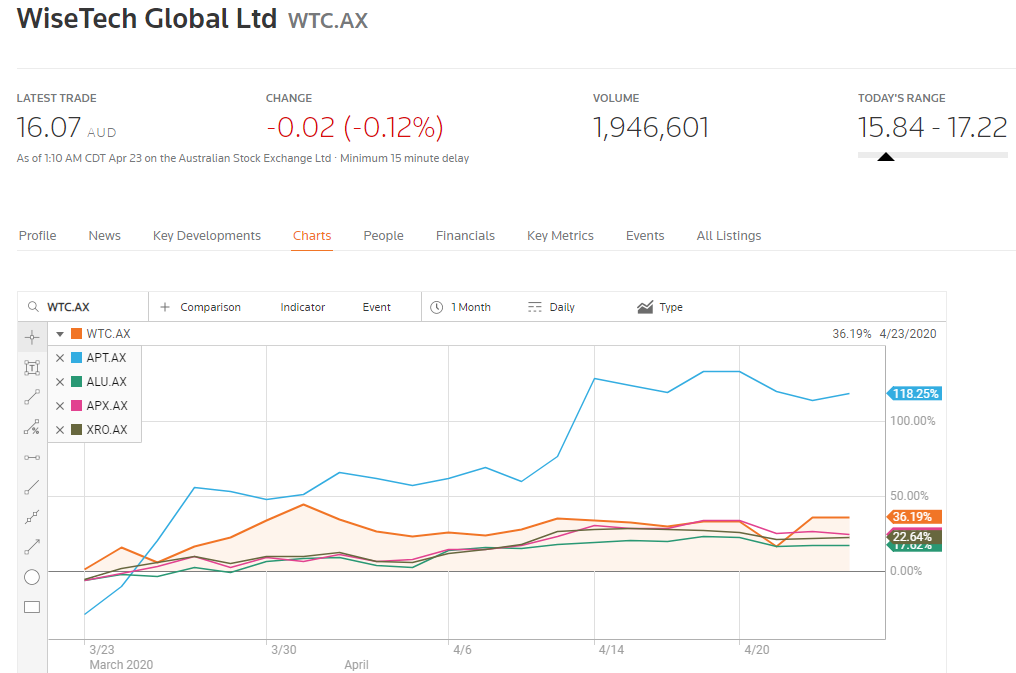 The resurgence has not been without pockets of volatility, with daily market performance bounced around by market sentiment on stabilising of the spread of COVID-19; massive infusions of government support to bolster economies; wild fluctuations in the price of oil; a wave of dire economic outlook forecasts; and troubling hard economic results. Here in Australia investors got a dose of hard news when an RBA Governor had this to say about our own economic outlook:
"Whatever the timing of the recovery, when it does come, we should not be expecting that we will return quickly to business as usual. Rather, the twin health and economic emergencies that we are experiencing now will cast a shadow over our economy for some time to come."
Note the dips in the following one-month performance chart for the ASX 200 from Market Index Australia.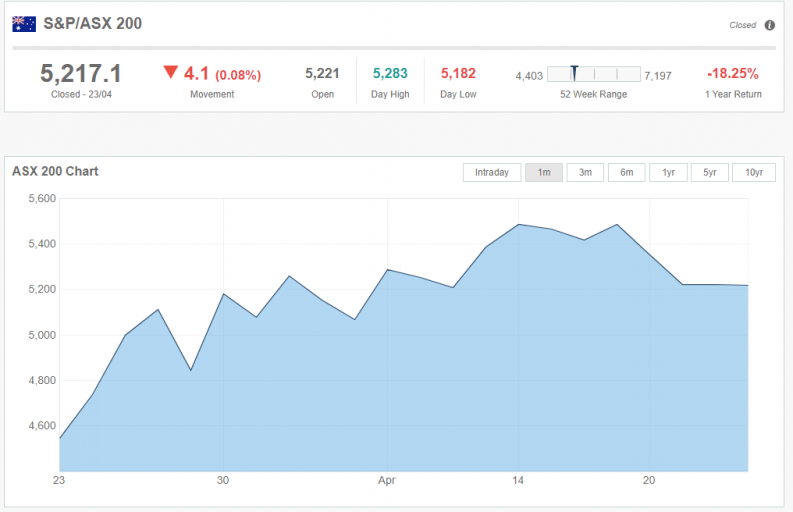 It seems clear from the continuing upward trend market participants feel the "bottom is in" and opportunities to invest are safer now than they were one month ago.
Every day investors are bombarded with opinion pieces on what sectors to consider and what stocks to buy as well as risk indicators to consider.
While prevailing sentiment seems to indicate the belief the worst of the COVID-19 outbreak is over, there are warning signs contradicting that view. A week ago, markets rallied on the leaked news a US based study showed positive responses to the use of the Gilead Sciences drug Remdesivir with COVID-19 patients, igniting market rallies. On 23 April, the Financial Times reported a trial in China found that Remdesivir did not improve patients' condition or reduce the pathogen's presence in the bloodstream, fueling market downturns. Concerns are mounting about a "second wave" of COVID-19 emerging in the fall, coinciding with the onset of normal influenza outbreaks.
On the economy, there is a wide divergence of opinion on how quickly the anticipated recovery will materialise, with some predicting a sharp and rapid upturn and others cautioning the recovery could be agonisingly slow.
Similarly, market sentiment seems to favor the belief the massive infections of cash stimulus will cushion the blow to consumers and the economy, assuming a recovery in the not too distant future.
A critical issue for anyone thinking of investing is what the customers of a stock under consideration will do once things begin to return to "normal." Will consumers resume previous spending habits? Will businesses quickly restock depleted inventory levels? Will demand for goods ensure a quick return to prior levels of manufacturing, shipping, and logistical supply chain operations?
Once and now again ASX market darling Afterpay Touch Group (APT) is a case in point. The stock price cratered on fears the company's Buy Now Pay Later (BNPL) business model would suffer as worried consumers changed their buying habits.
One of the most successful investors of the 20th century, Peter Lynch of the US, once said "Never fall in love with a stock; always have an open mind."
Following a wave of panic selling fueled by the company's Half Year 2019 Financial Results indicating the pattern of rising revenue and rising losses, it seems the love returned, with investors coming in close to the lows of one month ago benefiting handsomely.
On 19 March, the company released a letter to shareholders stating:
We advise that we have not seen a material impact on our business activity and timing of instalment repayments or transaction losses to date. As outlined below, we have a dynamic system and risk mitigation capability and we are implementing measures proactively and are well prepared to add further measures as required.
Afterpay followed up with a trading update on 14 April, showcasing an 105% increase in underlying sales over the previous corresponding period (pcp.) for the third quarter. Skeptics who may have noted there are four months in a quarter and the downturn began in March were thrilled to learn of the solid performance during the month of March.
The update did include the potentially troubling information that sales through the second half of March and early April did decline. Investors seem to have chosen to ignore that, relying instead on Afterpay's management statement that as of the moment the company saw "no sustained trends, in any of our regions, as a result of the impacts from COVID-19".
Yet the update ends with a series of measures the company is taking to restrict access to higher risk customers, including tighter approval requirements and lower spending limits.
Afterpay's disruptive BNPL business model is not likely to go away, but one could make a strong case the company's short to medium term future is clouded by the possibility of more of its customers continuing to Buy Now, without the means to Pay Later.
Investors buoyed by the news retail turnovers in March came in at +8.2% spanning both grocery sales and sales of anything related to home office equipment should not ignore the follow-up that Australia and New Zealand Bank (ANZ) is reporting retail sales for the month of April through the 17th have dropped 8%.
There are two other WAAAX stocks that should be approached with caution because of their customer base – Wisetech Global (WTC) and Xero (XRO).
Wisetech's prime offering for the domestic and international logistics sector is CargoWise One, a cloud-based software platform that integrates all the players in supply chains both simple and complex while tracking tariffs and taxes as well as regulatory changes.
No one disputes that a recovery will come. The question is when. Wisetech is at risk if a protracted recovery significantly impacts the volume of cargo to be shipped.
Xero offers cloud-based accounting software and has seen solid revenue growth over the last three Fiscal Years although the company remains unprofitable. With market darling status comes dramatic share price appreciation, with XRO share price up more than 200% since listing on the ASX in December of 2012.
The company is a favorite of analysts as well due to its recurring revenue base from its Software as a Service (SAAS) business model and its rising subscriber base. Xero operates in a fragmented market with substantial room for growth over the long term here in Australia and internationally. The problem with the company is it targets small businesses and independent accountants and bookkeepers.
The company website now offers help for small businesses in navigating the myriad of relief programs available to the small business segment. The risk issue is the survival of some of these businesses if a recovery is a long time coming and extends over a protracted period of time. While some analysts positive on the stock cite customer retention, or "stickiness," as a favorable indicator, the issue is not whether some of these small businesses stay with Xero but rather whether they stay in business.
The remaining members of the WAAAX group – Appen Limited (APX) and Altium Limited (ALU) are also known for high rates of customer retention but their base is not limited to small businesses.
Appen got its start in speech and language recognition software and has expanded into one of the world's premier providers of assistance in development of artificial intelligence and machine learning models for its customers. It counts among its business customers tech behemoths like Microsoft, Facebook, Google, and Amazon Web Services (AWS) – all members of the FAANG stock group.
The company's Full Year 2019 Financial Results showed a 47% rise in revenue with underlying NPAT (net profit after tax) up 32% while statutory net profit was essentially flat. Statutory net profit excludes one-time charges. While some ASX companies have reduced guidance for the Full Year 2020 and others issued no guidance or withdrew prior guidance, Appen reiterated its previously announced full year guidance for 2020. The company doubled revenue and tripled profit between FY 2017 and FY 2018.
Virtually every electronic device in existence today begins with a printed circuit board (PCB). Altium offers its customers multiple SAAS platform for designing PCBs. As more and more devices connect to the Internet, the Internet of Things (IoT) is on the cusp of moving from a possibility to an actuality.
The company was born in 1985, becoming one of the first providers of design tools for use in producing PCBs. As the IoT moves closer to reality, Altium is poised to benefit from that growth. The company operates internationally
Altium has posted revenue and profit increases in each of the last three Fiscal Years. For the Half Year 2020 revenues were up 19.1% while NPAT declined slightly – down 1.5%.
On 8 April, the company announced to the market it was withdrawing its Full Year 2020 guidance, reassuring investors the company maintains a strong operational and market position within the COVID-19 environment. Altium employees already work digitally and Altium management said the following about its customers:
At an industry level, electronic design is holding up relatively well in the new environment as engineers use excess time and capacity from the slowdown in manufacturing and supply chain to revert back to prototype designs.