The famous quote appearing in the investing classic "One Up on Wall Street" from history's greatest fund manager Peter Lynch bears repeating in today's market conditions:
"Big Companies Have Small Moves; Small Companies Have Big Moves."
Since the US Dow Jones Industrial Average (DJIA) often sets the tone for Asian markets, market performance so far in the month of September suggests a trend reversal from the Bull Market performance seen world-wide since mid-March.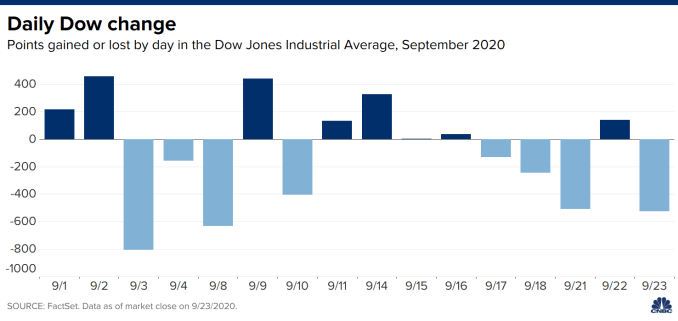 There has long been a belief among many professional investors that support Lynch's view that with more room to grow, small caps as a class will outperform large caps.
From US investment management company, Invesco, we can compare small cap performance against large cap performance year to date:
Total returns of small-cap vs. large-cap stocks on a year-to-date basis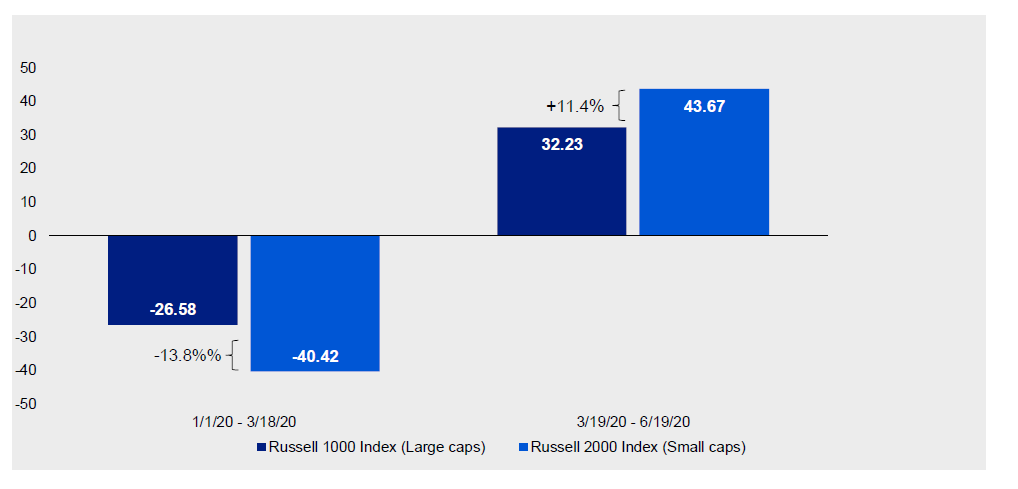 Source: FactSet Research Systems, 6/19/20. Returns are cumulative. Past performance does not guarantee future results. An investment cannot be made into an index.
With rising COVID infection rates in much of the world and the spectre of slowing economic recovery in the US due to additional stimulus measures stalled in the US legislature, markets are slipping, but have yet to return to the panicky collapse seen in late February. In Australia, the dreaded fiscal cliff coming into focus as unemployment support payments are reduced.
Never achieving household name status, many small caps and penny stocks today are increasingly falling under the radar.
Despite his statement on small caps, as manager of the Fidelity Magellan Fund for more than a decade, Lynch invested in both large caps and small caps, stating he, as should all investors, had different expectations for the two groups. Large caps provided stability and less risk, while some small caps provided potentially explosive growth. His record was remarkable, growing the fund from $18 million dollars under management in 1977 to $14 billion dollars when he retired in 1990.
Lynch had numerous investing stratagems, with two having relevance to some small caps/penny stocks.
The company has a niche and delighted customers; and
The company is under the radar. You will not hear many analysts bragging about it.
In the month of September four small cap/penny stocks making big moves are worth a look. While not all may qualify with "delighted customers," none have major analyst coverage. The following table lists them with price performance information.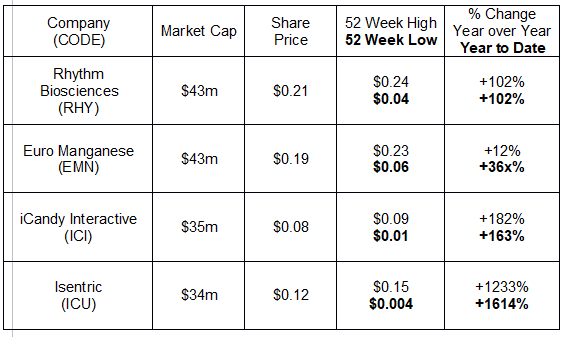 All four are up triple digits, month to date.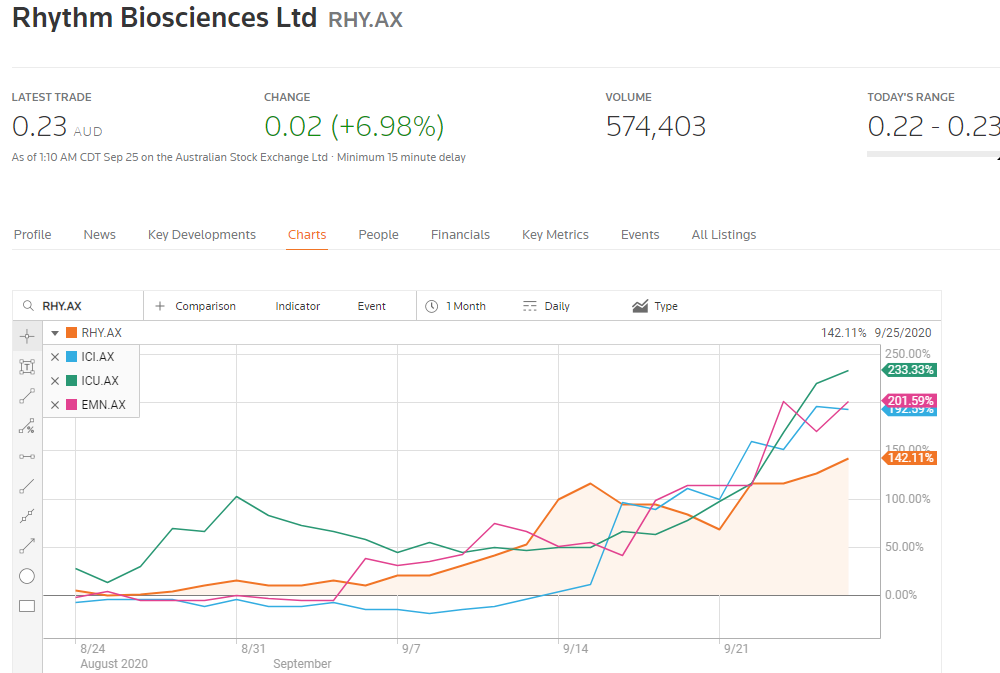 Rhythm Biosciences (RHY) is developing medical diagnostics technology for use in both the domestic and international markets. The company's first product is ColoSTAT™, a simple blood test for the detection of colorectal cancer, even at the early stages. The test eliminates the need for a highly invasive colonoscopy and is very affordable. ColoSTAT™ is easily administered without the need for expensive medical equipment.
Colorectal cancer is ranked the second largest cause of cancer-related deaths in Australia, Europe, and the US, and the third largest world-wide.
ColoSTAT™ is based on earlier work at the CSIRO (Commonwealth Scientific and Industrial Research Organisation) and identifies protein "biomarkers" indicative of colorectal cancer.
On 2 April, the company announced the lead biomarker had now been successfully validated, stabilised and proven to be reproduceable. The biomarker is the main component of ColoSTAT™ and is the key to identifying the differences between healthy and cancerous samples.
ColoSTAT™ is already trademarked in the US and patented in China, with preparation for clinical trials underway. Rhythm Biosciences will be submitting ColoSTAT™ for registration and marketing approval to both CE Mark in Europe and Therapeutic Goods Administration (TGA) in Australia in FY 2021.
The company has released three positive announcements in September with the latest being the addition of a sixth prospective site for the ColoSTAT™ clinical trial. Earlier announcements highlighted the first patient recruited for the trials and successful progress on perfecting additional biomarkers for ColoSTAT™. The share price rose on each announcement.
An investment holding company specialising in developing and marketing mobile games and digital entertainment globally – iCandy Interactive (ICI) – also had multiple September announcements sending the stock price upward.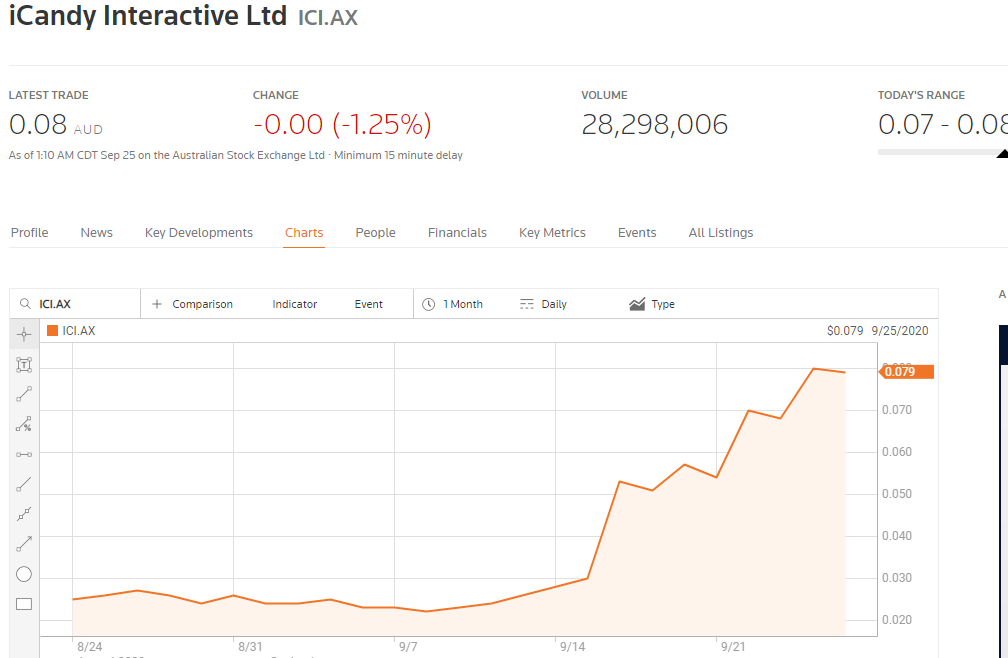 The first announcement produced a surprising positive reaction to the company's successful capital raise to fund game development.
The second release concerned the positive trial on Google Play of a new game scheduled for a mid-October release with more than 870,000 copies of the game – the Masketeers – on pre-order.
The most recent news was the completion of documentation for regulatory approval of iCandy's musical game – Grove Planet – into the Chinese market. On 23 May iCandy revealed its strategic collaboration with an operational unit in Alibaba Digital Entertainment Group — 9Games. The collaboration now has plans to introduce six games into China, following the approval of Grove Planet.
Fintech company iSentric Limited (ICU) lacked the highly positive growth announcements from Rhythm Biosciences and iCandy, relying on a series of announcements received positively by shareholders going back to mid-August.
The company's three operating divisions plants iSentric firmly into high growth areas within the financial sector.
Mobile Banking

Digital Payments

Digital Services.
The company has made some board changes and is expected to seek approval for a name change at the upcoming Annual General Meeting (AGM), more in line with its core focus. The new name – IOUpay — reflects iSentric's investments in extending the capabilities of its existing IOUpay platform now providing services for digital payments, mobile banking, and consumer marketing campaigns.
The company's expanded Malaysia operations will include Buy Now Pay Later (BNPL) transaction and payment processing. Full Year 2020 Financial results showed minimal impact from COVID 19, with revenues dropping 2%. The company significantly improved its balance sheet in anticipation of growth initiatives through capital raises and expense reductions. iSentric is planning more capital raises to support its rebranding strategy, with major expansions in the capabilities of its digital services.
On 24 September the world's leading manufacture of EVs (electronic vehicles) – Tesla — held a "Battery Day" at which Tesla founder Elon Musk told the world the next generation of Tesla EV batteries will contain 1/3 manganese in the battery cathode, along with 2/3 nickel.
The news sent the share price of Euro Manganese (EMN), already on an upward trend following the company response to an ASX "speeding ticket", to a 52 week high.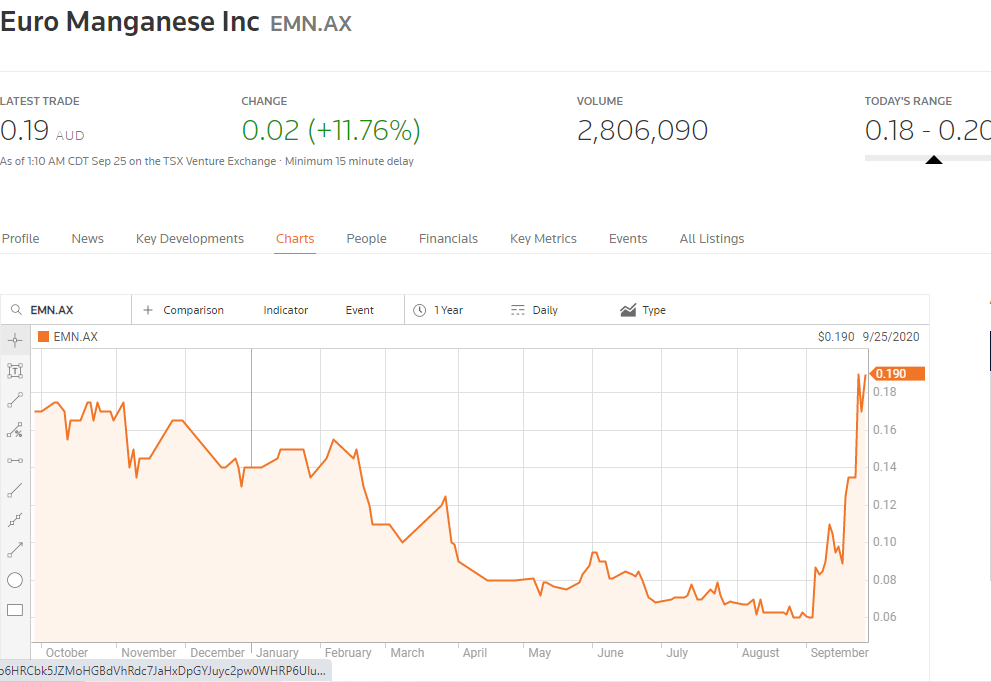 This is the company's response to the ASX request for any information to explain the explosive move:
"Euro Manganese considers that the increase in share price in today's trading may be a reaction to a presentation held Tuesday afternoon Pacific Time, 22 September 2020 by Tesla Inc.'s CEO, Elon Musk, at the company's 2020 Annual Meeting of Stockholders & Battery Day. During this presentation, Mr. Musk disclosed several technological advances it proposes to implement to materially lower the cost of producing lithium-ion batteries and electric vehicles, including Tesla's plan to begin manufacturing at a very large scale an innovative type of lithium-ion battery with a cathode that contains around 33% manganese, made directly from manganese metal. Tesla also disclosed that it intends to build its own cathode factory and to purchase raw materials directly from mining companies. Until now, Tesla had used EV batteries manufactured by third parties, such as Panasonic, using principally an NCA formulation, which contains no manganese. The introduction of manganese in Tesla batteries is expected to result in a material increase in high-purity manganese demand."
The Canadian based company with listings on both the ASX and the TSX (Toronto Stock Exchange) is the sole owner the Chvaletice Manganese Project in the Czech Republic.
The plan to recycle high purity manganese from historical mine tailings at the Chvaletice manganese Project – the largest manganese deposit in Europe – is underway. Environmental permitting for the proposed recycling plant is in progress as is a feasibility study. Following the results of the study, the company will make a final investment decision and if positive will pursue funding sources.
Euro-Manganese management believes the plant at the Chvaletice Project will be capable of producing both manganese metal for battery use and manganese sulphate for use in agriculture, human health, and industrial uses. The company touts the environmentally friendly recycling process and hopes to become a leading European producer of "high-purity manganese products, serving both the lithium-ion battery industry, as well as other high-technology applications." Expectations are for production of 50,000 tonnes per annum.
Mining in the Chvaletice Project began in the 1900's, with three tailing deposits accumulated over the years subjected to a state-owned battery producer study of the feasibility of extracting pure manganese from the tailings in the 1980's. Political upheaval in Czechoslovakia ended the effort, with Euro-Manganese acquiring 100% of the Czech company that holds the exploration rights to the Chvaletice manganese deposit — Mangan Chvaletice.
A Euro-Manganese drilling campaign confirmed the resource potential. Scoping and pre-feasibility-level process design studies, and a preliminary economic assessment have been completed.