To the surprise of many political prognosticators around the world Donald John Trump emerged from the US 2016 presidential election as the winner, fueled in part by a rising populist tide convinced that unfair trade deals, like the North American Free Trade Agreement (NAFTA), had crushed US manufacturing. The target countries for alleged unfair trade practices expanded to include China and the European Union, as well as the supposed beneficiaries of NAFTA to the detriment of American workers.
Following the election accusations of unfair trade practices morphed into real and proposed tariffs on goods imported to the US.
Conventional wisdom has stated for decades there are no winners in trade wars, only losers. Global stock markets watched in nervous anticipation as negotiations to alter the twenty-year old NAFTA agreement began and dragged on. On the back burner, the thought of an all-out trade war between the two largest economies on the planet seemed only a remote possibility.
After two years of tariffs imposed; threats of more tariffs; delays in implementing proposed tariffs, and reports of progress towards a comprehensive settlement followed by reports of stalled or negative efforts, we now find ourselves where few imagined – the US/China trade war has begun.
On 5 May US President Donald Trump announced an increase in the tariffs on $200 billion dollars in Chinese imports from 10% to 25%, effective at midnight on 10 May. Market volatility has been high since the initial tariffs were imposed with some fears for the worst, but prevailing sentiment appeared to be hope for the best, in the long run. From Reuters finance here is how the US DJIA (Dow Jones Industrial Average) DJIA reacted in the week following the latest tariff increase.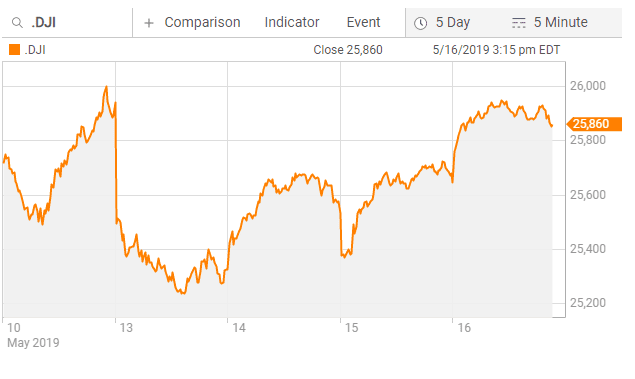 Active investors following the developing trade war story have been treated to a host of alarming articles on the potential impact of a full-blown trade war on the economies of the parties involved and the global economy in total. However, that picture has been clouded by multiple opinion pieces speculating heavily neither China nor the US were interested in a destructive trade war, with some analysts and experts minimising the impact to specific economic sectors.
A key indicator that the market community was not fully convinced of a substantial slowing of the global economy was trading in gold bullion, miners, and stocks.
Gold has historically been the place to which investors flock in droves in times of trouble. A 15 May article appearing on the website of global metal analyst and dealer Kitco had this to say about the market price rises and falls:
• Traders and investors are somewhat assuaged at mid-week following more upbeat comments from President Trump and China officials Tuesday that suggested the world's two largest economies want an amenable resolution soon in their trade war.
Rational observers outside the market investing community might look in and see a pattern ignored by investors desperately hoping to extend an already historic bull run. The Kitco article pointed directly at the pattern – negative news on the trade front leading to a market sell-off followed by positive spin that often failed to prove true but did have the desired effect of a market rallying.
There are now experts expressing the opinion the movements of the stock market will be the ultimate decider in the conflict as in the US the current administration judges the success of its financial policy by the rise of the US stock exchanges.
Both professional and retail investors would be well advised to remember the outcome of the supposedly successful renegotiation of NAFTA. The new deal — United States-Mexico-Canada Agreement (USMCA) was signed by the trade representatives of the US, Canada, and Mexico on 30 November of 2018 but remains in limbo, awaiting political approvals from within each of the three countries. In short, the only instance of a successful trade deal we have could be rejected and sent back to the negotiating table. In addition, while the immediate focus is on the trade relationship between the US and China, the US also has its sights on the EU, with the latest boost in the markets coming from an announcement out of the US delaying potential increased tariffs on European auto imports.
Retail investors losing sleep at night over worst-case scenarios in this trade conflict have options. Right now, talk of investing strategies to deal with the situation are at whisper level but could elevate to cries of alarm in the coming months.
US investment bank Goldman Sachs is already out with an opinion piece suggesting investors stick with dividend growth stocks and stocks with minimal global exposure.
Advice for picking dividend payers abounds across the financial sites of the Internet, with one critical issue retail investors should take to heart. Many sites have search engines for dividend payers with user-set selection criteria. Ideas for different sectors or market niches all have their place depending on one's investing approach. The criteria that should never be ignored under any circumstances is to stay away from using the highest dividend yield as the primary selection criteria.
Retail investors who have been in the game awhile know that yield is a function of expected dividends paid and current stock price. As a stock's price goes down, its dividend yield goes up, making it more attractive to the uninformed. Share prices in decline are not signs of a healthy situation and often precede cuts in dividends paid or complete eliminations of dividend payments. The following chart from US financial website CNBC shows the results of a study suggesting safety in lower yields.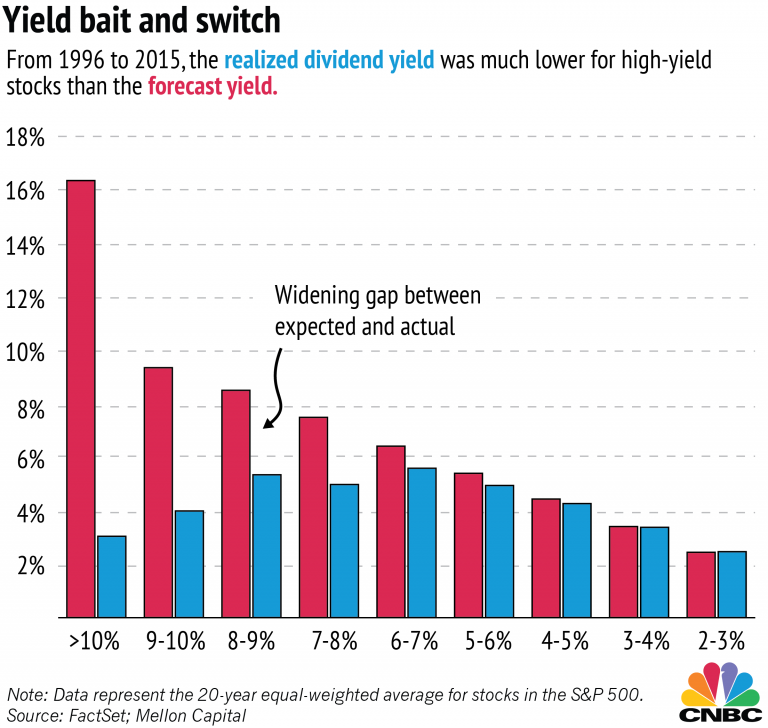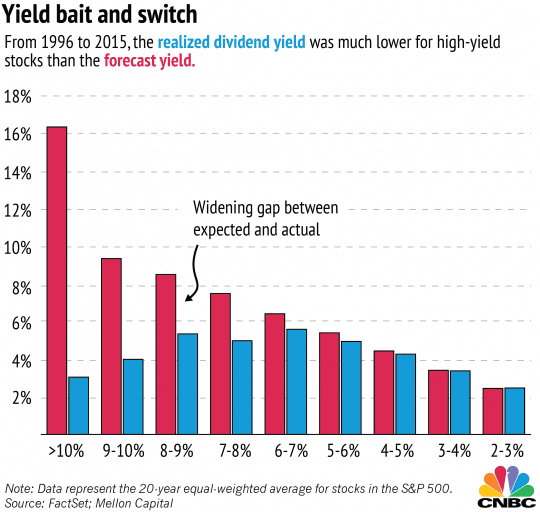 As you can see from the chart as expected yields increase realized or actual dividends fall short of expectations. The trade war uncertainty may persist with increasing internet coverage of safety strategies should things worsen, from dividend stocks to gold to bonds and going to cash.
Such advice rarely begins with the caveat against panic selling holdings in your existing portfolio. Safety strategies should first be an opportunity to invest available funds or profits taken from existing holdings. Incurring huge losses in search of safer assets may not pay off in the long run.
From a host of possible selections, the following table lists stocks in businesses not likely to falter even in the worst-case scenarios, such as a true fallout from the trade war or even a "hot" war between the US and Iran where tensions are currently mounting daily.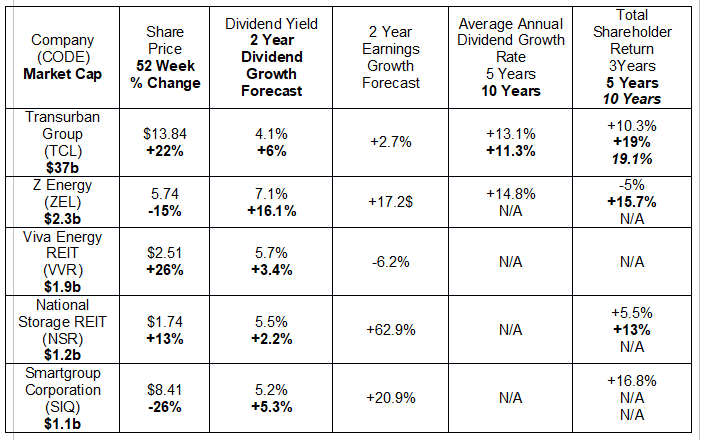 Transurban Group (TCL) is a developer, owner, and operator of toll roads here in Australia and in the US. The company's recurring revenue business model has turned in historical performance solid enough to merit the title of "bond proxy."
Fixed income investments, like bonds, solve the risk problem in challenging times but fail to deliver the higher yields of riskier stocks in recession-resistant sectors. Stocks that have the potential to deliver bond-like returns with low risk are known as bond proxies. Transurban fits that description and is also an excellent example of how a solid performer with a lower yield can outperform over time. The company has 17 roads and related infrastructure assets (bridges and tunnels) with the majority here in Australia and one in Canada and two in the US along with six projects under development. The company has grown revenue and profit in each of the last three fiscal years, with a four-fold profit increase, from $99 million in FY 2016 to $485 million in FY 2018.
Z Energy (ZEL) is dual listed on the ASX and the NZ, operating strictly in New Zealand. The stock is thinly traded, with 30-day average trading volume around 100,000 shares, paling in comparison to the others in the table, all averaging over 1 million shares, except for Smartgroup with 785,000 shares. The company is in the downstream end of the oil business – from refining direct to end-users. Z Energy's assets include service stations for retail customers and distribution networks for commercial fuel customers from trucking and shipping companies to vehicle fleet operators to the airlines.
The company has a minority interest in New Zealand's only oil refinery along with ownership of more than 208 service stations, 160 truck stops, and infrastructure assets across the country including pipelines and bulk storage and terminal facilities. Z Energy also supplies bituminous asphalt to road contractors.
Viva Energy REIT owns and leases more than 450 service stations across Australia. The company acquired 16 new sites in FY 2018 at a cost of $129 million and has a pipeline of potential sites for acquisition totaling $130 million for FY 2019. The company listed on the ASX in August of 2016 with an opening trading price of $2.50.
National Storage REIT(NSR) owns and operates more than 127 self-storage facilities with a total of more than 68,000 storage units across Australia and New Zealand. The company serves both residential and commercial customers, offering specialised storage as well, from wine storage to vehicle storage to records storage.
Smartgroup Corporation Limited (SIQ) offers specialised employee management services to a diversified customer base, with most qualifying as "recession proof." The company's customers include not for profit and for profit organizations, healthcare and education providers, and federal and state and local government agencies.
Services range from employee vehicle leasing as part of employer salary packaging (novated leasing); salary administration and payroll management; fleet vehicle purchasing and management; and share plan administration. Smartgroup listed on the ASX on 13 July of 2014, with an opening price of $1.51, rewarding early shareholders with stock price appreciation over 450%. The company has increased dividend payments, revenue, and net profit in each of the last three fiscal years, with its share price appreciation over the last five years the best of any share in our table.