Now this is not the end. It is not even the beginning of the end. But it is, perhaps, the end of the beginning.
The famous quote comes from a speech delivered by UK Prime Minister Winston Churchill in 1942, following the British victory at the Battle of El Alamein in North Africa. The meaning of the quote was clear – the country and the world had been through a lot but there was still a long way to go.
There are those of the opinion the crisis would not abate until we got a clear signal the worst of the COVID-19 pandemic was ending. In the first weekend of April the news from around the world shouted a slowdown in the number of new cases reported. For others, a slowdown is not enough, claiming the end will only come when a vaccine emerges.
On the first trading day of the week global markets, apparently eager for a return to a Bull Market, rallied. The uptrend continued for the week, despite the US unemployment claims released on the morning of 9 April once again coming in worse than forecasted, with 6.6 million new filers versus 5 million expected. The news was preceded by an announcement from the US Federal Reserve highlighting the injection of another $2.3 trillion to help small and medium sized businesses and state and municipal governments.
The US markets chose to follow the Fed rather than the troubling unemployment figures, with the DJIA (Dow Jones Industrial Average) up 500 points shortly after opening.
In a shortened trading week, the ASX S&P 200 index rose 3.46%, bringing weekly gains to 6.7%, besting the prior week gains of 4.7%. This week's 6.7% gains marked the best trading week on the ASX200 since 2011.
US markets also had a shortened trading week, with the DJIA posting a 12% gain for the week and the S&P 500 – the favored index of the professional trading community – rising 12.1%, its largest weekly gain since 1974.
So, what is the retail investor make of the slowing down of the spread of COVID-19 and the market reaction to that news?
From the Australian Department of Health, we can see cases here in Australia are receding.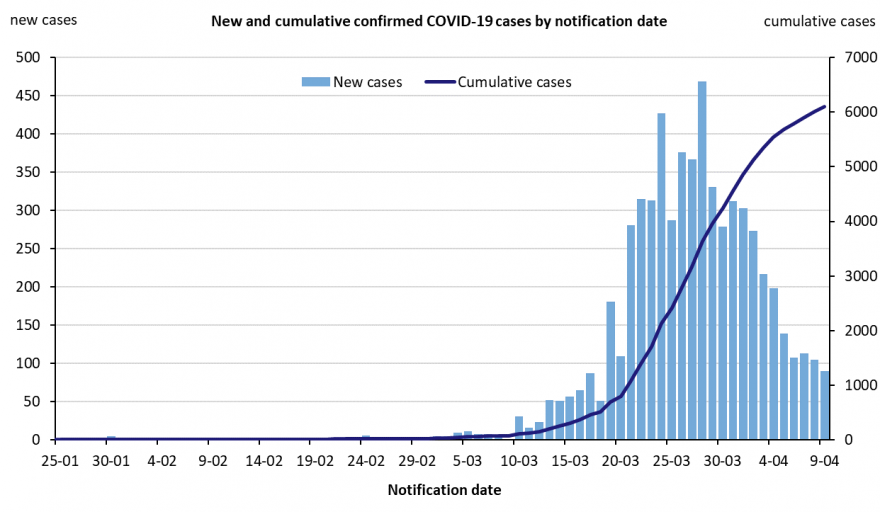 As of 9 April the Department of Health announced the number of new cases dropped below 100.
Globally new cases have ticked up slightly as of 7 April, following substantial declines in that first weekend of April.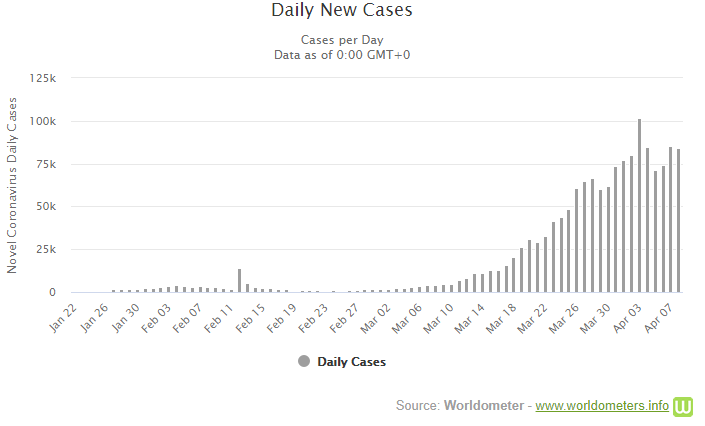 Conventional wisdom appears to be cautiously optimistic that the market bottom is in, and we may be able to look forward to a reopening of economies in parts of the world. The dire economic consequences of this crisis appear to be "baked in" to markets, as evidenced by the US markets response to the staggering rise in unemployment.
However, many economic experts are warning there is more bad news to come. The chief economist and head of investment strategy at AMP Capital (AMP), Shane Oliver, is one of them.
There are others already engaged in speculating on how quickly the lockdowns of economic activity here and around the world will last and how quickly economies and daily lives can get back to "normal."
On 3 April Australians received a mixed message from PM Scott Morrison. While hailing encouraging signs, Morrison warned the trend of lowering infections is not guaranteed and urged Australians to be patient:
Patience must become the virtue of Australians over the next six months, at the very least. It could be longer. We pray it's shorter.
Beyond the uncertainty of when COVID-19 will be fully contained there is the issue of what the world will look like in the aftermath. A dwindling number are predicting a quick snap back of domestic economies. Others argue in favor of a "new normal" where people may be more inclined to shop online and less inclined to gather in large crowds.
Many are predicting tailwinds for some sectors, most notable among them healthcare. Something that is not getting much attention these days is the impact on the pubic of COVID-19 which is the second global pandemic besetting the world in little more than a decade, the first being H1N1 or Swine Flu, originating in the US in 2009. And now we are faced with the uncertainty of "second waves" of COVID-19, supporting the view this will not truly end until a vaccine becomes widely available.
Both camps – those predicting the long view of a return to full bore economic activity and those pushing a return in the coming months – face the question of what follows. Will we see a return to normalcy, or will some sort of "new normal" emerge?
While it is debatable how much consumers will return to their pre-COVID-19 spending habits, it is hard to imagine anything less than a shift in how consumers think about and manage their own health. We now know it is not just the elderly and infirm being ravaged by COVID-19.
Consumers of all age groups are highly likely to take a greater interest in getting healthier, staying healthier, and monitoring their own health. This suggests more monitoring and more interaction with healthcare professionals.
Across the world, fear of the virus has spiked the use of telehealth, or telemedicine, with consumers becoming accustomed to the more convenient and less costly digital or telecommunication with healthcare professionals. An article appearing in finfeed.com cites a pre-COVID-19 report by Markets and Markets estimating the Wireless Health market will reach US$110.12 billion by 2020 from US$39.03 billion in 2015, at a CAGR of 23.1%.
There are a number of ASX stocks in the telemedicine space to consider, with long-time ASX blue chip Telstra (TLS) being one of them. Telstra Health is already Australia's largest provider of software solutions for both healthcare providers and funders. Back in 2015, Telstra Health launched ReadyCare, a phone or video telemedicine service connecting Australians with GPs for medical advice, treatment, diagnosis, and prescriptions.
Telstra shareholders have suffered since the NBN came into play, but the company appears determined to restart growth, cutting dividend payments to increase available capital for anticipated growth, especially with 5G on the horizon. The company was one of the few on the ASX to maintain its prior guidance for the Full Year 2020.
COVID-19 affects the respiratory system. Since the turn of the century this is the third occurrence of a virus impacting respiration. As such, it is likely increased concern over respiratory viruses will act as tailwinds for three ASX stocks introducing telehealth diagnostics and management for respiratory disorders:
ResMed Inc. (RMD) Market Cap $9.1 Billion
ResApp Health Limited (RAP) Market Cap $127 Million
Respiri Limited (RSH) Market Cap $43 Million
Respiri is in a voluntary suspension following a successful capital raise. All three stocks have seen share price declines with only ResMed slipping back into positive territory over the last three months.
ResApp Health shareholders were crushed with a double dose of bad news driving the share price already in decline into a tailspin.
First, global healthcare leader Sanofi decided not to enter into negotiations for a direct to consumer product under development by ResApp.
Second, the US FDA did not grant the company's request for a De Novo classification for ResAppDx-US, asking for "more information. The product – a smartphone-based acute respiratory disease diagnostic test has already been CE Marked in Europe (ResAppDx-EU) and has been approved by the TGA (Therapeutic Goods Administration) for use here in Australia.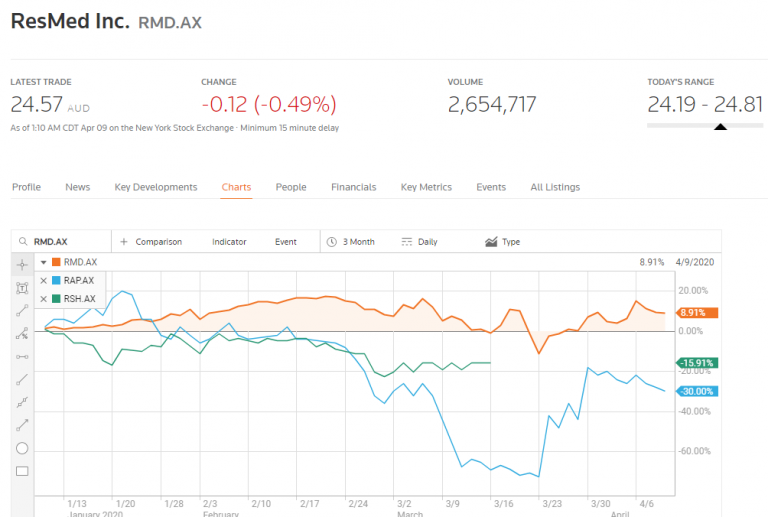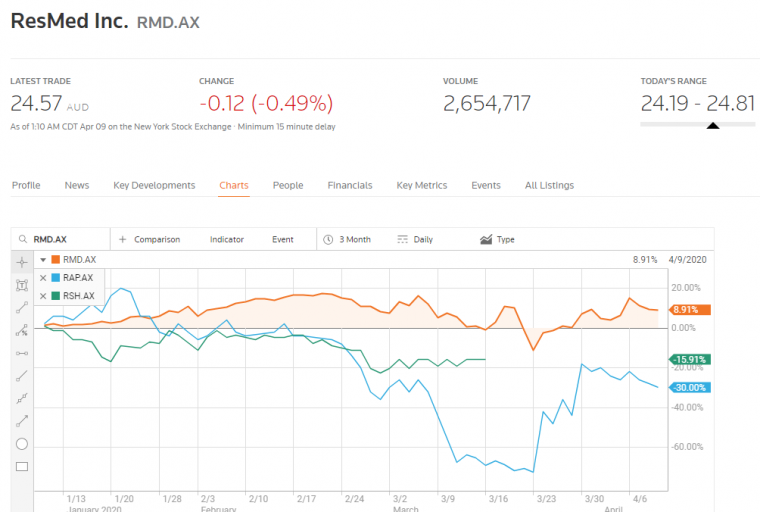 ResMed is best known for its extensive line of products for the treatment of respiratory related sleep disorders but the company also makes other sophisticated equipment for treatment of respiratory issues, including ventilators now in demand world-wide. For FY 2019 ResMed posted a 17% revenue increase along with a 35% profit increase. Shareholders have been blessed with outstanding total returns of 40.3% over three years; 26.4% over 5 Years; and 22.6% over ten years. The company, global in scope, has an extensive digital health network built into many of its products, allowing remote diagnostics and monitoring.
ResApp, despite its recent setbacks, has a technology gaining attention – smartphone apps that rely on sound alone. The "De Novo" classification is given to "novel" medical devices with no approved competitive products in the market. The company has requested an in-person meeting with the FDA Review Team to discuss next steps, including a possible resubmission. In Europe, a CE Mark is a certification the medical device "conforms with health, safety, and environmental protection standards" for products sold in Europe.
The share price got a boost on 30 March when ResApp announced a binding commercial agreement with Coivu, a privately held leader in Australian telehealth, to incorporate ResAppDx-EU ResApp into Coivu's existing telehealth platform. Physicians using the Coivu platform can now perform a respiratory assessment remotely.
The company has yet to generate revenue and has disappointed investors before. Over five years, ResApp's total shareholder return averaged +81.1%, which dropped to -18.7 over three years attributable to the steep decline in share price following disappointing clinical results for one of its smartphone-based diagnostic apps for respiratory care for infants and children via cough sounds.
Respiri Limited already has three devices for respiratory diagnosis of asthmatic conditions and management in development with one nearing FDA application. The company is not generating revenue or profit.
The company's ARM™ technology digitally records airway sounds, or wheezes, transfers the data via Bluetooth to a smartphone where the ARM™ algorithm technology analyses the data and stores the findings in the cloud.
The patented Wheezo ® system has been approved by the TGA here in Australia and is CE Marked in Europe. Funds from the recent capital raise will be used to engage the services of a regulatory consultancy firm to assist the process, now underway, of applying for FDA approval in the US. Respiri is anticipating FDA approval for Wheezo ® by November of 2020 with a commercial launch planned for the end of 2020.
The company is also developing the PulmoTrack® Computerised Wheeze Detection System for hospital and clinical use and Wholter ®, an in-home asthma monitoring and recoding system, with the possibility of upgrading to wireless capability and app function.