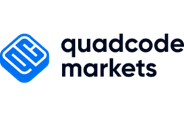 Quadcode Markets
Regulated Australian multi-asset CFD broker
Free demo account with a replenishable $10,000 balance
User-friendly platform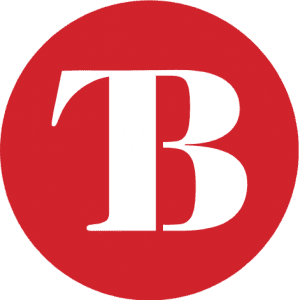 Review from
Ruben Wunderlich
About Quadcode Markets
Quadcode Markets is an Australian-regulated multi-asset broker, offering a wide array of assets on its easy-to-use and set-up trading platform, for investors looking to augment their investment portfolio with foreign exchange (Forex), stocks, commodities, and cryptocurrencies.
Quadcode Markets is an able partner on your journey.
Quadcode Markets is also an official global partner of the Davis Cup finals 2022, the premier international team competition in men's tennis and the world's largest annual international team competition in sport, with 142 nations entering in 2020.
A competition of such a high level requires a prestigious sponsorship with a company that understands the ideals of this championship.
Selecting a broker should not be taken lightly. One might consider the following factors:
Fees associated with the broker's services
Range of financial products and investment options offered
Systems and tools provided to the customer
The level of customer service and support
The broker's regulatory status and reputation
Fees associated with the broker's services
In order to start trading on Quadcode Markets, you can register an account and begin using the Practice account for free. If you decide to make a deposit, you will need to pass the verification procedure to ensure the safety of your account.
The spreads are competitive for a CFD broker, with pricing guidance available on the website.
Range of financial products and investment options offered.
For the investor or trader looking to access the most talked-about and visible financial assets, Quadcode Markets facilitates trading in major forex, stock, commodity, and crypto markets via its contract-for-difference (CFD) platform. As of January 2023, there were 192 stocks, 33 currency pairs, three commodities, and 23 indices, representing trillions of dollars in daily trading volume.
The leverage, margin, swap percentage and trading hours for each forex pair are listed on Quadcode Markets' website. You can find the details for each forex pair and all other instruments the broker offers under the 'Trading Specifications' tab on the main website's homepage.
Systems and tools provided to the customer.
Intuitive access via mobile and desktop, Android, Windows, and macOS, Quadcode Markets supplies a lightweight yet powerful trading platform to all customers.
Once you have completed the appropriate account creation and due diligence documentation, head to the website to download Quadcode Markets' trading tool.
The level of customer service and support
Quadcode Markets operates a telephone support line 24/7 as part of its commitment to provide excellent service for its clients. The website is also available in 6 other languages including French, Italian, Spanish, German, Portuguese, and Dutch.  Quadcode Markets goes above and beyond in this critical component of its business operation.
The broker's regulatory status and reputation
Quadcode Markets is regulated by one of the most reputable international trading commissions, the Australian Securities and Investments Commission.
To protect its customers and ensure a fair operating space for all its key stakeholders, Quadcode Markets dutifully completes due diligence on every customer before the commencement of trading. More information can be found
For example, upon completion of the Know-Your-Customer (KYC) documentation before the commencement of trading in international share CFDs, you, as a new customer, will be found to be:
Above 18 and below 75 years of age
Have a prerequisite knowledge of CFDs
Known to be able to understand the risks involved and able to accept the losses
Have a high-risk appetite
Be investing with a short-term horizon
Products and Trade Offers
Quadcode Markets has created an accessible platform for international markets. For those looking for round-the-clock access to the most-talked-about assets, Quadcode Markets is an excellent entry point.
Fully regulated in Australia
Good range of markets
More than 100 technical indicators
Account opening is quick and easy
Replenishable demo account
Educational support via video tutorials and market news
A limited number of assets in some categories
No MT4/MT5 trading
Commissions and Fee Charges
As mentioned above, there are no direct commissions, with broker charges taken from the spreads. While this can sound like an advantage, and many traders prefer this model, it does mean that it can be harder to predict exact trading costs due to dynamic, constantly changing spreads on each instrument.
Quadcode Markets states: "Spread may vary depending on market conditions and liquidity. Under certain circumstances, spread may be either higher or lower than the level indicated in our table. Also, please pay attention to the overnight funding charged for keeping your positions open."
As is typical with this kind of broker, swap fees are charged on positions held open overnight according to interest incurred, or earned, from the date and time the position was opened until it is closed. If there are not enough funds in your trading account to pay these fees, then in accordance with the broker's negative balance protection policy, your open position will be automatically closed. Swap fees are typically charged between 0.01% and 1.7% but are subject to change.
Other than regular trading fees, Quadcode Markets levies additional charges, including withdrawal fees, when you withdraw money via bank transfer or other payment methods; however, it depends on your country of residence. Bank transfer withdrawals will result in a fee of $31, which is a little steep if you are withdrawing a relatively small amount, so be aware of this when planning your withdrawals. There is also a potential inactivity fee that may be charged on any account that remains unused for 90 days.
What Others Say
Because it is a relatively new broker, few sites have published a Quadcode Markets broker review. However, the broker has already received nominations in several categories.
Forex-Awards.com has listed Quadcode Markets on its nominations shortlists in five different sectors:
Best Trading Platform Australia – LeFonti Awards (2022)
Most Innovative Trading Platform Australia – World Business Outlook (2022)
Best Trading Platform – Forex-Awards (2022)
Best Forex Broker Australia – Forex-Awards (2022)
Best Forex Mobile Application – Forex-Awards (2023)
Best Trading Experience – Forex-Awards (2023)
Most Transparent Broker- Forex-Awards (2023)
Forex-Awards described Quadcode Markets as "a state-of-the-art Australian broker with a high-tech trading platform. It offers over 200 assets and four different CFD trading instruments, namely: Forex, Stocks, Commodities and ETFs. Its traderoom features many useful tools for both novice and professional traders."
Customer Service
As part of our Quadcode Markets review, we tested the various customer service channels available and found responses reasonably fast and, on the whole, satisfactory. There are various ways to get in touch. Clients can email customer service at [email protected] and will receive an automated confirmation of their email followed by a quick reply to address the issue raised.
There is also a phone line you can use to contact Quadcode Markets (1300 531 002), though many online traders will find this is the least convenient way to get in touch unless you have an issue that requires a quick back-and-forth conversation with a member of the support staff. The support team is available to respond to requests seven days a week. However, you may wish to take advantage of the chat facility via the traderoom.
Quadcode Markets has certainly made every effort to design its site to ensure customer support enquiries are kept to a minimum. While there is no dedicated FAQ page, each section of the site is designed to answer any questions you may have. A list of downloadable documents on the site's Legal Documentation page covers almost anything you need to know before opening an account.
Platform Features and Tools
As already mentioned, we discovered during our Quadcode Markets review that the firm uses its own proprietary trading platform, which it claims is designed to address traders' demands and pain points and is more "lightweight, structured, and intuitive" than other platforms.
There is no steep learning curve with this platform if you are already used to trading with any standard forex platform; however, it may be quicker and easier for beginners to get started with this very structured and more intuitive interface.
Like other platforms, the Quadcode Markets trading platform comes with a good range of built-in technical indicators and widgets and includes a market news feed and an economic calendar. Don't forget there is a demo account available, so there is a chance to familiarise yourself with the platform before committing to a live trading account.
The demo account provides access to all the same features, allowing you to practice trading strategies, including trying out different order types and technical tools. Just be aware, as always, that trading with a demo account does not always allow for the exact replication of the fast pace at which the real markets move and the resulting slippage and requotes you are likely to experience with real-world trading. Demo accounts are great for getting a feel for things on a new platform but never truly replicate trading in live markets.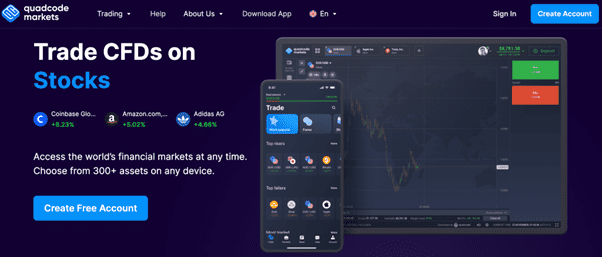 Mobile Trading
In conducting our Quadcode Markets broker review, we discovered that, like most modern brokers, it is set up for mobile trading via the responsive mobile site and an app available for Android devices, which can be downloaded from the Google Play Store as well as an app via the Apple App Store.
The app is set up to allow you to manage your portfolio, monitor the markets, open and close positions, and manage your investments on the go.
As part of our Quadcode Markets review, we also tried accessing the platform from Apple devices, including an iPhone 13. It worked well, meaning that downloading an app is not vital. Like most modern broker sites, Quadcode Markets is designed to be mobile responsive, so whether or not you want the app on your phone is a matter of personal preference.
Robo Trading
While Quadcode Markets does allow for a certain amount of automation, it does not provide the same robo-trading opportunities as some of its competitors. If robo-trading is your primary focus, this is likely not the best choice for you as a trader.
However, it is possible to automate your trading to a certain extent, as on any platform that allows you to place a range of order types, such as stop-loss and take-profit orders. You can also set up automated alerts regarding price changes on specific assets, for example, to allow for positions to be opened quickly and closed when certain pre-specified conditions are met.
Research and Learning Section
Unlike some brokers, Quadcode Markets does not have a dedicated education portal open to general site visitors, but this does not mean the broker doesn't provide education and training for its clients. On the contrary, the site is well laid out to guide new and more experienced traders who may be new clients through the process of getting started on the platform and trading successfully.
New clients can click the 'How To Start' tab in the main menu for a guide on how to set up their account. Once their account is set up and verified, they will have access to a virtual tour of the platform, complete with platform video guides and tutorials on trading basics, which you are advised to watch before getting started.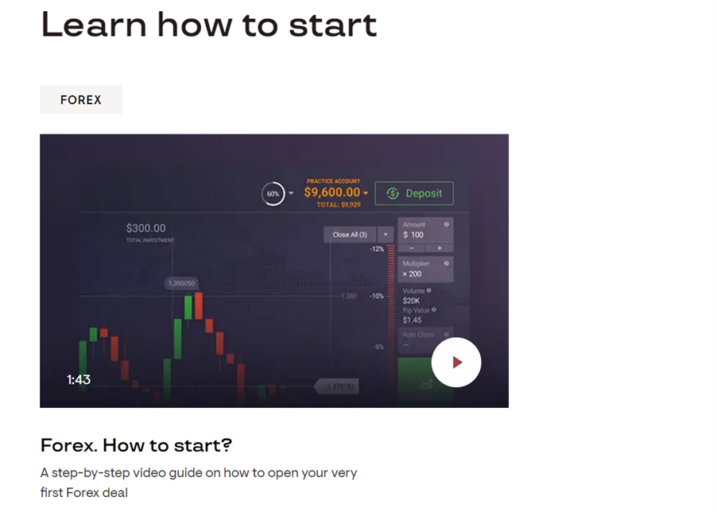 If you are curious about how the platform works, before signing up, there is also a 'How it Works' section, accessible from the homepage, which will show you the basics of how to use the site. It is a short video showing what the platform looks like, how and where to find the assets available, how to select an asset, how to open a position, how to specify a lot size, and more. The guide will show you where your spread and margin will be confirmed, where to set stop-loss and take-profit limits, and how to close your position manually if needed.
Be aware that you will also have access to a market news feed after you have signed up, with some analysis of what the day's news means for the markets and your trading activities. While the education and research provided at Quadcode Markets may not be the best or most comprehensive in the industry, we found it to be beneficial at a basic level and excellent for new traders who need a step-by-step walk-through of things such as how to open and close positions, set limits, and identify what the spread and margin on each trade will be.
Regulatory Details
Quadcode Markets operates under an Australian Financial Services Licence (AFSL) provided by the Australian Securities and Investments Commission (ASIC), which authorises the firm to offer financial products, including derivatives such as CFDs.
Quadcode Markets defines which services it is authorised to provide in its Financial Services Guide. In its Target Market Determination documents, it outlines who each of the financial products it offers is suitable for.
The firm seems to follow all best practices regarding protecting clients and, under the authorisation of ASIC, is obliged to meet specific requirements regarding the safety and security of all services provided.
Take a look at the firm's Legal Documentation and Policies if you have any doubts or want to learn more about the company and its commitment to its clients. Here, you will find the Quadcode Markets Client Agreement, Product Disclosure Statement, and Hedging Policy, among other documents that all clients should take a look at before signing up and depositing funds with the company.
OUR SUMMARY
Ultimately, our Quadcode Markets broker review found that this firm has some attractive features for traders that fall under both professional and amateur labels. The combination of the high-tech and intuitive trading platform, easy sign-up process, low minimum deposit, and easy-to-follow trading tutorials means all customers can have a seamless start to their trading journey.
In particular, for the newer trader, a replenishable demo account with a virtual balance of up to $10,000 is a welcome feature. Fees and charges are in line with many of the broker's competitors, though we don't like the fact that there are potential withdrawal fees (depending on the method used and country of residence). The inactivity fee is also one to be wary of for less active traders, though it does not kick in until your account has 90 days of inactivity.
The range of markets is good; with over 200 assets and four different trading instruments available. Lastly, there are several technical analysis tools and a market news feature so traders can easily combine technical and fundamental analysis to support their trading goals.
The support specialists provide support seven days per week to ensure that traders receive the best support and can be reached via telephone, email or via the chat facility in the traderoom.
BACK TO TOP