On the morning of 27 February in the US an increasingly fearful global investment community reacted to twin worries coming from the WHO (World Health Organisation) and international investment banking giant Goldman Sachs (NYSE: GS).
First, seven new countries — Brazil, Georgia, Greece, North Macedonia, Norway, Pakistan and Romania – have reported coronavirus cases over the last day.
Second, Goldman Sachs broke from the conventional Wall Street wisdom that US companies will grow earnings by 7% in 2020, shocking investors with its revised forecast of zero growth.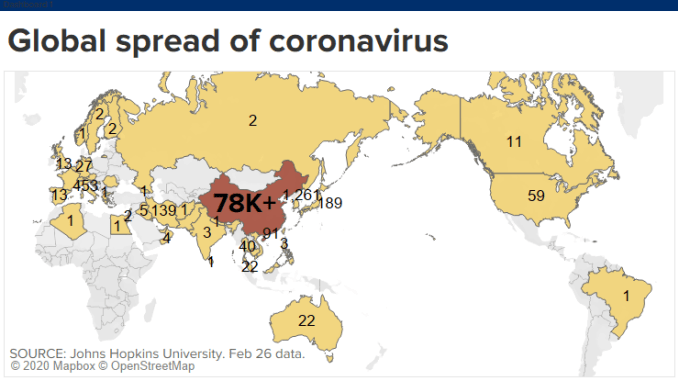 Both US and European markets have now slid into "correction territory" – a drop of 10% or more from recent highs. The US Dow Jones Industrial Average (DJIA) dropped 950 points in early trading on that day but reversed the trend by midday, down 275 points. At the close of trading the DJIA was down 1190 points, or 4.42%.
Investors everywhere alarmed by the growing number of blue-chip companies warning of revenue/earnings fall due to the coronavirus, with Microsoft being one of the most recent, may be ignoring other developments.
Here in Australia in recent days, a number of companies have reported solid financial results and have not included warnings about negative impacts due to the virus. One – medical device manufacturer Fisher & Paykel (FPH) — noted a demand boost for some of the company's respiratory protection products.
It is likely the share price of these companies could get dragged down in the panic, but investors with nerves of steel may see opportunities here.
The following table includes four stocks with solid historical performance records and double-digit two-year earnings growth forecasts, although should conditions worsen to the point of impacting these companies those forecasts could be cut.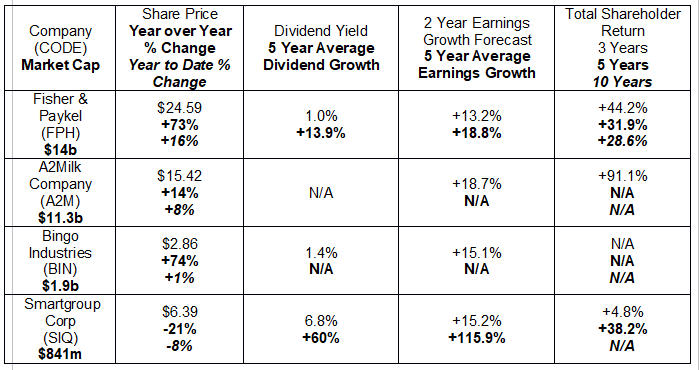 New Zealand based Fisher & Paykel (FPH) began developing humidification systems to improve respiration and has since expanded globally, now augmenting its core respiratory products with products for acute care, surgery, and the treatment of obstructive sleep apnea.
The company has grown both revenue and profit in each of the last three fiscal years, with 2020 Half Year Results showing a 12% revenue increase and a 24% rise in net profit after tax (NPAT.)
In the midst of company after company issuing warnings, Fisher & Paykel came out on 21 February and raised its 2020 Full Year guidance for both revenue and profit.
In addition, the company announced the coronavirus outbreak has increased Chinese demand for some of its products.
However, although Fisher management stated they do not see a supply problem, they will continue to monitor the situation should the "outbreak escalate or last for a prolonged period."
The a2 Milk Company (A2M) has achieved "gold standard" status in the infant formula space, with expansion into the lucrative Chinese market key to the rising stock price. The company listed on the ASX in March of 2015, with a new entry into the space – Bubs Australia (BUB) — reverse mergering its way onto the ASX in January of 2017. From the ASX website here is a price movement comparison of the two companies.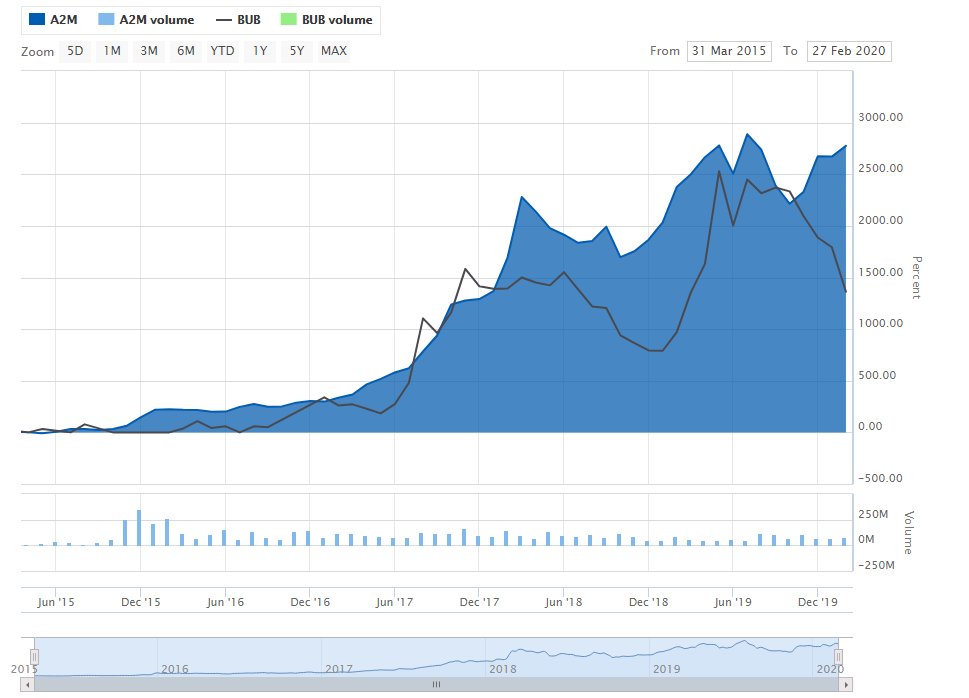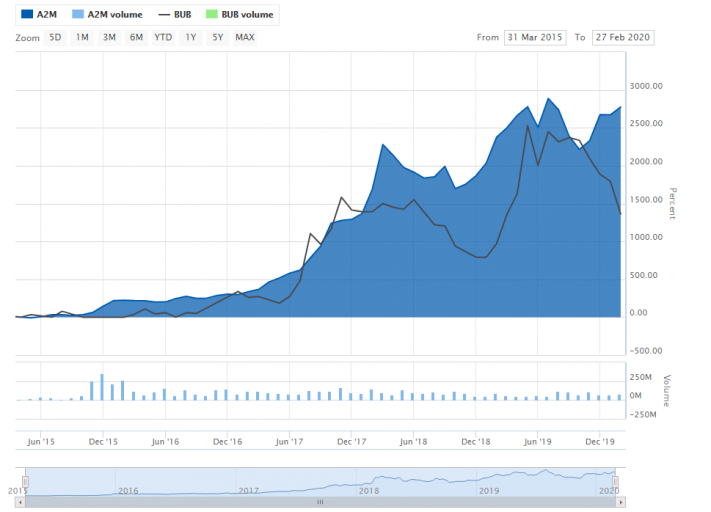 While both companies have rewarded investors handsomely, the comparison shows a marked and dramatic difference between the two. While both dropped in response to the early news of the coronavirus in China, the BUB share price has continued to fall while A2M reversed its downward trend within days culminating in the company's Half Year 2020 Results presentation announcing solid results and pointedly stating the "coronavirus outbreak has so far had little impact on strong demand for its infant products in China." Another company in the space, Synlait Milk (SM1) included a coronavirus warning in its results announcement.
While acknowledging uncertainty regarding consumer demand and supply chain issues in China, A2M management maintained its previously announced upward guidance for the Full Year 2020.
A2M has increased revenues and profits in each of the last three fiscal years, with FY 2017 revenue increasing 138% to FY 2019 and profit rising 220% over the same period.
The remaining stocks in the table have no direct exposure to China, with operations serving Australian businesses and consumers with limited international exposure. To some then it comes as no surprise these companies did not warn of the potential impact of the virus on their revenues/earnings. To others, the silence suggests a confidence, perhaps mistaken, in the businesses they serve. A general slowdown or worse in Australian companies could impact their domestic suppliers.
Smartgroup Corporation (SIQ) provides of a variety of employee management services to Australian corporations, government organisations, healthcare and education providers, and non-profits. On 26 February an article appeared on Bloomberg.com entitled "The World's Most China-Reliant Economy Reels From Virus Shockwaves." The economy in question is ours and common sense suggests if enough Australian businesses begin to suffer, the impact will find its way to the business to business providers that serve them.
An article appearing on the Business Insider Australia website claims Australian Universities are at risk of losing $2.8 billion in revenue due to the coronavirus. This figure ignores the economic contribution students from China and elsewhere make to our economy outside the university tuitions, fees, and living expenses. They eat, they shop, and they visit Australian tourist attractions.
The services offered by Smartgroup include salary packaging, fleet management, payroll services, and workforce management software. Some of these are discretionary services currently outsourced to companies like Smartgroup but could be brought inhouse as a cost control measure.
The company's Full Year 2019 Financial Results released on 19 February were modest at best, with revenues increasing 3% and NPAT up 4%. Management attributed the less than spectacular results to "industry headwinds," citing declining vehicle sales and regulatory challenges stemming from the Haynes Commission looking into misconduct in the financial services sector.
The company issued no guidance for 2020 and made no comment about the potential impact of the coronavirus on its business. Smartgroup offers a broad array of services to a customer base spanning virtually every aspect of the Australian economy, suggesting short of a complete economic meltdown, Smartgroup could continue its steady progress, with a history of modest revenue and profit increases in each of the last three fiscal years.
Investors were pleased with the results, but the share price has fallen since, leaving the company with a low P/E of 13.70 and an attractive P/EG (price to earnings growth) of 0.90.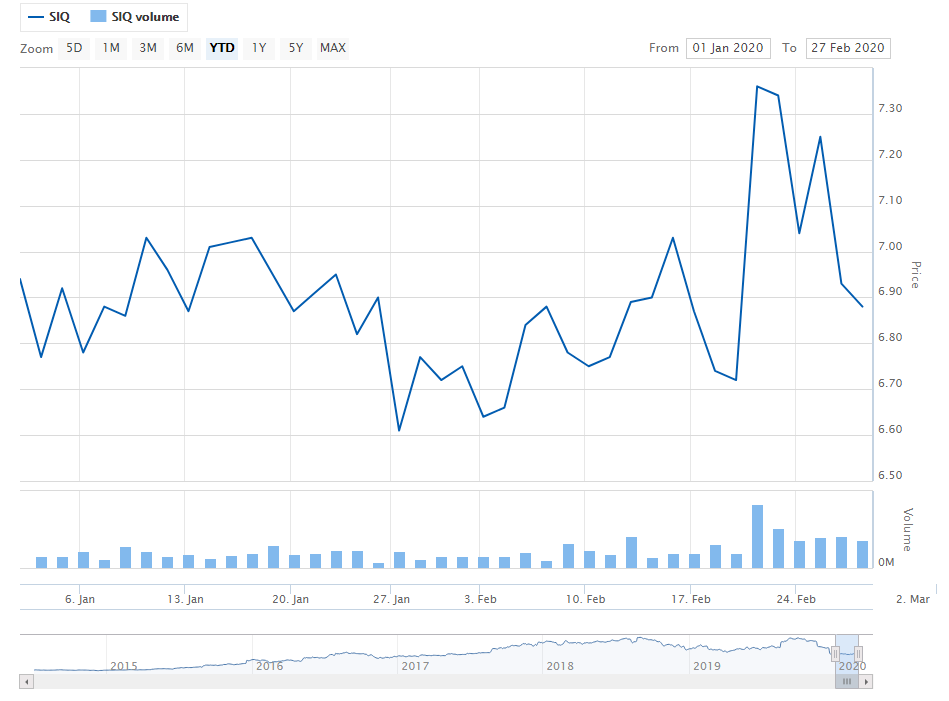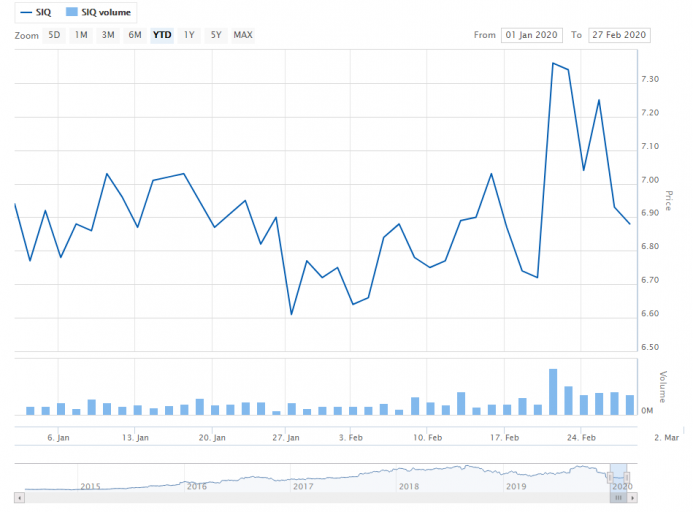 Some investors prefer stocks of companies with exciting business models. Bingo Industries (BIN) is among them. To its investors, the company operates in the waste management sector, but to some cynics, it is a garbage collector. The company also operates recycling centres in New South Wales and Victoria where it produces a brick/concrete aggregate product.
Bingo listed on the ASX in May of 2017 with its share price up 75% since then. The company has posted solid revenues over the last three fiscal years — $209 million in FY 2017, $300 million in FY 2018, and $396 million in FY 2019. Profit rose from $19.8 million in FY 2017 to $38 million the following year before falling to $22 million in FY 2019.
The company's 2020 Half Year Financial Results announced on 20 February at first delighted investors at the news revenues rose 50.7% and statutory NPAT (including acquisition costs and profit from asset sales) went up 185.9%. The share price shot up 8% before investors digested Bingo Management's statement that collection margins would moderate slightly in the second half of the year. Investors punished the company driving down the share price from a 52-week high of $3.47 to close at $3.00. The explanation attributing the change to licensing modifications at one facility and increased capacity at two others fell on deaf ears.
Unlike Smartgroup, Bingo Industries offers services that cannot be "insourced" as a cost control measure. The risk to Bingo might be a full-blown recession, complete with business slowdowns and bankruptcies. Many economic experts see that as an unlikely scenario.
In New York the DJIA rallied minutes before the close on the last day of the trading week, rising from a drop of 1,000 points to close down 357 points.
The S&P/ASX200 index finished on Friday down 216.7 points, or 3.25 per cent.
Some experts are cautioning investors that the adage to "buy on the dips" may not apply here. Few, if any, historical market selloffs occurred in a globally interconnected economy where a principal supplier of many things – China – is sure to see its economy disrupted and no one as yet has any idea how bad it will be.