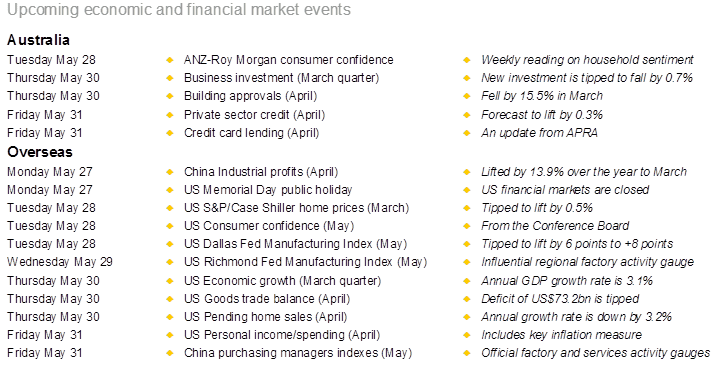 Australia: Business investment and credit growth data in focus
• In the coming week updates on business investment, building approvals and credit growth feature on the data docket. The figures on investment spending will help formulate views on economic growth for the March quarter.
• The week kicks off on Tuesday when the weekly Roy Morgan-ANZ measure of consumer sentiment is released. Consumer reaction to the re-election of the Morrison government and new Reserve Bank commentary on interest rates and the economic outlook will be closely observed.
• On Thursday the Bureau of Statistics ('ABS') issues the publication "Private New Capital Expenditure and Expected Expenditure" for the March quarter. In the December quarter new business investment (spending on buildings and equipment) rose by 2 per cent to be up 1.9 per cent over the year.
• The report also includes estimates of future investment. The first estimate of spending in 2019/20 was $92.14 billion, up 11 per cent on the first estimate for 2018/19 and the strongest growth in seven years.
• Commonwealth Bank Group economists forecast new business investment (spending on buildings and equipment) to fall by 0.7 per cent in the March quarter.
• Also on Thursday one of the major leading indicators for home building – council approvals to build new homes – is released. Approvals fell by 15.5 per cent in March to be down by 27.3 per cent over the year.
• In March, the total number of new council approvals on a rolling annual basis fell below 200,000 units for the first time since June 2014. While there is still a reasonably healthy pipeline of residential building taking place, dwelling commencements have fallen to three-year lows, reducing demand for residential construction workers.
• On Friday the Reserve Bank releases its "Private Sector Credit" data (a measure of loans outstanding). Annual credit growth fell to a five-year low of 3.9 per cent in March due to the decline in housing finance and falling home prices.
Annual investor housing credit growth is the weakest on record.
• Also on Friday the Australian Prudential Regulation Authority ('APRA') releases credit card data. Bank lending to households by credit card fell by 4.8 per cent in the year to March – the second biggest annual decline since June 2002. Debit cards and 'buy now, pay later' platforms, such as Afterpay, are increasingly being used by younger Australians to finance their purchases of goods.
Overseas: US economic growth and inflation data released after Memorial Day holiday
• The Memorial Day public holiday is observed in the US on Monday. Financial markets are closed. But over the week the second estimate of US economic growth, an update on US income and spending (including the US Federal Reserve's key inflation measure) and China's official factory gauge will dominate headlines.
• The week begins on Monday in China when industrial profits data is released for April. Annual profits for China's industrial companies grew by 13.9 per cent in March. Profit margins, however, are being pressured by slowing domestic demand and US tariffs on imported Chinese goods. That said, the cut in the Chinese government's Value Added Tax ('VAT') effective from April 1 may support profit growth for manufacturing enterprises.
• On Tuesday in the US, data on consumer confidence and home prices are issued with the influential Dallas Federal Reserve manufacturing index. And the regular weekly reading on chain store sales is scheduled.
• On Wednesday, the weekly mortgage applications data is released by the Mortgage Bankers Association. And the Richmond Federal Reserve manufacturing gauge is also scheduled.
• On Thursday data on pending home sales is issued with the advance reading on goods trade and weekly figures on new claims for unemployment insurance.
• Also on Thursday, the second estimate of economic growth (GDP) for the March quarter is released. The annual growth rate is forecast to be revised down by just 0.1 per cent to 3.1 per cent according to economists surveyed by Bloomberg. The composition of growth drivers will be of most interest to investors with household and government spending both slowing at the start of 2019.
• On Friday in the US, the Chicago business barometer is tipped to lift by 3.4 points to 56 points in May. In April, business activity in the Chicago region registered its biggest slowdown since January 2017.
• Also on Friday, the US personal income release includes a key inflation reading. The personal consumption deflator is the preferred inflation measure of US Federal Reserve policymakers. The annual growth rate of the core personal consumption expenditures price index is forecast to remain subdued at around 1.6 per cent in April.
• US Federal Reserve Chair Jerome Powell has cautioned that low inflation in the US is likely be "transitory". Chair Powell has cited categories including portfolio management and investment advice services, clothing and footwear, and air transportation for depressing prices. But rising gasoline prices and increased customs duties (such as tariffs) on Chinese imported goods are likely to boost US producer and consumer prices.
• On Friday in China, the National Bureau of Statistics manufacturing and services purchasing manager indexes are scheduled for May. Factory activity expanded at weaker pace in April after a solid rebound in March.
Published by Ryan Felsman, Senior Economist, CommSec