When share markets around the world plunged into Bear market territory in record time, investors worldwide wondered how long it would last. In a move expected by few, markets roared back into Bull market territory, also in record time.
Conventional wisdom explains this shortest Bear market ever recorded by pointing to the global slowing of the COVID-19 Pandemic. While some analysts say the markets have bottomed, they also caution there is more volatility ahead and there are those of the view the markets are overly optimistic.
The expectation the virus is coming under control may still yield unexpected results. Medical experts caution against the early re-openings of business operations in many countries, with speculation over the timing becoming daily fodder on financial websites. Some experts warn only a vaccine can effectively end the threat, and now we learn from a joint study from researchers in Australia and Taiwan a recently uncovered "mutant" strain of the virus threatens current work on a vaccine.
Markets are known to "price" or "bake" in expectations of negative outcomes into the pricing of stocks. In the current crisis, the investment community appears to believe the government funded economic relief efforts will cushion the blow. For the fourth week in a row the S&P/ASX 200 finished the week on an uptrend, gaining 1.31%.
To date, there has been precious little hard data on what COVID-19 is doing to global economies. Yet what little we have and what is now coming out of the US and China points to the same potential outcome – expect the unexpected.
Some investors rushing back into the markets appear comfortable ignoring the phrase gracing much of financial reporting today – "worse than expected".
At the end of February, we learned the Chinese PMI (Purchasing Managers Inventory) came in worse than expected at a record low. While here in Australia the latest unemployment reading came in better than expected, the data were from early March before the full impact of the virus was felt.
In the US where they report unemployment claims weekly, the posted numbers have been worse than expected for the last four weeks, with the current total erasing that country's job gains since the GFC.
Early earnings releases in the US from their big banks tell the same story – with the exception of trading revenues bloated by panic selling, earnings have come in worse than expected. Both US retail sales in March and the Empire State (New York) Manufacturing Index came in much worse than expected with each setting record lows.
The Chinese economic data released on 17 April presented somewhat of a mixed bag, although the contraction in GDP was the worst since the onset of GDP reporting there in 1992. GDP for the March Quarter came in better than expected with a decline of 9.8% versus a forecasted drop of 12%. The annual GDP for the year ending in March of 2020 came in slightly below expectations, with an actual drop of 6.8% versus a forecast of a 6.5% decline. Retail sales also came in worse than expected, with a decline of 15.8% versus the forecasted drop of 10%.
Here in Australia government officials disputed the IMF (International Monetary Fund) forecast of a 6.7% decline in Australia's GDP for the year, pointing to the massive amount of stimulus pumped into the economy.
Bullish investors reentering the markets would be wise to continue to expect the unexpected. Risk averse investors and others willing to settle for less than "to the moon" share price increases would do well to consider the relative safe haven of consumer staples, specifically food and household product stocks.
No matter what happens, we all have to eat and manage our households. ASX choices include the big blue-chip food retailers and select food producers.
Food retailers have a decided advantage over producers fulfilling the needs of "niches" in the overall food sector, from almonds to beef and chicken to eggs and fruits and vegetables to wine. The retailers house a broad inventory of foods and basic household items like soap, laundry, dishwashing and cleaning supplies, and paper towels and toilet paper.
None of the big retailers have fully escaped the claws of the Bear, but these are companies than will survive.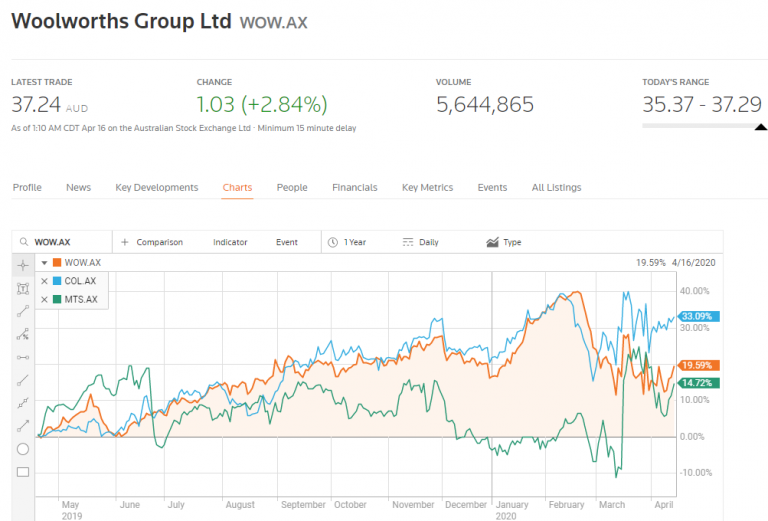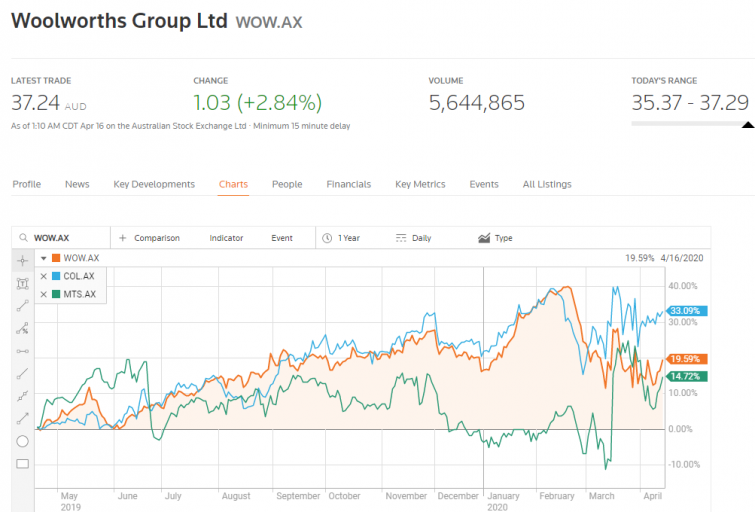 After a decade operating under the umbrella of ASX listed business conglomerate Wesfarmers (WES), management at Wesfarmers decided to spin Coles Group (COL) back into publicly traded status on the ASX in March of 2018. Since returning to the markets, Coles has rewarded its shareholders with total shareholder return over one year of 36.5%, with a current fully franked dividend yield of 2.5%. Coles is the second largest food retailer here in Australia, with more than 800 stores.
Woolworths Group (WOW) is a diversified retailer but the company's nearly 1200 supermarkets are its principal business, along with around 1500 liquor outlets and an assortment of home improvement outlets, petrol stations in conjunction with Caltex Australia (CTX), and general merchandise discount stores. The company pays a fully franked dividend with a current yield of 2.7% and has increased both revenue and profit in each of the last three Fiscal Years, with profit up 56% from FY 2018 to FY 2019.
Metcash Limited (MTS) is a diversified wholesale distributor serving independent food, liquor, hardware, and automotive parts retailers. The company's network of independent grocers includes more than 1600 stores, including the IGA and Foodland branded stores as well as convenience stores. The company's Independent Hardware Group (IHG) serves more than 650 independent outlets and around 2700 independently owned liquor outlets rely on Metcash for their supply.
Metcash and its vast network of independent groceries suffered during the "grocery price wars." The company had appeared to have regained its footing, coming back from an FY 2018 loss of $150 million dollars to a profit of $193 million in FY 2019. However, for the Half Year 2020 Metcash reported a loss of $151 million and in late 2019 the company lost its business with 7-Eleven Convenience Stores. The share price is up 25% in the last month. The company pays a fully franked dividend with a current yield of 4.4%. Metcash has a low P/E (price to earnings ratio) of 13.58, compared to the Food & Staples Retailing Sector average of 17.8. Despite its struggles, the company has rewarded its shareholders with total returns (share price appreciation plus dividends) of 21.3% over five years and 17.4% over three years. These total returns outpaced those of rival Woolworths where shareholders experienced total returns of 8.6% over five years and 15.4% over three years.
Right now, the ultimate safe harbor on the ASX may well be the top infant formula stocks, where demand seems to have remained untouched by the panic. The share price of sector leader the a2Milk Company (A2M) hit an all-time high on 16 April while newcomer Bubs Australia (BUB) presented an anxious market with the welcome news revenues for the company's third quarter leaped 67%, following a 36% rise in Q2. Bubs stands alone among infant formula producers with its goat milk-based product line.
The third company faring well is New Zealand based Synlait Milk Company (SM1), with A2M holding close to 20% ownership in Synlait, a supplier for A2M. All three companies have thrived over the last month.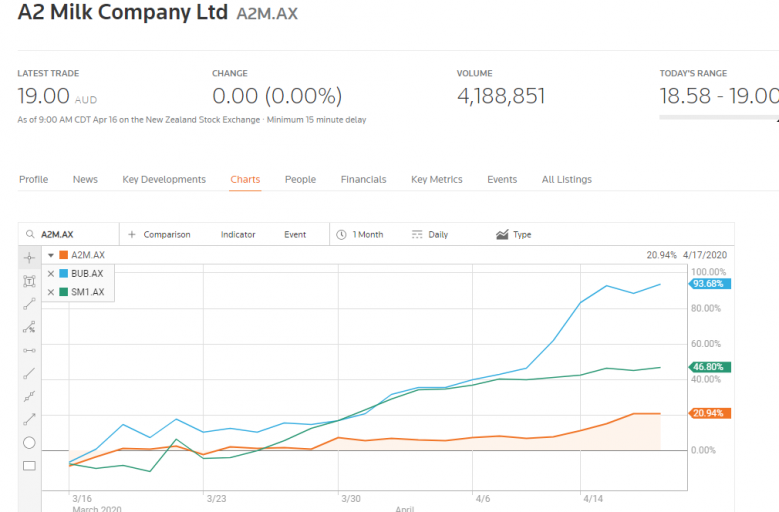 Some of the "niche" producers in the Food Sector suffer from an uncertainty shared by the majority of businesses relying on consumer demand. The ASX is blessed with a variety of quality seafood providers, chief among them Tasmania-based salmon producer Tassal Group (TGR). The company's salmon is relatively expensive when compared to other protein meat sources, like the chicken supplied by Inghams Group (ING).
While some are predicting a return to normal following the demise of COVID-19 post vaccine, others speculate consumers finding themselves without income or savings in the teeth of the crisis may alter their buying habits.
Inghams is a high dividend payer (5.2% fully franked) with a low P/E at 13.18, considerably lower than the sector average of 21.3. The company more than doubled its net profit over the last two fiscal years, rising from $59.1 million in FY 2017 to $126.2 million in FY 2019.