$1.6M Profitable 2019 with 50% Revenue Growth – Form 4E & Commentary
2019 Full Year Growth Highlights:
Revenue increased 50% to $17.1M (from $11.4M)
EBITDA profit increased to $1.6M (from -$7.3M)
Gross margin increased to 54% (from 38%, 42% growth)
Gross profit increased 216% to $9.3M (from $4.3M)
Net assets increased to $3.4M (from -$6.6M)
Net tangible assets grew to $384K (from -$9.1M)
engagezBDR ("EN1 or Company") (ASX:EN1 and EN10) is pleased to present its financial commentary for the 2019 calendar year. Management is excited to report, 2019 was a pivotal, successful and profitable year for EN1.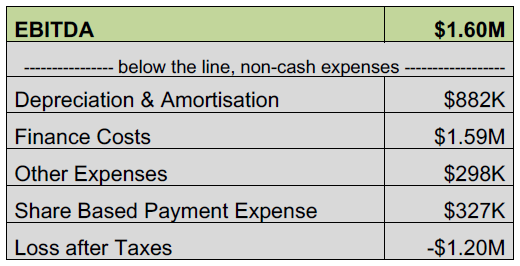 Revenue, Gross Profit & Margin Growth
Revenue grew to $17.1M, or 50% ($11.4M in 2018). Gross profit earned grew 216% to $9.3M ($4.3M in 2018). Additionally, gross margins grew to 54% from 38% in 2018, representing a 42% increase in the gross margin percentage.
EBITDA & NPAT
EBITDA in 2019 yielded $1.6M in profit. The key differences between EN1's EBITDA and NPAT figures are directly related to non-cash items interest expense (finance costs), depreciation and amortisation, other and share-based payment expenses which totaled $2.8M for 2019. The interest expense (finance costs) for 2019 was $1.59M; this includes the Company's factoring facility (7-8% APR), non-cash items (embedded derivatives) for convertible notes financing facility costs and commissions to brokers for attaining financing early in 2019. EN1's NPAT in 2019 was ($1.2M), a $9.6M improvement over 2018 ($10.8M).
2019 Accomplishments to Goals
On 11 February 2019, EN1 announced the Strategic Plan to Profitability with Key Milestones for 2019. Within this plan, EN1 committed to achieving specific milestones within certain timeframes, with the ultimate goal of achieving profitability. Management is proud to report, 100% of the initial milestones and 100% of the subsequent, upgraded milestones were achieved on or before schedule in 2019. In addition, EN1 achieved seven-figure profitability with 50% revenue growth and 42% gross margin growth.
Significant Cost Reductions
The Company successfully executed several cost—saving measures, consistently, to reduce operating expenses. EN1 was able to achieve the following in 2019, over the prior year:
Total staff costs decreased 43%
Operating and administrative expenses (including tech infrastructure) reduced about 26%
Balance Sheet Improvement
Net assets increased to $3.4M from -$6.6M (2018). Additionally, net tangible assets also improved to $384K from -$9.1M (2018). Trade and other payables decreased to $5.8M from $12.9M (2018), or 66% less. Cash improved to $1.8M from $320K (2018). Trade and other receivables increased to $5.8M from $2M (2018), or 290%.
Growth Prospects Today
From Management's perspective, EN1 has never been positioned betterfor exponential revenue, profitability and market share growth. EN1 has a healthy balance sheet, is profitable, has scaling revenue and margins and has access to significant capital. More importantly, EN1 has the partnership integrations which differentiate the Company from many US. peers; Management expects revenue, gross margins, EBITDA and NPAT to continue to increase in 2020 as a result of the Company's client and partnership mix.
As of today, the Company has generated about 300% of 2019 (revenue), year to date. In January 2020, EN1 achieved about 281% of January 2019; EN1's February is on track to exceeding January 2020, and nearly 300% of February 2019. Gross margins grew from 38% in 2018 to 54% in 2019.
Management notes, to keep things simple and scalable, EN1 is hyper—focused in 3 key areas for 2020:
NetZero publisher boarding AdCel growth New integrations for EN1's programmatic ad exchange and scale existing
"2019 was a pivotal year for EN1. At the beginning of the year, we set out to move a mountain with just a strong plan…| believe we moved several mountains by believing in and daily execution of that plan. We grew revenues 50%, grew gross margins 42%, achieved profitability and consistently signed key customers and new partnerships, previously unattainable. We now have a blank slate; we are positioned well with a strong balance sheet, key and unique partnerships and most importantly, the winning team. We have a head start on 2020 with about 3 times the revenue we had this time last year; we're focused on keeping that momentum growing. I'm
looking forward to enjoying greater wins with you in 2020!" — Ted Dhanik, Exec Chairman & CEO
Other Matters
Management is currently producing the first episode of the EN1 Fireside Chat 2020, which will cover many shareholder balance sheet, P&L and other operating queries; we anticipate this being published imminently.