Analysts and market experts touting less than worst case scenarios on the economic impact of the newly named COVID-19 pandemic took another blow on the morning of 2 April in the US.
One week ago, a stunning 3.3 million US citizens filed for unemployment. Predictions for the current week ranged from 2.65 to 5.6 million new filers.
The experts were wildly off with the actual number reported topped 6.6 million. In early trading in the US, the market shrugged off the numbers, apparently focusing instead on the prediction from President Donald Trump that the Saudi's and the Russians would "make a deal" to settle the precarious situation threatening the stability of global oil markets. By the end of the day news reports began to surface questioning whether a deal had been reached.
Here in Australia we have a 27 March article on Bloomberg.com screaming that "Australian Unemployment Could Hit 12% in the Fastest Slump Since WWII."
Included is the following table summarizing unemployment and GDP projections from major investment firms operating in Australia:

On the fringe, a blogger and frequent contributor on economic issues for the Guardian Australia presents an extreme view, should the unemployment situation here parallel that in the US.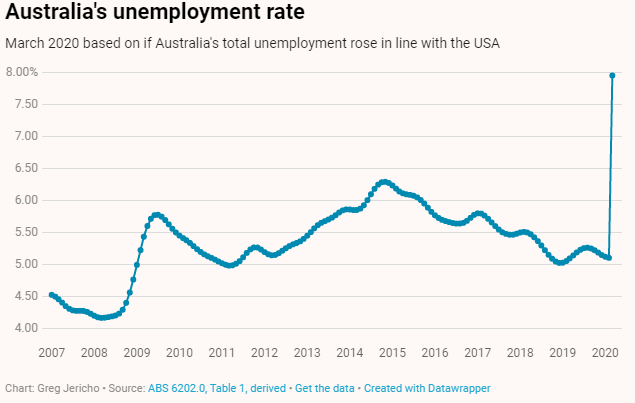 Predicting market bottoms, economic indicators, duration of Bear and Bull markets, and the speed of recovery from economic downturns are at best educated guesses even under the best of circumstances. Given the gut-wrenching roller coast ride Aussie investors and others around the world have endured in recent months, only the most optimistic of the optimists would deny we are in the worst of circumstances. Day after day, we are treated to new "record setting" and "the worst since ____" events.
Yet the calls to buy stocks now persist, with some coming from the likes of market behemoths like global investment manager BlackRock and global wealth manager and investment bank Credit Suisse, among others according to the Sydney Morning Herald.
For investors with a healthy appetite for risk, available discretionary cash would seem to be the key prerequisite. However, one could make a strong argument that patience and the healing powers of time to work its magic are strong seconds.
Newcomers to share market investing may not have learned a key lesson from the GFC – given time strong companies can come back.
There is no shortage of ideas of stocks to consider in the current climate. Investing in an IPO (Initial Public Offering) is rarely among them, with conventional wisdom claiming that market has crashed. Right now, there are two upcoming IPO's that appear ideally suited not so much for what is happening now, but for changes in consumer behavior that may come about when this crisis finally fades into history.
For many investors, this represents the ultimate contrarian view as the IPO market has collapsed. Some analysts are pointing to bargains in recent IPO's bloodied by the rush to avoid speculative stocks. Investors who had been salivating over the IPO of real estate rental disruptor Airbnb will have to wait until next year, as Bloomberg is reporting the company is now talking about a direct listing – where existing privately held shares are listed for public sale – rather than a traditional IPO where new shares are issued for sale. This assumes the company can survive a crisis that many are now predicting will last longer than previously expected, coupled with a slow recovery.
One of the best performing ASX blue chips right now is Fischer & Paykel (FPH). The stock price is up about 98% year over year; 40% year to date; and 20% over the last month. In addition to its consumer-oriented sleep apnea devices, the company makes a variety of devices used to treat respiratory conditions in hospitals, including COVID-19. Fischer & Paykel is ramping up its manufacturing capacity.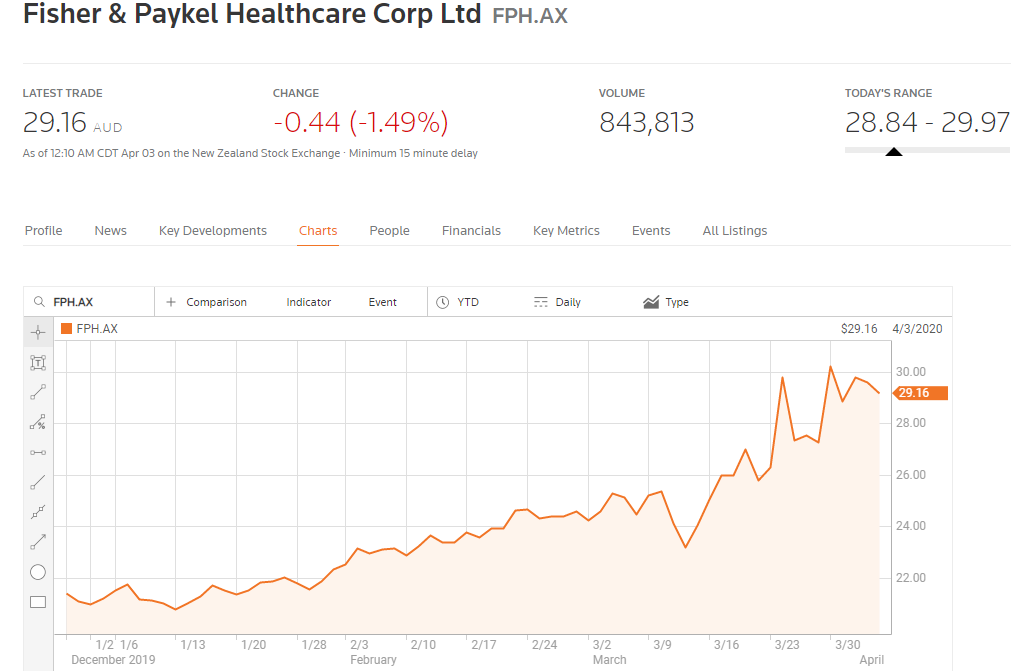 Common sense suggests that the current global fear over this pandemic will translate to increased demand for healthcare products that address issues that drew little attention prior to the epidemic.
One is the vulnerability of senior citizens entombed in facilities catering strictly to the needs of their age group. Another is home use diagnostic testing for viruses.
The first IPO with the potential to meet one of these needs is Intelicare Holdings Limited – proposed ASX code ICR.
The second is Atomo Diagnostics Limited — proposed ASX code AT1.
The Australian Government is already making a concerted effort to encourage seniors to age in their homes, which is a more cost-effective solution than residential care. Despite the marketing efforts of residential providers, surveys indicate most Australian seniors would prefer to "age in place " in their own homes.
Intelicare Solutions can be used either in the senior's own home of many years; a "downsized" home; or in any residential village or aged care facility offering independent living.
The cornerstone of this comprehensive monitoring system is the Intelicare App. Intelicare Home for single homes allow multiple family members and care providers authorised by the family to remotely monitor the health and safety of the seniors who live in the home.
The system begins with an assessment of normal routines in the senior's home and then installs smart home sensors employing IoT (Internet of Things) technology and a smart home controller employing artificial intelligence. If something out of the ordinary routine occurs in the home the system first communicates with the resident seniors and in the absence of a response sends an alert to family members and/or to the designated care providers. Families and providers can communicate with resident seniors through their smartphones.
Intelicare Pro is a larger scale system allowing monitoring of multiple residents simultaneously. Intelicare Pro is currently available through four disability and aged care providers here in Australia. Intelicare Home adoption is in its infancy, with 22 homes enrolled via direct sales and pilot programs at year end of 2019. An additional 150 homes have come on since via agreements with non-profit home help organisations ECHO and WSW (Whatever Support Whenever) to fund trials of Intelicare Home.
There are competitors in the tele-health space on the ASX, but none as yet offer the all-encompassing solution offered by Intelicare. The company's business model is innovative, serving both the B2C (Business to Consumer) and B2B (Business to Business). The company's current primary focus is expansion of its B2B operations.
Intelicare has multiple sources of revenue – hardware sales; monthly subscription fees; and project management fees for installation of Intelicare Pro in residential villages and aged care facilities.
The time frame required for laboratory analysis of COVID-19 diagnostic tests has posed a major obstacle for dealing with the pandemic worldwide, although some rapid diagnostic tests (RDT) are now coming into play. These tests provide results in a matter of minutes, not days.
The demand for RDTs has nowhere to go but up. No consumer in the post COVID-19 world is likely to be willing to wait days for diagnostic test results after being bombarded daily with the horror stories of frightened people awaiting results. Atomo RDTs provide results as little as 15 minutes with no additional components and no professional involvement required.
Atomo Diagnostics has an RDT has an HIV self-test already approved for use in Australia and Europe and is pre-qualified by the WHO (World Health Organisation). The company's HIV Professional Use Test is approved for use in Australia and Europe as well. In addition to the HIV Self-Tests, the company has self-testing platforms for identifying whether upper respiratory infections are viral or bacterial base.
Consumers shocked to learn in some parts of the world COVID-19 testing was delayed due to lack of ancillary supplies needed to complete the analysis are likely to be attracted to Atomo's customisable RDT devices, which are self-contained.
The Atomo test uses an integrated single device eliminating the multiple components needed for conventional blood-based testing, even blood-based RDT testing kits. The device collects the blood via a pinprick and then analyses the sample and reveals the results.
In response to "urgent inbound inquiries" from diagnostic companies in the US, China, and Europe about the potential of incorporating Atomo self-test with their own newly developed blood-based RDTs for COVID-19, the company issued a supplementary prospectus. The interest is the feasibility of utilising Atomo's self-testing RDTs, with results available in as little as 15 minutes with no additional components and no professional involvement required.
Atomo management says the China NMPA (National Medical Products Administration, formerly the China FDA) has already granted Emergency Use Approval for an Atomo RDT integrated with an existing test. Additional clinical tests of Atomo RDTs are underway in China, France, and Spain.
Atomo has 300,000 units in its inventory ready to be used for COVID-19 and is planning to ramp up its manufacturing capacity.