Newcomers to share market investing looking for advice on stock picking quickly encounter two time honored investing maxims:
Investors looking for above average returns gravitate towards growth with the Buy High maxim, while bargain hunting investors look for value with the Buy Low maxim.
The 52 Week High and Low lists found on multiple financial websites serve as a starting point for many investors, old and new. However, both would do well to consider another useful observation about share market investing – anchoring bias.
Anchoring bias is a tendency to focus on a single piece of information in decision making based on past references. In stock market investing the piece of information is most often the share price with its past history as a reference.
To further cloud the decision, confirmation bias tilts investors towards preconceived notions of what constitutes value. Investors who value ever-escalating returns on their investments see 52 Week Low stocks as too cheap to meet their standards. Investors who value a bargain see 52 Week High Stocks as too expensive to meet their standards.
A 2018 study from Sydney-based Investment Advisory Firm dipped into their database to examine investor preference for 52 Week Highs versus 52 Week Lows. The survey found that 57% of Rivkin users thought that focusing on 52-week lows is more beneficial while 43% of users felt it is best to focus on the 52-week highs. 
There are "trading tips" websites offering strategies for investing in stocks hitting 52 Week Lows. Most recommend a three month holding period for the buy, along with other metrics to consider. Investors can find studies that purport to show stocks bought at 52 Week Highs outperform stocks bought at 52 Week Lows over holding periods from one to three years.
Rivkin studied the ASX 100 over 15 years, back testing $10,000 investments in both 52 Week Highs and 52 Week Lows. Given that markets generally have an upward bias, it is not surprising they found more 52 Week High Trades. The following table summarises the results.

This study differed from others since although there were more winners among the 52 Week High Stocks, the average profit posted by the 52 Week Lows was higher.
Another maxim all investors need to keep at the forefront of their decision making process is this – The Trend is Your Friend.
There are cases where a high or a low is reached following some major positive or negative news. What is more common is the milestone following a more gradual downward or upward trend. The maxim fits the Buy High investor better than the Buy Low investor since trends remain in place until some other development reverses the trend.
A continuation of an upward trend means rising returns for the investor while the opposite is true for an investment made in a 52 Week Low stock, where the downward trend may continue.
In many instances upward trends are devoid of fundamental realities of the stock on the move. Market sentiment often explodes with more and more investors simply following the herd. Major players in red hot disruptive sectors can see massive share price increases while the company amasses mountains of debt with profitability nowhere in sight. Trend reversals often reflect sector conditions, regardless of the fundamental realities of specific companies within the sector.
Buy Now Pay Later (BNPL) leader Afterpay Group (APT) makes the case. Despite increasing competition, the threat of increased regulation, and continuous losses, the stock price remained in an upward trend until conditions in the US technology sector and rising bond yields threw a pall on the BNPL sector.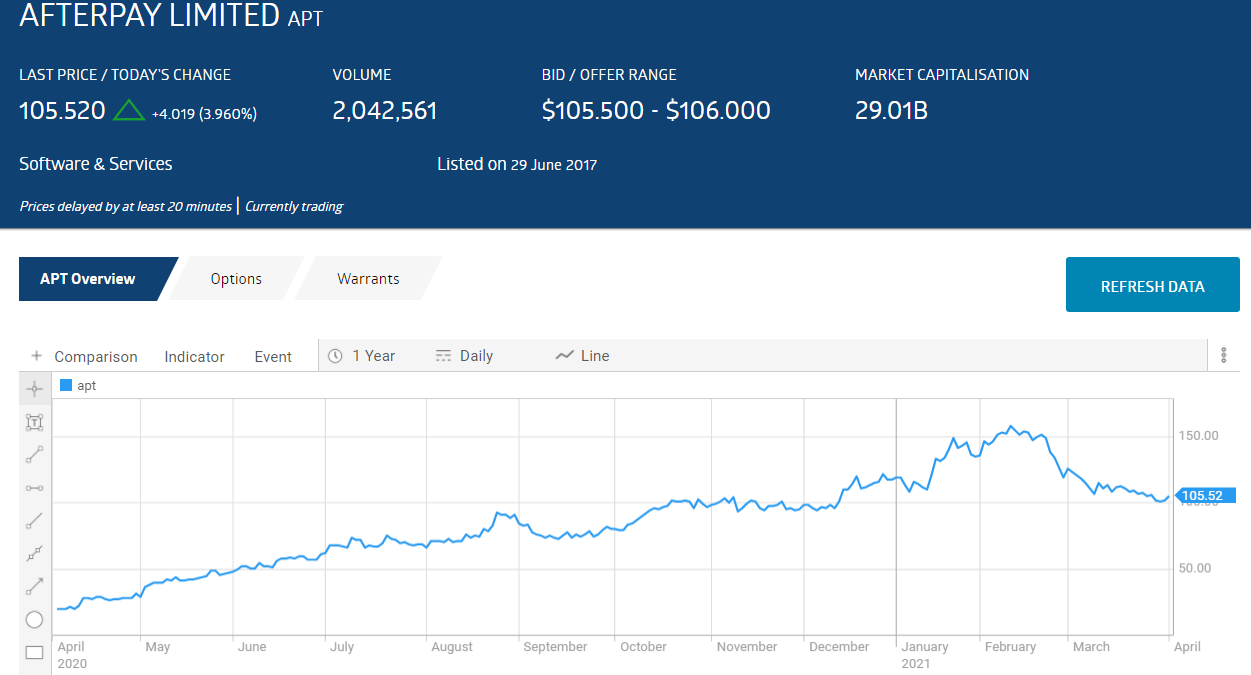 In sharp contrast, many 52 Week Lows follow negative news specific to the company. A recent case in point is gold miner Resolute Mining (RSG) with one operating mine here in Australia and an additional three operating mines in Africa. The downtrend began on the news the company's Syama Gold Mine in Mali was under a strike threat. With the downtrend firmly in place as one 52 Week Low was eclipsed by another, the latest blow was the announcement that the mining license for an African mine already sold by Resolute was canceled by the local government, sending the stock price down 25% to reach yet another 52 Week Low.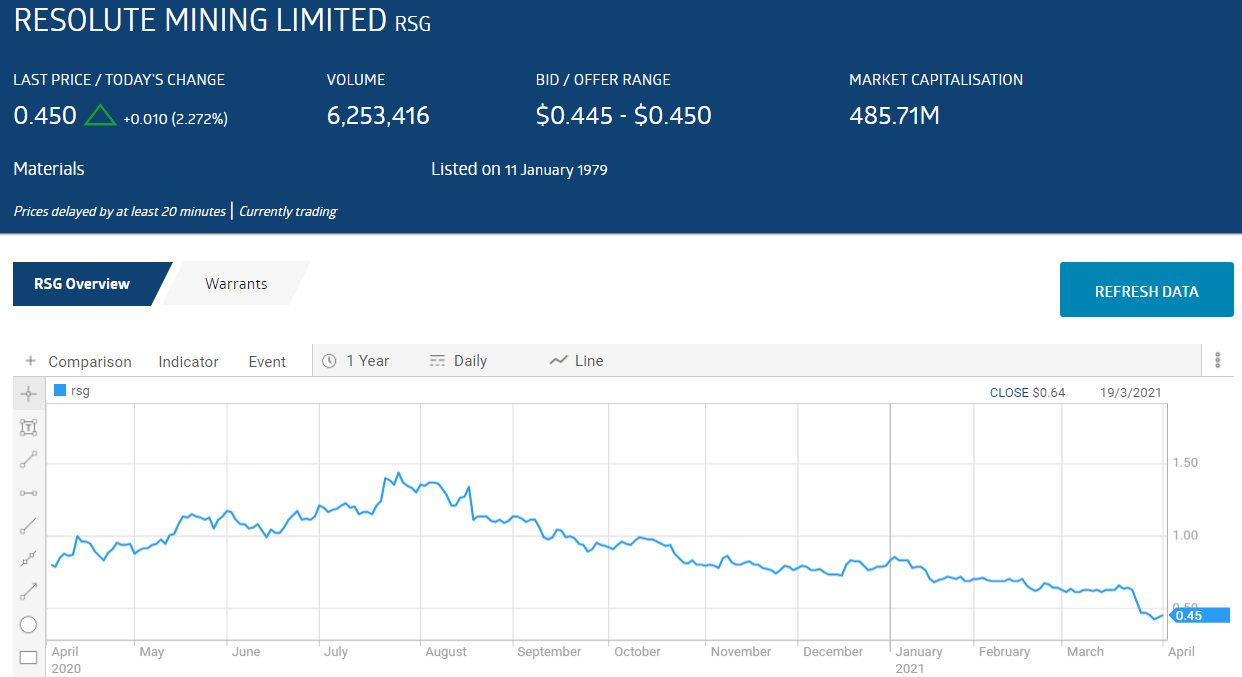 Comparing the performance of the two companies suggests buying at 52 Week Highs is a more profitable strategy than buying at 52 Week Lows. Early buyers of APT remain in profitable territory while early buyers of Resolute's first 52 Week Low have mounting losses. Two analysts downgraded Resolute stock following the cancellation of the mining license in Africa.
Investors who strongly favor the Buy Low, Sell High school of investing should be prepared for some hard research. A well-received book available on Amazon lays out a strategy.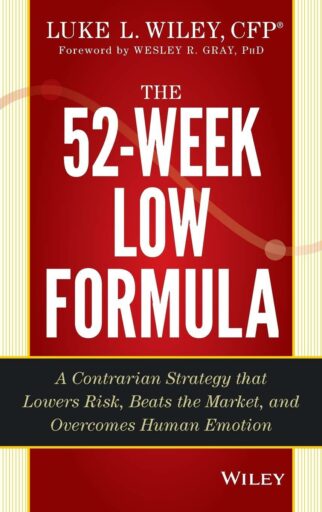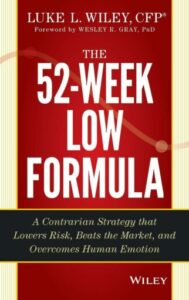 Here are some of the key elements of the strategy:
Durable Competitive Advantage

Required Min Free Cash Flow Yield

Required Min Return on Invested Capital

Required Min Free Cash Flow to Long Term Debt Ratio

% Change close to 52-week low

Diversify with just 25 highest quality stocks.
Only two of the criteria listed are readily available to new and old investors alike. An internet search can provide an idea of the competitive advantage a given stock might or might not have and the percentage change from the 52 Week Low on the purchase day can be calculated. A stock portfolio of 25 stocks may be beyond the reach of newcomers to share market investing.
The remainder are not figures readily available on most financial websites, although Return on Capital can be found on a few.
To reiterate, it is possible although not necessarily advisable for an investor to follow the herd on a stock making 52 Week Highs. Given the prospect of repeated 52 Week Lows suggests those bargain hunting investors should tread cautiously and research the stock as thoroughly as possible.
Two once attractive ASX stocks making new 52 Week Lows recently may not stand up to the kind of rigorous scrutiny of some investors. Both are producers of infant milk formula, with one – the A2 Milk Company (A2M) once enjoying "market darling" status. The other is a relative newcomer to the sector, listing in May of 2019 – Bubs Australia (BUB).
A2 Milk was spared the early fallout from COVID 19, but Bubs followed the pattern of many other ASX stocks, with an early fall giving way to a rising share price. The situation deteriorated for both stocks due to COVID related issues beyond the direct control of the two companies. Here is the one year share price performance: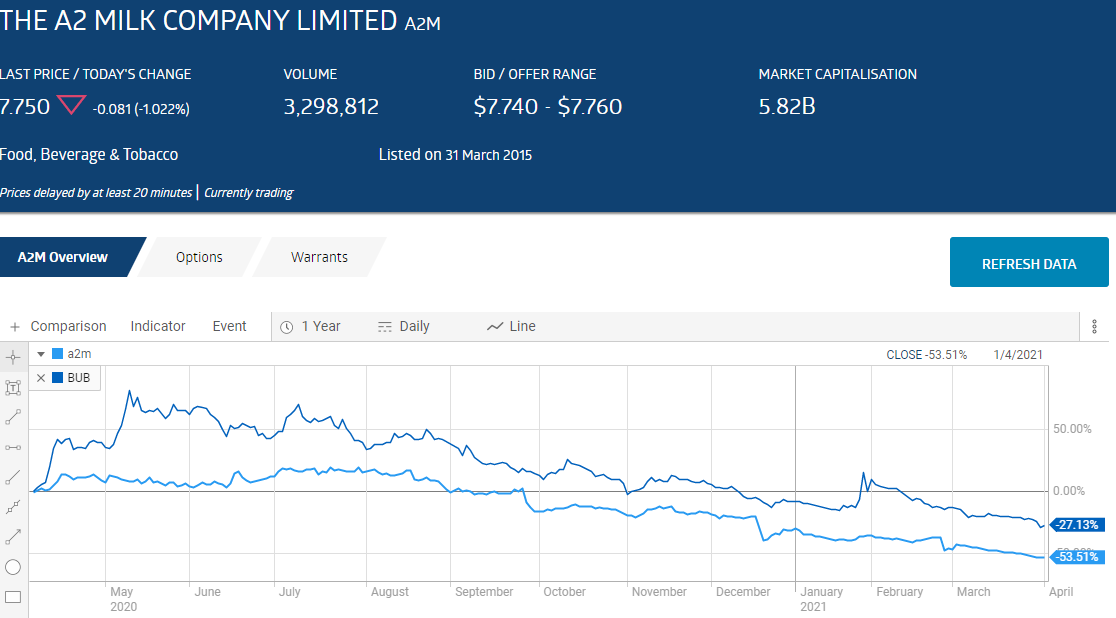 A2 Milk came onto the ASX at a time the Chinese market for infant formula was exploding. A scandal involving domestic manufactures in China producing tainted formula sent Chinese consumers scurrying for the safety of reputable imported products.
When the Chinese government stepped in to cool down the overheated market, A2 Milk enjoyed a competitive advantage due to its early approvals to meet new regulations imposed by the Chinese government. The company also had a competitive advantage as a producer of superior milk using the A2 protein.
Bubs had a competitive advantage since its formula products used goats' milk.
Competition has eroded much of the competitive advantages enjoyed by both companies. The world's largest food and beverage manufacturer – Swiss based Nestles – has introduced its own brand of A2 milk based infant formula in China.
With Chinese consumers developing a preference for goats' milk formula, a domestic company is now manufacturing an infant formula product using goats' milk produced in the Netherlands.
The Chinese government is actively promoting domestic producers of infant formula., adding to the already intense competition.
Finally, both A2 Milk and Bubs have relied on the "Daigou channel" for distribution of their products in China. The Daigou channel is made up of individual and groups of exporters the world over who buy goods outside China for export into China. The "export" process typically involves personal travel or post, and often bypasses import tariffs, via legal and sometimes illegal loopholes.
Given the COVID induced travel restrictions and border closures, it should have come as no surprise the channel would be negatively affected. In A2 Milk's case, the surprise came in the company's Half Year 2021 Financial Results when A2 Milk lowered its Full Year 2021 Guidance, citing the "slower than expected pace of recovery in the Daigou Channel, and continued uncertainty and volatility due to the COVID 19 Pandemic.
Investors with patience might focus on the company's growing presence in the US with its A2 milk product line.
Bubs remains Australia's top producer of goats' milk, garnering 65% share of the Aussie market. The company owns the goats – all 20,000 of them — which produce 20 million litres of goat milk per annum. Bubs has introduced new products including cereals, organic pouches, snacks, and a line of organic grass fed cow's milk.
Ecofibre Limited (EOF) is a producer of a range of hemp based products sold to consumers, wholesalers, and manufacturers. The company's US operations with its line of Ananda Health hemp products available in multiple US pharmacies suffered from the pandemic. In October, the company announced it would not meet its own or analyst guidance for FY 2021 and predicted a loss for the Half Year 2021 results. The share price dropped and remained in a tailspin of 52 Week Low after 52 Week Low.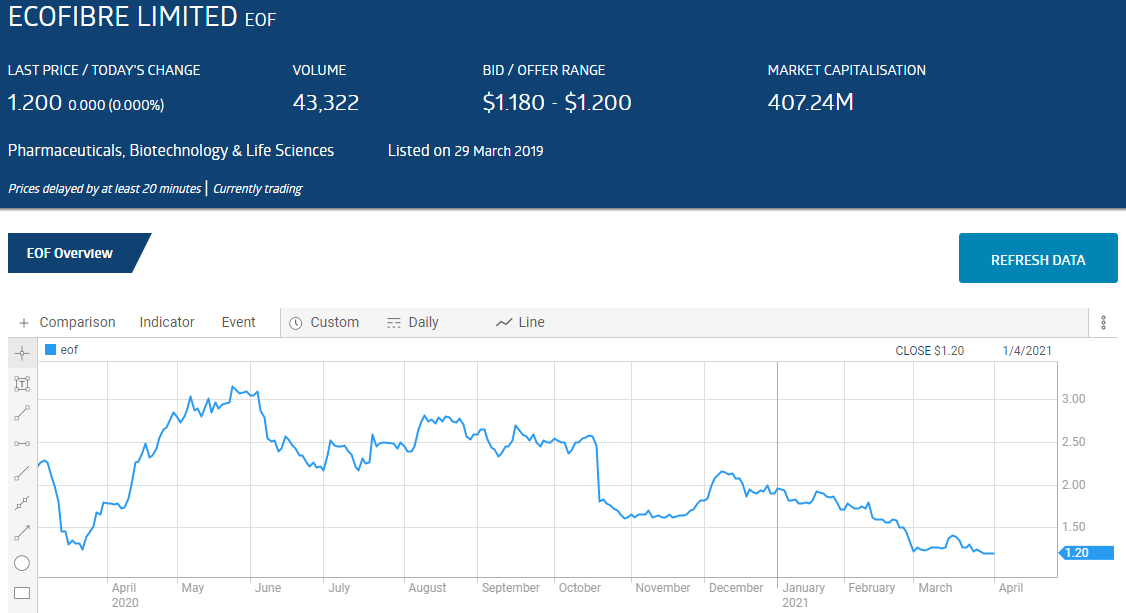 The company is new to the ASX, listing in March of 2019 and has already vaulted to claim the title of the number one provider of CBD (cannabidiol) products from hemp in the US.
Ecofibre added to its bragging rights when its Ananda Health division started shipping product under its Balans Lab name to over 4,000 CVS pharmacies in the US. CVS is the second largest retail pharmacy operation in the US. Ecofibre plans to expand its product offerings in the US market.