On 11 June Aussie investors got a wake-up call from the chairman of the US Federal Reserve, Jerome Powell, sending the ASX 200 plunging 3%, its worst close in six weeks. US markets followed suit, dropping 4.25% by midday on the 11th and closing down 6.9%, dropping 1,861 points. However, although the ASX closed the week lower – down 1.89% — the buyers returned to US markets on the last day of trading there, sending the Dow Jones Industrial Average up by 1.95%.
With countries all over the world getting "back to business" and concerns about the spread of COVID-19 fading from the public consciousness in general and investor consciousness in particular, global share markets remained confident in anticipation of a quick "v-shaped" recovery.
Powell threw water on that argument, in the official statement released by the Fed:
The ongoing public health crisis will weigh heavily on economic activity, employment, and inflation in the near term, and poses considerable risks to the economic outlook over the medium term. In light of these developments, the Committee decided to maintain the target range for the federal funds rate at 0 to 1/4 percent. The Committee expects to maintain this target range until it is confident that the economy has weathered recent events and is on track to achieve its maximum employment and price stability goals.
Skeptical investors may have noticed the tendency of market participants to accentuate whatever bits of positive news comes out, often ignoring negative undertows. Reaction to this announcement reversed the trend, grabbing on to the phrases in the statement "ongoing public health crisis" and "medium term economic outlook" despite statements the US economy would recover eventually.
The Chairman clearly linked the economic recovery to the coronavirus, citing issues like the length of time for treatments and a virus as well as rises in the number of infected as social distancing practices fall by the wayside.
The key point investors need to bring into focus is that despite declining cases in most countries and the accompanying willingness of the public to ignore warnings, COVID-19 has not gone away, even here in Australia.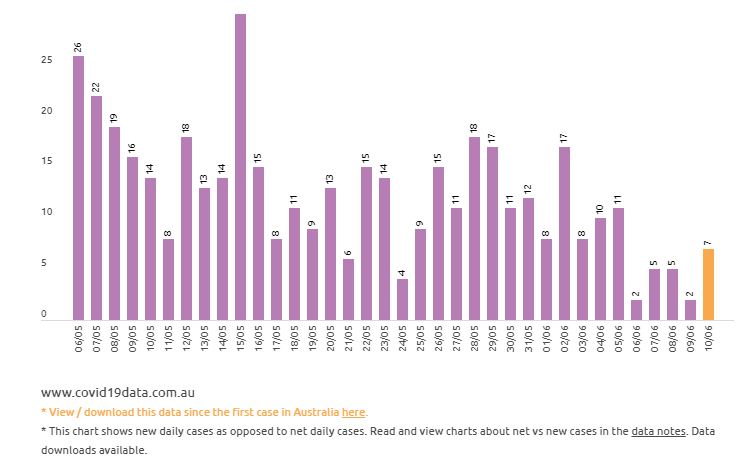 While the numbers by state might be cause for optimism in most of the country, the push for a full reopening of Australian businesses and the easing of travel restrictions suggest at the very least the possibility of increasing cases here.
In the US 16 states are seeing increases in COVID-19 cases in the double digits, raising the alarm among some in that country that the dreaded "second wave" is soon at hand.
With COVID-19 still very a factor looming over economic recoveries everywhere, biotech stocks involved in any way in the search for a vaccine or treatments for the virus could prosper in the medium term if successful.
The ASX has one of its flagship stocks, CSL Limited (CSL) in a position to increase its already stellar reputation through its partnership role in the CoVIg-19 Plasma Alliance, comprised of leading experts from the industry. In addition, CSL is developing COVID-19 Immunoglobulin, a plasma product with the potential to treat people in the Australian market with respiratory complications due to COVID-19.
There are a number of small cap biotechs that merit attention, along with long time large cap heart breakers Mesoblast Limited (MSB). The following table lists them by market cap, along with price information.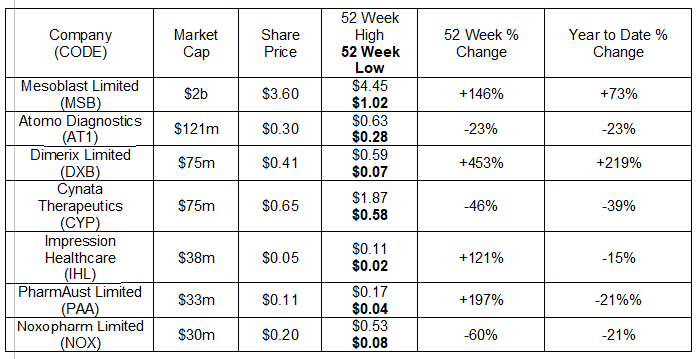 Four of these stocks have turned in stellar year over year share price appreciation for their investors.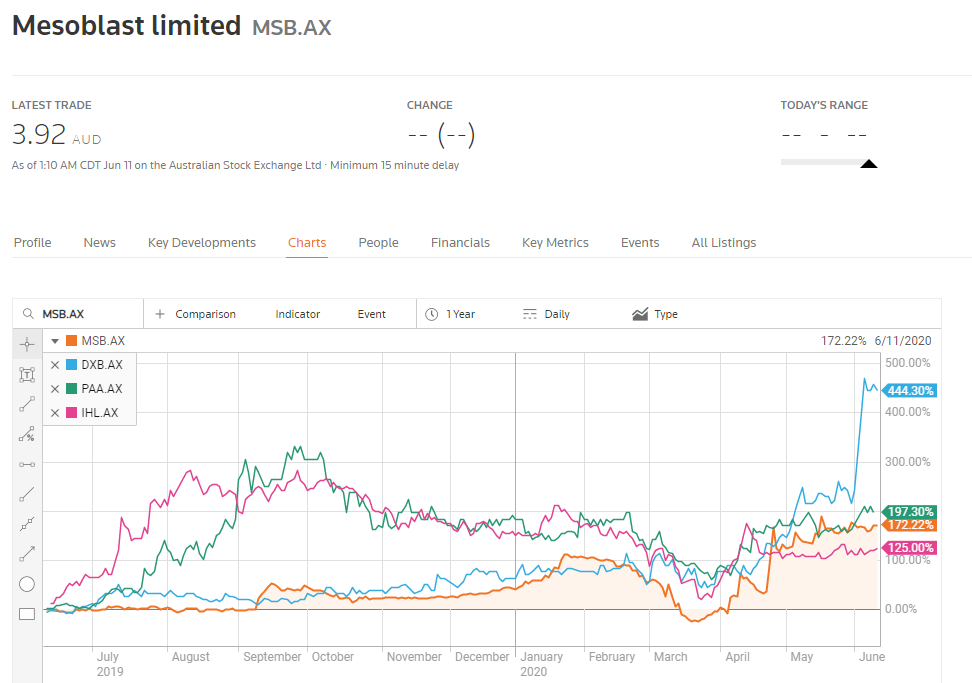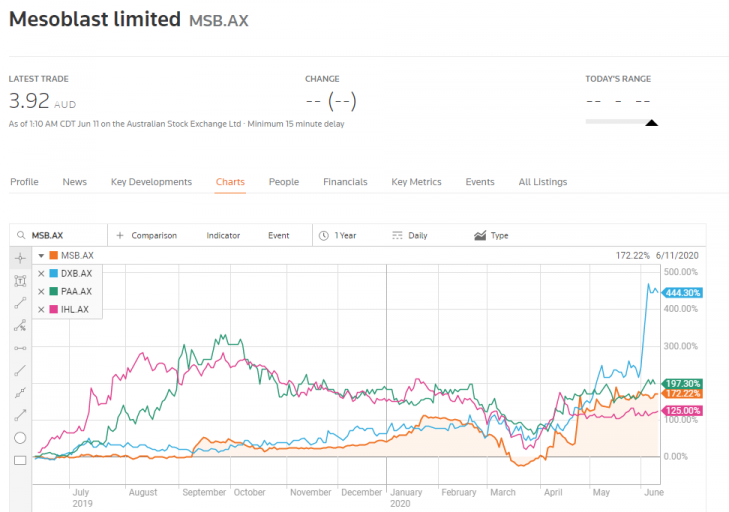 Mesoblast is involved in regenerative medicine with its three proprietary technologies — Mesenchymal Precursor Cells (MPCs), culture-expanded Mesenchymal Stem Cells (MSCs), Dental Pulp Stem Cells (DPSCs) and expanded Hematopoietic Stem Cells (HSCs).
These technology platforms address complex medical issues involving inflammation and damaged tissue. The company has five treatments in various stages of clinical trials, with one – Ryoncil™ — approaching registration status with a launch in the US on the horizon. Ryoncil™, or Remestemcel-L, treats inflammatory conditions of the kind associated with COVID-19 – acute respiratory distress stress syndrome (ARDS). After a successful pilot trial the US FDA (Food and Drug Administration) cleared Remestemcel-L for a randomized controlled Phase 3 Trial involving 300 patients in 30 different sites across the US. Confident of a successful trial, Mesoblast has already concluded a capital raise totaling $138 million dollars to go towards the eventual manufacture of the treatment.
Atomo Diagnostics (AT1) is virtually a newborn on the ASX, listing on 30 April of 2020 with a first day closing price of $0.48, declining steadily to reach the current $0.30 per share. The company entered the ASX with both a professional use rapid diagnostic test (RDT) and a self-testing device for the HIV virus. Atomo, working with French in vitro diagnostic specialist NG Biotech SAS, has developed an RDT platform for professionals to test for the presence of antibodies in response to COVID-19. NG Biotech has granted exclusive distribution rights to Atomo for Australia, New Zealand, and other South East Asian countries, following NG's purchase of 1.5 million tests for use in France.
Dimerix Limited (DXB) got a huge boost on 4 June when the stock price jumped 54% with the announcement its lead candidate to treat kidney disease –DMX-200 – had been selected to join a global study (REMAP-CAP) on treatments for COVID-19 induced ARDS. The study is funded by both government and non-government organisations with an endorsement from the WHO (World Health Organisation).
The company listed on the ASX in 2015 following a reverse merger. Dimerix has another DMX-200 treatment for kidney scarring in clinical trials and another – DMX-700 — for COPD (chronic obstructive pulmonary disease) starting pre-clinical studies.
Cynata Therapeutics (CYP) is developing a platform using Cymerus™ technology for manufacturing mesenchymal stem cells (MSCs) for therapeutic use. The technology could be disruptive in that it could allow manufacture of stem cells for therapeutic use in commercial scale quantities from a single donation of a single cell.
The company has completed successful preclinical studies targeting different diseases, including asthma, heart attack, sepsis, and cytokine release syndrome (an inflammatory condition with infections.) FUJIFILM Corporation has licensed the technology from Cynata to treat graft-versus-host disease in people following a successful Phase 1 clinical trial.
On 11 March of 2020, the company announced it was in "active discussions" with international pharmaceutical companies to use the Cymerus™ technology platform to treat COVID-19 patients with severe symptoms.
On 8 May Cynata announced approval to begin a clinical trial in Australia to determine the efficacy of its stem cells from its Cymerus™ technology platform to treat ICU (intensive care unit) COVID-19 patients.
Impression Healthcare (IHL) is a custom fit dental products company that got involved in medical marijuana, with clinical trials for the treatment of gingivitis and gum disease. On 1 May the company announced a preclinical animal study to test its cannabinoid drug IHL-675A for treating a leading cause of deaths from COVIOD-19 — sepsis-related ARDS. The trial began on 2 June. On 3 June Impression announced it was abandoning its oral device business to focus on medical marijuana in anticipation of "significantly higher" revenue for the June Quarter for its existing Icannex branded cannabinoids.
PharmAust Limited (PAA) has a business model aimed at a newer approach to drug development – "repurposing" drugs approved for other treatment conditions. In the past, discoveries that a given drug to treat condition X could also treat condition Y were accidental. PharmAust's lead drug — Monepantel (MPL) – is a cancer treatment that has successfully completed Phase 1 clinical trials for use in both humans and dogs. The treatment for dogs is starting Phase 2 trials. The company also has a portfolio of cancer treatments in preclinical stages.
On 4 June, the company announced it had expanded its portfolio enhancement efforts to include a preliminary study on the effects of Monepantel on COVID-19 patients. Following positive results — "potential suppression of the virus by up to 95%" — PharmAust filed a patent application for the use of Monepantel in COVID-19 cases. The share price went up 40% on the news.
In yet another example of an ASX small cap biotech discovering treatments developed for other purposes could help in treating COVID-19, Noxopharm Limited (NOX) announced on 1 April it too was ready to get into the race to find effective treatments.
The company's lead candidate is a late stage cancer treatment primarily targeting prostate cancer – idronoxil — with the brand name Veyonda®. Examining their preclinical work on the drug, Noxopharm found idronoxil suppressed the cytokine molecules responsible for triggering inflammation of the type affecting the respiratory systems of COVID-19 patients.
On 21 April, the company announced it was applying for US FDA (food and drug administration) approval to conduct a clinical study for Veyonda®.
All of the companies listed here are developing treatments that may fade away at some time in the unknown future. Interested investors should also consider the potential of the company's other offerings as even with success in the treatments developed, their revenue generating potential could be short-lived.