Minerals and metals rarely come from the earth in finished form. Extraction is the first step in what can be a long process calling for further refining and processing before reaching an end state of "ready for use" by the companies that use the finished metals and/or minerals as inputs in their own manufacturing processes.
As the pace of industrialisation in Asia – led by China and India – continues at an accelerating pace, demand for core industrial and fabrication metals like steel, copper, zinc, lead, gold, and silver.
The more recent demand for metals and minerals needed for battery production for Electric Vehicles and other rapidly emerging applications has investors chafing at the bit to find and invest in promising companies operating in the broad battery minerals and metals sector.
The current champion in the race to produce the ideal battery is the Lithium ion (Li-ion) configuration. There are competing forms of Li-ion batteries, with most using varying combinations of the key metals – lithium, manganese, nickel, cobalt, and graphite.
Technological innovations underway are targeting processing costs and efficiency, reduced energy consumption, and battery performance.
There are a number of ASX small caps at or nearing actual production, with some featuring an impressive list of battery metal sector leading companies as investors, as well as offtake agreements in place. Some also own the feedstock sources for their processes.
Here are four promising companies and their area of technological expertise:
AnteoTech Limited (ADO)

Battery anode improvement.

Lithium Australia (LIT)

Recycling Lithium from mine waste.

Neometals Limited (NMT)

Li-Ion Battery recycling.

Queensland Pacific Metals (QPM)

Metals Extracting improvements.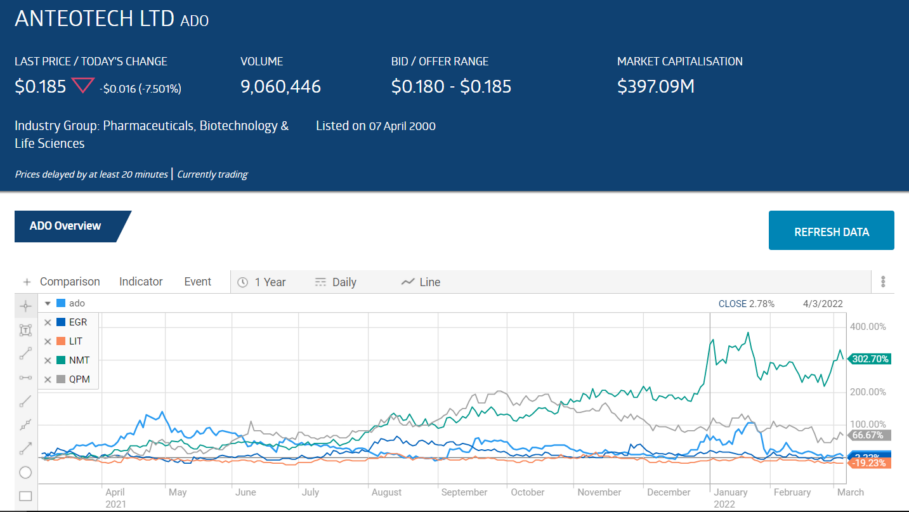 While many advocates hail the coming of age of the Electric Vehicle (EV) as a victory in the fight to lower carbon emissions, skeptics correctly point to the emissions launched from fossil-fuel powered electricity grids to power the EVs and the processes used to extract the metals and minerals needed to fuel the EV revolution, most notably lithium.
Simply put, an EV in a country using fossil fuels for electricity generation will emit more greenhouse gas emissions than that same make and model EV in a country using renewable and other non-fossil fuel sources. Similarly, developed countries have higher standards for lithium extraction and processing.
A 2019 article appearing in Forbes online, entitled "Are Electric Vehicles Really Better for the Environment?" claimed that EV battery manufacturing processes in China produce as much as 60% more CO2 emissions in the fabricating process than an internal combustion engine vehicle. However, an ICCT (International Council on Clean Transportation) report found that the Chinese could reduce their emissions by up to 66%, simply by employing manufacturing processes used in the US or Europe.
What happens to a Li-ion battery at the end of its useful life is another issue raised by skeptics. Batteries consigned to landfills will leak over time, leaching much of the chemical content used in their creation. Incinerating the spent batteries can emit as high as 90% of their mass into the atmosphere.
The number of batteries for discard is about to explode, creating a potential market for recycling these batteries approaching $6 billion dollars by 2030, according to London-based Circular Energy Storage (CES).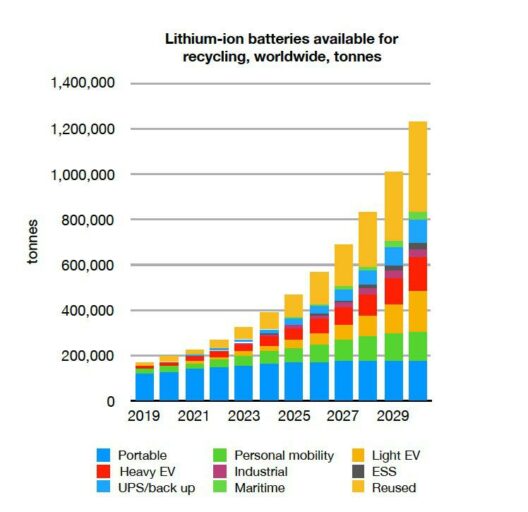 It should come as no surprise that the ASX listed stock catching fire with investors year over year is Neometals, a leader in the development of recycling technology for Li ion batteries. Neometals has three core projects in play in recycling, resource recovery, and mining. While investors seem squarely focused on the potential for the company's proprietary process for extracting usable lithium, nickel, cobalt, and other valuable minerals from spent Li ion batteries, Neometals is working on a process for recovering vanadium from by products from vanadium mining (Slag).
Finally, the company is nearing an investment decision on a 50/50 joint venture with China's IMUMR (Institute of Multipurpose Utilisation of Mineral Resources) for the development of the Barrambie Titanium and Vanadium Project, reportedly one of the highest grade hard rock titanium/vanadium deposits in the world.
Commercialisation of the Neometals' solvent based extraction process (patent pending) is in development in a Joint Venture (JV) with a German supplier and builder of metallurgical plants, SMS Group. The JV — Primobius GmbH – will first build a recycling demonstration plant in Germany before completing feasibility and market evaluation studies. The resulting product from the recycling process could make Neometals among the most cost effective producers of lithium and nickel in the world.
Neometals has an option to form a JV with a Scandinavian company – Critical Metals Ltd – to build a facility in Scandinavia to recycle and recover vanadium. Critical has a ten year agreement in place with Scandinavian steel producer SSB to utilize SSB slag as feedstock for the recycling plant.
Queensland Pacific Metals has also piqued investor interest, up close to 67% year over year. The company's flagship project is the wholly owned TECH Project (Townsville Energy Chemicals Hub), in Queensland.
The project calls for the building of a battery metals refinery. Queensland counts among its shareholders global battery manufacturer LG Energy Solutions and steel manufacturer POSCO. Queensland has offtake agreements in place with both LG Energy and Posco for nickel and cobalt from the TECH project. The agreements followed the successful manufacture of product at a pilot plant built at the Western Australia facilities of ALS Global – a global leader in testing, inspection, certification, and verification.
Queensland has completed a pre-feasibility study (PFS) with a definitive feasibility study (DFS) underway. The company will import high grade nickel laterite ore from New Caledonia for recovery and recycling using the patented DNi Process™.
The project uses Direct Nickel Process (DNi) — licensed from private entity Altilium. The solvent based process was invented in the US and developed here in Australia, producing a hybrid product for direct use by battery manufacturers – MHP (mixed hydroxide product containing both nickel and cobalt.)
The share price has jumped upward repeatedly following a series of positive announcements. On 16 April of 2021, the company announced the successful production of battery spec nickel sulphate from its pilot plant using its MHP as an intermediate product.
At the close of calendar year 2021 Queensland executed a successful capital raise of $30 million dollars, with some of the funds dedicated to the completion of the DFS in mid-2022. The company anticipates commissioning and production to begin in 2024.
The final two stocks, AnteoTech, and Lithium Australia saw negative share price appreciation year over year.
On 17 November of 2019, Anteo Diagnostics changed its name to AngioTech, as a more accurate description of the company's product line, which included AnteoCoat for Li ion batteries and AnteoBind for life science, in vitro, and point of care diagnostics.
Within six months investors began flocking to the stock as Anteo's other product line – diagnostic testing – entered the battle against the COVID 19 Pandemic.
The company's stock price has been driven virtually exclusively by its efforts in diagnostic testing for COVID. Company announcements listed on the ASX and the AnteoTech website focus heavily on the company's efforts in diagnostic testing.
A 7 December 2021 presentation at the Canaccord Genuity Battery Conference highlighted the company's coating technology for the anode in a Li ion battery as its second revenue generating source beyond its more well-recognised point of care diagnostics.
The company is developing three silicon based additives and coatings for anodes, with the first projected to be ready for commercial use in twelve to twenty four months; the second in two to three years; and the third in four years.
Lithium Australia has both extraction and recycling technologies in play. On 21 December, the company announced its LieNA® extraction technology using low-grade spodumene to produce high-purity lithium phosphate as a direct feed for battery production has now been tested, with the autoclave for the pilot plant ready for shipment to Australia. The project is being funded in part with a grant from the federal government's Cooperative Research Centre Project ('CRC-P'). The company has a patent pending on the technology.
Lithium Australia holds 90% of recycling company Envirostreams and has an agreement with Bunnings to recycle spent batteries turned in to the company. Lithium Australia also has a wholly owned subsidiary company, VSPC, with a pilot plant in place for producing LTO (lithium titanate) with a patented slurry based process. LTO is a replacement material for the graphite currently used in anode production. Slurry is a semi-liquid mixture suspended in water.
The company has an additional technology, patented in the US and in Australia, called SiLeach®, which can produce lithium phosphate from lithium clays and micas. Lithium Australia is now on its second pilot plant for the use of SiLeach® to produce lithium phosphate.
Lithium Australia's operations are focused on an alternative to the traditional Li ion battery – the LFP (lithium iron phosphate) battery, used by Tesla in all its standard range electric vehicles.
The following table includes market cap, share price performance, and shareholder return for the four companies.