After a sickening decline in global stock prices as the 2018 trading year ground to a halt, 2019 ushered in a welcome respite with stock markets around the world reaching record highs during a stellar year
The ASX was among them despite a drop at year-end, posting its best performance since the initial post-GFC era in 2009. The following graph from abs.net.au looks at ASX gains and losses yearly since the beginning of the new century.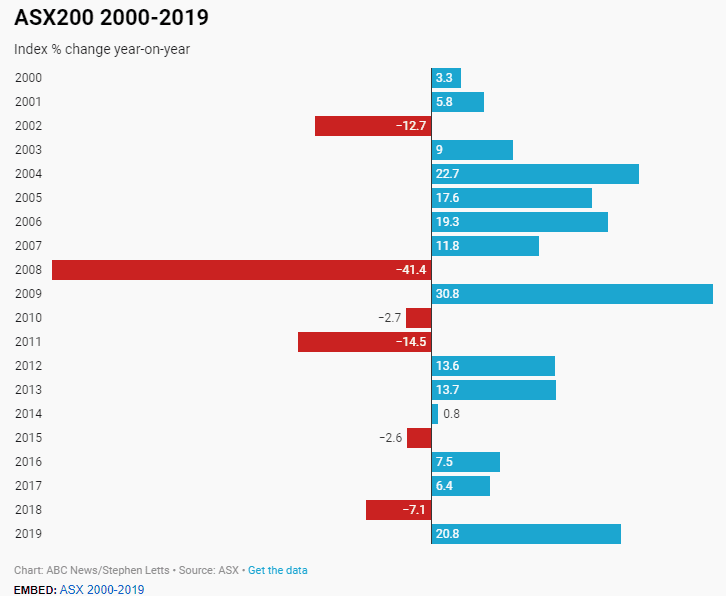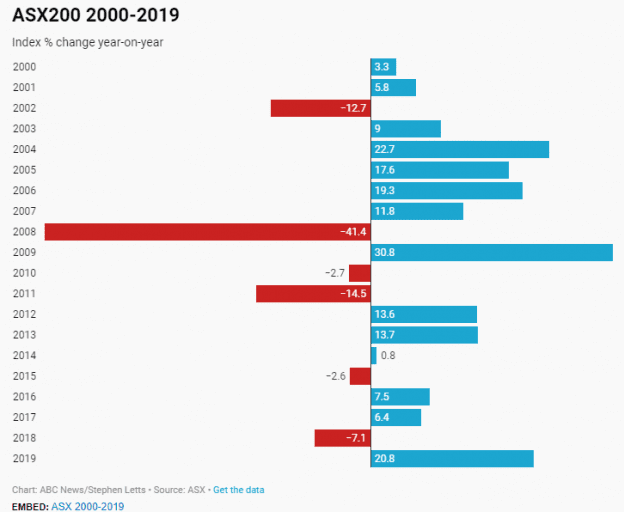 In the US the S&P 500 Index — favored by experienced traders and financial analysts over the choice of consumer news outlets, the Dow Jones Industrial Average (DJIA) – was up close to 29% while the Dow rose 22%.
What sets these record moves apart is the global economic climate in which they occurred. The US policy of imposing tariffs on multiple countries and initiating a trade war with China sent market analysts and economists into a frenzy of expressions of concern about global growth.
Here in Australia the Haynes Commission Report dimmed the performance of the Big Four Banks and the financial sector as a whole, but not to the degree feared by some. The sector still managed gains of 8.4% in 2019. The ASX Healthcare Sector led the charge, rising 44.2% year over year, followed by the Information and Technology Sector, up 35.5%.
Given the performance of the Health Sector it should come as no surprise the two best performers on the ASX for the calendar year 2019 were both from that sector – Avita Medical Limited (AVH) and Polynovo Limited (PNV).
Of the two, AVH outpaced PNV by a wide margin with share price appreciation of 712% versus 228% for PNV, although neither are "one-year wonders" with both posting solid share price appreciation over the last two years, with upward movement beginning in late 2018. The following movement chart is from Yahoo Finance Australia.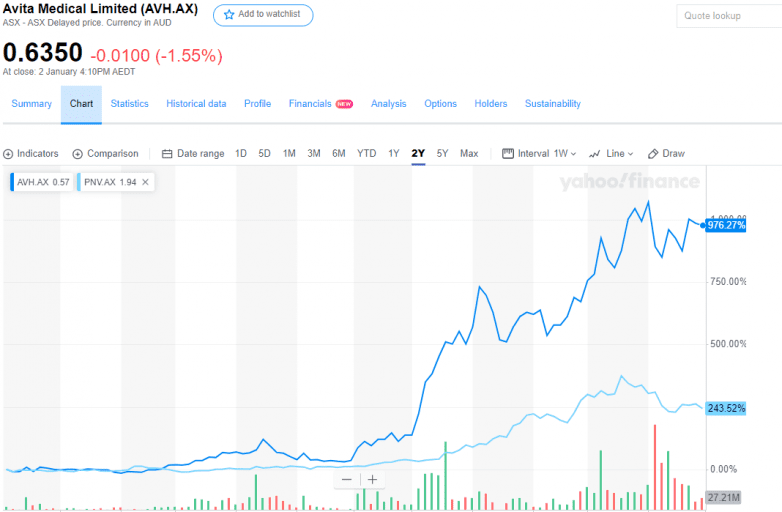 Both companies have treatments for burn patients, although differing in approach. Both are generating revenue and neither has yet to turn a profit.
Avita's patented RECELL® System offers significant advantages over traditional skin grafting approaches to treating 2nd and 3rd degree burn patients over the age of 18. RECELL® extracts a small number of the burn patient's own cells, processes them into Spray-On Skin™ Cells, and then sprays the formulation over the burns, eliminating tissue loss associated with skin grafts. The treatment is applied at burn centres and does not require laboratory facilities or specialised staff.
On 20 September of 2018 Avita received FDA approval for the RECELL® System in the US, with first sales following shortly thereafter and a nationwide launch in the US beginning in January of 2019. As of 1 November of 2019, revenues were growing at a 57% rate with the system in use at 56 of 132 burn centres in the US. Although the company has regulatory approval here in Australia, Europe, and China, Avita is investing heavily in the US market.
While some investors may be enamored of the impressive performance of the RECELL® System to date, others are aware the market for 2nd and 3rd degree burns in adults is relatively small – USD $200 million in the US by the company's own estimates.
Others are driving up the share price based on the future potential of expanding the system to other treatment applications, including pediatric burns, trauma related skin grafts, venous leg and diabetic foot ulcers, scarring, and vitiligo – a disease causing the loss of skin color.
In November of 2018 the company raised $120 million in an institutional placement to fund its development pipeline, focusing on clinical studies on soft tissue reconstruction, pediatric burn treatments, and expansion into the outpatient burn market. At year's end, Avita announced FDA approval of the company's Investigational Device Exemption (IDE) application to study the use of the RECELL® System to treat the 6.5 million US citizens suffering from vitiligo.
Avita estimates the US market for the array of treatments it now has under clinical study at USD $2 billion.
Avita shareholders got an added boost when the company's US trading platform moved from the Over the Counter (OTC) market to the coveted NASDAQ.
Polynovo develops patented biodegradable synthetic "polymers" — a molecule, made from joining together many small molecules called monomers – for use in medical devices for treating burns, surgical wounds, hernia repair, trauma, orthopaedics and reconstructive surgery.
The company has one treatment commercially available – the NovoSorb BTM (Biodegradable Temporising Matrix) – with multiple other applications under development.
NovoSorb BTM is a synthetic dressing used to cover burns or surgical or trauma wounds too large to be stitched closed. In a matter of three to four weeks the wound and the dressing essentially bond together, making a suitable layer for split-skin grafting.
The company has two clinical trials underway for the use of NovoSorb BTM in deep burn wounds and polymer-based treatments for hernia and fracture repair under development.
Polynovo is developing a line of breast reconstruction products – a $3 billion dollar market — in conjunction with US-based Establishment Labs, with regulatory and clinical strategies to be finalised in FY 2020. Polynovo is responsible for the technology and product development and Establishment Labs will conduct the clinical trials and market products developed.
Polynovo recently announced that NovoSorb BTM has been granted a certificate of conformance (CE Mark) approval for sale throughout UK/Ireland and the European Union.
Like many start-up companies across all sectors, Polynovo is growing revenues (rising from $5.7 million in FY 2018 to $13.3 million in FY 2019) but remains unprofitable. However, in FY 2019 the company reduced its loss by 46.6% as well as its cash burn and expects "break-even" status to come in FY 2020. This is welcome news to investors weary of seeing their shares diluted by capital raises to fund growth. At least for now, Polynovo claims existing revenues can fund current operations.
Business to Business (B2B) payment solution provider EML Payments Limited (EML) ranked third on the Top Performers of 2019 list, with a share price appreciation of 205%.
The company's key business is empowering its business customers to offer multiple forms of electronic payments, including virtual cards, to their customers.
EML also offers "payout cards" for disbursing government payouts, healthcare reimbursements, lottery payouts, and business commission payments. EML customers can use EML to offer incentive and rewards cards and gift cards. Suppliers of an EML client company can be paid via eCheck, ACH payments, or virtual cards delivered by email.
EML shareholders have been handsomely rewarded, with average annual rates of total shareholder returns of 39.4% over three years; 51.2% over five years; and 29.3% over ten years.
The company's recent financial performance has been stellar with FY 2018 revenues of $68.3 million increasing to $94.4 million in FY 2019 while net profit more than tripled, growing from $2.2 million to $8.4 million.
Management promises more of the same in FY 2020, with EBITDA (earnings before interest, taxes, depreciation, and amortisation) ranging between 29% and 42%, excluding possible acquisitions.
The company has grown through acquisitions and organically, with its most recent acquisition – Prepaid Financial Service in Ireland – expected to contribute to company earnings substantially in the near future.
The lion's share of EML revenues – close to 87% — come from an investor's dream – recurring revenues.
Fortescue Metals Group Limited (FMG) got a boost from the twin towers of growth – increasing demand in the face of diminishing supply. Steel demand in China was up in 2019 but a greater catalyst for Fortescue's solid share price movement – up 178.2% –was the mining disaster in Brazil, affecting the largest supplier of iron ore in the world – Vale.
Investors who believe in the investing maxim "Buy High, Sell Higher" would do well to pay attention to recent news from Vale, forecasting increasing production in the year ahead. Analysts are already reducing EPS (earnings per share forecasts) over the next two years for Fortescue.
Longer term investors would do well to look at the recent history of Fortescue and its rise to prominence, now outperforming Australia's two largest iron ore producers – BHP Billiton (BHP) and Rio Tinto (RIO). The following movement chart from the Reuters financial website compares the ten-year share price movement of the three companies.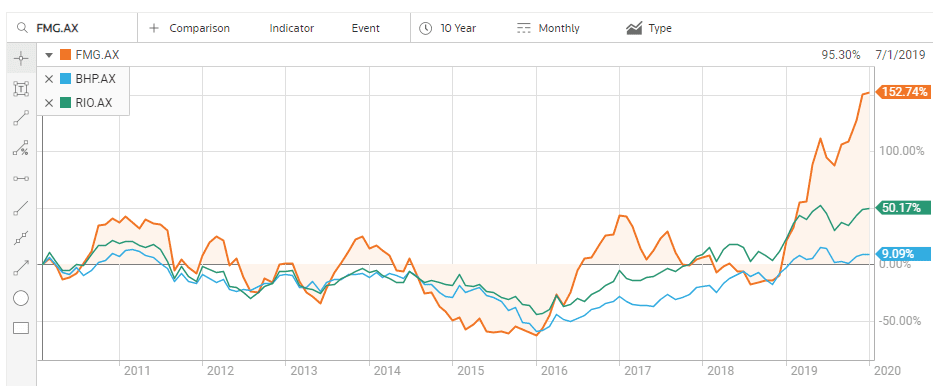 Unlike the diversified mining operations at BHP and RIO, Fortescue is a "pure play" iron ore producer. When the price of iron ore drops, Fortescue's historically higher operation costs and lower grade ore become of concern to analysts and informed investors alike.
As recently as 2015 an article in the Wall Street Journal (WSJ) reported that Fortescue was looking for ways to reduce operating costs. The company was heavily in debt as well. By mid-2017, operating costs were falling and began to hit record lows in early 2018, continuing through the year.
By October of 2019, the Australian Financial Review (AFR) was reporting the company had reduced its debt of $2.1 billion reported in June down to $500 million.
For risk tolerant investors, Fortescue appears to have put itself in position to withstand the upcoming supply boost from Vale and lower iron ore prices.