1Market
User-friendly platform
Wide offer of assets to trade
Highly regulated broker
You should not risk more than you are prepared to lose.
About 1Market

1Market is an online forex and CFD broker offering trading and investing services in shares, forex, commodities, indices, ETFs and cryptocurrency coins. The broker launched in 2021 and provides a secure environment for retail and professional traders, who can enjoy leverage as high as 1:400, if they can prove to cover certain criteria. 1Market has on its platform more than 600 assets available for trading.
Our 1Market review found that the broker is a licensed company that is operated by Podora Ltd, based in the Republic of the Marshall Islands. The European operation is owned by Exelcius Prime Ltd, previously known as CopyDo Social Investment Network Ltd – a Cyprus-based company. It is regulated by CySEC, which is the main regulatory agency of Cyprus, to the level of MiFID. This allows 1Market to offer its services to European investors.
1Market also adopts negative balance protection, which is relevant to those traders introducing leverage to their portfolio. With negative balance protection, all of an investor's positions will be automatically closed once the account reaches a zero balance. This is important as it also protects the regulated broker itself and, therefore, other investors.
1Market also partners with a number of leading banks, which offers a significant layer of account segregation. By way of background, 1Market (1market.eu) has a twin website, 1market.com, also approved by CySEC, which operates exelciusprime.com – the other brand of Exelcius Prime Ltd.
Products and Trade Offers
With over 600 assets and six different account types available, our 1Market broker review found that there is a lot to explore. There is also a helpful demo account, which is targeted to support beginner traders but is available to all clients of 1Market.
To start trading at 1Market, there are several types of accounts to choose from, starting with a Mini account and going up to a VIP Account. The Mini account is ideal for beginner traders and requires a minimum deposit of US$250.
By enrolling with the Standard account, the starter pack offers the investor access to the 1nsight Live Feed, Trading Signals, access to the Meta Trader 5 (MT5) platform, and a 24/5 customer support function. A minimum deposit of US$1,000 is required to open this account.
For more advanced traders, the Gold or Platinum accounts are recommended. However, the minimum deposit for a Gold account is US$5,000, and for a Platinum account, it is US$10,000. Both accounts get access to personal push and SMS notifications, and regular informative market updates.
Diamond and VIP are the exclusive accounts that are aimed at very experienced traders. Personal account service and daily trading advice are offered with these accounts. The Diamond account requires traders to make a minimum deposit of US$50,000, while the VIP account requires a minimum of US$100,000.
There is also a Professional account for those who are forex trading on a full-time basis. The offer here includes low to zero commission, super-fast execution, and the ability to leverage to 1:400
Social trading
1nsight Live Feed
MetaTrader 5
Daily market report
Minimum deposit hurdles for beginners
Mini account could have more trading support
Commissions and Fee Charges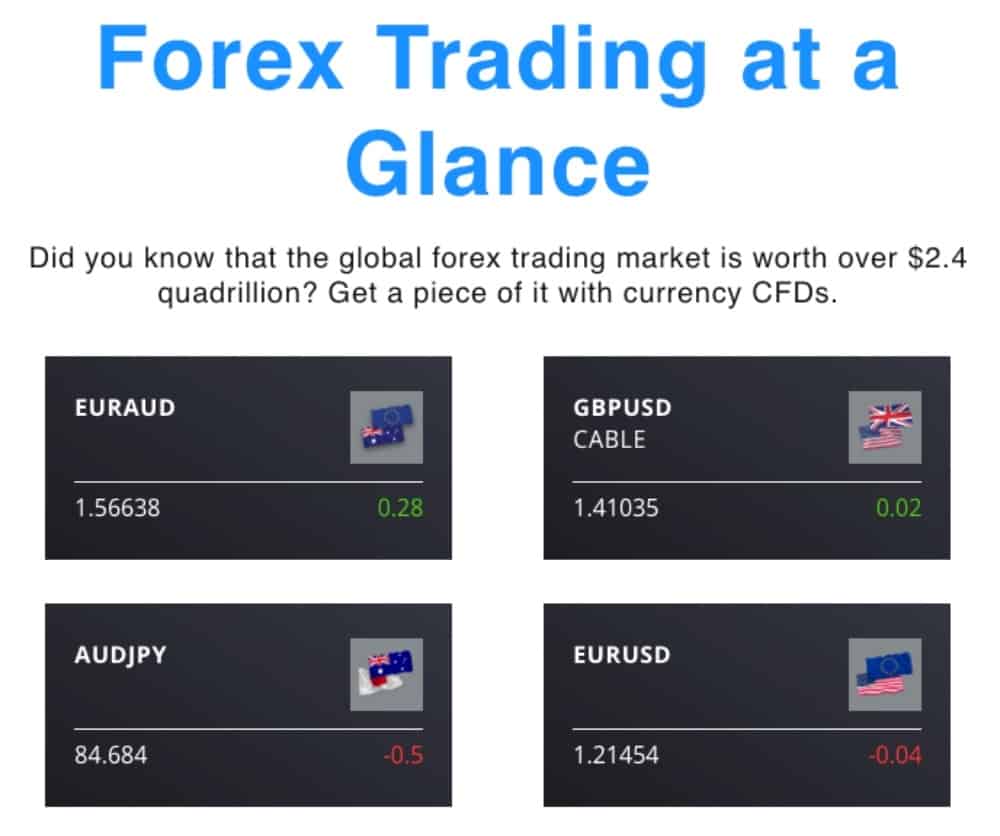 1Market offers investors various types of trading assets:
Forex
Commodities
Indices
Stocks
Within forex, 1Market offers majors (including EUR/USD and GBP/USD), minors (such as EUR/GBP and EUR/AUD), and an attractive number of exotic currency pairs. All are offered with competitive fixed spreads and quick industry-trading execution with no slippage.
Both soft and hard commodities are available on the 1Market platform. This allows an investor to trade gold, silver, coal, natural gas, and some agricultural commodities. The leverage for commodity trading can be 1:20, depending on which account you open.
Helpfully, 1Market also offers commission-free access to 450 stocks and CFDs on stocks, including leading US technology companies. 1Market offers real-time price and volatility alerts on these stocks. It is worth reminding ourselves that CFDs can be opened as a short or a long, and carry an increased element of risk.
Across the assets that can be traded via the 1Market platform, it is fair to say that the fees and spreads are competitive without being standout attractive. Importantly, all the fees are transparent when executing a trade.
Depositing funds at 1Market has no additional fees during the transaction and can be funded by debit, credit or prepaid card; electronic wallet options (Neteller, Skrill, Sofort, Rapid and Volt); or an online or local bank transfer.
1Market does not charge for making a withdrawal either. The same method used to make the deposit will be applied for the withdrawal. It can take three to 14 business days to complete a withdrawal, but this will depend on the payment processor as the intermediary, and whether you have the correct 'Know Your Customer' (KYC) documentation in place. Most withdrawals, however, take a maximum of three business days to transact.
What Others Say
At this point in our 1Market broker review, we looked at feedback from other review sites to find out the market's views on this broker.
The importance of a highly regulated broker cannot be underestimated.
"After reviewing 1Market, we are able to say that it is a legit forex broker. The Forex broker is licensed by a top tier regulatory agency, making its services safe and secure for traders," writes ForexNewsNow.
1Market is offering a unique trading experience that differentiates it within the marketplace.
"Our review of 1Market finds, that this broker is offering a unique and refreshing trading experience," writes Scam Broker Investigator.
1Market has won two Top Forex Awards in 2021: 'Best CFD Broker' and 'Best Introducing Broker Program'.
Customer Service
1Market customer support is multilingual, with 11 languages spoken, and it is available 24/5. This is an area where 1Market is continuing to improve, and it is important to recognise that it offers support to traders of different backgrounds with equal opportunities, whether a beginner or an experienced trader.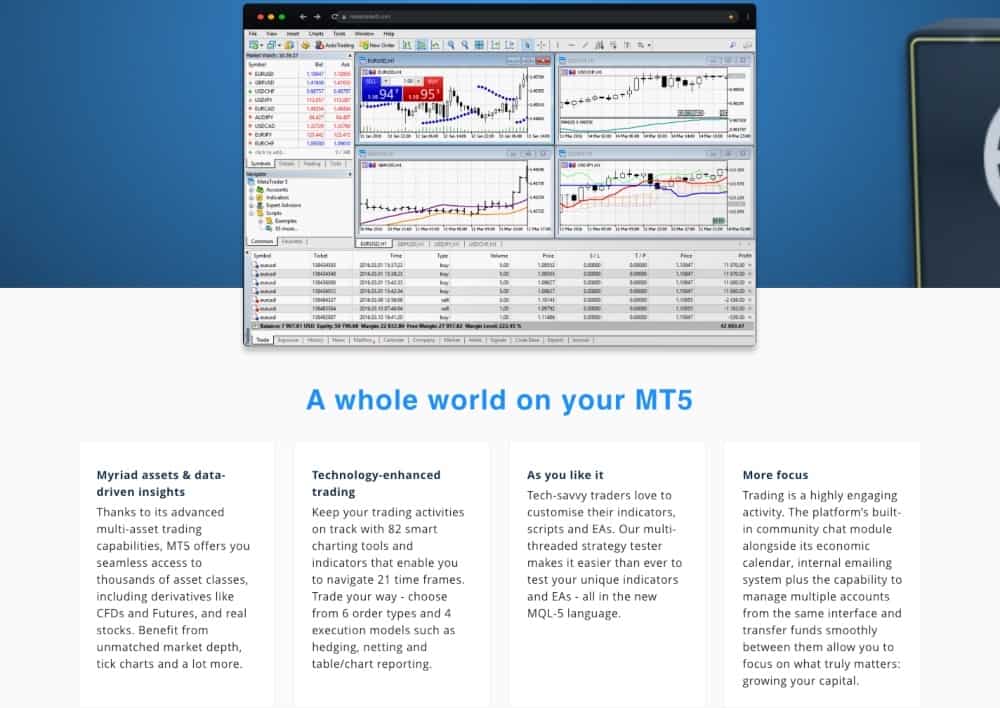 Platform Features and Tools
There are several types of trading platforms available at 1Market, which will be familiar to many traders.
As a starting point, 1Market allows an investor to create a WebTrader account. This does not require a download – it can be used directly through a browser. In addition, certain accounts will get access to MT5, which is a well-known, very well-respected, and user-friendly trading platform. MT5 is considered a platform of choice in the industry, and is used by a number of competing forex brokers.
Developed by MetaQuotes Software, MT5 is not only a powerful platform, but is also fast and efficient, allowing the execution of orders in a number of financial markets and stock exchanges through a single trading account. It is worth highlighting that MT5 is an upgraded version of MT4, which was originally introduced to the financial trading markets over 15 years ago. Some of the functionality that MT5 has over its predecessor is explained below, all of which is available via 1Market:
There is a partial order filling option.
MT5 has more execution options, such as immediate or cancel and return, not just kill or fill.
There are six pending order types, as opposed to four with MT4.
There is a market depth option with MT5.
There are more – 38 in total – technical indicators with MT5.
MT5 has a useful built-in economic calendar featuring publications.
MT5 has a built-in email or messaging service.
MT5 gives the trader the option to transfer funds between accounts within the same trading platform.
MT5 enables access to more exchange markets, such as stocks, futures, bonds and options trading.
In addition to MT5 and WebTrader, 1Market uniquely offers traders 1nsight Trading. As highlighted on the broker's website, it is powered by a set of intelligent algorithms. 1nsight scans the trading activity of thousands of assets available on the 1Market platform to provide real-time, data-driven insight into the 1Market investment community. It is an excellent source of trading intelligence.
There are two core elements, the 1nsight Live Feed, which is a live streaming pool of market events, and the Trading Gauge, which gives colour on how the investment community is reacting to new inputs in real time. This system is a very helpful additional detection tool for finding and then executing on emerging trends in the market. It is also relevant to all levels of trading experience and is a differentiating factor when considering whether to open an account with 1Market.
1Market offers an excellent package in terms of its trading platform with a healthy combination of industry-leading software, with MT5 and its own in-house trading tool and platform. A high-quality outcome is the reward for all types of traders.
Mobile Trading
1Market offers a clear and concise mobile application that operates for Android and iOS software. The live feed is easy to navigate and the Trading Central link is helpful, in keeping with the desktop version.
Trading Central can deliver up to three technical signals or trends a day once your account has been funded. Overall, the clean layout is simple but very effective. The access to technical indicators is more limited on the mobile app.
Robo Trading
The 1nsight Feed allows investors to measure the activity of other traders within the platform as they trade. There is a strong sense of a developing community of traders at 1Market. Within this application, a trader has access to a trend detection function that identifies trends as they emerge. There are also volume markers to indicate buy or sell positions and, importantly, a trend reversal algorithm. All this is based upon what other traders' or statistically significant activity may be occurring.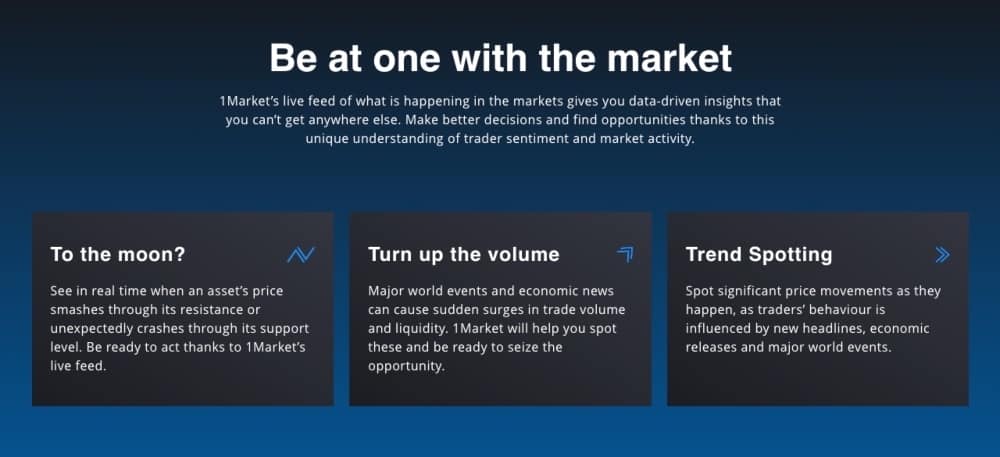 Research and Learning Section
Within Trading Central, a respected top provider of real-time trading signals, there are a number of features that can support an investor with a research and education facility. You can choose from a range of trend confirmation tools and technical indicators. These include RSI, MACD, Fibonacci Retracement, and many others.
Scenarios around multiple support and technical levels within the asset you are focused on trading can be utilised within the 1Market platform. For those with a Standard account or above, a trader can receive daily updates and research commentary on specific upcoming events. All of this is neatly packaged on the 1Market website.
Regulatory Details
1Market is a trademark owned by Podora Ltd, a Marshall Islands company with registration number 107838, which is exploited worldwide. As a European financial services provider, 1Market is also regulated and authorised by the Cyprus Securities and Exchange Commission (CySEC) under law L.87(I)/2017 regarding the provision of investment services, the exercise of business investment, and the functioning of regulated markets.
1Market is committed to the same principles of integrity, expertise, diligence, financial prudence, communication with clients, and protection of client assets as established by law. Our 1Market review found that the broker offers a complete and secure trading environment in which traders can explore new ways of trading and learn from each other.
As previously discussed, 1Market also abides by the strict rules of MiFID, the directive on markets in financial instruments, a European law that oversees regulations and standards of safe practice for financial and investment firms within the European Economic Area. This enables customers to be reassured that their funds are segregated, and as such protected, within the broker.
By having these internationally recognised regulations and standards, 1Market ensures that traders are able to enjoy a secure and progressive regulatory and operating experience. This is something that 1Market delivers.

OUR SUMMARY
Our Summary
You should not risk more than you are prepared to lose.
1Market has achieved a unique online broker platform in a short period of time. Importantly, it is regulated to a MiFID level, which is key in being able to protect the traders that sign up to its community.
It offers a significant number of assets to trade – over 600 in total – in a clear and concise way from an execution standpoint. Its trading platform has an excellent framework and a number of options, both via desktop and mobile.
By introducing 1nsight, it provides a live stream of useful knowledge and research that helps a trader to more easily detect emerging trends in the marketplace. The different options available when setting up an account allow traders of all levels to find the right service they may require right up to full-time forex investors.
The minimum deposit requirement and account set-up requirement are of an industry standard that should be expected. Fees are not excessive, and free deposit and withdrawal costs are very important to many traders. The 24/5 customer support in 11 different languages is also of an industry standard.
The copy trading option could be expanded further, but Trading Central does give some real colour for traders, especially beginners, to work with.
In assessing and summarising this 1Market review, it has become clear that this broker has every intention of building a supportive trading community within its platform, with some exceptional unique features.
1Market makes trading easy and accessible and can be trusted by traders in a strongly regulated framework.
TRADING DISCLAIMER
CFDs are leveraged products that incur a high level of risk and can result in the loss of all your capital and may therefore not be suitable for all investors. You should not risk more than you are prepared to lose.
BACK TO TOP