The global investing community eagerly awaits the launch of what could be the largest IPO ever issued – Saudi Arabia's Aramco. Shares will not be available to ordinary retail investors, but that was standard practice for most IPOs until onmarket.com.au came along here in Australia, offering average retail investors the opportunity to bid on select IPOs.
The current holder of the title of world's largest IPO is Chinese ecommerce firm Alibaba (NYSE: BABA) debuting in 2014 on a $25 billion dollar float. The company's share price performance since is arguably what seduces so many retail investors to IPOs, despite advice from financial experts to be wary.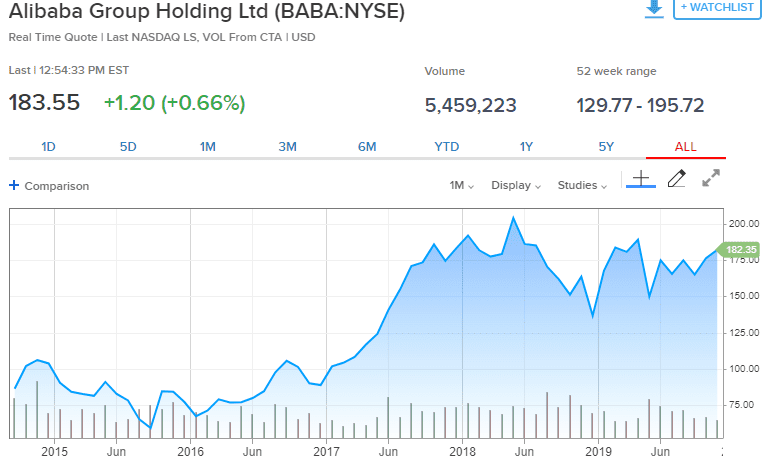 Warren Buffet, a titan in the annals of share market investing, famously proclaimed he was not buying into another "hot" IPO – ride share disruptor Uber (NYSE: UBER) – adding that he has never bought any IPO.
The Uber IPO came after a troubled start with an initial astronomical valuation of the company when investors awoke to the fact Uber's own S-1 filing stated there was a chance the company would never earn a profit. An S-1 filing is a US Securities and Exchange Commission (SEC) disclosure requirement for companies about to go public.
In stark contrast to Uber, Alibaba – founded in 1999 – turned its first profit in 2001 and has remained profitable ever since. It is little wonder then that some financial experts advise retail investors to stay away from IPOs in start-up status, generating little if any revenue and no profit.
Others advise sticking with companies generating growing revenues in the belief expenses associated with the early stages of growth will diminish over time allowing the revenue-generating company to turn a profit.
IPOs have been and will remain attractive to many retail investors. And why not? They are the stuff of dreams for those who believe the "story" the company has to tell the world will not remain a fairy tale.
The ASX website lists upcoming IPO floats. As of 22 November, there were 21 upcoming IPOs with the majority – 6 – from mining and minerals exploration companies. This should come as no surprise as five of the Top Ten Australian Exports for 2018 were from mining.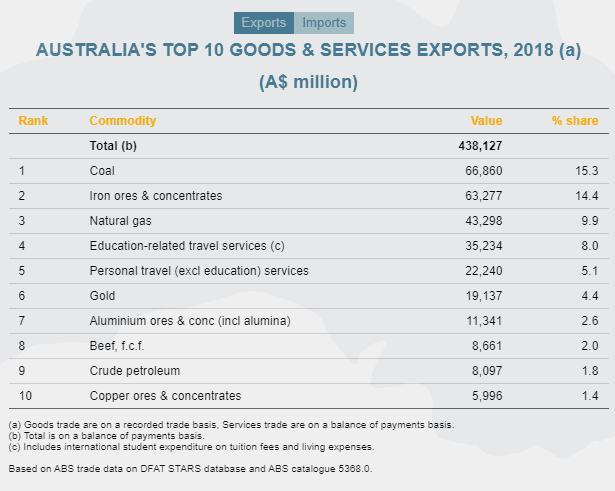 Now that the financial sector has survived the results of the Royal Banking Commission Inquiry and property is on the rebound, new entries to the ASX in those sectors are back on the investor radar. Would-be competitors of current ASX market darlings in red-hot sectors like the Buy Now Pay Later (BN-PL) favorite Afterpay Touch Group (APT) are always a favorite.
Then there are the "under the radar" stocks, residing there because their story is boring or the sector in which they operate has fallen out of favor. One could make the case that "under the radar" stocks are less likely to see the wild swings in share price of more desirable IPOs that attract both long-term investors and momentum traders who bail out as the share price peaks, leading to an inevitable fall.
There are three upcoming IPOs that might qualify as under the radar yet may be worth a look.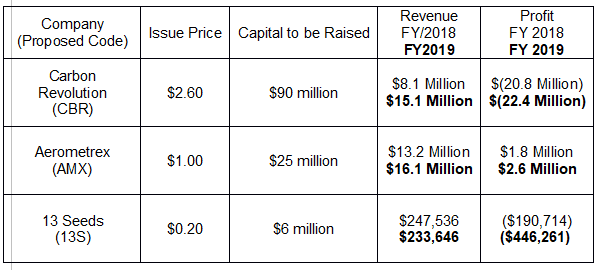 Breakthrough medical treatments and disruptive technological innovations with stories of remarkable things behind them excite investors. Wheels and aerial photography and mapping elicit yawns. Once all the rage among investors, marijuana stocks have lost their luster.
With the highest issue price and the largest amount of capital to be raised of any of the companies in our table, Carbon Revolution is currently one of the largest IPOs coming to the ASX. The company has been in business since 2007 designing, manufacturing, and marketing single piece wheels made of lightweight carbon fibre. Although Carbon Revolution is targeting the automotive industry, its carbon fibre wheels have applications in aerospace and industrial use as well.
The company made its first sale in 2015 for the Ford Mustang GT350R. Carbon Revolution now has contracts for its targeted market – global Original Equipment Manufacturers (OEM) – to supply carbon fibre wheels for nine vehicle lines, with Ford, Renault, and Ferrari among the OEM customers. The company is already supplying six of the lines with the remainder to commence production by FY 2023.
A carbon fibre wheel has performance benefits beyond its lighter weight, including better noise and vibration performance and greater range for electric vehicles. The company works with its OEM customers in the design phase of the production process.
In October of 2018 Carbon Revolution increased its production capacity, tripling the size of its manufacturing facility. The current production rate of 12,000 wheels per year is expected to jump to 32,000 by June of 2020. The company currently operates in Europe and North America.
The company has forecasted revenues to increase to $62.2 million in FY 2020. While Carbon Revolution has yet to turn a profit, operational expenses have remained relatively constant without significant increases forecasted that could eat into the increased revenue.
The history of aerial imagery companies on the ASX bodes well for the future of Aerometrex, a company already profitable. Existing competitor Nearmap (NEA) provides high tech aerial photomapping services in Australia, New Zealand, and North America. The share price is up 260% over the last five years while smaller competitor Spookfish was acquired by US aerial photographer EagleView in 2018. Prior to the announcement of the takeover offer of $0.09 per share, Spookfish shares were trading at $0.051, a 76.5% premium for Spookfish shareholders.
Aerometrix has for some thirty years been serving industry and government here in Australia with aerial surveying, mapping, photography and LiDAR (laser surveying).
Now the company is looking to expand beyond Australia, focusing on the US and Europe with its next generation 3D mapping product. Aerometrex has target clients in the US cities of New York and Philadelphia, producing 3D maps for both cities; as well as projects in France and Germany. Proceeds from the IPO are to go towards this international expansion.
Aerometrix derives revenue from contract sales of its various aerial imaging products, including LiDAR surveys, mapping, and 3D modelling. The company also offers a web based aerial map called MetroMap™ on a subscription basis.
Currently the majority of the company's revenue comes from contract sales to a well-diversified customer base across Australia – with 56% from businesses and 44% from government organisationis. Aerometrex's expansion strategy is to penetrate the Europe and US markets with its existing mapping and surveying product line and expand its MetroMap™ subscription base.
The marijuana, or "pot", sector here in Australia followed the lead of Canadian and US stocks in that fledgling sector following the 14 October of 2016 Narcotics Drug Regulation of 2016. New entries rushed to the ASX and investors gleefully gobbled them up, only to see yet another red-hot sector fail to live up to its promise.
Sadly, many investors "shoot first and ask questions later," following the stampeding herd without taking the time to do some research. Those who did so learned that marijuana is a complex plant with different varieties and different by-products, one of which is hemp.
In November of 2017 hemp products for human consumption were approved by the Federal Government. In March of this year a new player in the hemp product space came on the ASX and is up 180% since.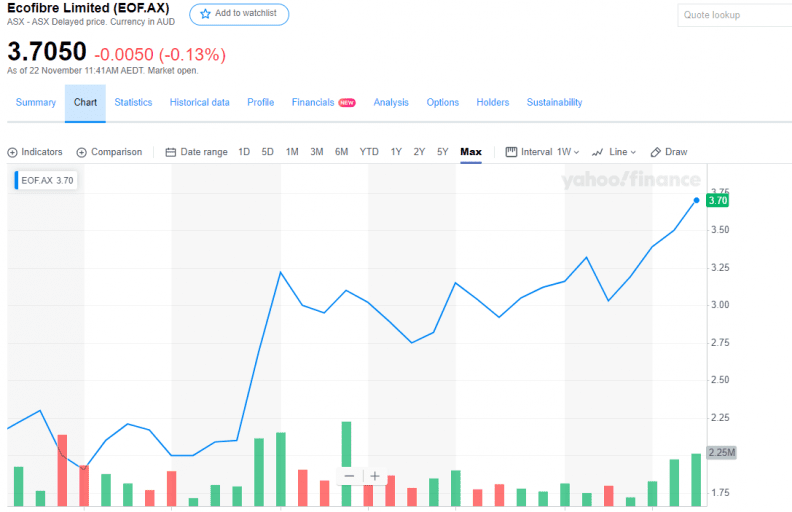 Tasmania based 13 Seeds Limited was founded in 2016, operating under a self-described "capital light" business model. The company outsources both hemp seed cultivation and production and parts of its distribution chain, controlling the processing of the seeds into its current line of 15 hemp food and 10 skin care products.
Products are distributed online through both its own website and affiliate sites as well as through contracted distribution partners across Australia.
In the immediate aftermath of the November of 2017 unleashing of hemp products, the company's distributors loaded up on inventory. The 13 Seeds IPO Prospectus claims the decline in revenue was due to excess inventory on distributors' shelves.