Investors worldwide appear to be questioning the probability of a quick v-shaped economic recovery from the COVID-19 pandemic. Contributing to the dashing of those hopes, at least for this week, is the rising number of COVID-19 cases in parts of the US and now in China and in our own state of Victoria.
Towards the end of the trading week commencing on 15 June investors in Australia and in the US were treated to disappointing unemployment statistics, with the data in both countries coming in worse than expected.
Here in Australia, the forecast of a loss of an additional 125,000 jobs was blown away by the actual number released by the ABS (Australian Bureau of Statistics) of a loss of 227,000 jobs, dropping the unemployment rate to 7.1%. Some economists claim the figure is misleading, clouded by Aussies who have given up looking for work.
Economic forecasting has always been challenging, even in the best of times. In what some believe are the worst of times, forecasts have been wrong repeatedly, sometimes by stunning margins. The US weekly unemployment claims report announced this week came in worse than expected, with an additional 1.5 million Americans filing for unemployment versus a forecasted 1.3 million. That miss pales in comparison to the 5 June release of the unemployment rate in the US beating the expectation of negative 19% with the reported negative 13.3% rate. The stunning part of the release was the news the US actually added 2.5 million jobs in the month of May, with not a single economist there predicting any gain. Forecasts were for a loss of 7.25 million jobs, with some slightly higher.
Forecasters in the US got it wrong again, predicting retail sales there would rise 8% in May as sections of that country began to reopen, with consumer spending up 17.7%.
Australian retail sales in May rose dramatically, from a 17.7% April decline to a month over month increase of 16.3%, fueling the argument for a quick recovery here.
The counter-argument to the quick recovery scenario received support from an 18 June editorial in the Sydney Morning Herald echoing calls from the Reserve Bank of Australia and others for more federal government stimulus. Prime Minister Morrison is bursting the illusory bubble of a quick economic recovery, stating "It will take us an estimated two years at least just to get back to the spending level we were at prior to the fall from pre-Covid," continuing on to say "a full economic recovery could take five years." He also announced another round of fiscal stimulus, this one aimed at infrastructure projects and assessment teams working on accelerating existing stimulus efforts.
Despite the bleak short-term outlook, Australia is arguably in a better position than the US, given our better control of the spread of the virus and the willingness of our government to add stimulus. Investors who follow US news know the political divide there remains problematic for additional stimulus measures, regardless of the chorus of economists and financial experts clamoring for more assistance to stave off worsening conditions. The OECD is on record stating Australia's economic recovery could outpace the rest of the world.
The fact the situation might be better here is small comfort to investors feeling whipsawed by the volatile markets they are trying to navigate. Those who have relied somewhat on expert forecasters may be growing exceedingly skeptical, yet the fact remains a recovery will come; it is only a question of when. Investors with the patience and the time to wait should consider proceeding with whatever is their normal investing strategy, with added due diligence and an extra dose of caution.
Broadly speaking, the two dominant investing strategies are exemplified in the following maxims:
Buy High; Sell Higher
Buy Low; Sell High
Value investors looking to buy low frequently turn to lists of stocks hitting 52 Week Lows for bargain stocks with the potential for recovery. Growth investors look to lists of stocks making 52 Week Highs for stocks with attractive potential for continued growth. Sometimes the growth crowd gravitates towards current "hot" stocks in the belief some upward trending stocks remain in an upward trend.
Early in the trading week beginning on 15 June the 52 Week High list contained some intriguing possibilities for risk tolerant investors and those with a penchant for punting.
Some ASX stocks have exploded due to exposure to COVID-19 diagnostic tools or virus-related products. One controversial entry is TBD Diagnostics (TDL), suspended by the ASIC (Australian Securities & Investments Commission) for questionable trading prior to the company's release of an announcement that a Chinese company in which TBG Diagnostics holds a 47% interest had received approval for distribution of a COVIOD-19 Diagnostic test in Europe.
The company put the shares in a trading halt on the 17th prior to the announcement on the 18th. What caught the eye of the ASIC can be seen in the following price movement chart from reuters.com: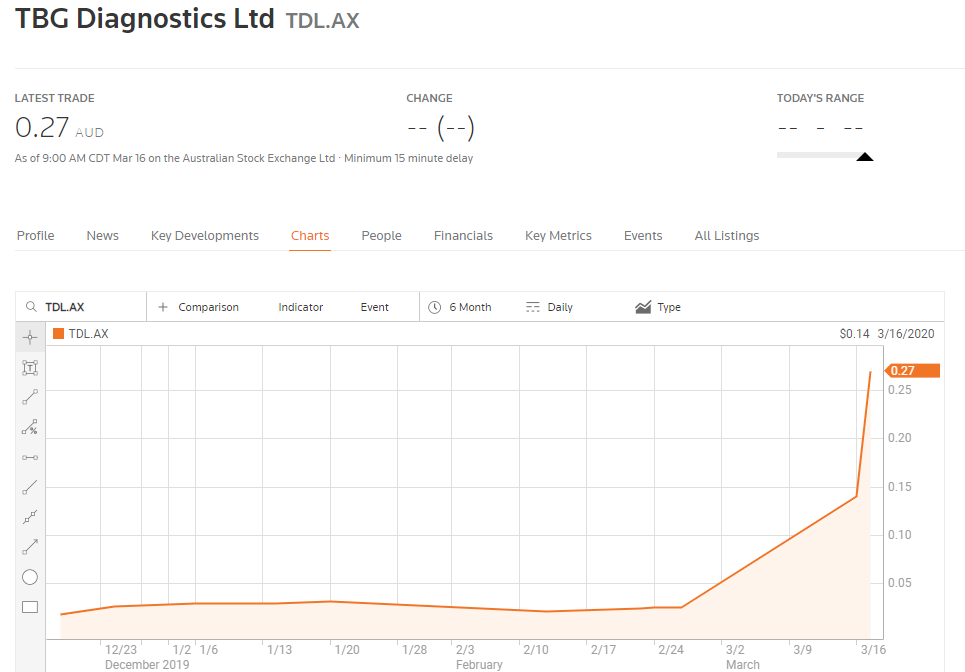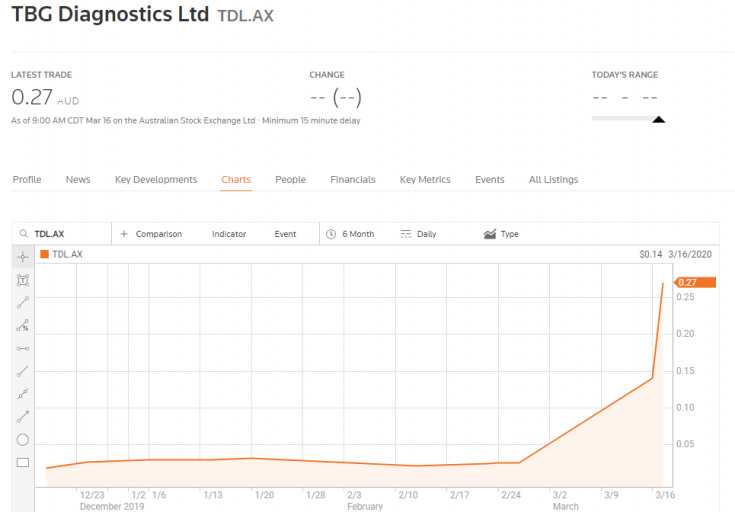 The price shot up about 800% on the 16th. In response to a query from the ASX the company stated it had issued a prior announcement that the Chinese biotech in which it had interest had been designated a "coronavirus testing site". TBG Diagnostics remains in suspension with new news coming on 12 June that a Taiwan-based subsidiary had received emergency use approval (EUA) from the US FDA (Food and Drug Administration).
The company has other diagnostic kits as well as analysis equipment and other services but investing in TBG Diagnostics based on growth in its COVID-19 diagnostic products is a short to medium term proposition. Like other ASX biotechs feasting on the demand for anything that will help with the pandemic, "one trick ponies" are not likely to thrive in the longer term.
Zoono Group Limited (ZNO) was "tailor-made" to benefit massively from the COVID-19 pandemic. The company, global in scope, manufactures antimicrobial surface cleaners and hand sanitizers, available as a spray or in a foaming liquid.
Year over year the share price is up almost 2500%, dwarfing the impressive 243% plus gains of another ASX stock producing hand sanitizer – Skin Elements (SKN), now in a voluntary trading halt pending on laboratory results and a capital raise.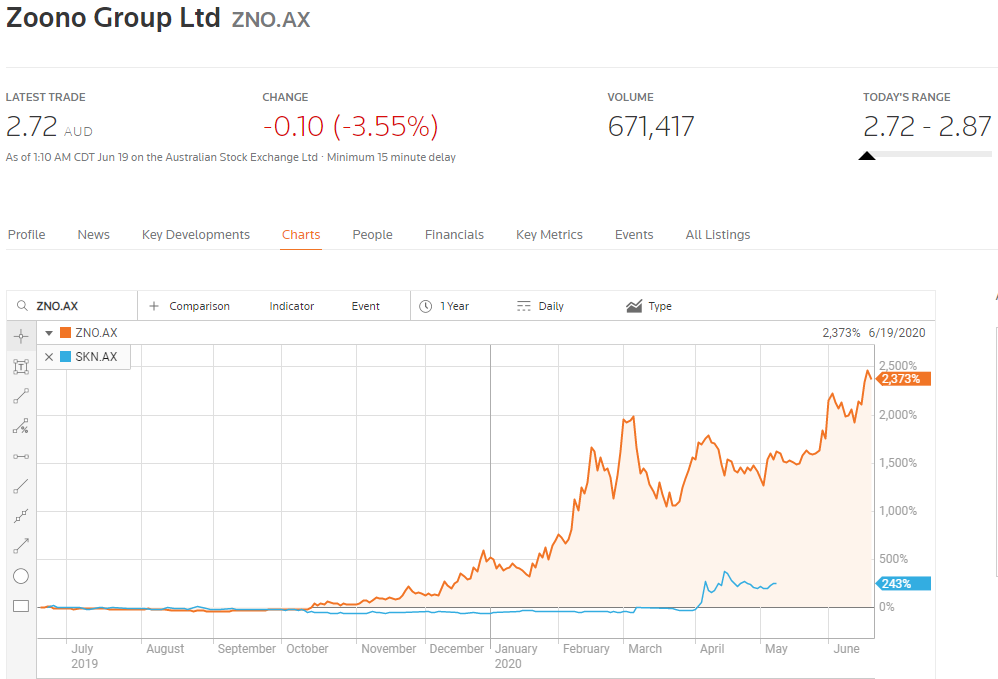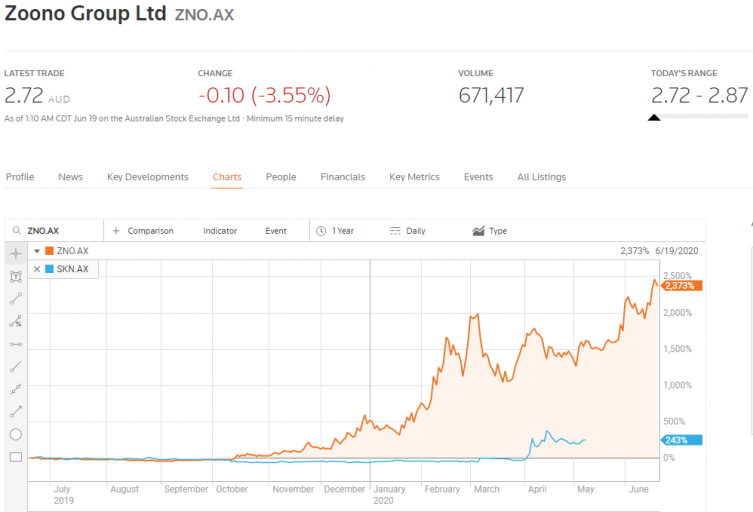 Zoono listed on the ASX in 2017 via a reverse merger. The New-Zealand based company's most recent update (5 MAY) to the market included numerous new distribution agreements and the positive news business to business revenues generated in the month of April alone amounted to NZ$11 million, unaudited. In the Fiscal Year 2019 the company generated NZ$1.73 million. A 19 February update announced revenues for the prior quarter were NZ$3.5 million.
Zoono makes other skin products, but it may seem obvious demand for antimicrobial surface cleaners and hand sanitizers will go down when the crisis finally ends. However, it is highly likely an increasingly health-conscious consumer will remember the importance of washing your hands.
Mach7 Technologies Limited (M7T) listed on the ASX in 2015 following a merger with 3D Medical. The company offers enterprise image management systems globally. Imaging management systems at the enterprise level (think large businesses or non-profit organisations) involve much more than diagnostic imaging equipment. The Healthcare Information and Management Systems Society (HIMSS) defines enterprise imaging management as "a set of strategies, initiatives and workflows implemented across a healthcare enterprise to consistently and optimally capture, index, manage, store, distribute, view, exchange, and analyze all clinical imaging and multimedia content to enhance the electronic health record."
Year over year the share price is up about 67% despite crashing at the onset of the pandemic as elective procedures requiring diagnostic imaging were postponed.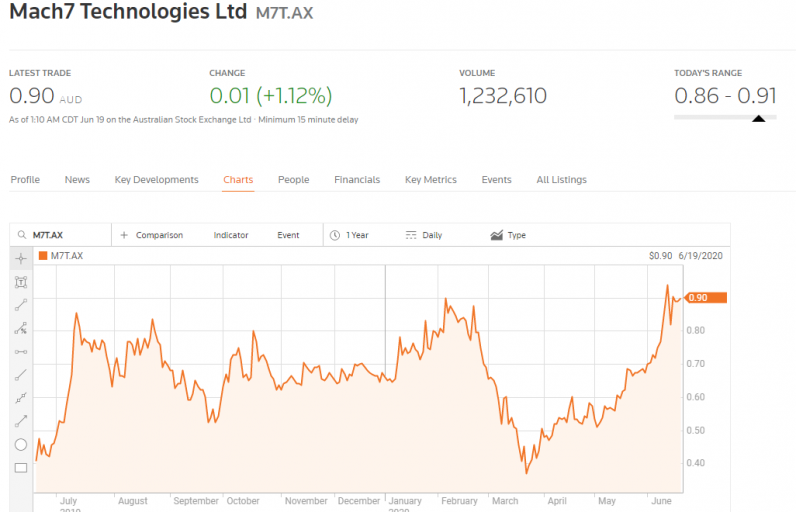 The COVID-19 pandemic is the arguably the worst of five pandemics occurring since 2000, primarily in terms of its contagious nature. Consumers worldwide have learned the healthier they are the more likely they are to avoid contracting future viruses or dying from them. In short, demand for virtually everything that promotes better health is likely to increase, including regular diagnostic imaging screening.
Mach7 is debt free with $23.3 million cash on hand, as of the Half Year 2020 Financial Results released on 20 February that showed a 158% revenue increase and a 176% increase in earnings before interest, taxes, depreciation and amortisation (EBITDA).
On 7 June, the company announced the acquisition of enterprise image viewing technology provider Canada-based Client Outlook Inc. along with an upcoming capital raise to fund the acquisition.
Mid-cap gold and base metals exploration and development miner Musgrave Minerals (MGV) has seen its share price dramatically outperform the top three gold miners on the ASX – Newcrest Mining (NCM); Northern Star Resources (NST); and Evolution Mining (EVN).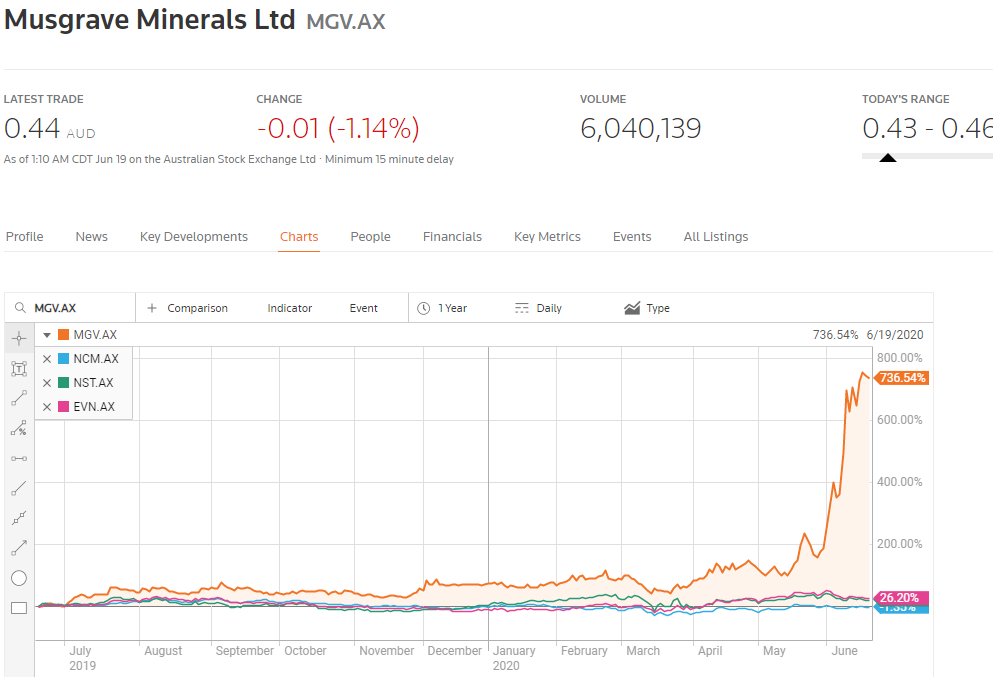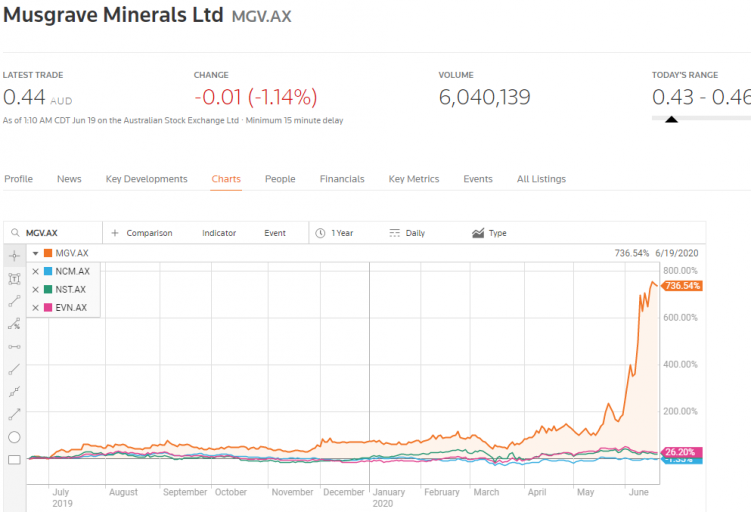 Musgrave listed on the ASX in 2011 and has rewarded shareholders with solid average annual rates of total shareholder returns of 54.1% over 5 years and 80.5% over three years. The company's flagship Cue Project in the Murchison Province of Western Australia has seen outstanding drilling results in June.
On 3 June Musgrave emerged from a 1 June trading halt to announce stellar results from the its Break of Day gold deposit within the Cue Project. At one point during the trading day the share price shot up over 90%, hitting a new 52 week high. That high was eclipsed on 9 June on yet another highly positive drilling result released to the market. Musgrave counts among its shareholders other ASX gold miners, including Westgold Resources Limited (WGX); Evolution Mining Limited (EVN); and IGO Limited (IGO).
The ASX 200 was up by about 1.2% on the final trading day of the week before fading to close up 6.1 points, or 0.1%.
US markets were rallying until tech giant Apple announced it was re-closing 11 stores in four different US states, adding to investor concerns over bad news on the spread of COVID-19 in the states of Florida, Arizona, and California. The Dow Jones Industrial Average (DJIA) fell from an intraday rise of 371 points to close down 208 points, or 0.8%.