Steadfast Group has a network of 426 general insurance brokers across Australasia.
The company is expanding its operations in Europe and elsewhere in Asia.
Steadfast has just entered the US market with the acquisition of one of the largest privately held brokerage networks in the US.
Steadfast Group has more than 1,900 offices across Australia, Singapore, New Zealand and London.
On 6th October 2023, the company acquired 100% ownership of ISU Group, which is among the largest independent insurance agency networks under private ownership in the US.
Steadfast is both the largest general insurance brokerage network and the largest general insurance agency in Australasia.
The company has been a consistent dividend payer over the last decade, with a five-year average dividend payment of $0.11 per share and a five-year average yield of 2.49%.
Over the decade, the share price has risen from $1.58 per share to $5.66 per share, an increase of 265%.
Year over year, the share price has risen 19.6%.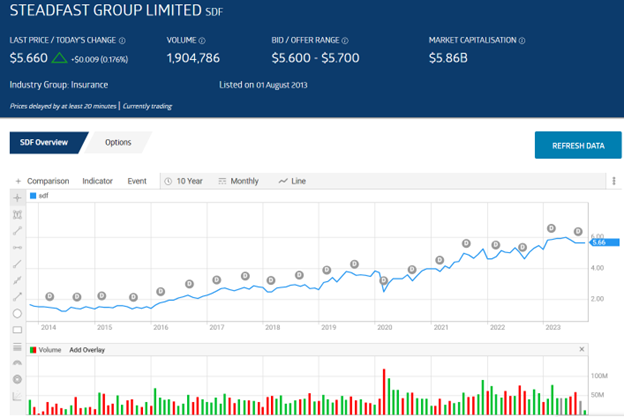 Source: ASX
The company posted a loss in FY 2020 and has been profitable ever since with rising revenues.
In FY 2023, revenues rose 24.1%, while net profit was up 22.5%.
Total dividend payments for the full year were up 15.4%, while profit guidance for FY 2024 lies between $230m and $240m.
Steadfast Group Financial Performance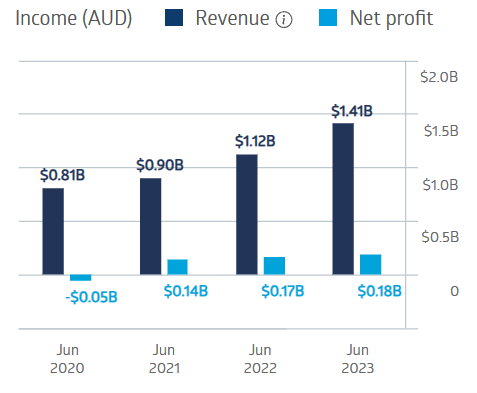 Source: ASX
An analyst at Catapult Wealth has a HOLD recommendation on Steadfast shares, pointing to the group's structural advantages of a business model free of risk from insurance claims.
Don't Buy Just Yet
You will want to see this before you make any decisions.
Before you decide which shares to add to your portfolio you might want to take a look at this special report we recently published.
Our experts picked out The 5 best ASX shares to buy in 2023.
We're giving away this valuable research for FREE.
Click below to secure your copy
Related Articles: