Dedicated Aussie investors who choose to pick their own stocks are always on the lookout for prospects. Some avoid the Top 30 Short List as a source in the belief short sellers have more expertise in analysing stocks due to the greater risk entailed.
The risk element is true, given the potential loss of a short position is limitless. Short sellers scour the ASX looking for stocks their research shows to be over-valued or over-hyped (or both) and "bet" the current share price will drop. To take a short position in a target stock of 100 shares at a current price of $10 per share, the short seller "borrows" the 100 shares with the time of "covering" or buying back the borrowed bet up to the seller.
If the stock drops to $5 the short seller may elect to close his or her position, buying back the shares at $5 and pocketing the difference as profit. The limitless risk comes when the stock price moves in the wrong direction. The risk of long positions – buying stocks with the expectation the share price will go up – is limited to the total cost of the investment, should the company go into receivership or liquidation. The short seller with the $1,000 short position watching the stock rise from $10 per share to $15 and possibly higher faces the decision of closing the position at a loss or watching the losses mount potentially endlessly.
For this reason, many share market experts advise retail investors to stay away from short selling. However, the shorts can and often do get it wrong, opening the door for well-informed retail investors to profit, especially when some catalyst causes a shorted stock to rise in price dramatically, ushering in a stampede of short sellers closing their positions, known as a "short squeeze."
There is no better ASX stock to make a case for stock pickers following the Top 30 Short List for prospects than electronics retailer JB HiFi (JBH), currently in sixth place on the Top 30 List as seen on thebull.com.au 31 August newsletter.
In June of 2011, JBH bumped Fairfax out of the top spot, and assumed the #1 position on the ASX short list, bouncing around on the list for most of this decade. Here is how the JBH stock price has performed since listing on the ASX in 2004, courtesy of the Reuters financial website.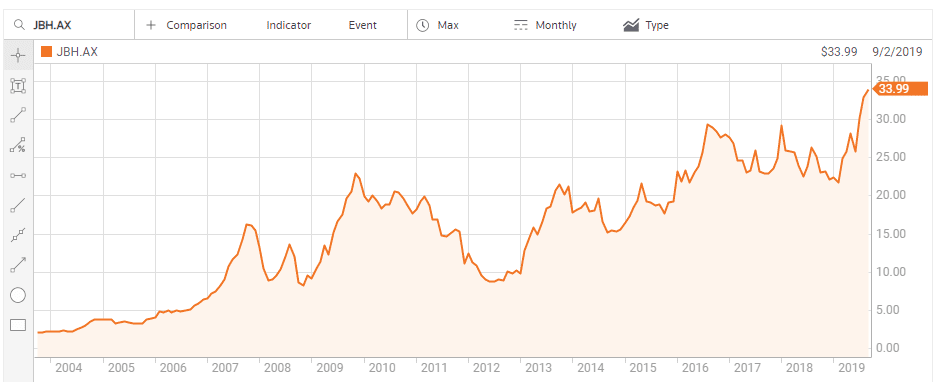 The shorts smelled opportunity as the high-flying JBH stock came into question as a strong Aussie dollar encouraged consumers to take advantage of cut-throat low price foreign competition, threatening JB HiFi's branding position as our leading discount electronics retailer along with its profit margins as the company would have to match foreign prices.
It's a long story, but what has led JBH to reaching a new all-time high in recent days could be management's response to the perceived crisis.
While the shorts made their case, some Aussie retail investors chose to look at the company's aggressive moves to increase its online presence, expand its product offerings, open new stores, and manage costs. Buyers at any point between 2010 and 2013 have been handsomely rewarded.
The 31 August Top 30 Short List includes 12 stocks with double-digit two-year earnings growth forecasts; six with earnings growth forecasts over 50%; and two with triple-digit forecasts.
The following table includes the six stocks with forecasts in excess of 50%, listed by short position (percentage of shares sold short).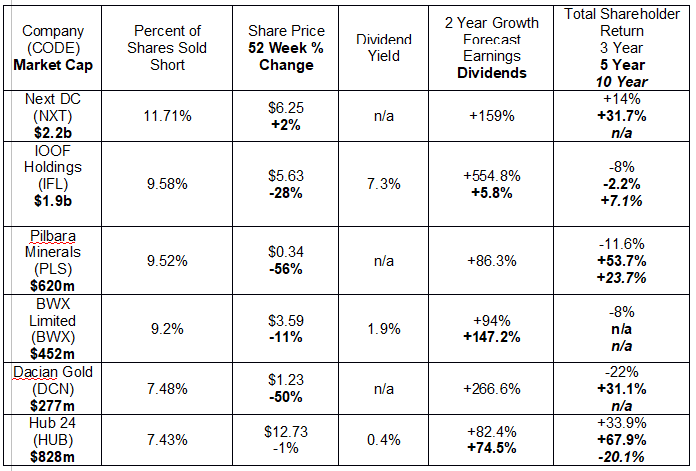 Data centre operator Next DC (NXT) has at its back strong tailwinds from increasing global demand for data storage and cloud connectivity.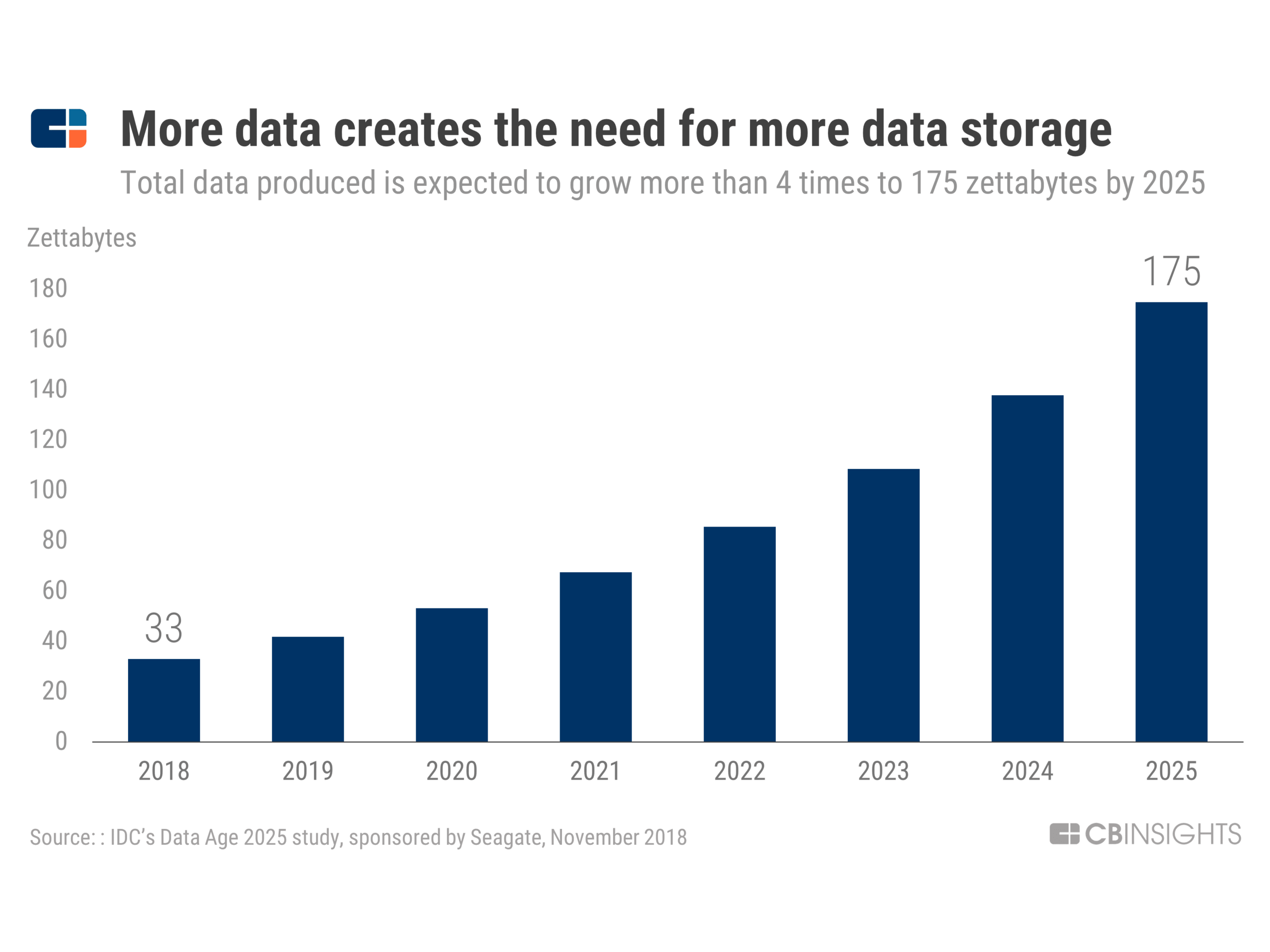 In the short-term Next DC has invested heavily in expansion, with current gearing 99.07% with $399 million in cash against $867 million in debt, as of the most recent quarter (MRQ). They are Australia's largest developer and operator of data centres, outsourcing solutions, cloud connectivity services, and infrastructure management software.
The company has grown revenue in each of the last three Fiscal Years, rising from $117.6 in FY 2017 to $153.6 in FY 2018 to $169.7 in FY 2019, but failed to translate that revenue into rising profit. An FY 2017 profit of $23 million dwindled to $6.6 million in FY 2018 before morphing into an FY 2019 loss of $9.8 million.
The company did report a 13% increase in EBITDA (earnings before interest, taxes, depreciation, and amortisation) and issued EBITDA guidance for FY 2020 to grow between 17.5% and 23.5%.
While Next DC's earnings per share (EPS) growth forecast is impressive, it is coming off a low base of a negative $0.07 in FY 2019 which is expected to increase to $0.033 in FY 2021.
IOOF Holdings (IFL) is a provider of financial services ranging from portfolio administration, to platform management, to trustee services and investment products. The shorts were drawn to this one like flies to honey with the announcement of the Royal Banking Commission Inquiry into the financial services sector, with a crescendo of selling following the early December of 2018 announcement from the company of a notice from the Australian Prudential Regulation Authority (APRA) "that it seeks to impose licence conditions on IOOF's APRA regulated entities, along with court proceedings and a show cause notice from APRA in relation to alleged breaches of the Superannuation Industry (Supervision) Act 1993."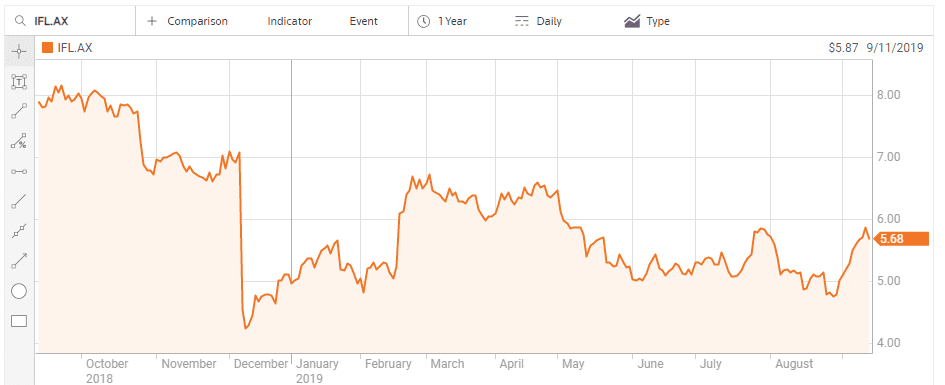 The company reached an agreement with the APRA in a matter of weeks and despite damage to its reputation, the final recommendations of the Royal Commission were met by IOOF's commitment to comply.
FY 2019 saw IOOF revenues increase, but profit fell $88.3 million to $28.6 million, with reported earnings per share (EPS) of a negative $0.014 per share, expected to dramatically increase to $0.501 per share in FY 2020 and up to $0.55 in FY 2021.
Pilbara Minerals (PLS) is an ASX lithium miner suffering from the twin woes of market oversupply and slower adoption of the Electric Vehicle (EV) boom. Lithium was once on fire and as many expected, miners rushed to increase supply, with the not surprising result – prices fell in the face of a demand/supply imbalance. Chile's lithium miner AQM (Sociedad Química y Minera) is ready to compound the problem by vowing to increase production to regain market share lost to Australian miners.
Long-term demand for lithium remains intact, with most analysts remaining bullish. Bloomberg New Energy Finance sees a dramatic rise in annual global EV sales, claiming the current lithium mines around the world will be unable to meet the demand for lithium in the batteries needed to power the EV's.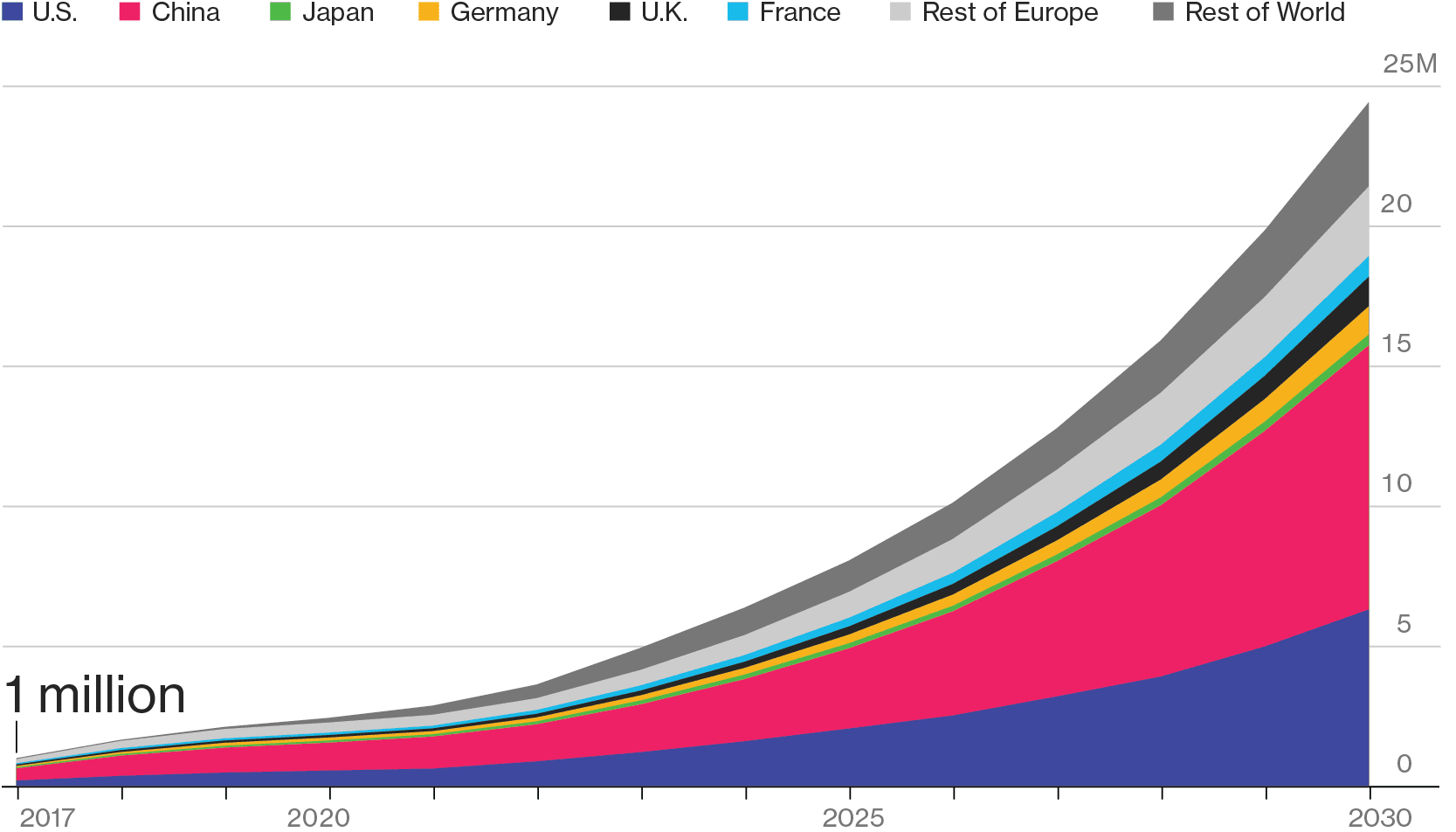 BWX Limited (BWX) bills itself as a "natural beauty" company, supplying skin care and hair products manufactured with natural ingredients to consumers here in Australia, China, Canada, the UK, and the US. The company has six branded products, with poor promotions and inventory troubles with its top brand, Sukin, dragging down the company's financial performance in the first half of FY 2019. Half Year 2019 revenues for the Sukin brand fell from AUD$36.4 million in the prior corresponding period (pcp) to AUD$23.2 million.
The Full Year 2019 Results were improved enough to see investors returning to the stock.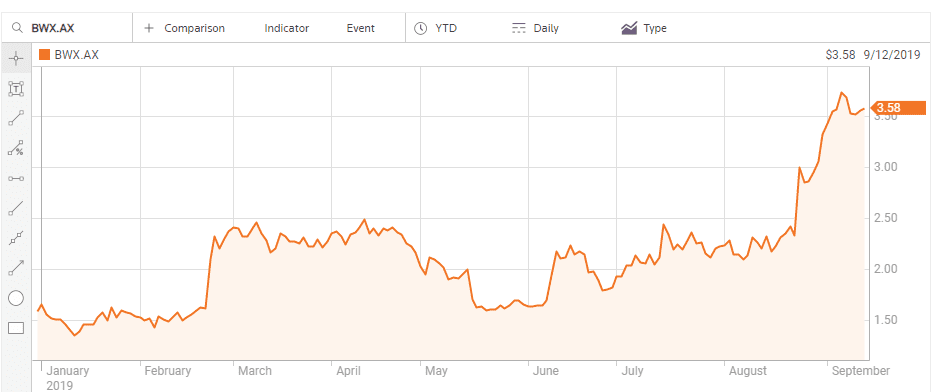 While year over year revenue growth was a meager 0.5%, revenues in the second half of 2019 were up 19.5%. Net profit fell from $19.2 million to $9.5 million, but the second half revenue performance and the improved performance of the Sukin brand in the US were enough to satisfy investors. Total sales in the US market increased from AUD$43 million to AUD$60.2 million. The 2020 forecast was another pleasing factor for investors, with projected revenue growth of between 20% and 25% and EBITDA growth between 25% and 35%.
Dacian Gold (DCN) is a start-up gold miner with high gearing – 86.15% — total cash on hand of $52 million and total debt of $150 million, all MRQ. Those are the kinds of numbers that often attract the short sellers.
The company listed on the ASX in 2012 and has been developing its flagship, and only, project, the Mt Morgans Gold Project (MMGP) in Western Australia, ever since. The company is producing and generating revenue but has yet to show a profit. A series of positive drilling results and resource estimates turned sour in early June, when the company downgraded its forecast for Q2 from 50,000-55,000oz at AISC (all in sustaining cost) of AUD$1,050-$1,150/oz to a revised 36,000-38,000oz at an AISC of A$1,500-$1,600/oz.

Production ramp up in FY2020 announced in early August is expected to be substantial –150,000-170,000oz. EPS is expected to turn positive by FY2021, coming in at $0.301.
All in Costs, or AIC reflect costs over the life of the mine (LOM) with Dacian projecting an 8-year LOM with gold production of 1.1 million ounces at an All-In-Cost of A$1,280 – A$1,380/oz.
Hub24 (HUB) is a prominent "fintech" company, using its platform technology to disrupt traditional wealth management offerings from the big banks and other large wealth management companies like IOOF and AMP Limited. Its HUB24 wealth management platform is used by retail investors as well as professional financial advisers.
Hub24 and its counterparts were among the few financial services companies that benefited from the Royal Banking Commission Inquiry, as reputational damage to the big banks and others saw investors moving funds into the disruptors like HUB.
However, the company has the reputation amongst short sellers of failing to consistently meet earnings expectations, with the volatile share price over the past year offering evidence to support that belief.
Add to that concerns over dropping interest rates and HUB found itself moving into the Top Ten Short List in late August of 2019, with 11.7% short interest.
Positive notes from brokers like Goldman Sachs and others coupled with a solid earnings result on 27 August have reignited investor interest.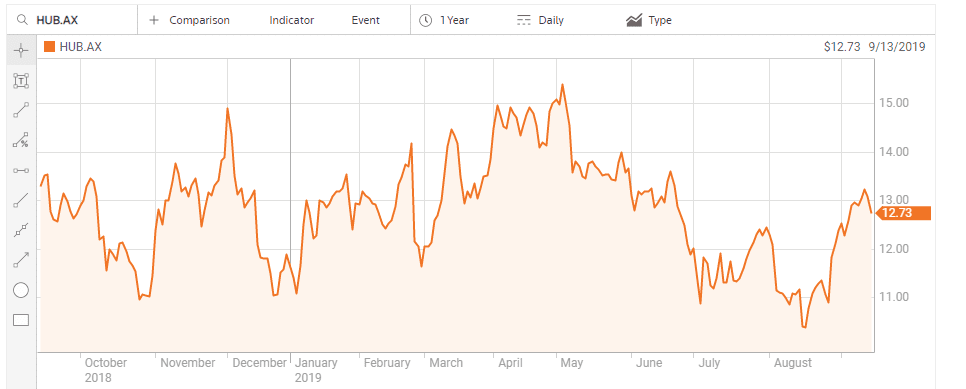 Although net profit after tax declined 2.9%, revenues from ordinary activities were up 13.4%; revenues from the platform segment increased 36%; funds under administration (FUA) rose 54%; and the company increased its dividend payment.
Finally, Hub24 upgraded its FUA guidance through 2021 from between $19 and $23 billion to between $22 and $26 billion. Since the release, short interest has dropped to 7.43%.