In early November of 2020, a new round of lockdowns in South Australia and concerns over post-vaccine performance in the retail sector led some analysts to downgrade several retailers, among them electronics and white goods retailer JB HiFi (JBH) and auto parts, outdoors and sporting goods retailer Super Retail Group (SUL).
In mid-January, those two retailers both issued market updates of unaudited financial results, previewing the upcoming releases of audited Half Year 2021 financial results coming in mid-February.
Super Retail Group expects a 23% increase in sales along with an 201% increase in statutory net profit after tax (NPAT). Statutory profit includes "one-off" items unique to the reporting year. The company is an omni-channel retailer with both physical stores and online sales. While online sales grew four times faster than in store or "like for like" sales, online sales only account for 13% of total sales.
JB Hi Fi expects a 23.7% sales increase along with an 85.2% increase in net profit. The picture here is similar – while online sales grew by 167%, they still accounted for less than a third of total sales – 13.7%.
Both companies attributed this solid performance in challenging times to "elevated and unprecedented consumer demand." It is especially noteworthy that these two retailers are in the consumer discretionary space, not the consumer staples space traditionally seen as a potential safe haven in tough economic times. Consumer discretionary items are goods and services not essential but desirable if available income is sufficient to purchase them. For some Australians, income lost in the pandemic has been replaced by government stimulus programs.
The share price of both companies got a boost on the updates, with JBH hitting an all time high, but quickly fell back. From the ASX website: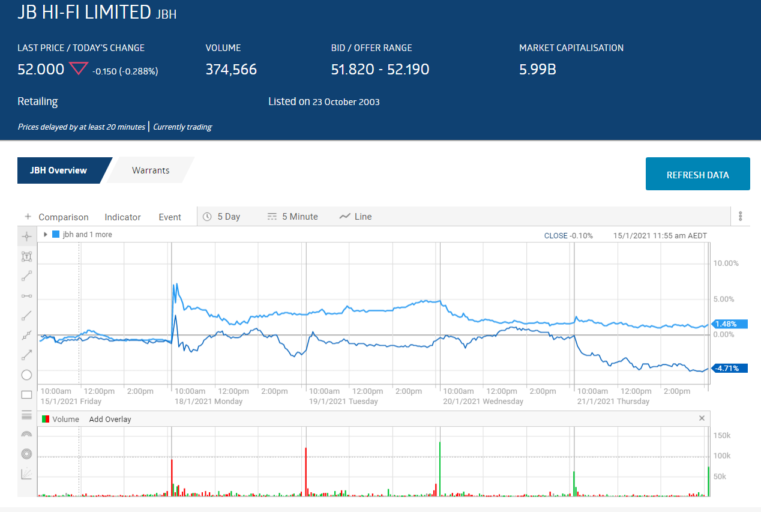 While "bottom up" investors – those that search for specific stocks – may prefer to gravitate toward market darlings and the hot stocks of the day, "top down" investors may be paying attention to the general economic performance of the country and in ASX sectors first. In this approach, an investor begins with a hot sector and proceeds to look for solid prospects.
The Australian economy continues to show positive signs, with a recent forecast from Deloitte Access Economics calling for positive growth throughout Australia.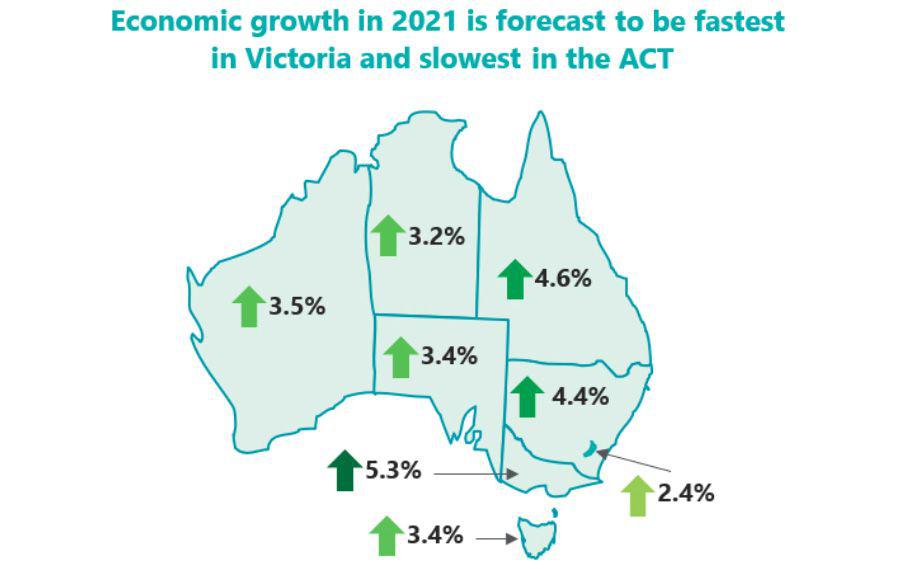 The ABS (Australian Bureau of Statistics) reports November retail sales up 7.1% and 13.3% from November 2019 to November 2020.
While both the consumer staples and consumer discretionary sectors turned in positive gains in 2020, the consumer discretionary outperformed consumer staples by a considerable margin.
Given the massive gains made by Afterpay and other stocks in the Buy Now Pay Later (BNPL) Sector, it should come as no surprise that the ASX Information Technology Sector was the only one to improve on its 2019 return in 2020 – from +33.5% to +44.1%. Top Down investors surely noticed that Consumer Discretionary finished second to IT with a return of +10.3%. Consumer Staples rose 5.3%.
There are five Consumer Discretionary stocks worth a look, with most making one or more of the many "stocks to buy in 2021" lists. The following table includes some relevant metrics for each.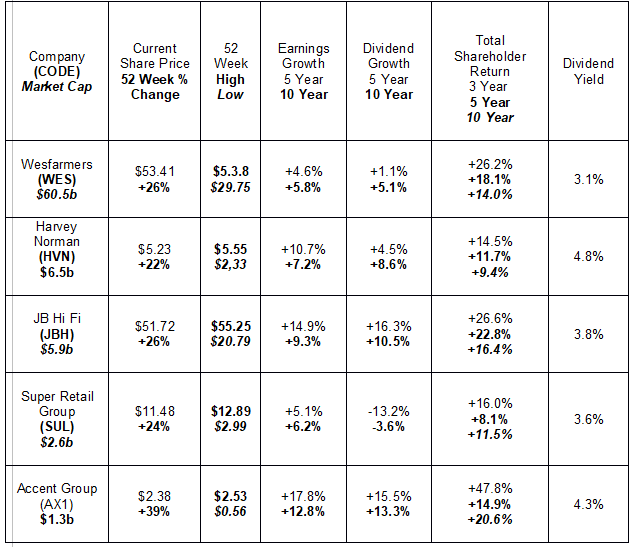 The average annual rate of total shareholder return combines share price increase with dividend payments. A performance track record of double digit returns over 3, 5, and 10 years is noteworthy. JB Hi Fi and the Accent Group are the leaders amongst this group, with Super Retail bringing up the year. In addition, with the exception of SUL, these stocks have outstanding records of dividend payments, with JBH and AX1 again leading the pack.
The biggest stock by market cap is multi-diversified Wesfarmers, with operating businesses in "home improvement and outdoor living; apparel and general merchandise; office supplies; and an Industrials division with businesses in chemicals, energy and fertilisers, and industrial and safety products."
In 2018 the company spun off the Coles grocery chain while maintaining an equity interest and the Industrial division exited the coal sector. In 2019 Wesfarmers acquired lithium hydroxide miner Kidman Resources and an online only operation offering both branded and marketplace items similar to Amazon — Catch.com.
The major retail businesses include Bunnings Hardware, Officeworks, and the Kmart Group which includes Target and the newly acquired Catch.com.
The store count is massive, with 520 stores in the Kmart Group; 167 Officeworks stores; and 374 Target Group outlets across Australia and New Zealand. Bunnings is Australia's largest home improvement retailer.
Wesfarmers stock hit an all-time high on 22 January following an upward run sparked by a positive trading update released in November as concern over the possible spread of COVID 19 was rampant. Despite store closures, the company's FY 2021 performance from 1 July to 20 October showed only Target posting a small decline in sales – 2.2%. Bunnings sales increased 25.2% while Officeworks was up 23.3% and Kmart increasing 3.7%. Catch.com's sales increased 114.4%. Here is three months of share price appreciation.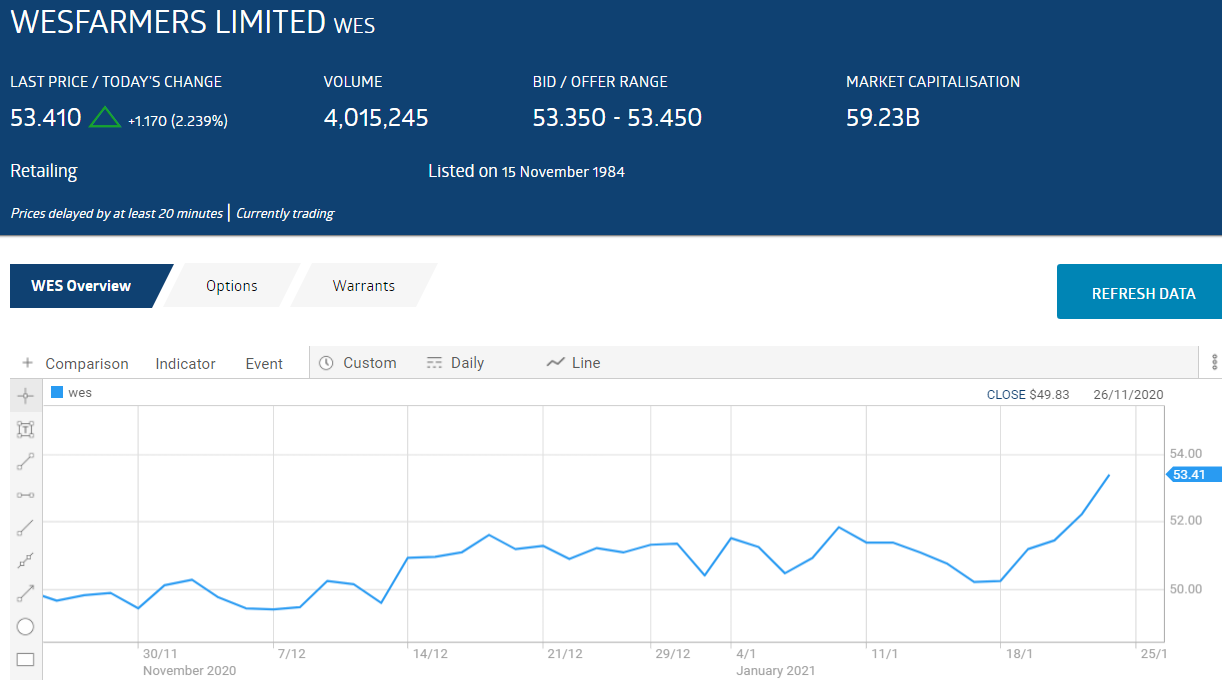 JB Hi Fi has grown both revenue and profit in each of the last three fiscal years. Faced with stiff offshore competition for the title of Australia's low cost leader in electronics, JB Hi Fi responded by getting into the whitegoods and appliance businesses through The Good Guys stores. The company now has over 300 stores in Australia and New Zealand in addition to its online presence.
Harvey Norman is a diversified company operating both here in Australia and overseas with operations in retail, property development, and digital systems. Retail sales through 96 company-owned stores and 195 franchise operations includes consumer electronics and communications products, computers, and furniture and bedding through the Domayne and Joyce Mayne franchises.
The company is global in scope, with stores in New Zealand, Singapore, Malaysia, Slovenia, Croatia and both Ireland and Northern Ireland.
Harvey Norman has an online presence as well and has grown both revenue and profit in each of the last three fiscal years. The company also released a market announcement of "unaudited preliminary results" for the period from 1 July to 31 October showing profit before tax increasing 160%. Aggregated sales revenue for the period from 1 July to 21 November was up 28.2%.
Super Retail Group has four branded retail stores organized in three operating divisions – Auto, Outdoors, and Sports.
Supercheap Auto sells parts and accessories in more than 290 stores in Australia and New Zealand.
Products for use in the great outdoors are offered at BCF and Macpac stores with the Macpac operation acquired in 2018. There are three Macpac stores in Australia and New Zealand and 130 BCF stores in Australia.
The Rebel Group, acquired by Super Retail Group in 2011, sells a variety of sporting goods at 160 stores throughout Australia.
The omni channel retail strategy in place at Super Retail Group and the other consumer discretionary stocks in the table provided a critical survival lifeline for these companies as online retail sales counterbalanced the impact of COVID 19 related store closures.
Accent Group is another high performing stock in this segment. A look at all five companies year over year share price movement shows each on a continuous upward trend since the mid-March crash, reaching double digits year over year.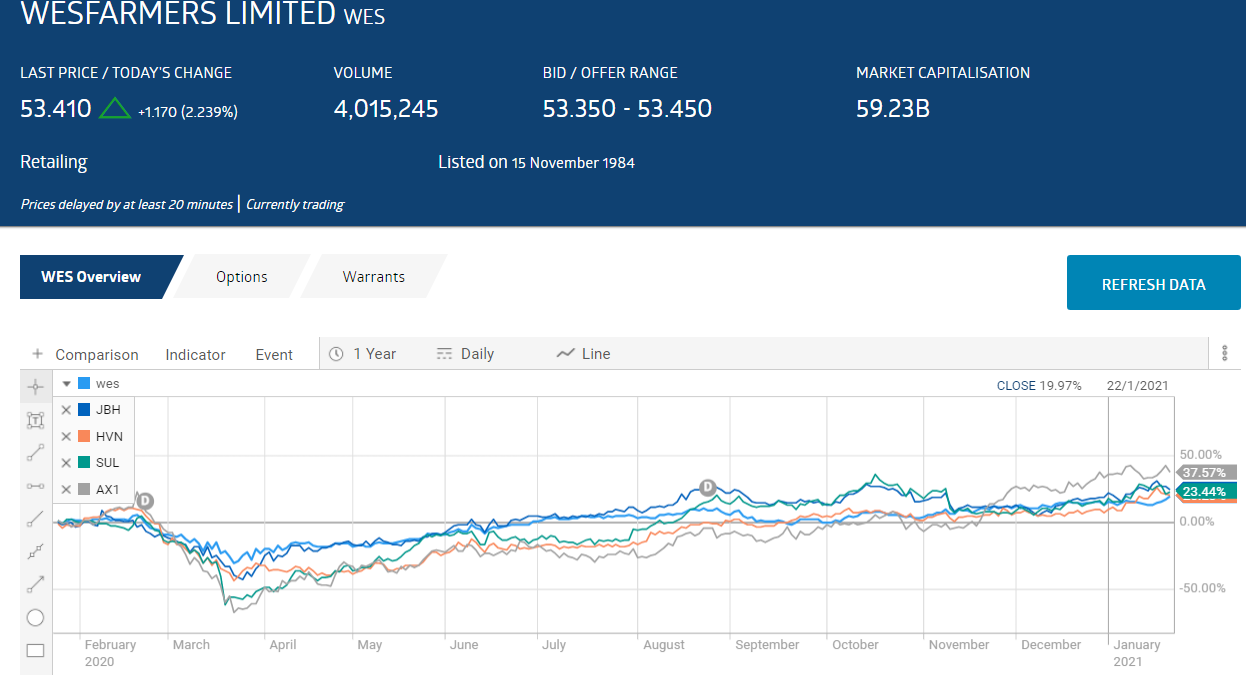 Accent Group has also increased both revenue and profit in each of the last three fiscal years. The company is a strong dividend payer, with a two year forecasted increase of 9.4% for dividends and 11.7% for earnings. If you look back at the table Accent has the best track record of dividend payments over five and ten years.
The company sells "lifestyle" footwear in 420 stores and on 19 websites across Australia and New Zealand. Accent retails stores offer 13 well-known brands, including Doc Martens, Timberland, and Sketchers.
In a 7 January trading update Accent announced a preview of the upcoming 2021 Half Year Financial Results. The pandemic led Accent management to refrain from issuing profit guidance and there was no profit information in the update.
However, EBITDA (earnings before interest depreciation and amortisation) is expected to increase between 40% and 45%. Digital sales grew 110%, but the expected revenue of $108 million dollars represents only 22.3% of revenues.
The stellar performance of these five companies was certainly driven by the massive government stimulus programs designed to keep consumers afloat. For that reason, some analysts see the possibility of a slowdown once stimulus programs fade away.